We use affiliate links. If you buy something through the links on this page, we may earn a commission at no cost to you. Learn more.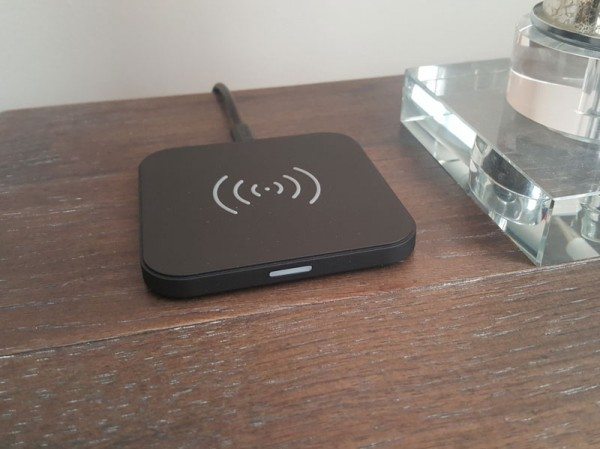 Ever since purchasing my Samsung Galaxy S6 Edge+ I have enjoyed the benefit of rapid charging.  I can charge my phone for 30 min using the rapid charger that came with the phone and get 50% in battery capacity.  The problem is that I have to use the charger that came with the phone to do that.  Until now.  Built into my phone is the ability to use Qi wireless chargers so I purchased one of those to use at work and it works great. But it isn't a rapid charging Qi pad so when I saw the Choetech Qi Fast Charging Pad, I jumped at it.  But is rapid wireless charging as convenient and fast as rapid wired charging?  Let's discuss.
DON'T MISS: Wasserstein Qi wireless charging LED lamp review
First let me share the manufacturer's specs (model T511-S):
Input :                                           5V/1.5A(Max); 5V/1.3A(Min)
Output :                                         10W(Max)
Transmitting frequency :           110KHz to 205 KHz
Conversion efficiency :               72%(max)
Standby power consumption :   10mW
Working temperature :               -10℃~30℃
Shell surface temperature :        45℃(max)
Now let me share with you a couple of caveats that you must be aware of before you purchase this device.  First of all, Choetech says the rapid wireless charge feature only works with the Galaxy Note 5 and the Galaxy S6 Edge+.  All other Qi-enabled devices will get the standard wireless charging rate.  Secondly, it doesn't come with a QC 2.0 power adapter.  It does come with a QC 2.0 compatible USB cable, but not the power adapter.  So the only way you can get rapid charging is if you use the power adapter that came with your phone and plug it up to the Choetech charging pad. Not a deal breaker, but important to know.  Another issue that isn't that big of a deal, but you should be aware of is that the phone gets hot when it is charging.  Not hot enough to fry an egg, but hotter than just 'warm'.
What I liked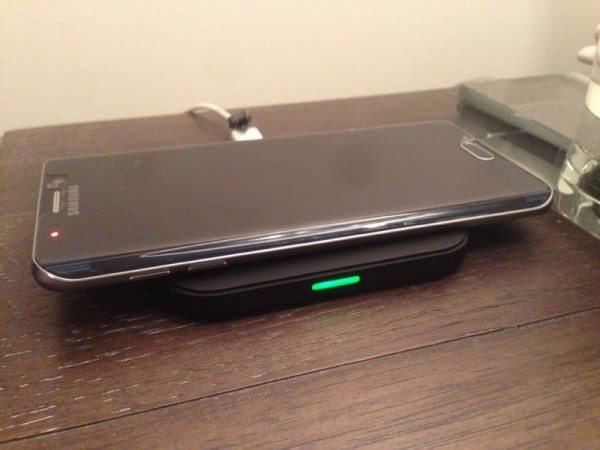 Fast wireless charging is indeed just as fast as fast wired charging.  But it is even more convenient because you simply lay the phone down on the pad and walk away.  No more fumbling around the bedside trying to find the end of the USB cable.  When you lay the phone on the pad you must lay it squarely on the pad, not at an angle (see picture above).  And you'll know that you are charging by the sound indicator you get on the phone, as well as the LED light on the front edge of the Choetech pad. When you see a green light you are rapid charging and when you see a blue light you are standard charging.  I am a true believer in wireless charging, and even more so in fast wireless charging!  I can't wait for this technology to start showing up everywhere we go in public places and around our homes and offices.
What I didn't like
I don't like that the device didn't come with a fast charging power adapter.  The price of $19.99 is a fantastic price for this device, but I would have been willing to pay more if a fast charging power adapter came with it.  Because now whenever I have to take my wired charger with me, I have to unplug it from the Choetech.  That may seem trivial, and I suppose it is.  But I have grown tired of all the gathering and ungathering of my device chargers and wires over the years.  It would be nice if I could simply plug up the Choetech pad next to the bed and leave it be.  Lastly, I have a complaint about all wireless chargers in general.  When you use wireless chargers, you can't pick up the phone to do anything with your phone if you want to continue to charge.  If you need to send a text or email then you have to pick up the phone to do that, and you lose the wireless charge when you do that.  That isn't a fault of this Choetech charging pad, but it is a reality.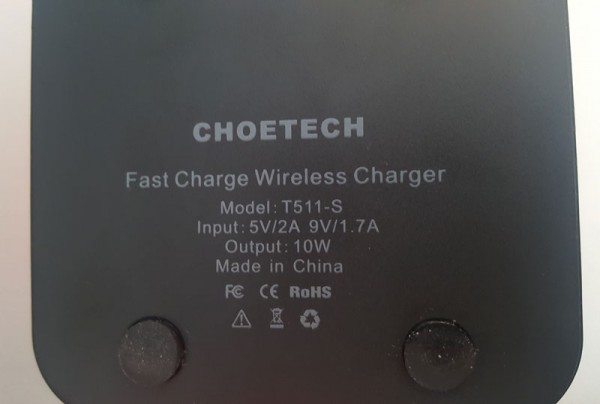 Bottom line
If you own the Note 5 or the S6 Edge+, you need this charging pad.  The price is great, the performance is excellent, and the convenience of rapid charging is the real deal.  The things I listed that I didn't like aren't enough for me to not recommend this product.
Updates 11/27/17
I still use this charging pad on my bedside table and will continue to do so unless I get a phone that doesn't use wireless charging. It looks great, blends in with our decor, and it works great. I love it.
Source: The sample for this review was provided by Choetech. Please visit their site for more info and Amazon to order.