We use affiliate links. If you buy something through the links on this page, we may earn a commission at no cost to you. Learn more.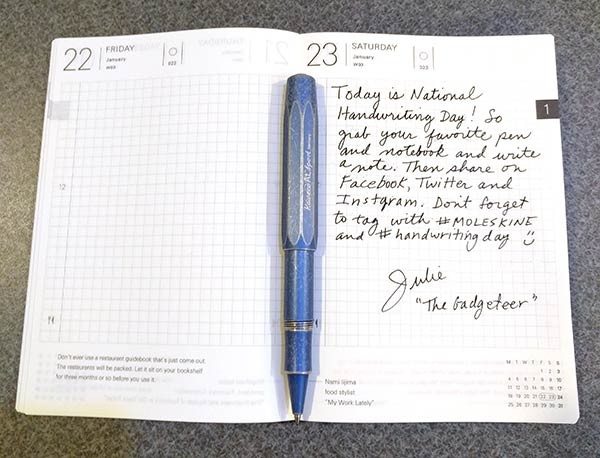 Today (January, 23rd) is National Handwriting Day, an annual celebration which was started three years ago in 2013 by Moleskine. To celebrate this occasion, you're encouraged to temporarily put down your smartphones and computer keyboards, and use your favorite pen and notebook to write a note. Then use your phone to take a picture of your handwritten notes and post them on Twitter, Instagram, and Facebook tagging them with #HandwritingDay and #Moleskine. These images will automatically be added to a live gallery that you will be able to view in real time. Actors Bruce Willis and Debra Messing, and T-Mobile CEO John Legere, are just a few notable people who will be participating by posting their own handwritten tweets.
Handwriting and Moleskine fans can also join the fun at Moleskine retail stores in New York, San Francisco, Boston, Washington DC, and Sarasota where a special Handwriting Day station will be provided for customers to handwrite a message in a Moleskine notebook, upload to their social media, and receive a FREE notebook as part of the event. Other special deals and promotions will also be available. Check with your local Moleskine store for more info.