We use affiliate links. If you buy something through the links on this page, we may earn a commission at no cost to you. Learn more.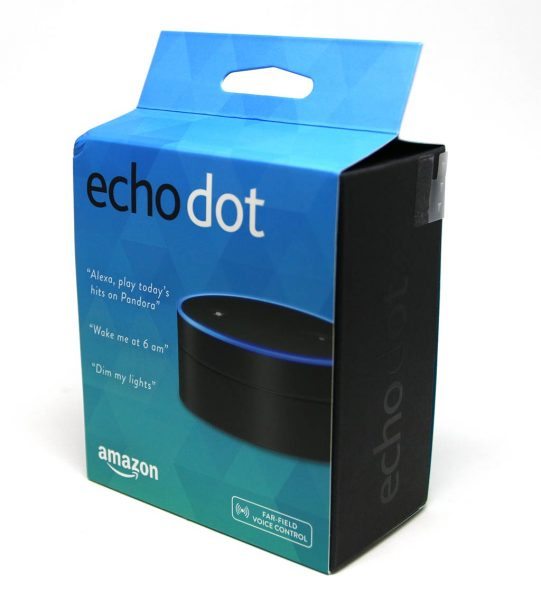 When the Amazon Echo was released last year, I was mildly interested but not enough to actually order one.  Then when it seemed like everyone was singing the Echo's praises, I became even more interested. But still not enough to buy one. Now it's a year later and Amazon has introduced the Echo Dot, a smaller version of the original device and I pre-ordered the same day it was announced. Why? Because I thought it was time that I join in on the fun too!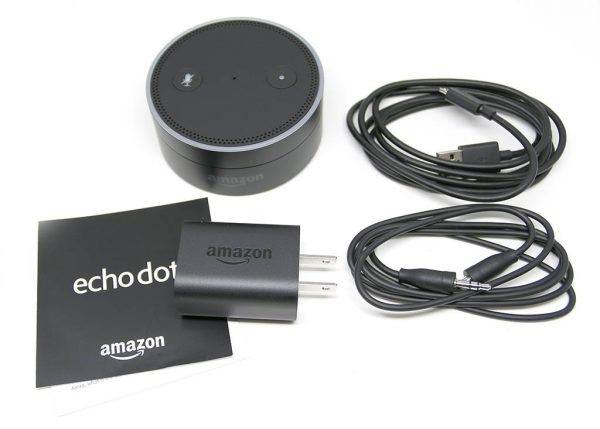 What's in the box?
Amazon Echo Dot
USB Power adapter
USB charging cable
3.5mm audio cable (4 feet)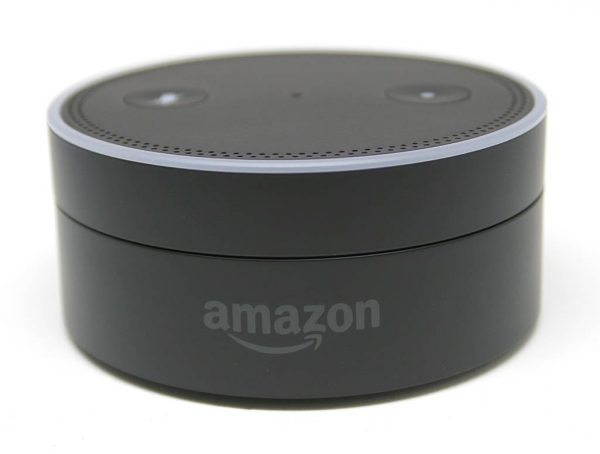 The Echo Dot has all the features of the Echo but comes in a much smaller (shorter) package. It stands about 1.5 inches tall and is about 3.25 inches in diameter. It is made of smooth matte black plastic that doesn't show dust or fingerprints. The base feels weighted, which keeps it in place on a table or shelf.
The top of the Echo Dot smoothly rotates to adjust volume levels. When you do this, the light ring around the top edge lights up a portion of the ring in white to show the current volume level.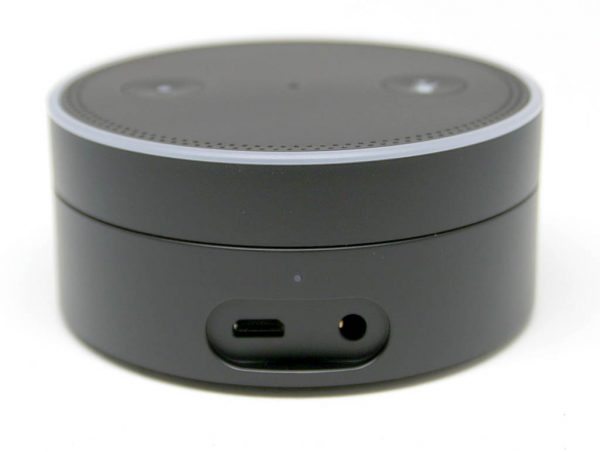 The micro USB charging port and 3.5mm audio out jack are located on the back side of the Echo Dot along with a small power status LED.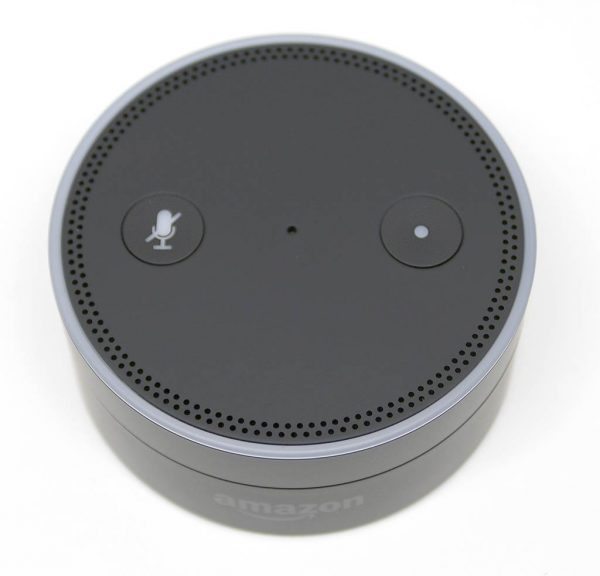 On the top of the device is a microphone toggle button, action button, speaker and multi-directional microphone.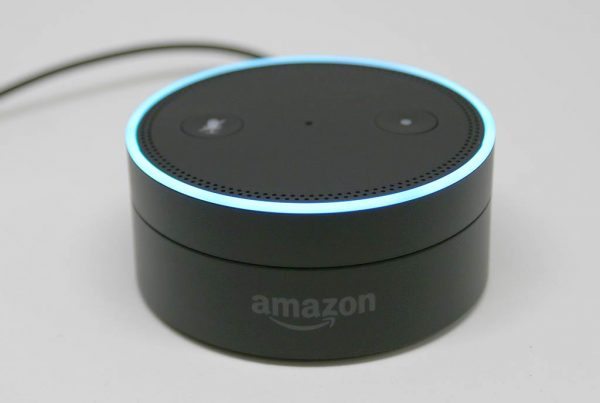 The Echo Dot or I should say Alexa is always listening. To get her attention, you just say "Alexa" and ask your question. I like that you don't have to wait for her to acknowledge that she's heard you. You can just say something like "Alexa, what time is it?". The light ring around the top edge will light up in blue with a brighter portion lit up to show which direction the microphone heard the question. The microphone is surprisingly sensitive, so you don't have to exaggerate or raise your voice for the device to hear you.
If the name Alexa isn't your thing, you can change it to Amazon or Echo.
Interacting with the Echo Dot is a lot easier than I had imagined it would be. It's amazing how "human" the conversation feels. Here is a very small selection of example questions that you can ask.
"Alexa, what time is it?"
"Alexa, what time is it in China?"
"Alexa, what are the news headlines?"
"Alexa, what will the weather be like tomorrow?"
"Alexa, play It's a Beautiful Day by U2"
"Alexa, what is 5 times 8?"
"Alexa, add calendar appointment for Friday"
"Alexa, wake me up at 6am"
"Alexa, play me some music"
"Alexa, add toothpaste to my shoping list"  – Where the shopping list is your Amazon list.
There are also a large variety of Skills that allows the Echo Dot to interface with third party apps. To control them you would say something like: "Alexa, tell OurGroceries to add milk to the shopping list".
"Alexa, tell OurGroceries to add milk to the shopping list" – where OurGroceries is a shopping app for iOS and Android.
"Alexa, tell Dlink to dim the lights" – where Dlink is a hardware/software component that is installed in your home.
The great thing is that you don't have to say the commands exactly the same way. I think the Alexa voice service just picks out keywords to know what you want.
You can also connect the Echo Dot to IFTTT to do even more actions.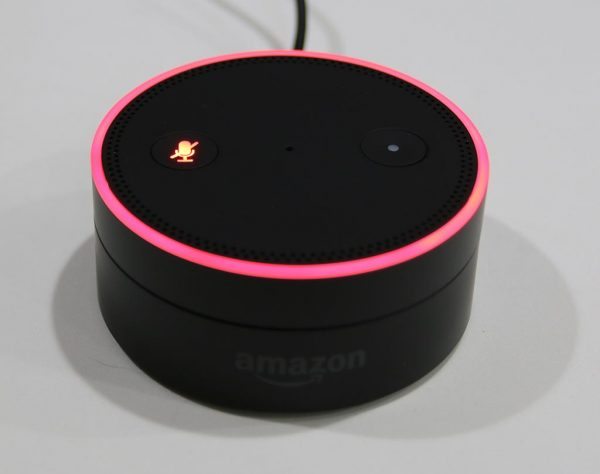 If for some reason you don't want Alexa's always on voice service listening for you to ask a question (paranoia maybe?), you can press the microphone button on the top of the device to turn off the microphone.
When I was first trying to decide if I would buy the Amazon Echo Dot, I was a little concerned about the built-in speaker because Amazon said it wasn't really designed to fill a room with music like the original Echo. In smaller rooms it does a decent job, so I haven't been disappointed. I don't have the original Echo to compare it to though.
I've been using the Amazon Echo Dot for a few weeks now and I think it's a great gadget that continues to evolve. It responds faster than Ok Google and Siri. That said, Alexa isn't mobile like those other voice assistants, and it is missing a few commands that I would really like. For example, I'd like to be able to add things to my Google Keep lists, and to have the Echo Dot perform like an alarm clock that can wake me at a specific time by playing music or news. As the commands and actions for Alexa continue to be created, I'm sure those actions will be available at some point.
Gadgets like the Amazon Echo Dot might not change your life, but they make it easier. Telling Alexa to add Oreos to your shopping list as soon as you've eaten the last cookie is so much quicker than pulling out your phone, laptop or pad of paper. The Amazon Echo is a personal assistant that is there whenever you need her and disappears when you don't.
To buy one you have to already own an Amazon Echo which is really stupid. But a way around this limitation is to use the Amazon shopping app on an iOS or Android device. Then tap the microphone icon at the top and use your voice to add it to your shopping cart by saying "add echo dot to shopping cart". The voice method worked for me. 🙂
Source: The sample for this review was purchased with my own funds. Please visit Amazon for more info.

Product Information
Price:
$89.99
Manufacturer:
Amazon
Pros:

Responds to questions quickly
Powerful microphone can pick up voice from across the room
Always updating with new skills

Cons:

Isn't mobile like Siri and Ok Google