We use affiliate links. If you buy something through the links on this page, we may earn a commission at no cost to you. Learn more.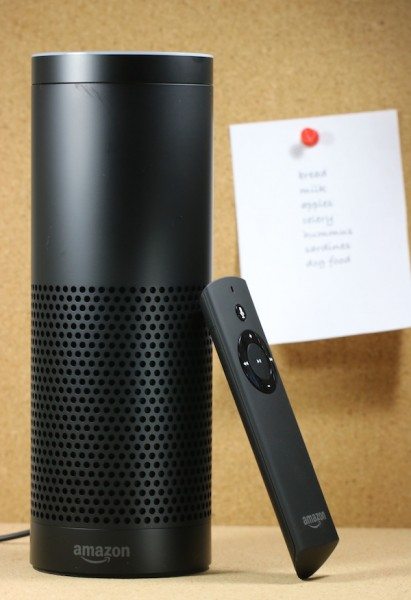 Ever since Apple came out with Siri, I've been wanting some kind of stand-alone personal assistant for the house. When Amazon released their Echo, I jumped at the chance to buy it. After several long months of waiting, the device finally arrived. When I opened the black box, the heavy, long, matte black cylinder looked so sexy. It whispered to me: "Plug me in!" "Turn me on!" "Configure me!" I complied, a willing servant.

Package contents
• Amazon Echo
• Power adapter
• Amazon Echo remote (with a built-in microphone and music playback and volume controls)
• Magnetic Amazon Echo remote holder (with an adhesive for placing it on non-magnetic surfaces)
• 2 AAA batteries (for remote)
• Quick Start Guide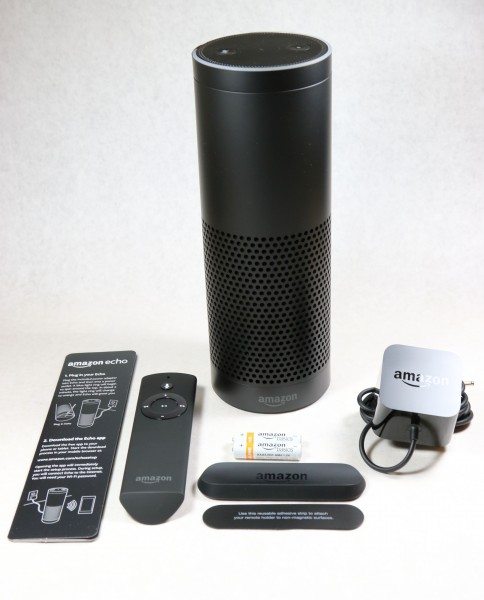 Configuring the Echo
Configuring the Echo should have been simpler than it was. You are supposed to be able to configure it through the smartphone app, but that didn't work for me. I ended up going online to set up my Echo. Once it was set up, though, everything just worked.
The feature that instantly attracted me to the Echo was that it is always on. I've heard others comment that they didn't like that it doesn't have a battery. I find it a refreshing feature, because I don't have to worry about whether it is charged up.
How it Works
The Echo uses what Amazon calls Far-Field Voice Recognition, seven microphones next to the light ring that allows you to speak to the Echo from across the room and from any direction. We set our Echo up in the living room, and it can hear us from the kitchen without having to raise our voices. The kitchen is partially open to the living room. It has trouble hearing us from the office on the other side of the living room, though, because the sound has to go through a wall.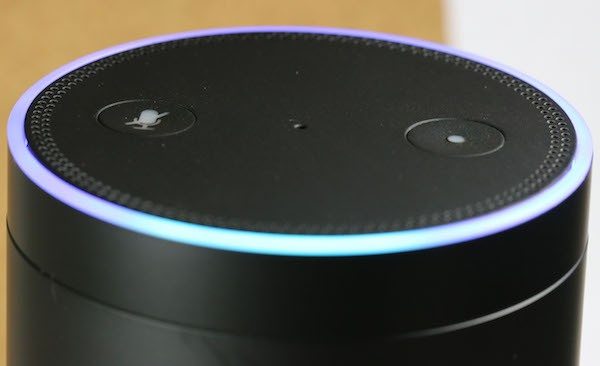 At the top of the Echo is the device's light ring, which is normally off, but it comes on and points in the direction of a voice when someone speaks the wake word. It also changes colors, depending on the operation in effect. Next to the light ring is the volume ring. Although you can tell the Echo to raise or lower the volume, if it doesn't hear you, you can manually turn the volume up or down using the volume ring.
On the top of the Echo is a microphone off button and an action button. You use the microphone off button to turn off the Echo's microphone if you don't want it to listen for the wake word. The action button lets you turn off an alarm or timer sound, wake the device, or turn on Wi-Fi setup, if you need to reset the Wi-Fi connection.
Remote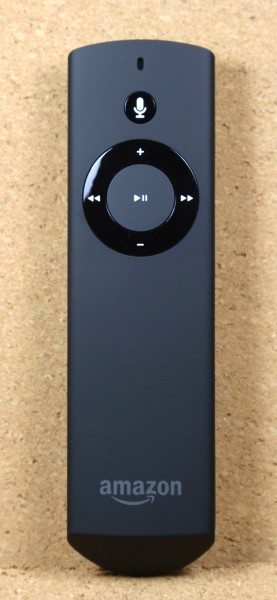 The Echo ships with a remote control that lets you talk to Alexa when you are out of its range of hearing or when the music the Echo is playing is louder than its ability hear. The remote comes with a magnetic holder that you can slap onto any metal surface.
You can also use the supplied double-stick tape to stick it to nonmagnetic surfaces. The holder securely cradles the remote so that it will be handy when you need it. No searching through couch cushions to find this remote.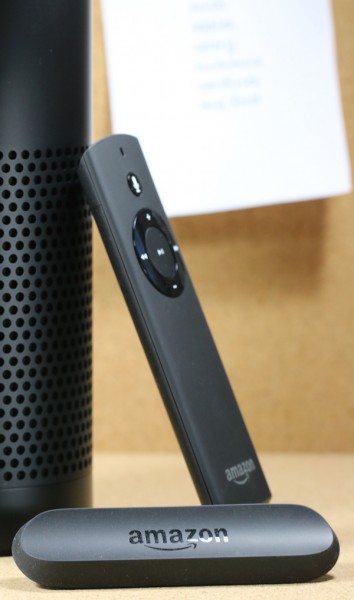 Shopping and To-Do Lists
You can do many things with the Echo — play music and news from various sources, get answers to reference questions, and set alarms and timers. What we have grown to love the most, however, is the Echo's shopping and to-do list features.
We can stand with our head in the refrigerator or in the pantry to figure out what we need and ask the Echo to add items to the shopping list as we go. We don't have to stop and transfer the information to a sheet of paper or an online list. All we have to do is say, "Alexa, add eggs to the shopping list." (Alexa is the code name we use to get the Echo's attention. You get two choices: "Amazon" and "Alexa.") When we're at the store, we can access the shopping list through the Amazon Echo app.
This feature alone has saved us so much time, energy, and forgetfulness that it makes the $99 we paid for it money well spent. (The price just recently returned to $199.)
All is not a bed of roses, though. Sometimes Alexa doesn't understand what we're saying. She doesn't know what kefir is, and even though she can tell us what a sardine is when we ask, she can't put it on our shopping list. "Kefir" results in things like "K fog," "Café or," and "P." Just "P." For some reason, "sardines" ends up as "Star beans," "Sour beans," and my favorite "Chardonnay beans."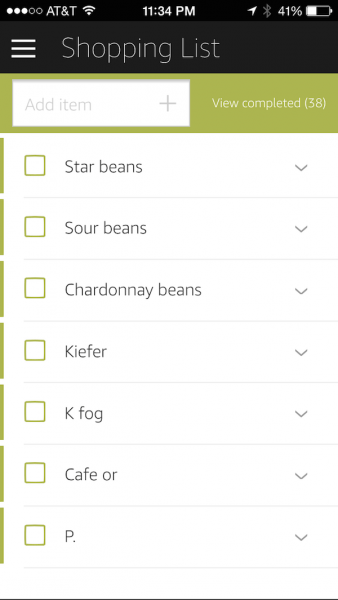 I would love to have the capability to create and manage more than two lists (To-do and Shopping). I use lists all the time, and it would be nice to see this feature grow into a real task management system.
Music and News
The Echo can play tons of music. You can ask it to play music from Amazon Prime Music, digital music you have purchased from Amazon, music from services such as Pandora, TuneIn, and iHeartRadio, and music from any smartphone you have connected through Bluetooth.
I've enjoyed listening to Amazon Prime Music. You can just ask the Echo things like "Play 70s music," and it will search for an appropriate playlist. You can also set up your own playlists either online or from the Amazon Prime Music smartphone app.
Questions
We love to ask Alexa questions. Alexa uses Wikipedia for her reference answers. She can give you traffic information, sports scores, and the news from various sources. She can spell words (like "sardines"), and solve arithmetic questions. She can also tell you jokes. Alexa's jokes are really, really corny, but they make me laugh.
Controlling Devices
Since the Echo's release last winter, Amazon has continued to update the software to fix bugs and give it additional talents. One of the most recent updates gave the Echo the ability to control Belkin WeMo and Philips Hue devices. I have several WeMo switches, so being able to turn off an appliance by saying "Alexa, turn off the living room lamp" is a real pleasure. It gives me a small taste of what living in the age of Star Trek might be like. Or, maybe the Jetsons, considering the hilarity that ensues when Alexa unintentionally does something really stupid.
Amazon Echo App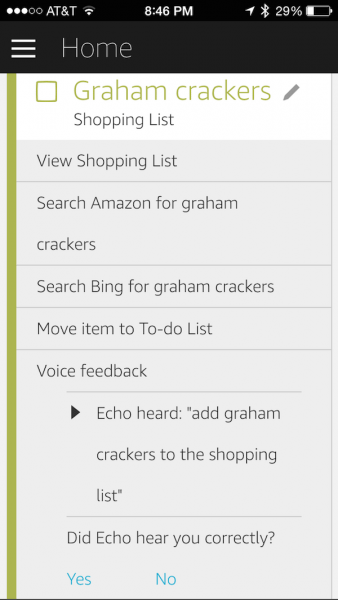 The Echo smartphone app, which is available for iOS, Android, and Fire OS, is adequate, although pretty rudimentary. It gives you access to the Echo's data while you're away from home. You can access your shopping and to-lists. You can use the app to tell Amazon whether Alexa heard you correctly, and you can do voice training, so that Alexa understands you better. (I haven't noticed much difference since doing the training, but my Southern accent isn't too strong.)
Final Thoughts
There are a lot of things I wish the Echo could do or do better. I want multiple shopping lists, better integration with my Internet-connected appliances, such as my Nest thermostat, and the ability to answer more complex questions. Alexa isn't very smart yet, but she's getting smarter as Amazon adds new features and updates her software. However, she is entertaining, and even her mistakes are funny. What's not to love? I can't wait to see what's next.
Source: This device was purchased with my own funds. Please visit Amazon for more info.

Product Information
Price:
$199
Manufacturer:
Amazon
Retailer:
Amazon
Requirements:

iOS, Android, and Fire tablets and phones
- iOS7 and above
- Android 4.0 and above
- Fire tablets and phones (Fire OS 2.0 and above)

Pros:

No battery (plug-in only)
Shopping and to-do lists
Many ways to get music

Cons:

Not very smart (but getting there)
Only two lists (to-do and shopping)
Purchase by invitation only