We use affiliate links. If you buy something through the links on this page, we may earn a commission at no cost to you. Learn more.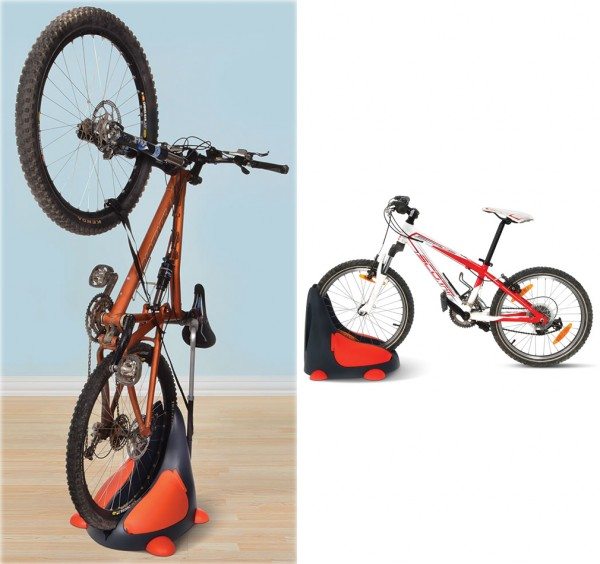 We've shown you a couple of bike racks that let you store your bike on the wall to free up space on the floor, but those require you to lift your bike up to the hook.  If you have a ultra-light, high-tech bike, that's maybe not so bad, but not everyone has the lightweight bikes.  With the Space Saving Upright Bike Stand, you don't have to be able to lift the entire bike.  You just back the bike into the stand, then raise the front up in the air.  You'll attach a strap to the front wheel to hold the bike in place, and the stand has suction cups on the bottom to keep it from sliding around.  If you prefer, you can just roll the front wheel in and leave the bike standing on both tires.  There's even a loop on the stand that you can thread a bike lock through, but it won't deter a determined thief because the stand isn't secured to the ground.  It can even be used as a trainer raiser block.  The stand is gentler on wheels and gears because it doesn't put pressure on spokes or touch the derailer.
The stand accommodates 12″ – 29″ wheels with up to a 2.5″ diameter.  There are storage compartments in the stand to hold your bike tools.  The bike stand is made of plastic; it measures 16″ tall X 17.25″ wide X 18.5″ deep and weighs five pounds.  The Space Saving Upright Bike Stand is $119.95 from Hammacher Schlemmer.