We use affiliate links. If you buy something through the links on this page, we may earn a commission at no cost to you. Learn more.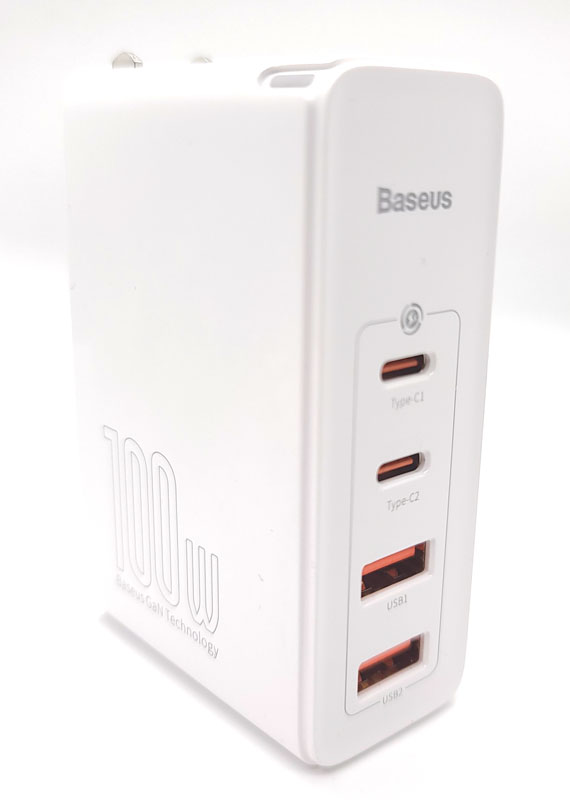 REVIEW – We've reviewed a lot of chargers here at The Gadgeteer.  As a means to continue that tradition, I present to you Baseus's new 100W GaN2 four-port charger.  And, for good measure, they sent along their new single-port USB-C 100W GaN2 charger so I took a look at that one as well.
What is it?
The chargers are just that – chargers.  One has a pair of USB-A ports and a pair of USB-C PD ports, the other has a single USB-C PD port. Both can output 100W of power and use the newest GaN2 charging technology. GaN2, you say?  What's that?  Glad you asked!
Gallium Nitride (GaN) chargers do not require as many components as silicon-based chargers, therefore, chargers using GaN tech are physically smaller and more portable than their silicon-based counterparts. GaN chargers are more efficient and can conduct higher voltages over time than silicone chargers.  GaN2 is the latest generation of GaN charging technology and offers continued improvements in power transfer, heat dissipation, and charging speed.
What's in the box?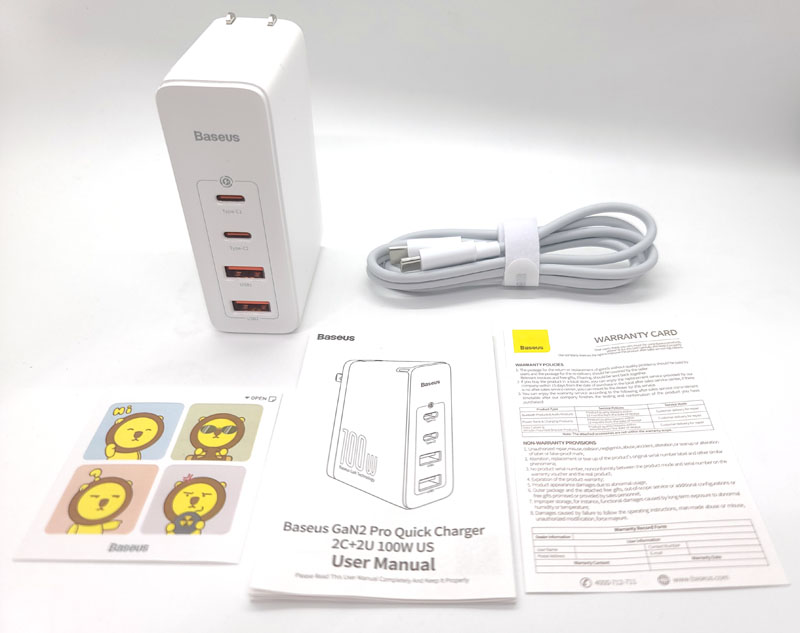 GaN2 Charger
USB-C to USB-C charging cable
Manual
Warranty info
Fun stickers
Hardware specs
Model: CCGAN100US
Dimensions: 30.5 mm w x 85.2 mm h x 92 mm d (with prongs extended)
Weight: 205g
Input: AC100V-240V 50/60Hz 2.5AMaX
Output (USB-A x2 & USB-C PD x2):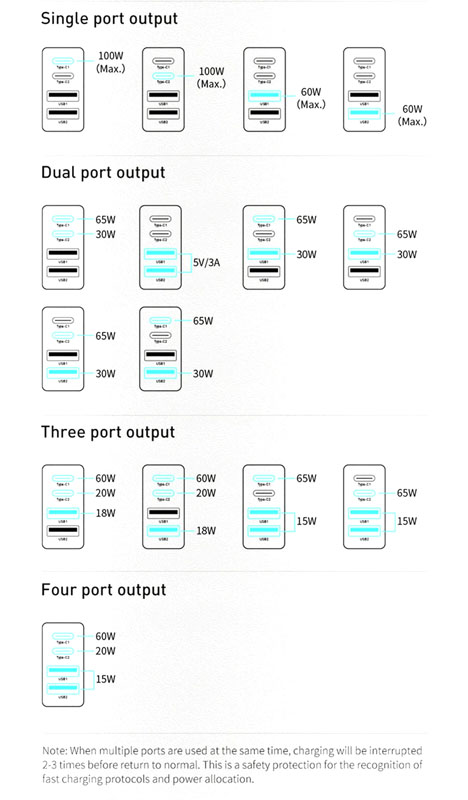 Fast charging protocols supported:

USB-C 1 & 2: PD3.0/PD2.0/PPS/QC4+
USB-A 1 & 2: QC3.0/QC2.0/FCP/AFC/Apple2.4/BC1.2/PE+

Heat dissipation: BCT – Baseus cooling technology
Specs for the additional charger:
Model: CCGAN100CS
Dimensions: 30 mm w x *55 mm h x 67 mm d (with prongs extended)
Weight: 178g
Input: AC100V-240V 50/60Hz 2.5AMaX
Output: (USB-C x1) 5V/3A,12V/3A;9V/5A,15V/5A,20V/5A
Protocols: PD3.0/PD2.0/PPS/QC4+
Design and features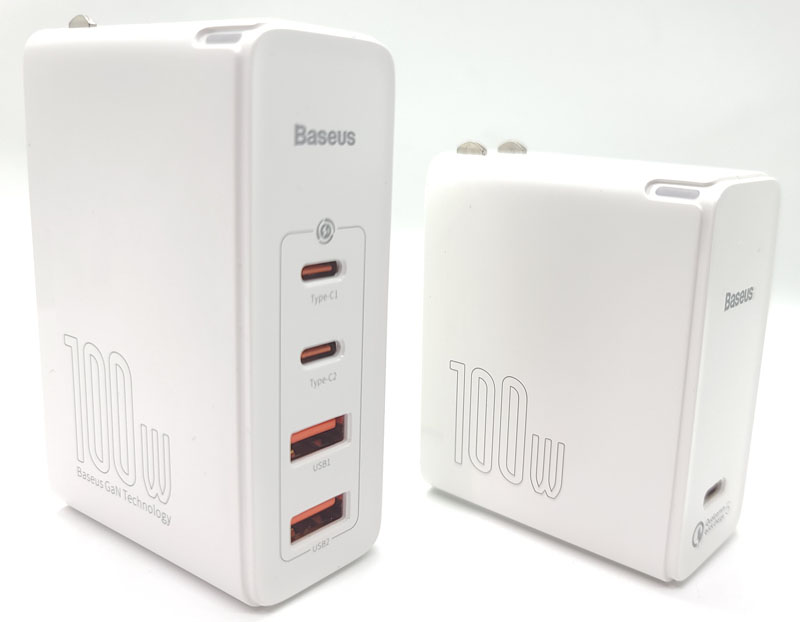 Here, we see the two chargers side-by-side.  Other than the obvious difference in size and number of ports, the designs are nearly identical.
On the front, we see the charging ports.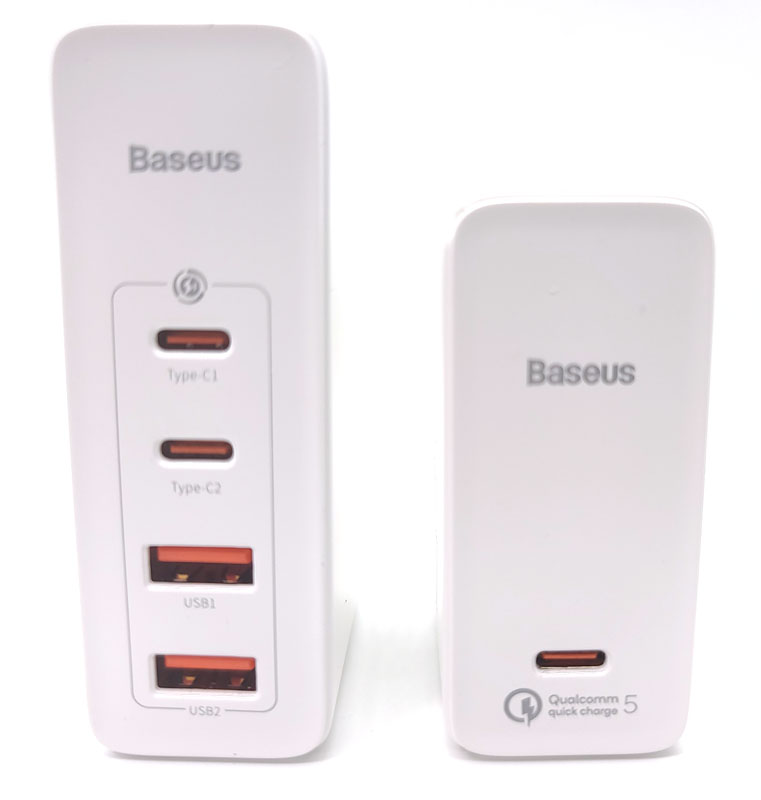 On the back, all the tech specs and the fold-out power plug.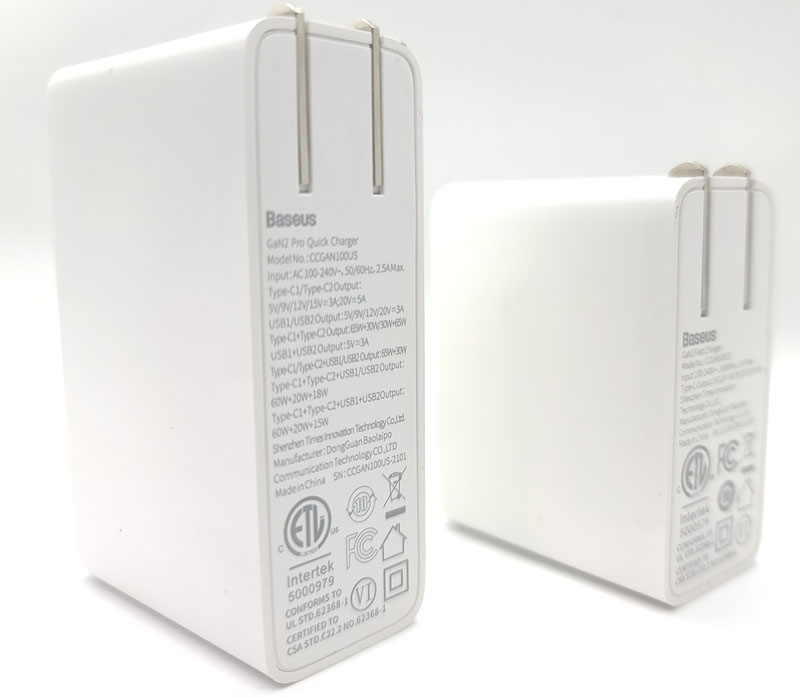 The plug flips out easily and holds in place well.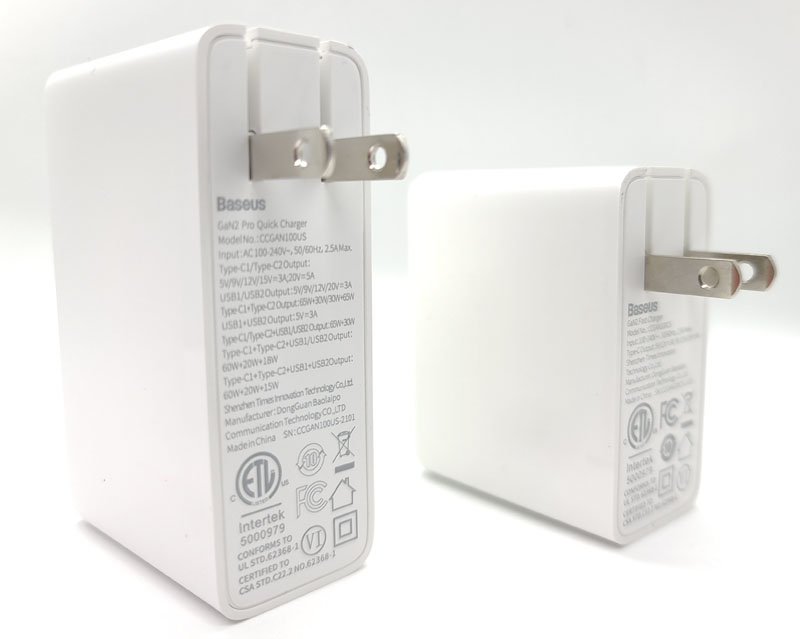 I like this design for travel as it removes any sharp and pointy protrusions in my travel tech kit.
When the units are plugged in, a small blue-green LED glows in the upper left corner.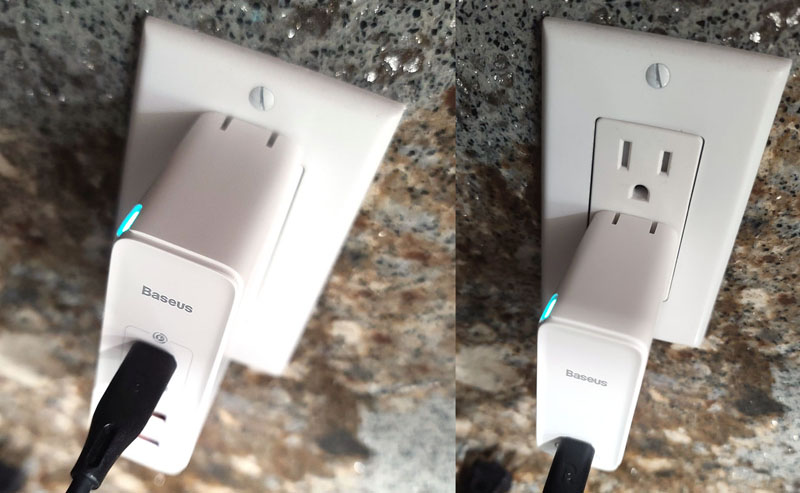 Performance
Just about the only thing that matters with a charger is whether it charges whatever you plug in.  I am happy to report that these chargers work.  With 100W of power, each can deliver enough juice to charge just about anything you can plug into it.  The GaN charging tech makes for a small and portable package that can slip easily into your travel bag. Of course, you'll still need to schlep a tangle of cords to leverage all the ports at the same time, but the Baseus charger provides at least one way to simplify your travel power demands.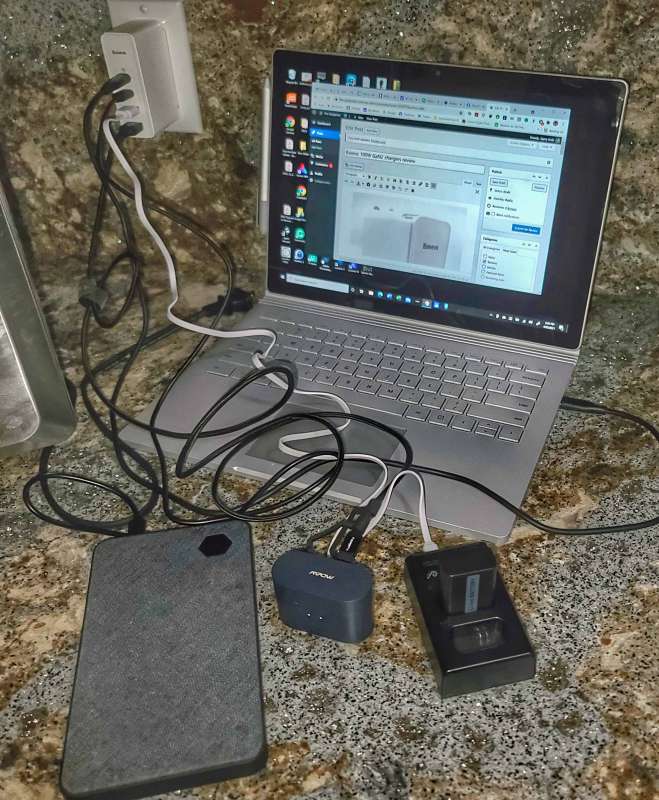 Here is the charger, happily charging my laptop, an Einova battery pack, Mpow earbuds, and a battery for my camera.  The charger remained essentially cool, or perhaps I could call it slightly warm, so no worries about overheating. The improved efficiency of GaN and the Baseus heat management combine to deliver the juice without getting toasty. Of course, charging power decreases on each port, and charging time increases as you plug in more stuff.  Still, even with slower speeds, charging four items at the same time will still save you time.  And for those times you need a fast charge for a single device, this charger can certainly deliver.
One interesting note – I tried charging the USB-C battery pack from the charger's USB-A port.  Once I did that, neither USB-A port would supply power for anything.  I suspected that the USB-C Power Delivery port on the battery pack confused the charger.  I performed the universal tech support action of unplugging the charger, waiting 30 seconds, and plugging it back in.  That did the trick and the charger was supplying power from all ports.
My laptop charged rapidly.  When I plugged my phone into the USB-C ports, it reported that it was using Samsung's Super Fast charging mode. It would also Fast Charge from the USB-A port. When the phone was plugged into the USB-C port and I used all the charging ports for various power-hungry items, the charging speed dropped to standard charging, but that was expected based on Baseus's power management algorithm.
What I like
Small size
Great output options (the four-port model)
Excellent charging speeds
What I'd change
USB-A ports can't charge USB-PD battery packs
Final thoughts
This is a great travel charger. With four outputs, one charger can provide the charging power for most of your travel electronics simultaneously.
The extra charger that Baseus included, for me, isn't as interesting.  With only the single USB-C output, it's more of a one-trick pony in terms of usefulness.  But, as a quality charger, it certainly fits that bill if you need a small charger with enough oomph to handle charging a laptop.
Price: $59.99 (for the four-port model)
Where to buy: Amazon; (The page says that is for the black model even though the photos show the white model – no link was given for the white model)
The single-port charger's page is up on Amazon, pricing and availability were not available as of this writing.
Source: The sample of this product was provided by Baseus.