The Gadgeteer is supported by readers like you! If you buy something through links on our site, we may earn an affiliate commission. Thank you! Learn more.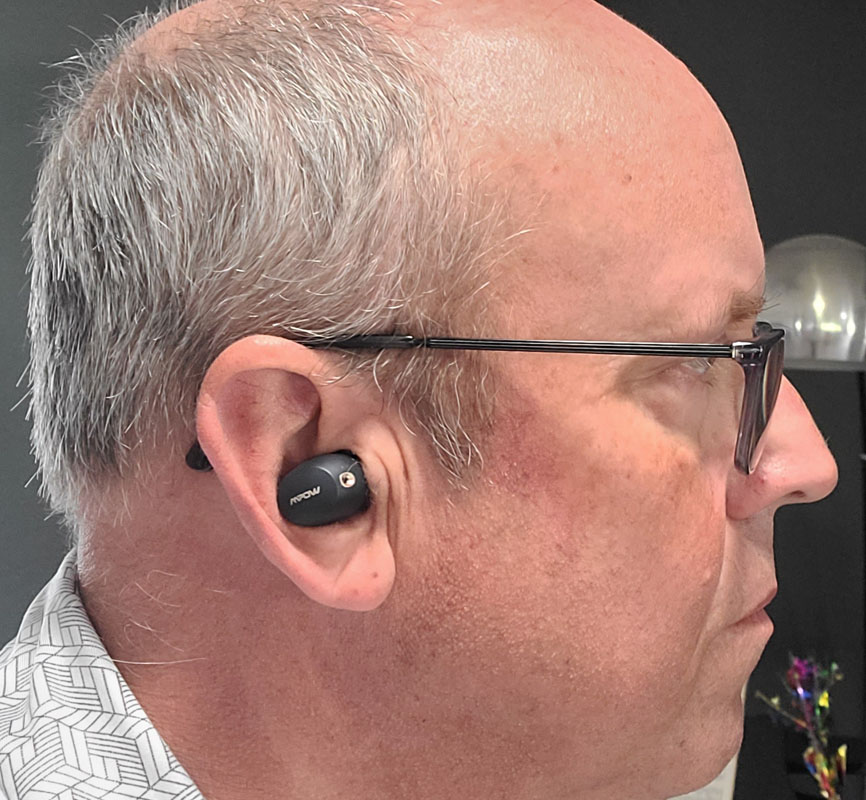 REVIEW – The latest entry in my search for the perfect noise-canceling earbuds are the Mpow M6 earbuds that feature hybrid noise cancelation, touch controls, and five hours of playtime between charges in the charging case.  Did these push past the finish line and win the race?  Read on!
What is it?
The Mpow M6 earbuds are just that – earbuds.  They feature true wireless stereo (TWS) tech, noise cancelation both when listening and when speaking, and ambient mode that lets in some ambient noise so you can also hear what's happening in your surroundings.
What's in the box?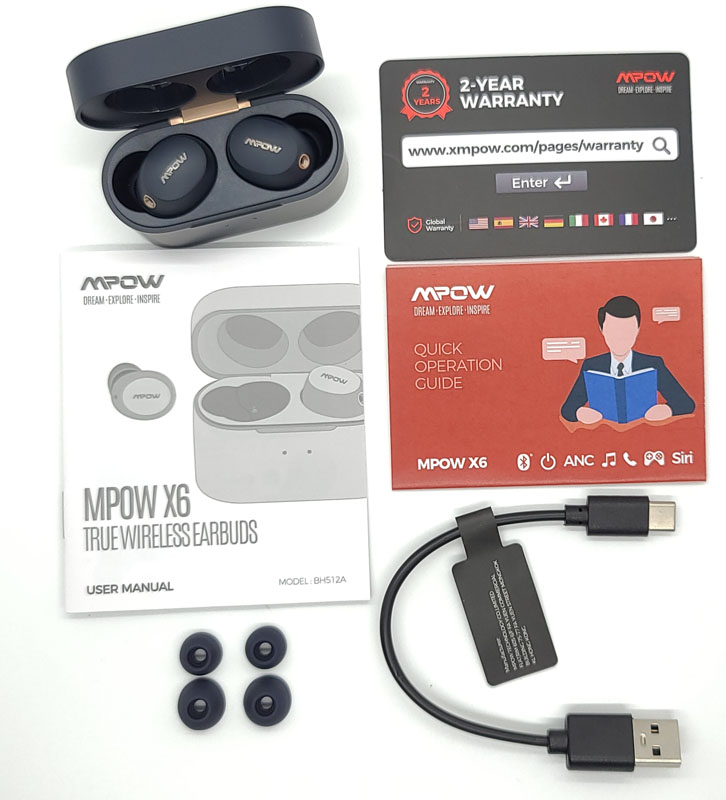 M6 earbuds in the charging case with medium tips installed
Large and small tips
USB-A to USB-C charging cable
User manual
Quick start guide
Warranty card
Hardware specs
Dimensions: approximately 0.75″ w x 0.5″ h x 0.9″ d per bud; 2.3″ w x 1.5″ d x 1.1″ h case
Weight: 0.15 oz per bud;  1.9 oz case plus buds
Noise-canceling: up to 28 dB
Modes: True wireless stereo (TWS) or mono via either bud alone
Water resistance: IPX6 – can get wet, whether it's a light spray, a high-pressure nozzle, or exposure to the rain
Listening time: up to 5 hours, up to 25 hours with case recharges
Design and features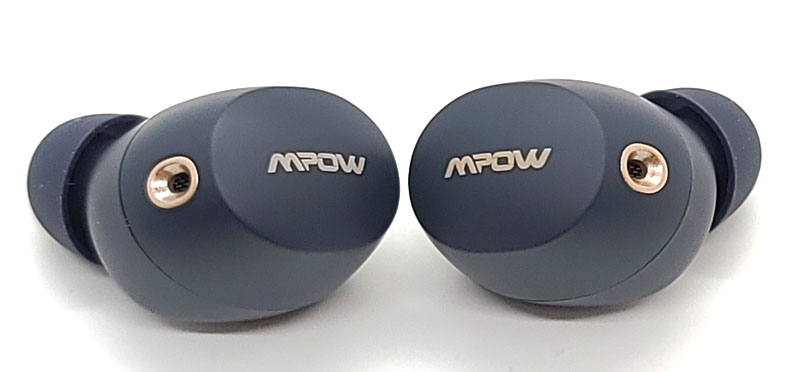 The M6 earbuds look very much like other earbuds.  They have a matte black plastic case with gold microphone openings and screened Mpow logo.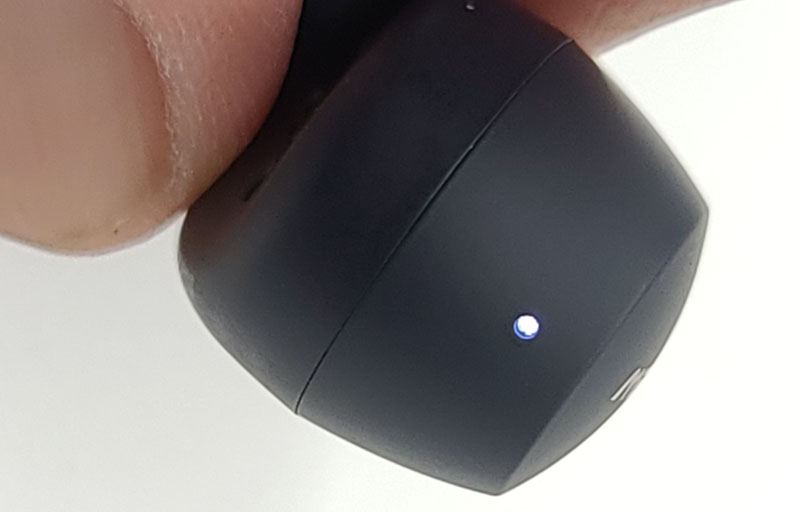 A small LED shows connection status – red when charging and white when connecting.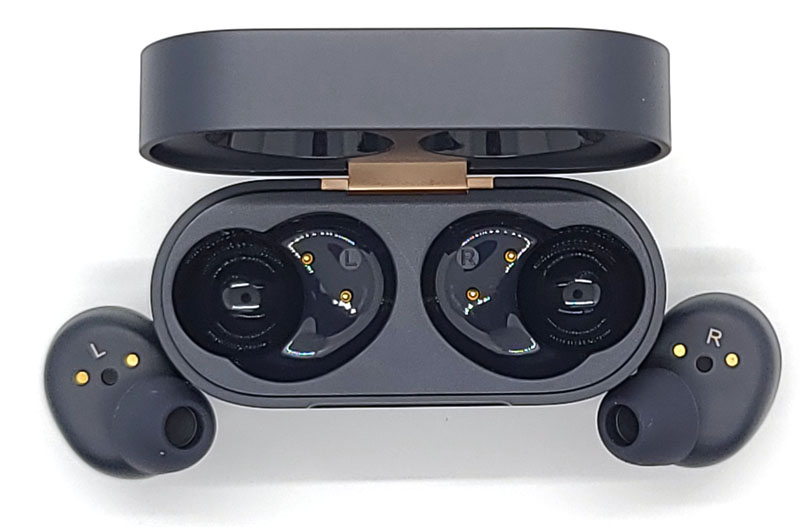 The earbuds magnetically snap into place in the charging/storage case.  You can see the charging pins at the bottom of the case openings and the charging contacts on the back of the earbuds.  Each bud is conveniently labeled "L" or "R", to help you keep them straight.  The charging case can deliver four full charges to the buds, so a fully charged pair of buds and a fully charged case can power you through 25 hours of listening pleasure with breaks every five hours to recharge in the case.
Speaking of the case…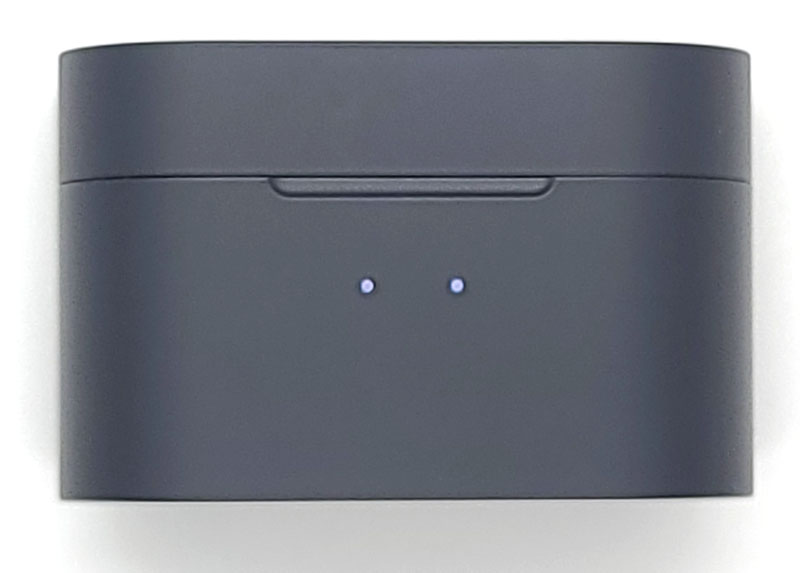 The case has two LED indicators that show charge. They illuminate blue when each bud is charging.  When the buds are removed, or when the case is charging, the left blinks for 0%-35% case charge, the left lights solid for 35%-75% case charge, and both light up for 75%-100% case charge. The USB-C charge port is on the back of the case. When the case is charging the buds, the case LEDs flash blue.
A nice feature of the case is that it supports Qi charging. Here is the case charging on the InvisQi charger.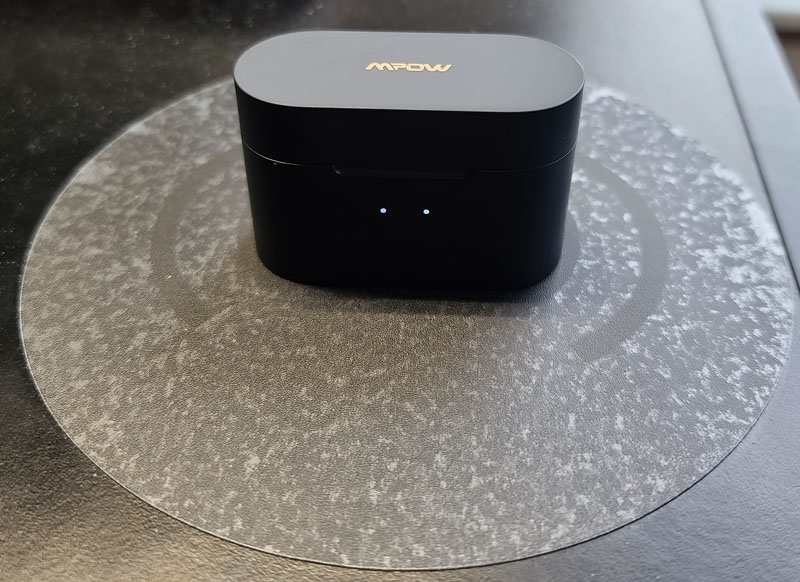 Setup
Pairing is a little different than most earbuds.  The M6 buds start their pairing process as soon as you open the case – no need to remove the buds.  The pairing process was straightforward like most Bluetooth pairings are.
The only other thing to setup is fit.  For my weird ears, that meant replacing the medium tip on the right bud with a large tip.
Performance
I will start the performance section with comfort.  If you've read my other earbud reviews, you know that I have weirdly sensitive ears and earbuds hurt them.  Unfortunately for me, these earbuds are no exception.  But for those lucky folks that can wear earbuds comfortably, I believe these would feel great.  They didn't move at all no matter how I moved my head.  They felt very secure.
As for sound, the mids and highs sounded great to me.  What was lacking was bass.  I'm not one of those that likes window-shaking bass, but I do like to hear it, and I just couldn't with these earbuds.  That's a personal preference, so your impression might be different.
The noise cancelation worked reasonably well as did the ambient mode.  When I called my wife to test call quality, she said I sounded great.  That was, until, I stepped into a stiff breeze.  The sound rush made me unintelligible.  This isn't necessarily the fault of the earbuds, as that is a difficult test that no earbuds that I have tested have passed.  With the M6s, if there was any background noise, my wife could hear it clearly.  Making calls in anything other than a relatively quiet environment will make the conversation difficult.
I wasn't overly impressed with the noise-cancelation.  It did make a small difference, but not much. The ambient sound pass-through mode did allow more ambient sound in.
One thing I really liked was the touch control.  They worked really well on both earbuds.  I wish all touch-control earbuds worked as well.  The controls are:
Volume +/- : Tap right/left
Play/Pause : Double-tap
Skip Tracks : Next: triple-tap the R(right) earbud
Previous: triple-tap the L(right) earbud
Answer/End phone call: Double-tap
Reject a phone call: Hold on for 2 seconds
Activate voice assistants: Hold on the R(right) earbud for 2 seconds
Activate low-latency mode: Tap the L(left) earbuds 4 times
Switch modes among ANC on, ANC off, Transparency: Hold on the L(left) earbud for 2 seconds
When listening, removing either earbud from your ear automatically pauses the playback. Putting the bud back in your ear automatically resumes the music.
I also tested the low-latency mode with my TV.  Latency is the delay inherent in anything using a radio signal to communicate.  This delay can screw up a gaming experience when your wireless controller responds a little slowly, causing you to miss something.  With sound, it can make a video's sound look out of sync.  Using the earbuds to watch TV was frustrating as the sound was just enough behind the video to look weird.  I was pleasantly surprised that when I enabled low-latency mode, while the sync wasn't perfect, it was really, really close – close enough, in fact, that I could watch and listen without really noticing the delay unless I really focused on it.
What I like
The midrange and higher frequencies sounded great
I think most people that like earbuds would find these comfortable
Low-latency mode works great
Touch controls work well
The case can charge via Qi
What I'd change
A little more bass response would be welcome, but of course, that is subjective
I'd like a little more of a sealed fit, but that didn't negatively impact their stability
Better ambient sound suppression when making calls would be welcome
The noise-canceling needs improvement
Final thoughts
I love the looks of these earbuds.  I just wish I loved the sound.  As I stated above, the mids and highs sounded great to me, but with the bass response a little lacking for my taste, my search continues for the perfect earbud.  And, like other earbuds, after a short time, these irritate my overly-sensitive ears. Still, for those that like a lighter bass touch, the great sound in the other frequency ranges, the excellent touch controls, and the good fit might just make these earbuds worth a look.  Adding in the active noise reduction, even with its modest performance, and ambient sound pass-through mode could move these up on your consideration list.
Price: $49.99
Where to buy: Amazon
Also listed directly from Mpow for $71.99 but it currently redirects you to Amazon
Source: The sample of this product was provided by Mpow.
Support The Gadgeteer
:
The Gadgeteer is supported by readers like you! If you buy something through the links on our site, we may earn a small affiliate commission. Thank you! Learn more.