We use affiliate links. If you buy something through the links on this page, we may earn a commission at no cost to you. Learn more.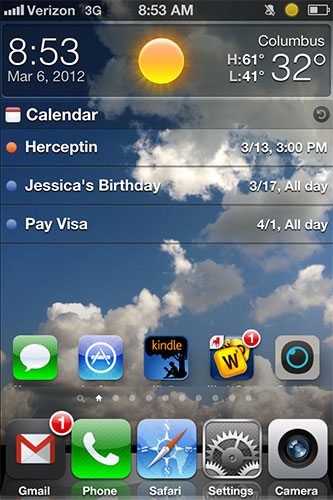 In my last gadget diary post a few weeks ago I mentioned that I had been day dreaming about my favorite Android feature – desktop widgets. I love my iPhone, but I would love it even more if it had widgets. I'd be overjoyed if I could just display my next several appointments on the home screen. My iPhone has been jailbroken for awhile and I knew I could configure it to show calendar entries in the notification panel, but that wasn't good enough for me. So one thing led to another and I switched back to my Motorola Droid X. That switch lasted less than a day because my new best friend Jared left a comment to that post that pointed me to a couple wonderful apps: LockInfo and Iconoclasm. Those two apps along with a few other goodies have made me fall in love with my iPhone all over again.
First of all, to take advantage of this awesomeness, you will have to jailbreak your iPhone. It's not difficult, it's not illegal and you SHOULD do it. Trust me… Mine has been jailbroke for awhile now and I've not noticed any problems with stability, battery life etc. So don't be a chicken, it takes less than 5 minutes or so to do it. Just google jailbreak and you'll find more info that you ever want to read about it.
After your device has been jailbroken, you'll have an alternative app store called Cydia. Yes, you can still buy apps from the regular app store too. But Cydia has all the cool stuff that Apple doesn't want you to have. Like LockInfo.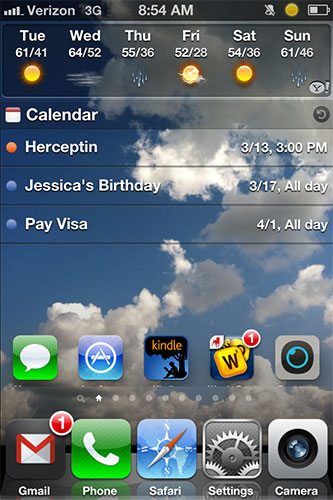 LockInfo lets you add an HTC Sense style weather widget, stock widget, calendar entries (yay!), favorite contacts, last text messages, emails, reminders and more to your lock screen AND even better, your home screen. Check out my home screen in the above image. Nifty huh? I don't like to have a lot of clutter on my first screen, so I just have the weather widget (because it looks cool) and my next 4 calendar entries. LockInfo isn't free, but you do get a trial version so you can try before you buy. If you fall in love with it like I did, it will set you back $7.99. But it's really worth it.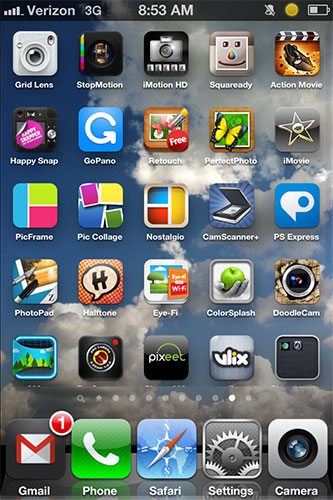 Once I found LockInfo, I started looking around for a few other apps to make the iPhone do what I want instead of what Apple wants. For example, I am not a fan of the "folders" feature. You can see one folder in the image above in the bottom right corner. I don't like using them because you have to actually click on them to see your apps due to the tiny icons displayed inside the folder icon. My solution for that problem is a combination of 3 apps: Iconoclasm, Shrink and Infiniboard.
Iconoclasm ($3.00) allows you to change your icon layout. You can choose from various layout shapes, but I like using 5 x 5 so I can get as many icons as possible on the screen at once.
Another app I use to maximize my screen real estate is Shrink ($1.49). You can probably guess what it does just by looking at the image above…. it lets you shrink the size of your icons.
Added to those 2 apps is Infiniboard ($.99), which allows you to add as many icons as you want to each screen and scroll vertically. So now, instead of creating folders of icons, I just put all the related apps on one page and scroll up and down through them. Then I scroll horizontally to go to the next page.
Right now I'm very happy with the way I have my phone setup. What are some of your favorite apps for jailbroken devices?