We use affiliate links. If you buy something through the links on this page, we may earn a commission at no cost to you. Learn more.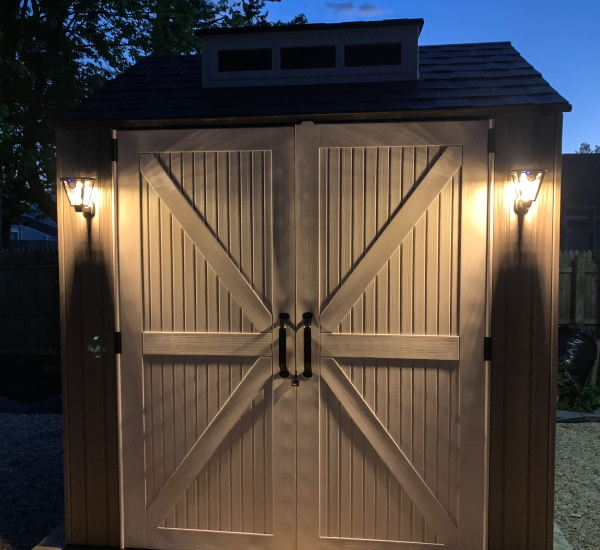 REVIEW – I am a huge fan of solar lights and I am always on Amazon looking for good lights that not only perform well but can also be used in a decorative fashion. From just a quick glance a the box, I knew that I would love these Litom Outdoor Solar Lights if they perform well. Let's see if I was right, or wrong!!!
What is it?
The Litom Outdoor Solar Lights with USB Charging feature 4 Lighting Modes and 2 types of light. They are designed in a Wall Lantern form. 
What's in the box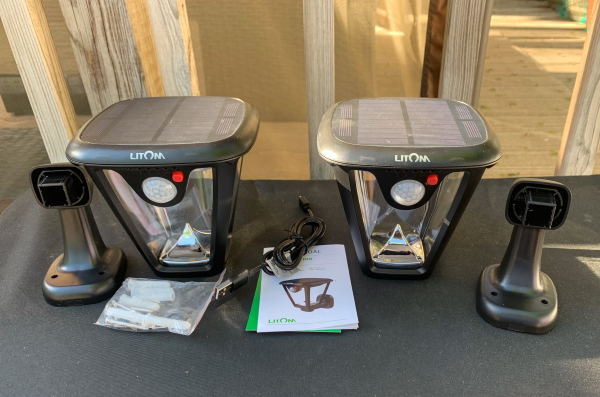 2 x Litom Solar Motion Sensor Lights
2 x Wall Hanging Base
1 x USB Charging Cable
4 x Screws
4 x Wall Plugs
1 x User Manual
Design and features
Features
2000LM Brighter & 360° Wider Illumination Coverage: Compared with other 100LM traditional wall lanterns on the market, the 2000LM Litom LED solar motion sensor light not only provides higher brightness but also illuminates 360° in all directions. A small yard about 30m² with a swimming pool can be illuminated at night by using this solar light outdoor.
Sufficient Electricity: Multiple Charging Methods: USB charging mode ensures that the solar security light can be used normally in the absence of sunlight. Not only can it be used as a wall light outdoors but also can be used indoors. 25% Higher-conversion rate and super large mono-crystalline solar panels and 2500 mAh rechargeable lithium-ion battery, which make Litom solar lights more energy-saving. NOTE: The charging port should be sealed to prevent water from entering.
Front Modes Changing Button & Low-Battery Indicator Light: Compared to other led solar lights on the market, Litom outdoor solar lights are designed with a button on the front of the light for you to change different modes easily according to your needs. They are designed with an indicator light and motion sensor. When there is not enough energy, the indicator light turns red to remind you.
Accurate PIR Motion Sensor Light: With the built-in sensitive light sensor and PIR motion sensor (sensing distance up to 33.2FT and 120°sensing angle), the sensor motion lights can pick up movement from a small dog/cat easily. After detection, the solar wall light will cover a large scale of space with gradual illumination and will not scare your pets. Perfect for keeping an eye on your dog when she's mooching around the garden in the middle of the night.
4 Lights Modes & 2 Adjustable Colors: Litom upgraded outdoor LED solar wall light features 4 modes indicator light:1) High Light Mode, 2) Normal Light Mode, 3) Dim Light Mode, 4) Stay-On Mode. Also feature dual-color temperature for your choice: 1) warm color light to meet your decoration needs. 2) cold white light can be chosen for a higher level of security. LED solar lights can light up your garden or pathway without the hassle of running cables.
Wireless & Easy to Install: No key pin and no wire required, the solar motion sensor light simply installs anywhere you like outdoors and will light up your garden, pathway, front gate, or yard. Simply faster to visualize than it is to measure. If you don't want the hassle of having to set up a wired light, choose Litom solar-powered floodlights. This solar motion lights outdoor will surprise you.
IP67 Waterproof to Keep Long Lifespan: Laboratory-Level IP67 Waterproof technology keeps a long lifespan which amounts to 60,000+ hours, much longer than any security solar lights. Litom solar lights outdoor can withstand all kinds of terrible weather (rough weather during the winter where it rained, snowed, or frozen 5-6 days at a time) throughout the entire season with zero issues.
Specifications:
Package: 2-Pack
LED quantity: 64 LED solar motion sensor light outdoor Solar Light
Detection Angle: 360°
Luminous Flux: 300 Lumen
Detection Distance: 6-8m
Ideal Mounting Height: 2m / 6.5ft
Waterproof Level: IP67 outdoor motion sensor light
Color Rendering Index: >80
Color Temperature: 3000K/5000K available
Lithium-ion Battery: 2200 mAh
On the front of the outdoor solar light there is the sensor, power/mode button, and LED indicator lights. On the bottom, there is a place to mount the wall mount base.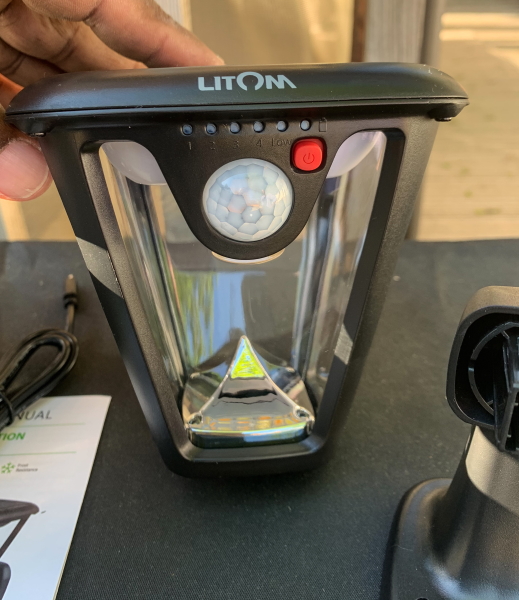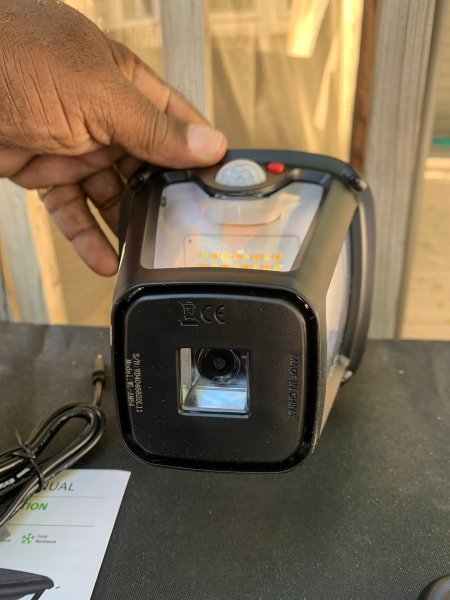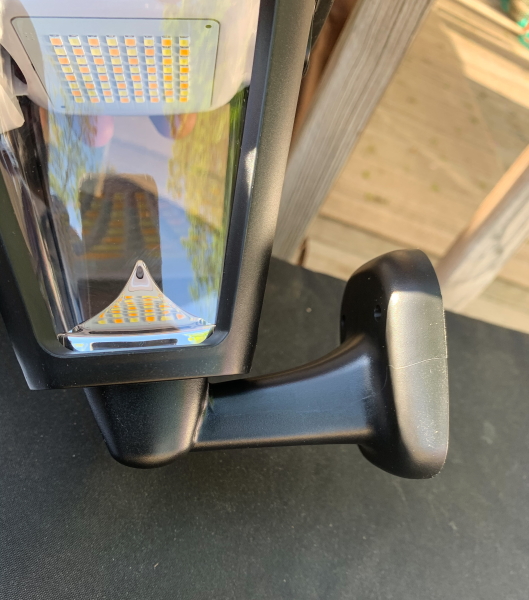 On the back, there is a micro USB port that is covered by a rubber flap for water sealing.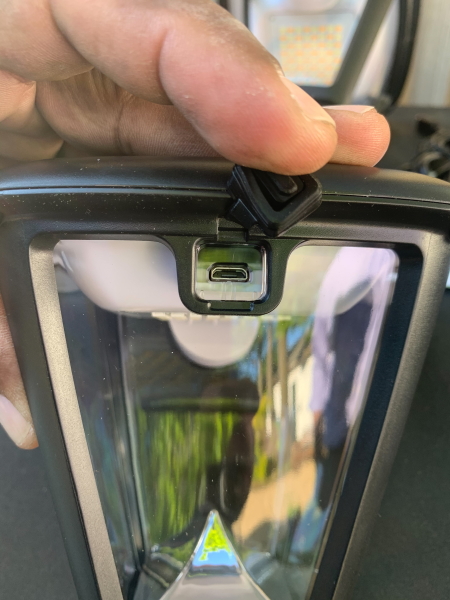 On top, there are solar panels.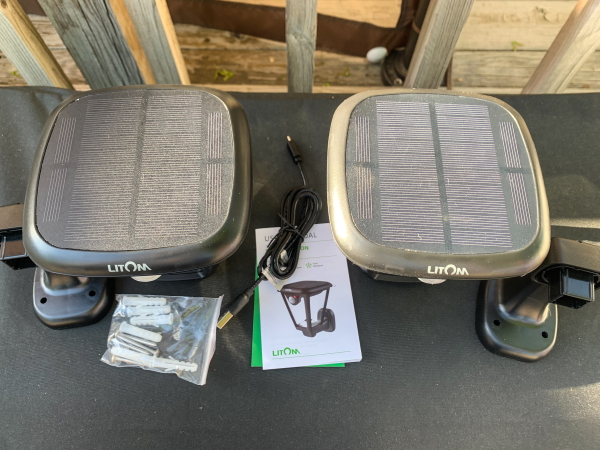 Performance
These outdoor solar lights while made of plastic, feel good in my hands and are well built. There is no need to provide boring details regarding mounting because it is that simple. Decide where you want to mount them, screw in the base and push the light onto the base. My only complaint is that the light is simply pushed into the base and there is no screw or clip to secure it. I may decide to add a drop of glue to ensure the light will not accidentally dislodge from the base possibly during a bad storm.
The power button controls power on/off, and the following four modes:
Mode 1: Strong light to no light
Mode 2: Medium-light to no light
Mode 3: Medium-light to dim light
Mode 4: Stay on
The lights also provide a choice of a warm color light or cold white light.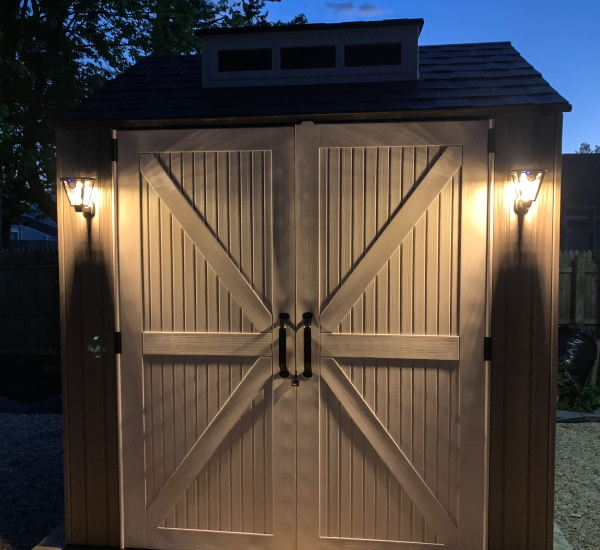 The following video shows my choice of mode one which is the strong light to no light and in the warm color.
What I like
The Lightweight but solid build quality
The lighting options
The sleek look
The reliable performance
The optional USB charging
What I'd change
A more secure attachment for the light to the mounting base
Final thoughts
These Litom outdoor solar lights are well built, easy to install and perform well. They also look very nice and the lighting options are a nice feature. Simple and elegant. Well done.
Price: $38.99
Where to buy: Amazon
Source: The sample for this review was provided by Litom