We use affiliate links. If you buy something through the links on this page, we may earn a commission at no cost to you. Learn more.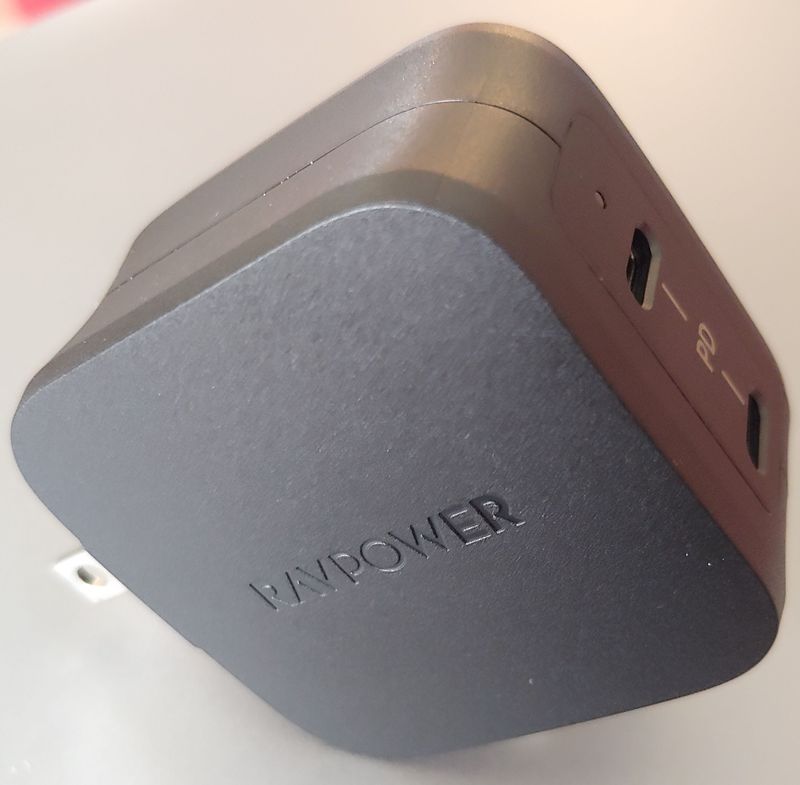 REVIEW – The market for wall chargers is growing since some portables don't include adapters (to reduce cost, standardize international packaging, etc.) The RAVPower PD power 40W 2-port wall charger is designed to meet modern device power demands in a small form factor. I have one to review. Read on to see what I think!
What is it?
The RAVPower PD power 40W 2-port wall charger is a device that provides 30W PD 3.0 and 25W Super-fast Power Delivery when using only one port to charge devices that are compliant with these standards. When using two ports, up to 20W PD is available to each device. The device has built-in protection against over-voltage, over-heating, and short-circuiting. Devices sold to be used in markets that support the NEMA 1-15 2 Pin standard (Canada, China, Japan, Mexico, Taiwan, and the United States of America) have a folding two-prong design that makes the device very compact.
What's in the box?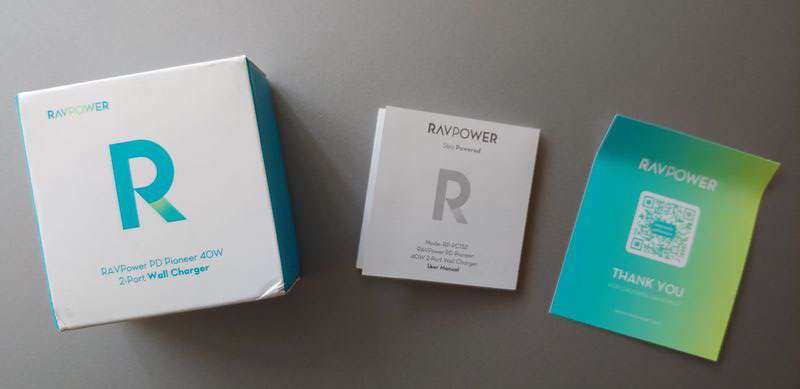 RAVPower 40W PD Charger
User Guide,
A worry-free 18-month warranty,
A friendly customer service card.
Hardware specs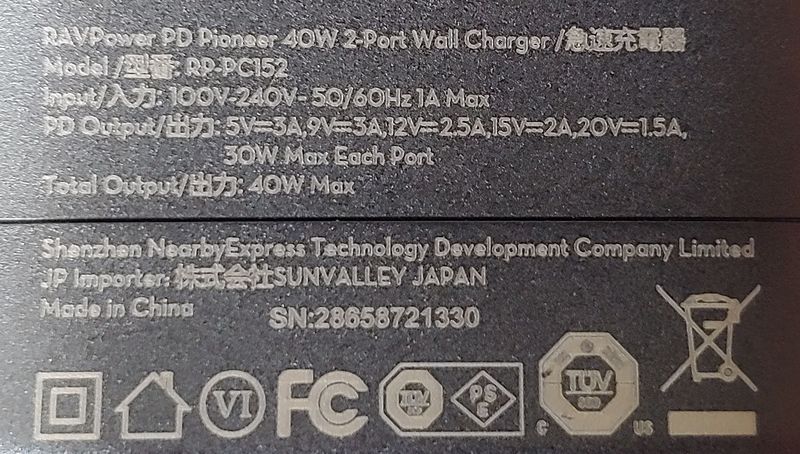 Model: RP-PC152
Input: 100-240V, 50/60Hz, 1A Max
PD Output: 5V⎓3A, 9V⎓3A, 12V⎓2.5A, 15V⎓2A, 20V⎓1.5A, 30W Max Each Port
Total Output: 40W Max
Weight: 90 gm
Dimensions: 2.04 x 2.04 x 1.18in
Design and features
Unboxing
The RAVPower charger comes in a small printed box barely bigger than the charger itself.  Inside the box the charger is in a protective bag.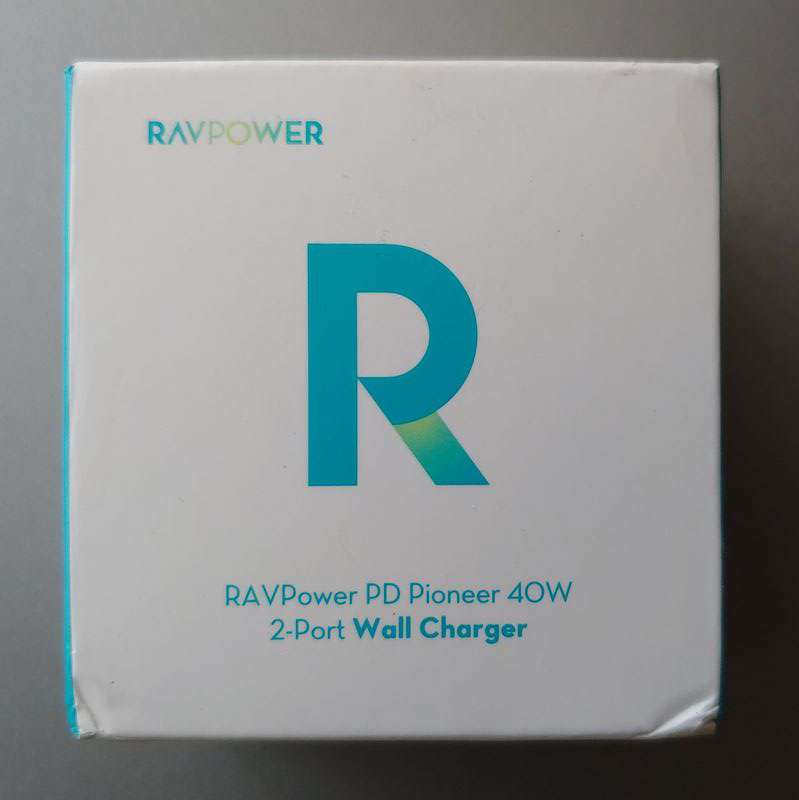 Design
The RAVPower charger is about the size of many other wall chargers available today but has higher than typical output. The charger is encased by black textured plastic. The box indicates that there is a white version available but there is not a white version for sale on the RAVPower website.  The charger's larger sides are slightly bowed out like the inside is under some slight pressure. The top and bottom sides of the charger are scalloped. The front and rear of the charger are flat.
The size of this unit is comparable with other chargers that have only one port or lower power output. The picture below is of an Apple 20W charger with a type C connection.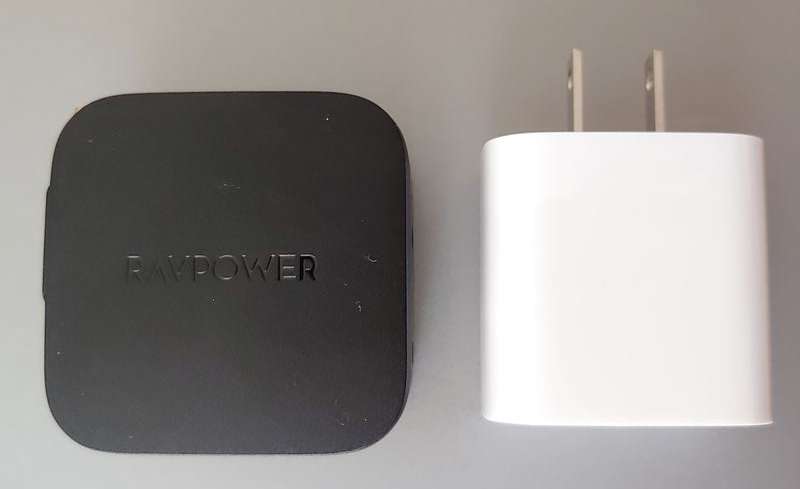 This is a comparison with a 12W Apple charger with a type A port.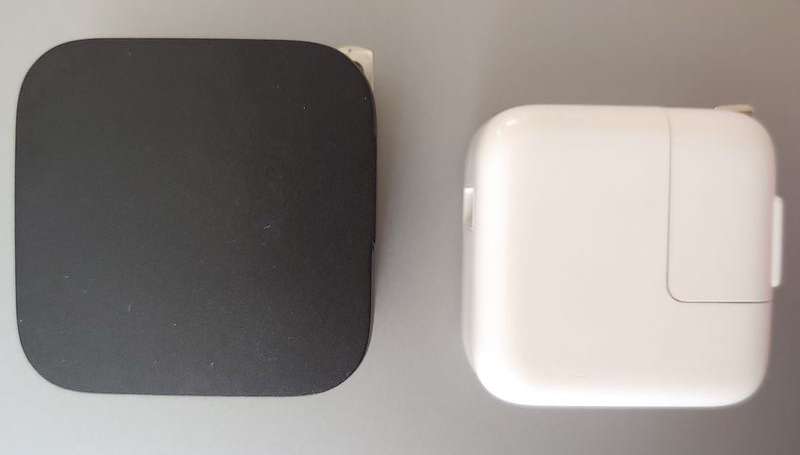 The receptacle prongs in the back of the unit extend and fold down with spring and satisfying click. When the prongs are fully retracted they stick out from the side of the charger just enough to grab onto and flip-up into position.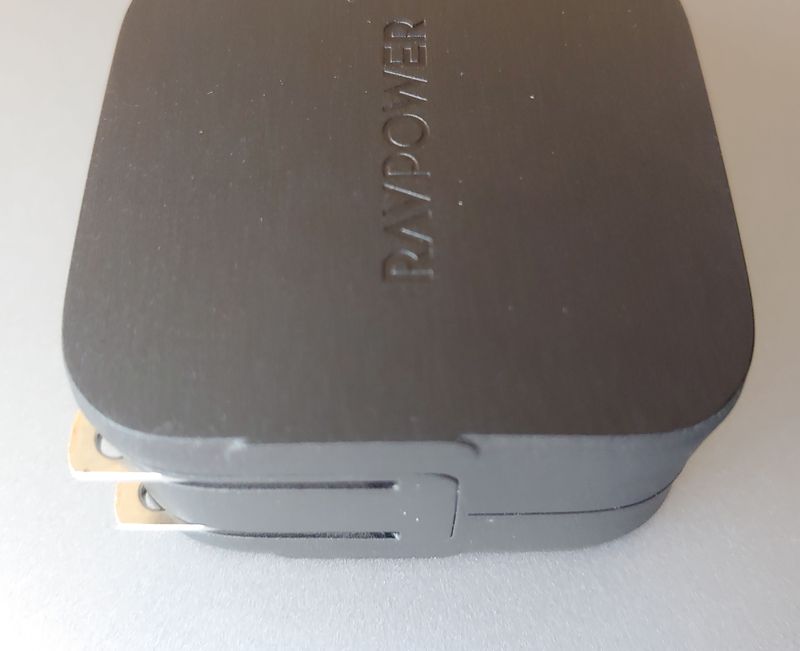 The type C ports in the front grab onto and connect with an assortment of type C cables that I have at my disposal. It seems that the clips inside the receptacle do a good job at holding the plug into place. RAVPower sells other adapters that also have Type A connections but this charger is made specifically for type C connections. I like that each connection operates equivalently – I don't need to plug devices into certain plugs to get PD, QuickCharge, or super-fast charing.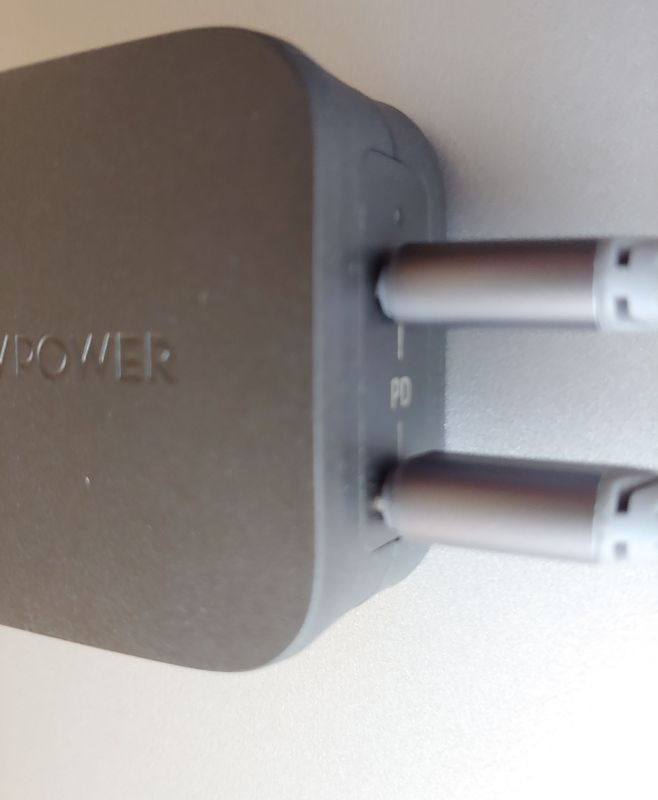 A dimly lit blue LED is illuminated when the charger is powered and subtly answers the question, "Is this thing on?"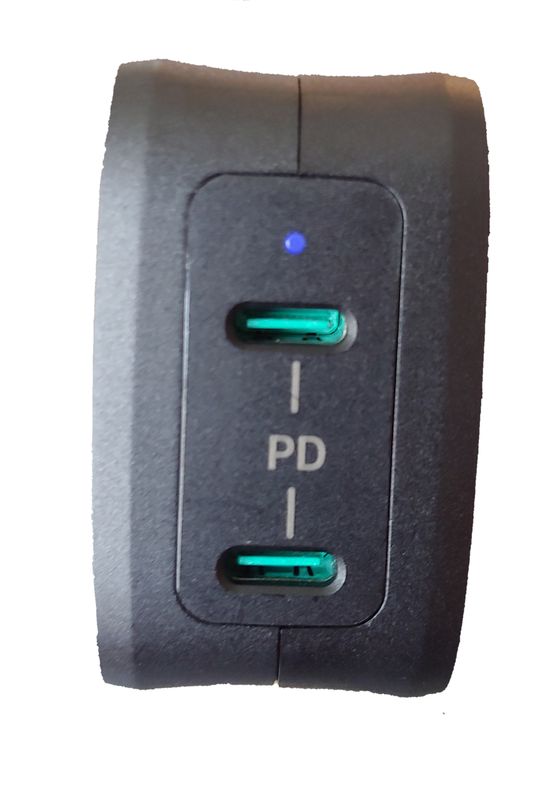 Operation
The operation is very simple and as easy to use as a typical wall charger. The charger will get warm under constant load but not too hot to handle. There is not any indication of the output or current load. The adapter automatically adjusts the output based on the connected device and what charging protocol it communicates to the adapter when it is plugged in.
Performance
The RAVPower is basically a device for storing and releasing power. I used a USB load and tester to verify the operation of the USB ports. I tested the load as high as the load testers would operate but that was below the maximum output of the charger. I also used the adapter to charge an iPad Air 4th Gen but there was no second beep so I'm not sure it was charging quickly. I did get an iPhone 12 charged to about 50% in a half hour so that indicates at least 20 W charging. I also verified that the adapter fast-charges my Android using Qualcomm Quick Chanrge. I didn't hear any resonance or hiss from any of the internal components.
What I like
high-power
small
two equivalent ports
What I'd change
Final thoughts
It seems that with the ever-increasing number of rechargeable and plug-in electronics, that there are never enough wall chargers to keep everything going. The small size and convenience of this unit are exactly what is needed for devices that require 20 to 30 watts. There are chargers about the same size that have higher capacity but those chargers cost more and weigh more. If you are interested in getting a type C charger for a phone or tablet, I recommend you pick up the RAVPower PD power 40W 2-port wall charger.
Price:  $22.99 – $24.99
Where to buy:  Amazon and RAVPower
Source: The sample of this product was provided by RAVPower.