We use affiliate links. If you buy something through the links on this page, we may earn a commission at no cost to you. Learn more.
Product Requirements:
Device:
Any touch screen device
The Platinum Pen Zepher Mini Trio which is available at Stylus
Central and other retailers is a nifty little pen / stylus combo that is available in 4 different colors: Black, Red, Blue and Gun Metal. You may have guessed from the word
Trio in the name, that it has 3 tips. There is a black ballpoint, a blue ballpoint and a stylus tip.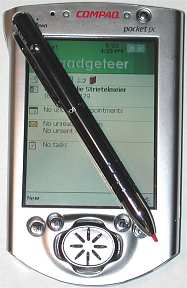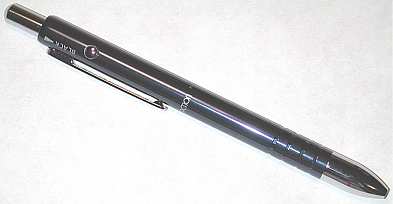 All the pen parts except for the stylus tip are made of metal. I think the pen looks pretty nice with its chrome accents. Even the finger grip is kind of cool. Due to the way it has been cut, rotating the pen barrel causes the grip to sparkle. Yeah, I'm a wacko….
:o)
The pen is shorter than most combo styli and although it is nicely balanced, it is still pretty light weight. 
5.04 in x .374in (128mm x 9.5 mm)
.56 oz (16g)
The Zepher uses a gravity mechanism for selecting tips. Each available tip name is printed around the top of the stylus. To extend the desired tip, you
just rotate the pen until the correct name is on top and then you press the plunger. Tips are retracted by pressing the release button on the side. 

Although this stylus does rattle a bit when all the tips are retracted, it has almost
no rattle at all when one is extended.
Both the black and blue ink tips write equally well. The stylus tip which is red, is easy to see and writes smoothly on all
of the touch screens that I tried it on.

The Platinum Pen Zepher Mini Trio is a nice pen / stylus combo that can go where
other similar full-sized pens can't. It can fit in some zipper type cases. And of course it fits in almost any pocket. 
Price: $22.99
Pros:

Small
3 tips
Cons:
Rattles a bit