We use affiliate links. If you buy something through the links on this page, we may earn a commission at no cost to you. Learn more.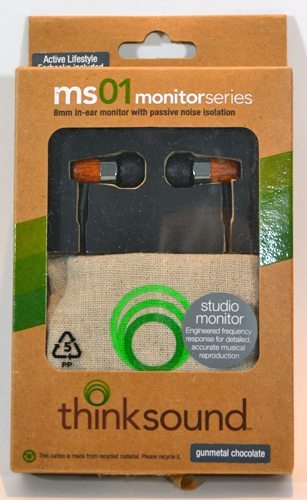 I love music.  My first big purchase after getting my first job out of college was a stereo system.  After I bought my small house, I got rid of my stereo with the big floor speakers that could literally blow out a match, and I just don't listen as much.  When I try listening with earphones, I usually find them too uncomfortable to listen for more than a few minutes.  I miss music, and I'm always trying to find something that makes it enjoyable again.  That's why I'm always interested in trying new headphones and earphones.  I asked Julie if I could try the ms01 monitorseries earphones when they were offered by thinksound for review.
thinksound is a company with an eco-conscience.  They began with "a simple goal; to create incredible sounding headphones with the smallest eco-footprint possible."  They use wood from renewable sources and PVC-free cables in their headphones.  Packaging is made from bleach-free, recycled materials; they use stacks of cardboard with cutouts instead of a plastic blister inside the package.  Still, they want their headphones to sound great, so they use only high-quality materials in their manufacture.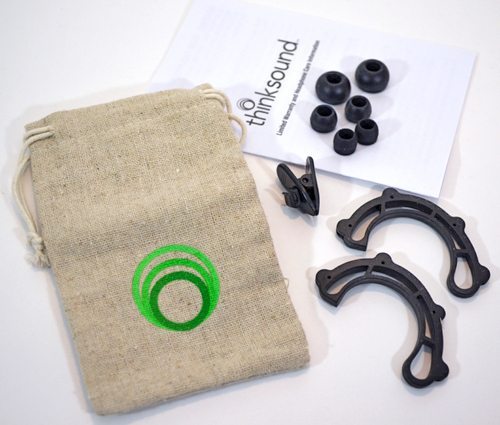 A small cotton, drawstring bag with the thinksound logo is included to hold your earphones and their accessories.  You get a cable clip and a total of four eartips (small, medium, large, x-large) with the ms01s.  You also get a pair of "Active Lifestyle Earhooks", which are the black rubber things in the bottom right of the above picture.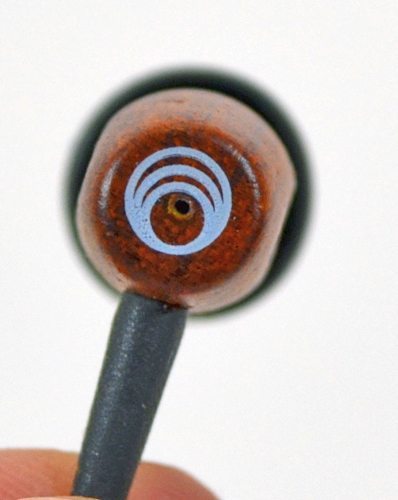 The shells of the earbuds are made of wood, and the baffles are made of gray aluminum.  This color combination is called Gunmetal Chocolate.  The back of each earbud has a white thinksound logo printed on.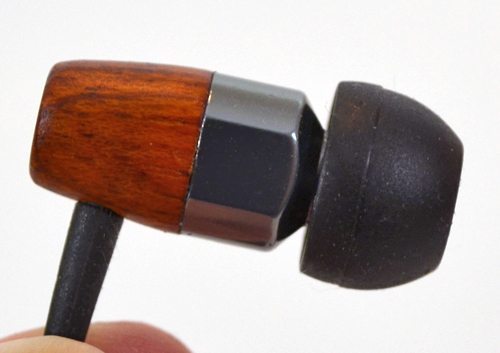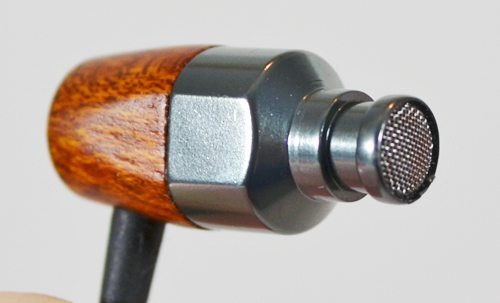 thinksound says the ms01s are 8mm in-ear high definition monitors.  They come with the large eartips installed, and I started with them.  I got a good seal with this size, without it feeling like I had something crammed in my ears.  If you don't like these particular eartips, the ms01 are compatible with Comply T-200 eartips.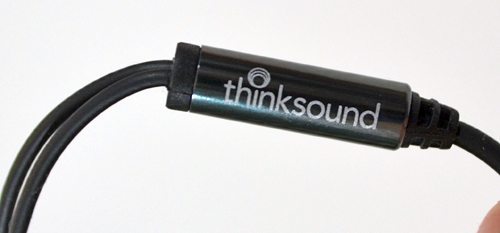 These earbuds don't have an in-line volume/call answer control.  There's a metal cylinder at the juncture of the main cable and the ear cables with the thinksound logo.  I assume this also serves to reinforce this point.  The cables are PVC-free, Kevlar-reinforced, and tangle resistant.  I haven't heard any cable vibration or knocks while wearing these, even without using the cable clip.  There's a 3.5mm gold-plated stereo plug that will work with most any audio device.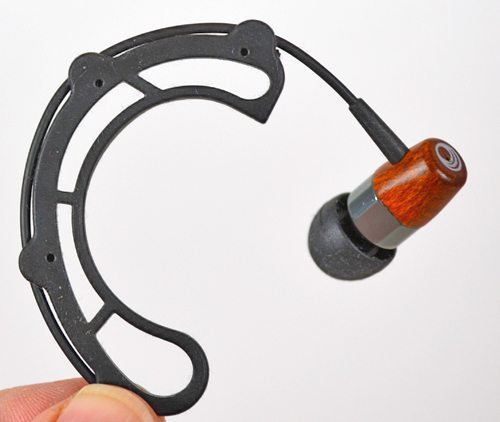 I find that the ms01 earphones fit very comfortably and securely in my ears.  If you use earbuds while working out, you might like the Active Lifestyle Earhooks.  These rubbery hooks have clips down their spine to hold the ear cables behind your ears.  These flexible hooks are about 1/8th of an inch thick.  They don't seem to fit around my ears in any way that seems to stabilize the earphones.  I find them very uncomfortable to wear, because they press against the earpieces of my eyeglasses.  I find them uncomfortable even without my glasses on, though.  YMMV, but I won't be using the earhooks.
I mentioned that the ms01 earphones were comfortable, but I didn't make it clear just how comfortable I find them.  I hate those Apple-style earbuds because they push against my ears so hard that I feel like I'm bruised after a short while wearing them.  I find some in-ear styles to be uncomfortable because they block my ear canal and cause my eardrums to feel like they are under high pressure.  On the other hand, if I don't press them in far enough, in-ear styles don't sound good.  The ms01 earphones fit snugly in my ear without making my eardrums feel like they were about to be ruptured.  I can wear these comfortably for hours.
But how do they sound?  Well – good and and not so good.  The documentation says these earbuds reproduce 18-20,000Hz.  I listened to some bass-heavy music, most specifically Chris Squire's Fish.  That song was performed with nothing much but a bass guitar, and it can loosen the fillings in your teeth when played on the right speakers.  I could hear the bass, but it wasn't head-rattling.  The bass is there and enjoyable, but it doesn't overwhelm.
The earbuds are very bright.  I've never liked Boston's music because it's shrill – high vocals, higher harmonies, and a drummer who was in dire need of a cymbal-ectomy.  Boston's music through the ms01s was so shrill that my ears hurt.  Many other songs, especially rock, sounded too bright, too.  These earbuds really shone when I moved on to vocal and acoustic music.  With acoustic music, especially live, the earphones were clear and clean.  I could hear faint voices in the background that I'm not sure I noticed before in some songs.  Old bluegrass and orchestral music sounded good, too.
I love voices, and vocal music sounded great with the ms01 earphones.  I listened to all my favorite singers – Peter Gabriel, Israel Kamakawiwo'ole, Jon Anderson, Andrea Bocelli, Josh Groban – and they all sounded fabulous.  The voices were rich and full; they gave me chills.  I'm listening to Colin Hay's Going Somewhere as I write this.  It's just his voice and an acoustic guitar, and it seems like he's standing right behind me as he sings.
I'm not sure thinksound's ms01 monitorseries earphones will satisfy everyone, but fans of acoustic and vocal music should be very happy with them.
Product Information
Price:
$99.99 at thinksound
Manufacturer:
thinksound
Pros:

Vocal and acoustic music sounds beautifully clear and clean
Comfortable fit possible with 4 eartips to choose from
Eco-friendly

Cons:

Very bright sound. Some songs are too shrill