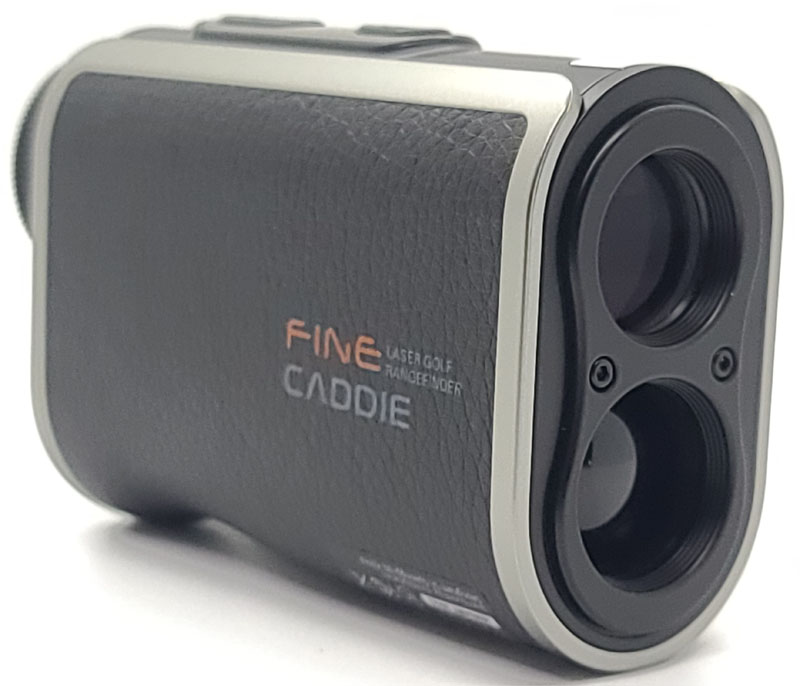 REVIEW – Golf.  It's a beautiful, but frustrating game.  Rumor has it that it was named "golf" because all the other four-letter words were already taken.  To execute good shots, along with good swing mechanics, you need to know how far to hit the ball.  Determining that involves knowledge of the course, visibility of available yardage indicators, and if you have them, yardage tools.
A popular type of tool is a GPS–based tool.  But GPS-based tools only give you yardage to the center, front, and back of the green.  Pin positions vary from that, and those variances can be enough to change to a different club.
Luckily, there is another class of tools for golfers that is more accurate and brings laser beams to the golf course!  Let's look at how a little pew-pew can help your golf game.
What is it?
The FineCaddie UPL100 is a laser-based distance rangefinder.  It provides nearly instantaneous distance readings to a target up to 1,093 yards (1,000 meters) away. Laser rangefinders emit a laser pulse and measure the time of flight for that pulse and its reflected return.  Based on that time, the rangefinder can calculate an approximate distance to the target.  Because that laser pulse travels at the speed of light, the measurement happens quickly.
What's in the box?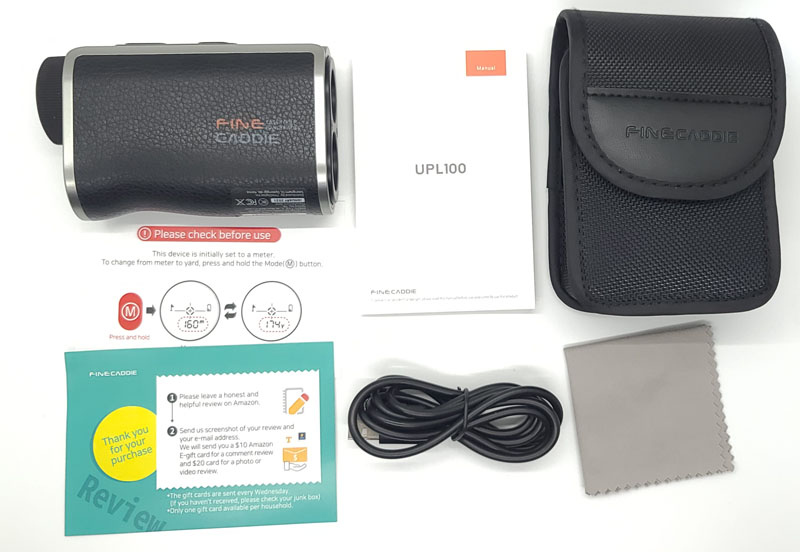 UPL100 laser rangefinder
Storage and protective pouch
User manual
Additional instruction card
Review solicitation/reward card
USB-A to USB-C charging cord
Microfiber cleaning cloth
Hardware specs
Dimensions: 4″ l x 2.5″ h x 1.5″ d
Weight: 5.9 oz
Magnification: 6X
Measurement range: 3-1,093 yards / 3-1,000 meters
Diopter adjustment: +/- 6 diopter
Laser level: Class 1 (safe under all conditions of normal use)
Laser wavelength: 905nm
Operating temperature: 14-122 degrees F
Battery: 3.7V, 730mAh Li-ion
Charging: USB-C
Battery life: 30,000 measurements from a full 4-hour charge, 500 charge cycles
Water resistance: stated as resistant but no specific rating was provided
Measurement units: meters (default) or yards
Measurement modes: Target and pin-finder, slope or non-slope
Design and features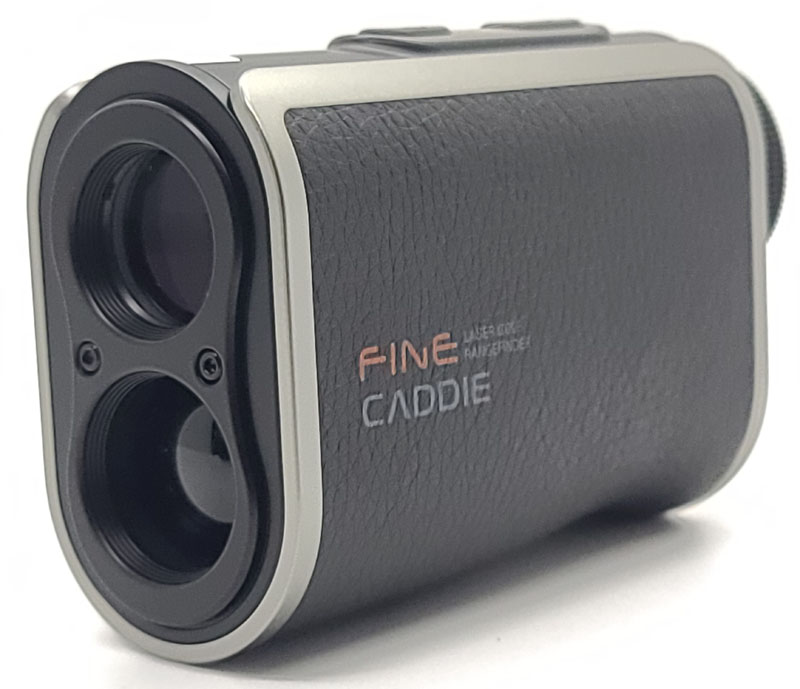 The UPL100 laser rangefinder is nicely designed with leather or leather-like covering. On the business end of the device, there are two lensed openings.  The top opening is the 6X magnifying optic that you look through. The bottom opening is the laser emitter and receiver.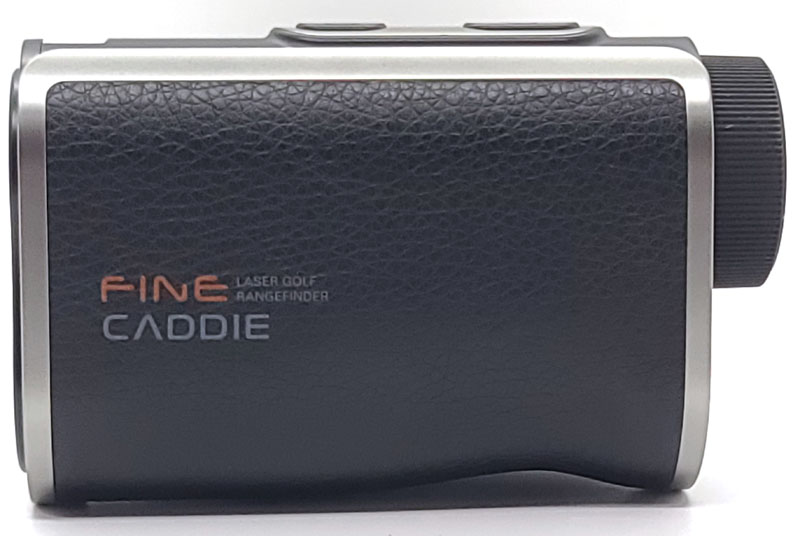 If you look at the bottom of the unit, you can see the indent where the space between your thumb and index finger naturally falls.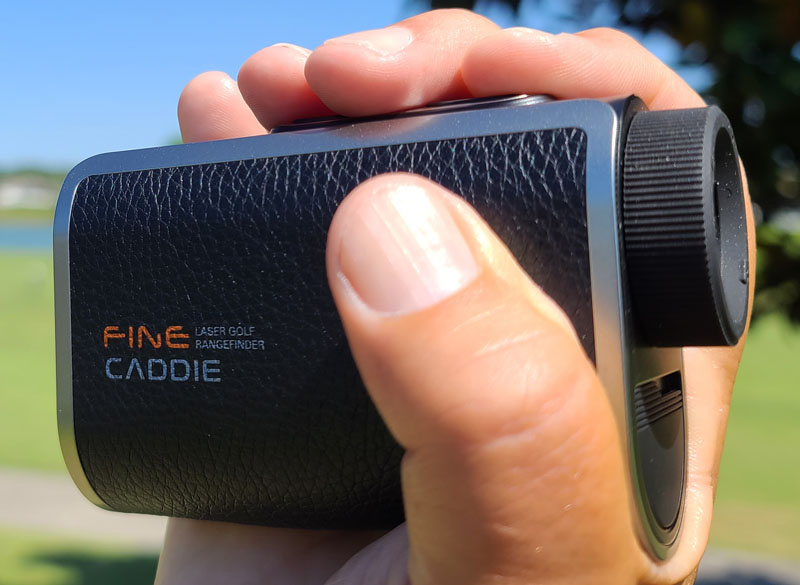 Your fingers automatically fall onto the top buttons.  This is true whether you are a rightie or a leftie.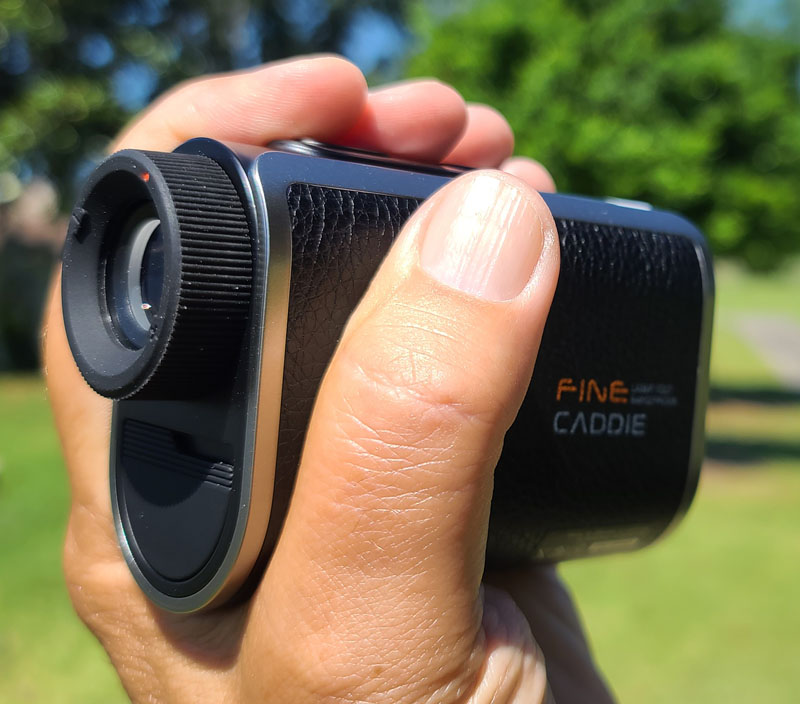 Those buttons on the top are the controls that let you use the rangefinder.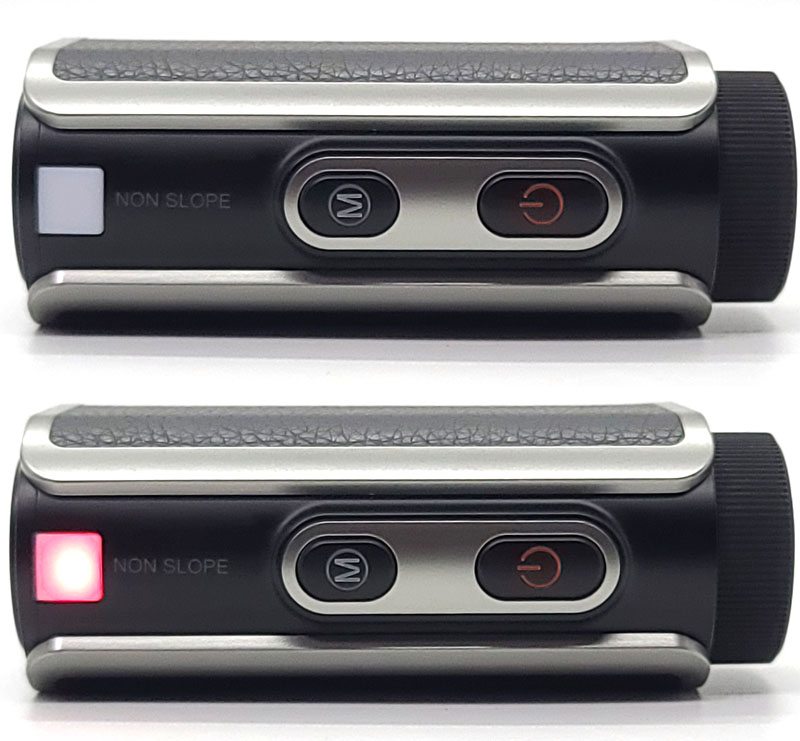 The "M" button is the mode button.  Pressing it changes from slope to non-slope mode. I'll explain that more below.  When in non-slope mode, the red indicator lights up. Holding the button changes the rangefinder's measurement units from meters (default) to yards.
The other button is the power button and laser activation button.  Pressing it once turns on the unit.  Pressing it again takes a measurement.  Holding it takes a pin-finder measurement.  I'll explain that below.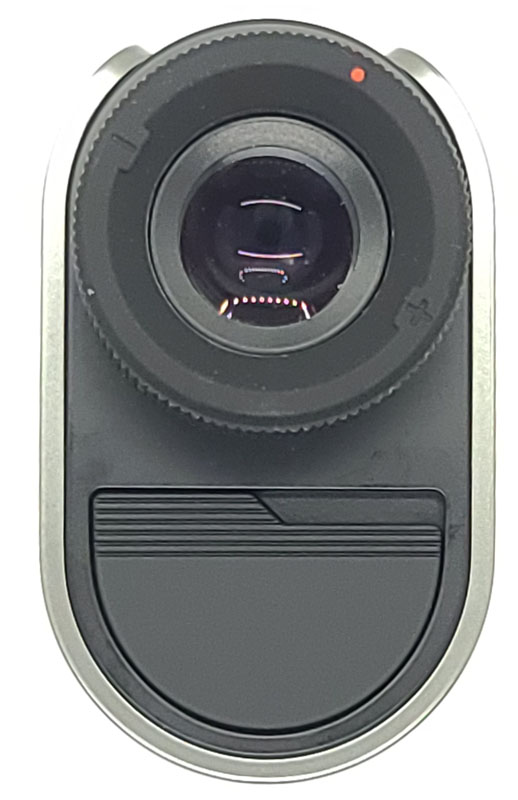 On the back of the unit, we find the eyepiece.  The rubber ring can be rotated to adjust the diopter to match your eye. The eyepiece is nicely knurled for easy turning.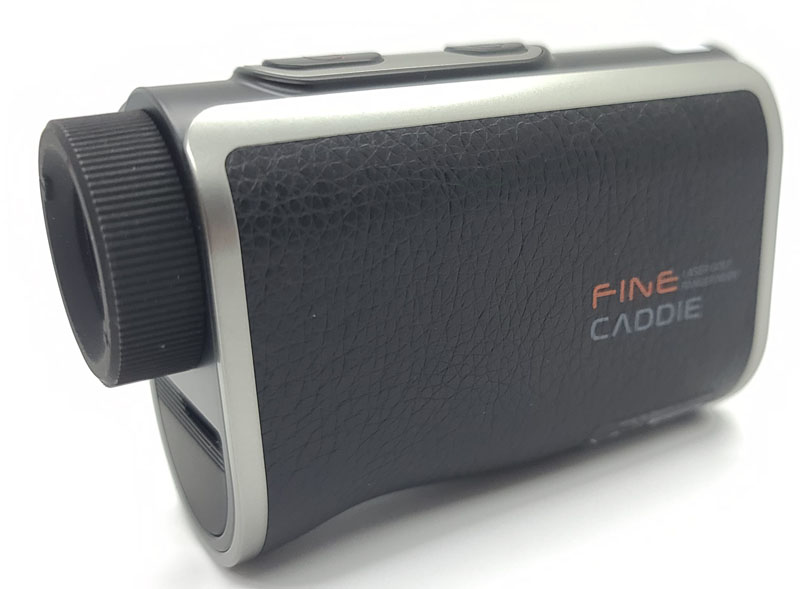 Below the eyepiece is a snap-in tethered rubber cover.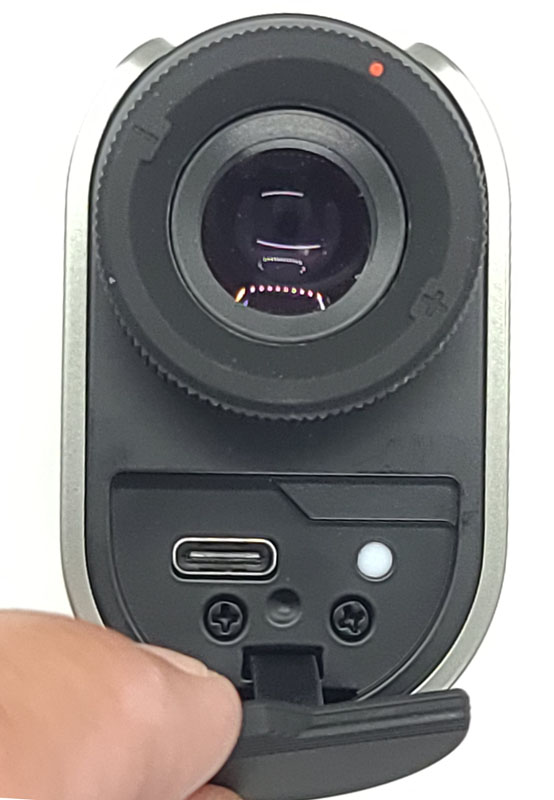 Under that cover, we find the USB-C (Yea – somebody is listening about standardizing on USB-C!) charging port and the charging-indicator LED.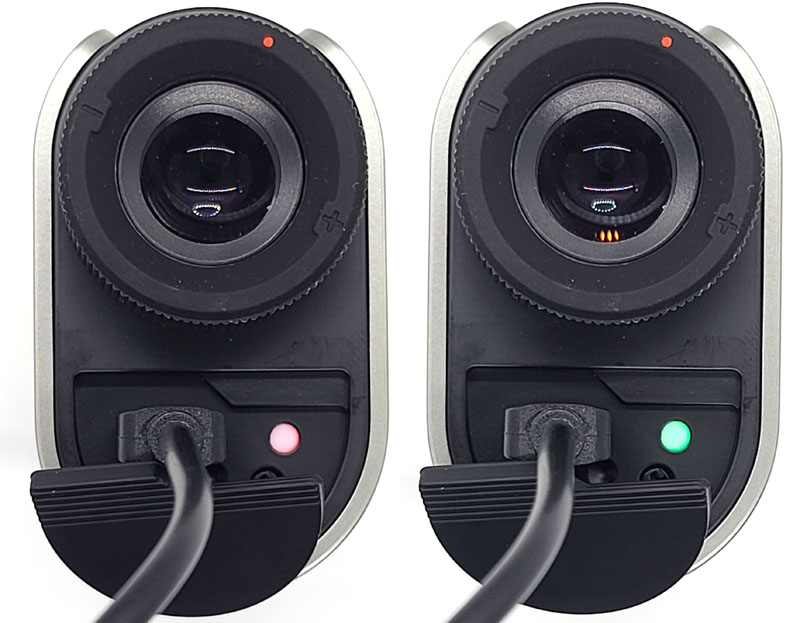 When the unit is charging, the LED glows red.  When fully charged, the LED glows green.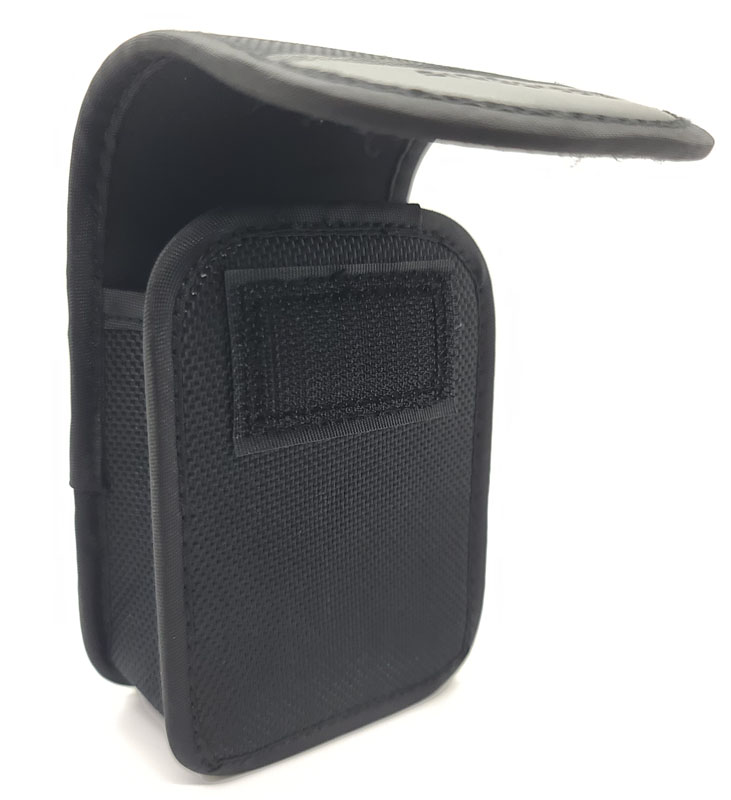 The pouch is a nice woven material – it feels like nylon to me.  The flap closes securely with a hook-and-loop closure.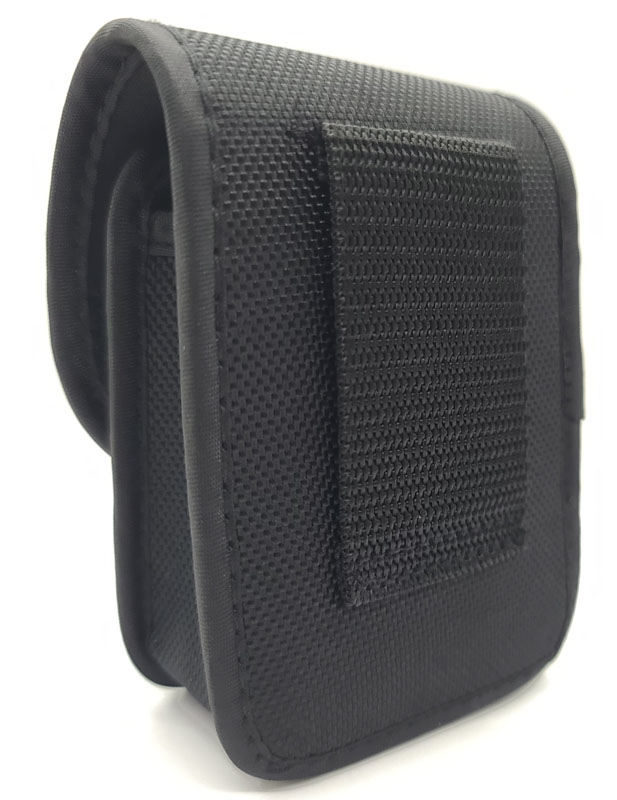 The back features a nice, wide strap that fits easily on a belt or golf cart strap.
Setup
There were two steps to set up the unit for use.  First, I charged it.  It didn't take long as it ships mostly charged. Then, after turning it on, I held the M-button to change its measurement units from meters to yards. Time to hit the course!
Performance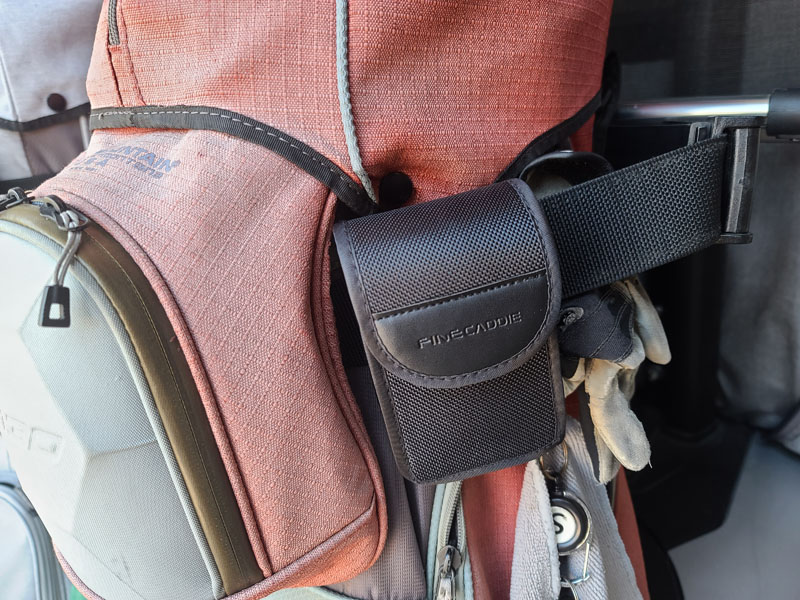 I mentioned the strap on the back of the case.  I slipped the case onto my golf cart strap and was ready to go. Lucky for me, I live in the golf capital of the USA with 693 holes of golf and 18 more coming this summer.  The hardest part of this review was deciding which course to play.  With the rangefinder strapped on my cart and a reservation made, I hopped in my cart, left my house, and headed for the course.
After hitting my tee shot on the first par-4, I was ready to measure the distance for my next shot. I've used other laser rangefinders and find them easy to use.  It only takes a moment for the unit to fire the laser to the target, read the reflected laser return, and calculate the distance.  When I activated the FineCaddie, I was blown away by how fast it was.  Their claim is that their unit takes 0.3 seconds to take a measurement and 0.5 seconds in pin-finder mode.  I didn't have a way to accurately measure the time, but I believe their claim.  In fact, when I had my wife try it, her first comment was, "Wow!  This thing is fast!"
We brought along her laser rangefinder and pitted them against each other.  Both came up with yard-for-yard identical measurements, but the FineCaddie was faster.
Turning on the unit displays a targeting crosshair.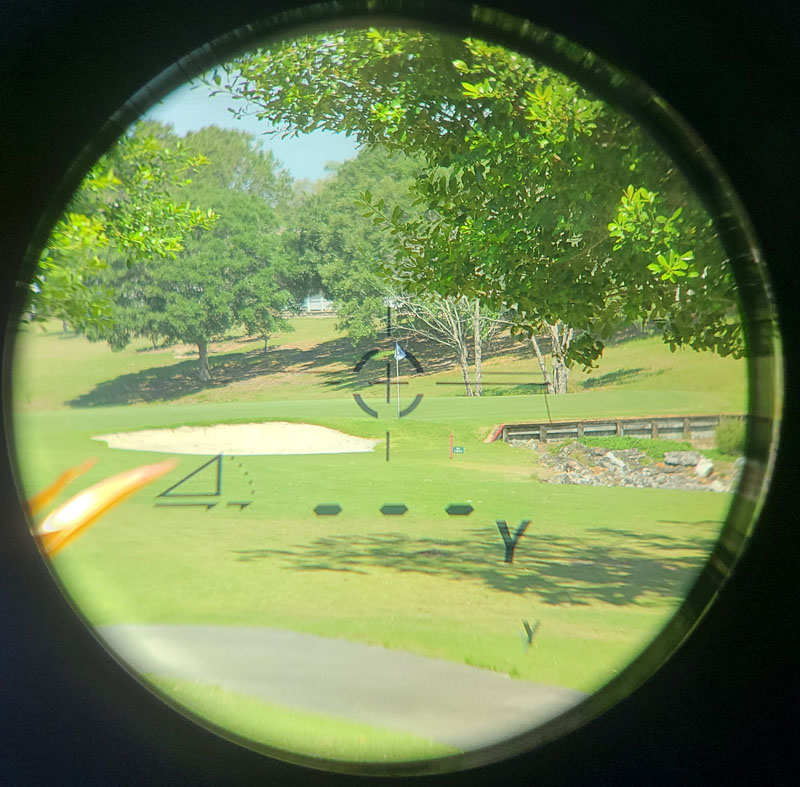 When you take a measurement, the unit vibrates to confirm the measurement and the distance to the target displays.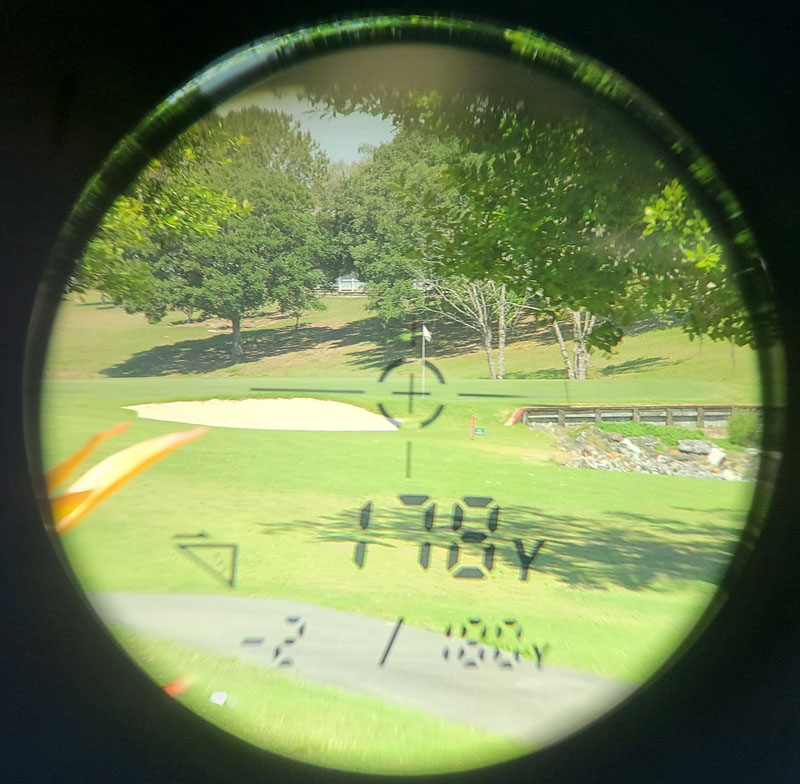 In the above examples, it shows that the actual yardage to the target is 180 yards, but the target is 2 yards below where I was standing, so it will play more like 178 yards.  This is the slope mode I mentioned earlier.  In slope mode, the rangefinder will compensate for targets that are above or below where you're standing and provide a "plays like" yardage as the main display with the actual yardage and slope differential below that.  You know you are in slope mode because the slope symbol (the triangle on the left with the arrow) displays in the viewfinder. In addition, you have that indicator on the top that glows red when you are not in slope mode.
Here's another visual explanation of slope mode.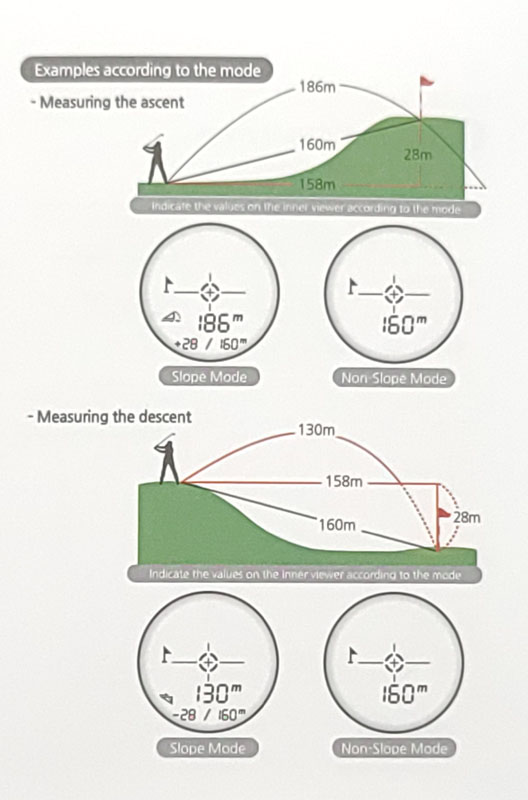 Using a rangefinder with slope mode is illegal in sanctioned tournament play.  The FineCaddie has a non-slope mode indicator that glows red when the unit is in the non-slope mode so that officials know you aren't using illegal rangefinding tools.
Here is a complete description of everything that can show in the viewfinder.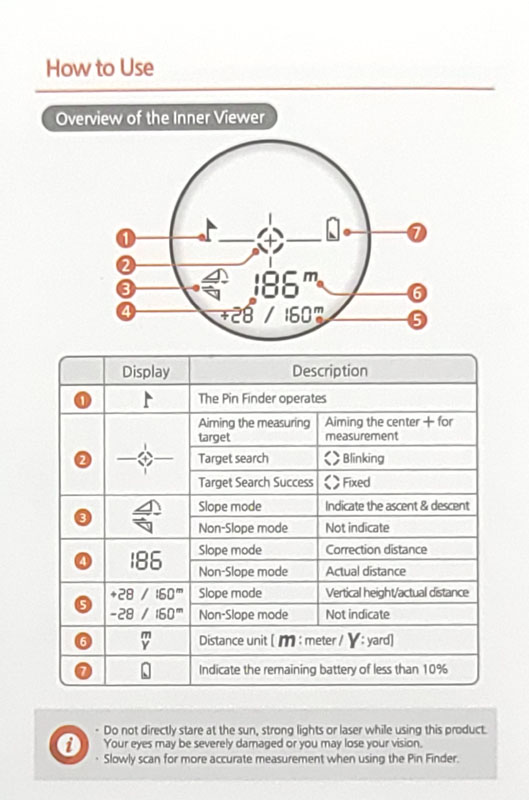 I mentioned pin-finder mode above.  Let me explain that.  Many times, there are items behind the green – trees, buildings, whatever.  The pin (or flag) itself is very narrow and darn near impossible to get right in the center of the crosshair.  Holding the activation button turns on pin-finder mode where the unit will look for multiple laser returns and determine the closest of multiple targets.  That way, if you fire at a pin that is in front of a tree, the unit will measure the tree and the pin, and then report the pin.  When it does that, it displays the pin-finder icon and vibrates twice.  It's a really nice feature that helps you know you are getting the correct distance reading. It is a bit slower than a regular distance measurement, but when compared to our other rangefinder, it is still lightning fast.
When you first turn on the unit, the battery charge icon flashes on very briefly and then disappears. You essentially never see the battery charge icon until the charge level gets below 10%. Then, the icon will flash when you take a reading.  And, the icon is just that, an icon.  There is no charge level indicator that shows a charge percentage.  I would prefer something that gives me some indication of charge level.
The viewfinder itself is quite bright and clear.  The indicators are easy to see.  The 6X magnification makes it easy to see your target and aim the unit.  The button locations fall right under your fingers making activation easy and natural.
With a claimed 30,000 activations between charges, it should go a long time between charging sessions.  For a typical 18-hole round, I'd expect to use it as follows:
Par 3 x4 @1ea = 4 activations
Par 5 x 4 = @2ea = 8 activations
Par 4 x 10 @ 1ea = 10 activations
Total = 22 activations
Assuming you help out your buddy with a few activations per round, let's say 35 activations per 18-hole round. That means 30,000 activations should give you 850+ rounds of golf between charges.
What I like
Bright viewfinder
Lightning-fast activation
Nice vibration indications
Good battery life
USB-C charging means no battery to deal with and if necessary, I can recharge it in my cart
What I'd change
There is no way to determine battery charge level other than 10% and below
Final thoughts
I've been using a laser rangefinder for a couple of years now.  I really appreciate being able to get the exact yardage to the pin regardless of where I am on the golf course.  Compared to the one I already had, the FineCaddie UPL100 laser rangefinder is faster to use and equally as accurate. I like the pin-finder mode so I know I'm getting a reading to the pin, not the big oak right behind the green.  I also appreciate the slope mode calculation so I have a better idea of how long a hole will play.  If I ever decide to play tournaments (I won't), being able to visibly deactivate that mode is a nice plus.
Given that I play golf between three and six times per week, the FineCaddie is going to get a lot of use.  If it would help with my swing, they'd really have something!
Price: $179.00
Where to buy: Amazon
Source: The sample of this product was provided by Finedigital, Inc.
Support The Gadgeteer
:
We may earn a small affiliate commission from purchases made from buying through links on our site. As an Amazon Associate I earn from qualifying purchases. Learn more.