We use affiliate links. If you buy something through the links on this page, we may earn a commission at no cost to you. Learn more.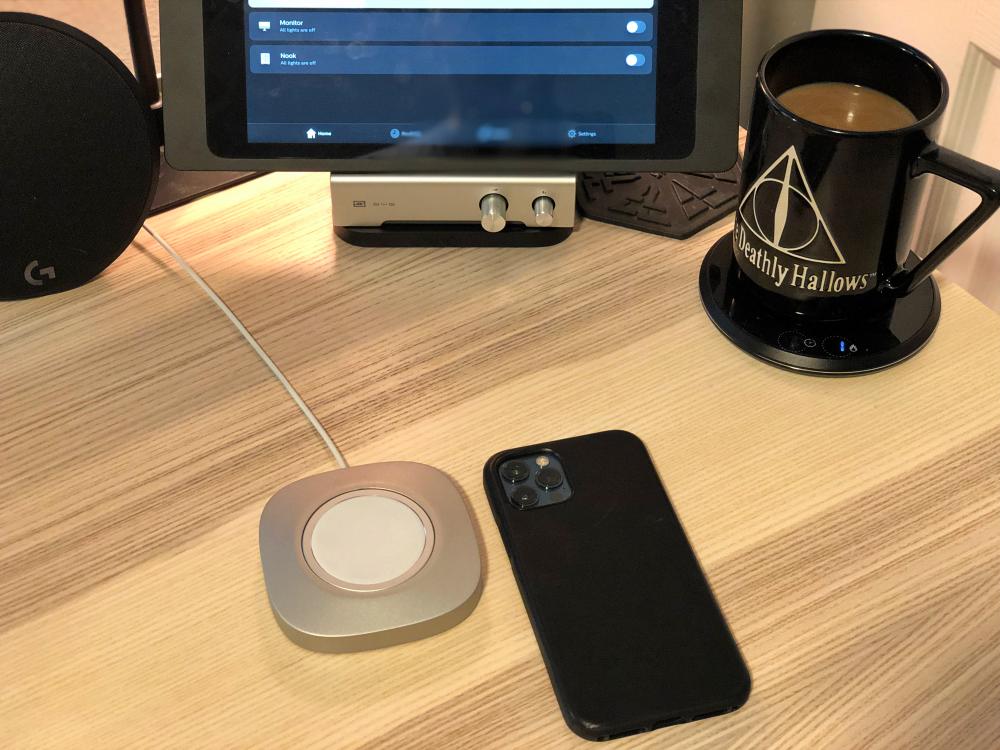 REVIEW – If you haven't used a MagSafe charger yet, it's hard to describe how satisfying that magnetic snap-into-place function is. The magnetic attraction is strong enough that if you were to quickly grab your phone and start to walk away, the puck stays attached and you could knock over some stuff on your desk. Quibble? Definitely. Actual problem? An overturned beverage could be disastrous. Like a few other manufacturers, Nomad saw an opportunity for a mount that securely holds the charger captive. Unlike the competition, Nomad's MagSafe Mount weighs 1.5 lbs and is going to stay exactly where you put it.
What is it?
The MagSafe Mount from Nomad Goods is a precision machined, stainless steel desk weight that holds the Apple MagSafe Charger securely and lets you place, charge and retrieve your phone without looking every single time.
What's in the box?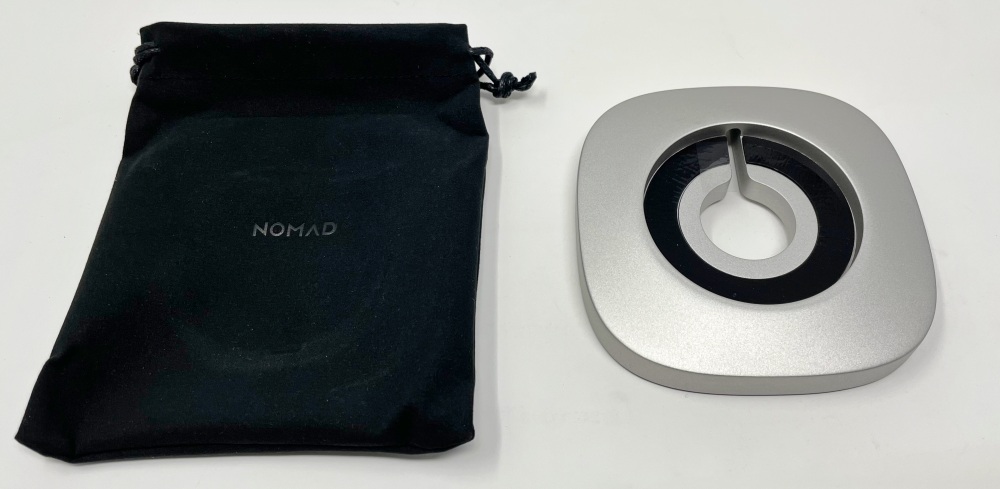 MagSafe Mount
Cloth storage bag
Hardware specs
Stainless steel body
Microsuction interface to charger
No-slip grip rubber pad to protect your desk
Dimensions: 91 x 91 x 16.5mm | 23.7oz / 1.48lbs
Required: Supply your own MagSafe Charger and wall adapter
Compatibility: iPhone 12 models required for MagSafe use, Qi compatible (without magnetic attraction)
Design and features
The MagSafe Mount is a beautifully finished piece of stainless steel with a matte silver finish that complements Apple's MagSafe charger well.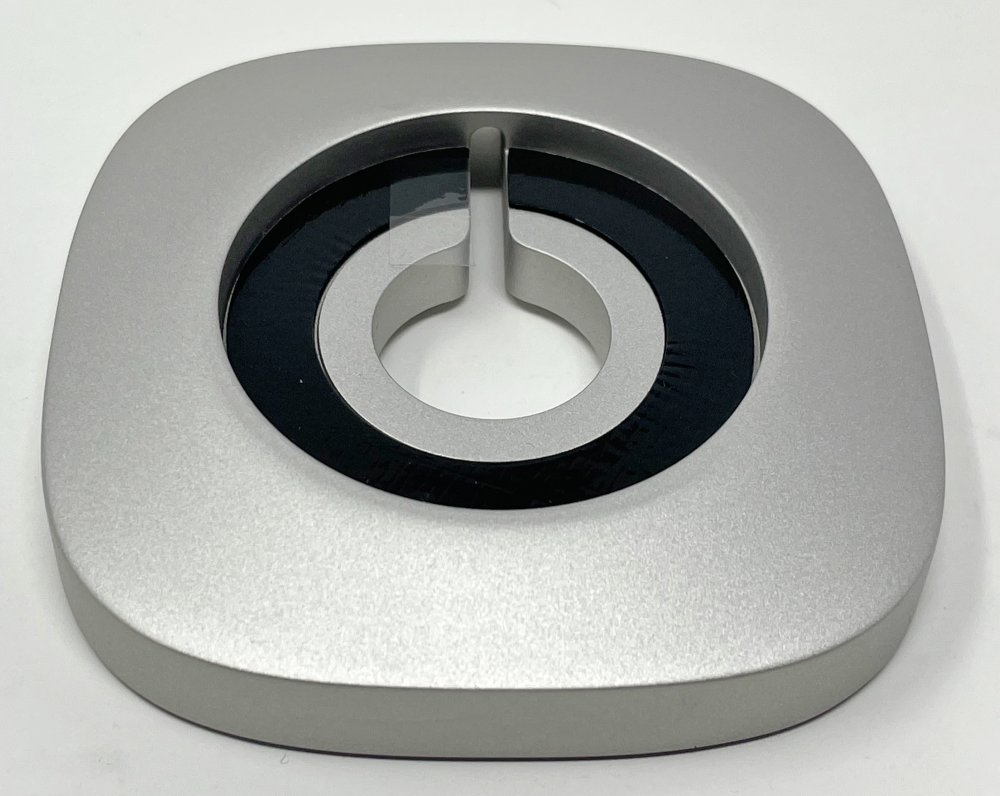 The shape, radii and cable channels are all well considered and lend to the overall quality feel of the product. The precision machining fits the charger so well that you almost don't need the microsuction material that provides that extra bit of hold to fight the magnets as you remove your phone from the charger.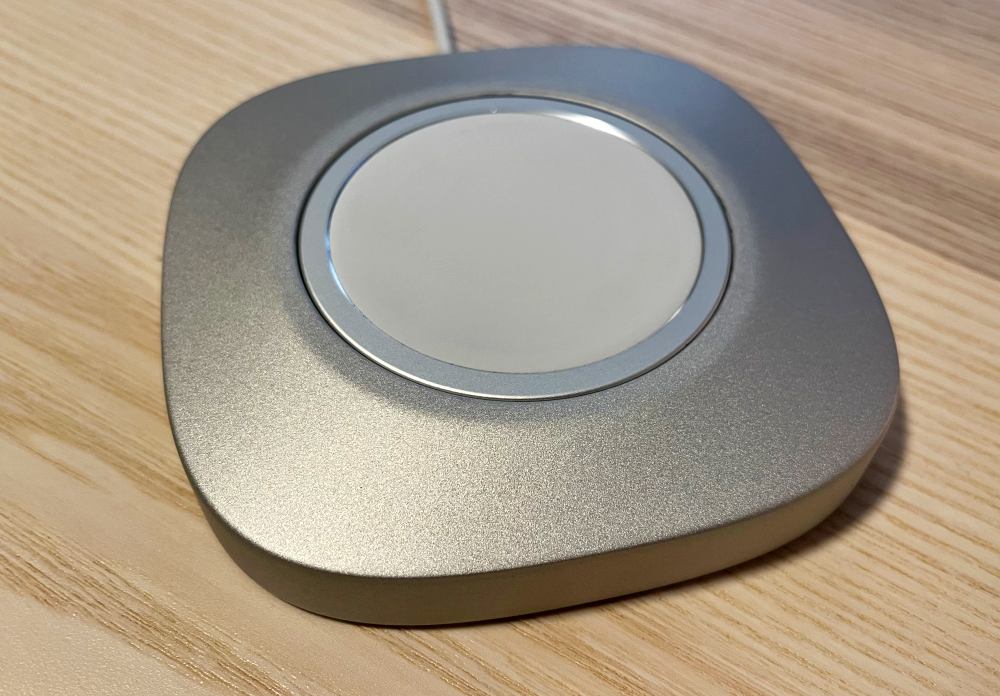 A rubber pad along with the 1.5lb heft guarantee this will remain where you place it.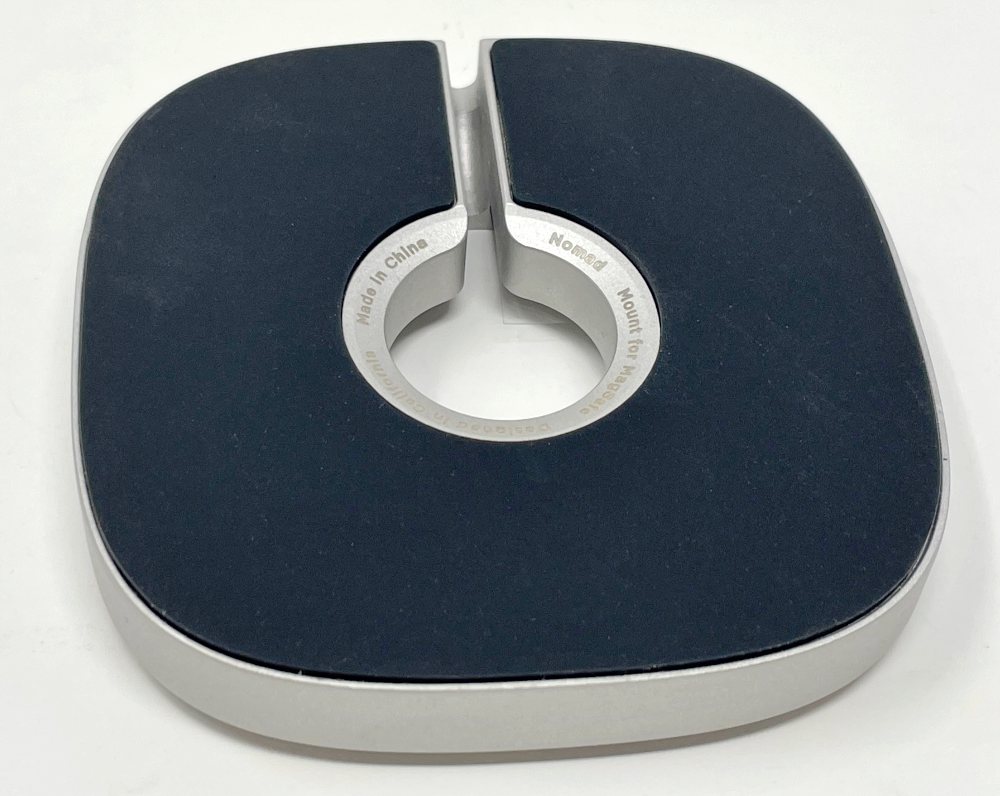 Placing and picking up your phone is a breeze due to the MagSafe feature and the weight of the mount.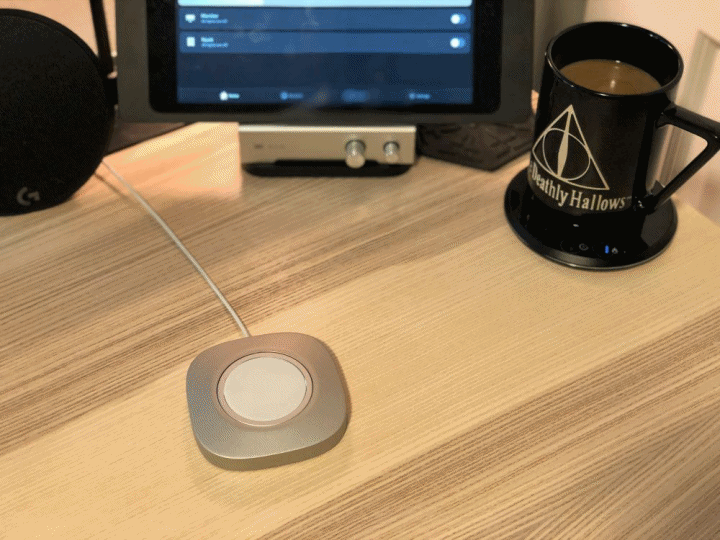 Setup
As soon as you're done with the initial astonishment over the weight, grab your MagSafe Charger (yes, you need to buy that separately, but you did that already I'm guessing) and thread the USB cable through the center from the top.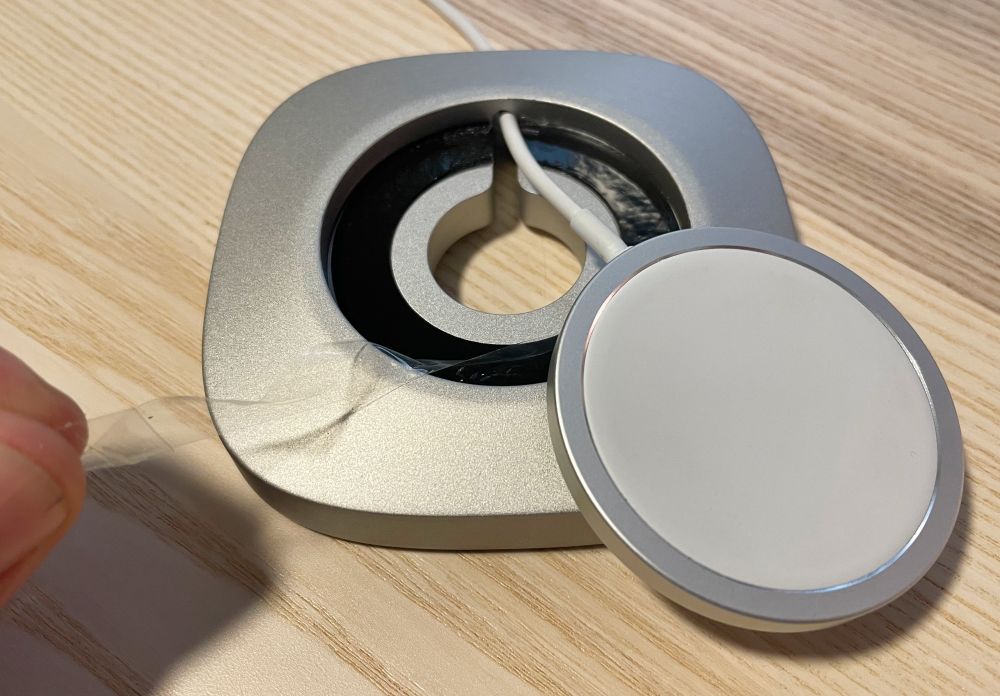 Orient the cable to align with the cable channel on the bottom (as shown above), and then pull the clear film off the microsuction material before pressing the charger into place.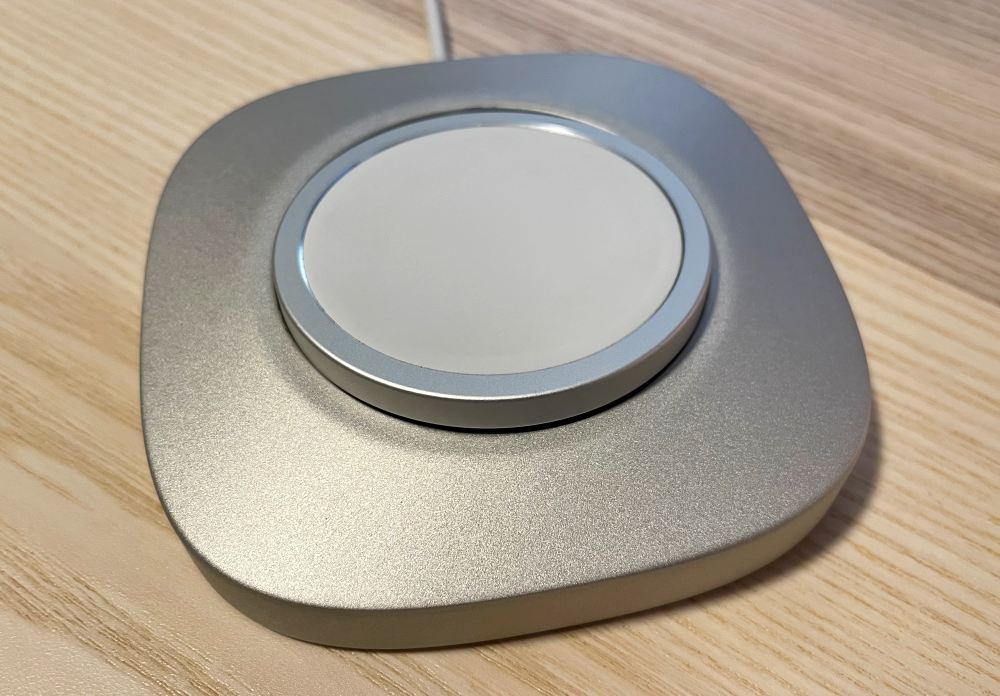 To get full MagSafe speeds, connect the USB-C end of the cable to a 20w charger (not included) and connect to a wall outlet.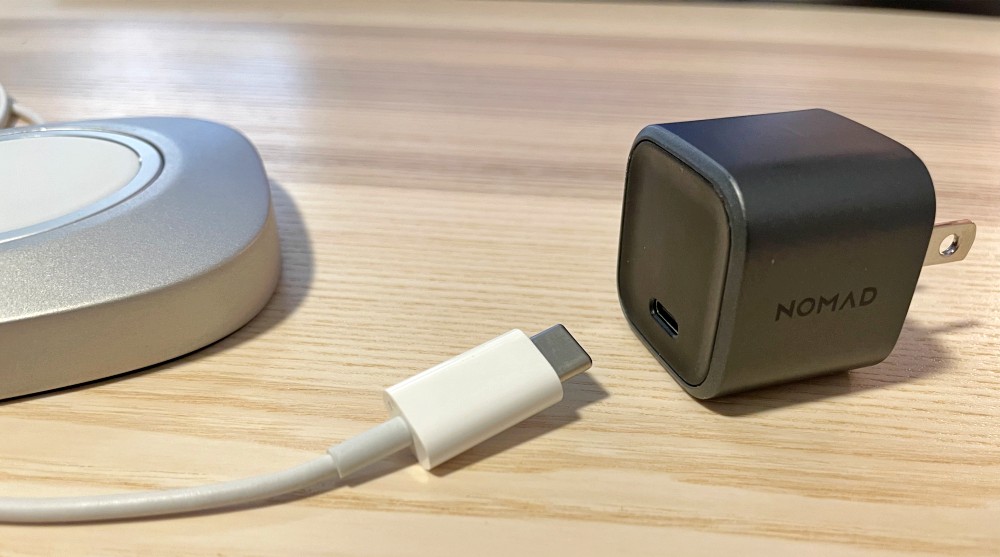 Last thing is to set it down where you want it with some authority. (Maybe a little less authority if you have a glass desk)
Performance
So since this is a charger mount, not the actual charger that's being reviewed, my comments here are about my interaction with the MagSafe Mount, not the charging performance as it works exactly the same way. There's a surprising amount of things to talk about though, so let's get to it.
Having worked around CNC machines in the past, I can't help but admire good machining. The quality here is great. The charger presses into place like there's no other place it would rather be. I actually used it for most of the review period without removing the film to expose the microsuction. All the chamfers and angles feel great on the hand and aren't going to scrape up any leather case you might be running. If you should need to remove the charger from the mount, just flip it over and press through the center hole with your thumb like so.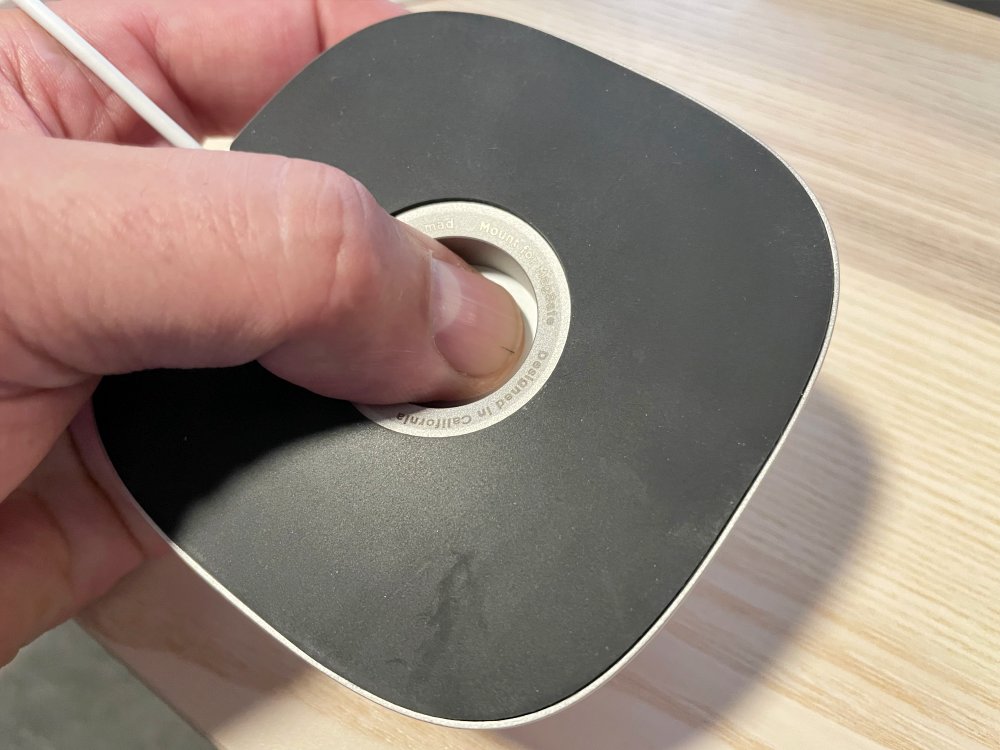 The rubber pad is perfectly flat with a crisp outside perimeter. The beveled inner circle helps your cable find the channel during that first install and proudly displays the etched text as to its heritage and origins.
You simply can't talk about this product without the weight being part of the discussion. It just stays where you put it. The cooler part is that as you start to place your phone, it just locks into place with a gravity that matches that weight. Any which way you grab your phone, the magnet disconnects and this throne just sits there waiting for your phone to return. Using Nomad's MagSafe Rugged Case increases the attraction slightly. If you perfectly (and slowly) pick up the phone from dead center you can lift the mount off the table, but you literally have to try to do this. I think Nomad nailed the weight here. Here's a quick vid showing how that works. You can hear the cool "thunk" sounding through my table top.
The MagSafe Charger has always been Qi-compatible, but with the low weight of the puck and without magnetic attraction, it's a little less than natural to use it for those devices. The extra heft when using this mount makes it work better for standard Qi devices like older iPhones or AirPod wireless charging cases, or non-apple Qi devices. It's unlikely that you'd be buying this and a MagSafe Charger if you didn't have an iPhone 12, but there's a good chance you've got something Qi-compatible and it's an improvement with those devices.
As a nightstand, this is a true, no-look solution. You're not going to knock it over. It sits enough off the table that you can easily find it by feel and the magnetic pull plus the weight makes it nearly impossible to miss where you'll wake up with an uncharged phone.
What I like
Quality materials, machining and heft
Improves MagSafe functionality to a true one-handed, no look operation
What I'd change
Expensive, especially when you factor in cost of a charger as well, but CNC time isn't cheap
Final thoughts
The MagSafe Mount from Nomad is one of those products that either WILL or WON'T be your kind of product. I'll shoot straight with you here; it's exactly my kind of product. It's beautifully made and the attention to detail is clear from every angle. It doesn't pretend to be anything it isn't, and it improves the functionality of the accessories (MagSafe Charger + wall adapter) and device (iPhone 12) it requires in order to be useful. As I said at the beginning, there are a lot of "stands" and "mounts" out there, but nothing with this kind of gravity.
Price: $99.95 $79.95 if preordered | Ships by July 29th
Where to buy: Nomad Goods
Source: The sample of this product was provided by Nomad Goods