We use affiliate links. If you buy something through the links on this page, we may earn a commission at no cost to you. Learn more.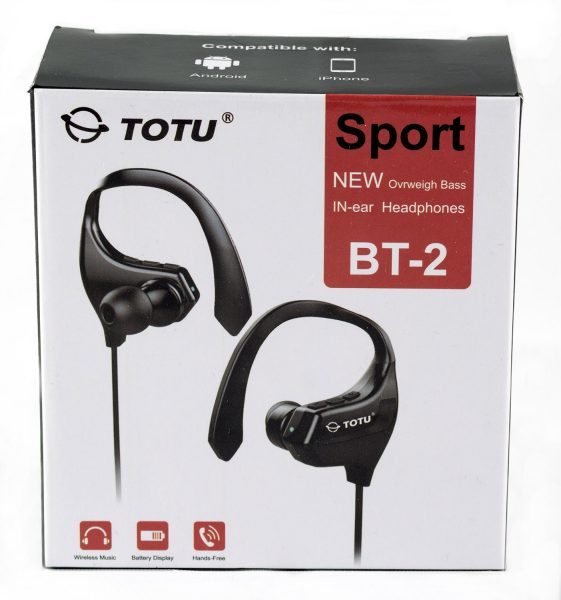 The BT-2 Sport from TOTU are wireless in-ear Bluetooth 4.1 headphones with built-in hands-free capability. But a great feature about these headphones is that they are waterproof so heavy sweating from a hard workout, biking, or vigorous running is certainly no problem with these headphones.
The BT-2 headphones are lightweight at only 18 grams, or 0.6 ounces, and have flexible hooks that keep them securely on your ears. On the top of the right side earpiece are the controls, and this is a major feature I like about these type of headphones. Unlike similar headphones out there that have their controls on one side of the cord, they put weight on that side. And to me, it makes the headphones feel unbalanced and awkward. Having the controls on the earpiece helps keep the cord free of any unwanted tugging or pulling.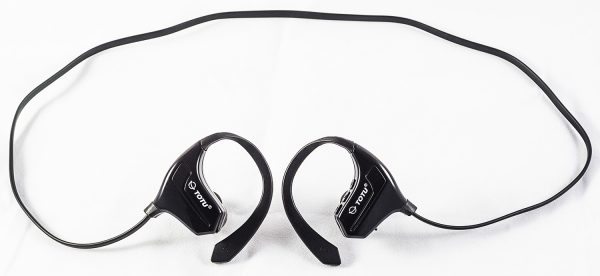 Bluetooth headphones that have the controls hanging on one side of the cord have an uneven distribution of weight especially when you run or jog with them on. When I tried running with these type of headphones on, the controls on the cord would just be knocking around and back and forth behind my ear. I didn't like the controls swaying around as I was running. With the BT-2 headphones there are no controls, or extra weight, that hangs down from the cord. Since the cord is free of any controls on it, you don't feel like side is heavier than the other side.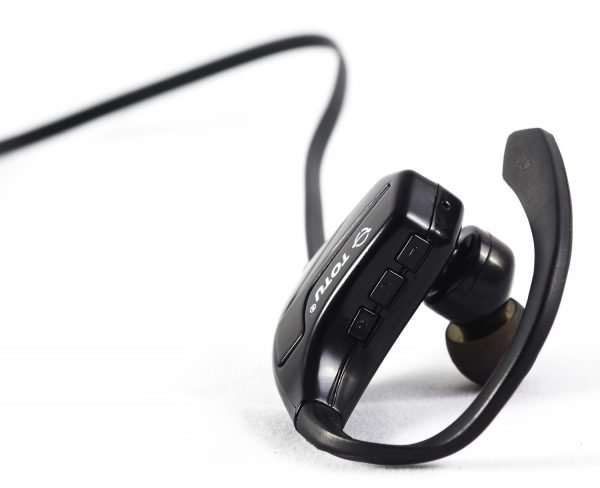 The controls sit atop the right earpiece. That is where the Volume Down/Next Song button and the Volume Up/Previous Song button are. And in the middle of these buttons is the Power/Answer/End Call button.  The center button is also used for pairing your devices. The buttons are raised and are easy to use and easy to operate. I was concerned that the buttons would be too small and too close together to use but they weren't at all. In fact I could locate the buttons just by feeling them with my fingertips.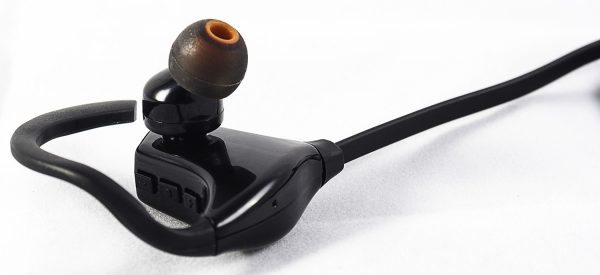 These headphones also function as a hands-free headset with noise-reduction and echo cancellation. There is a sensitive pinhole microphone located on the front of the right ear piece. The pinhole microphone was able to pick up my voice with no problem and the person on the other line could hear me clearly without any distortion.  The sound quality seemed to be just as good as any other typical hands-free earpiece.
Although the call quality is decent, the music sound quality was ok but did not have as much bass as I would have liked. The music was leaning more toward the higher treble side. The bass and low tones were not really apparent, unlike the Plantronics BackBeat FIT, which has great bass and mid tones. The BT-2 seemed under-powered in the bass and low tone department.  However, this isn't a deal breaker for me since the audio was still good in that it didn't have that tinny sound nor did it sound flat. There were still some dynamics evident so no music quality was lost. And speaking of dynamics, I could always adjust the EQ on my phone to tweak the music sound to my liking.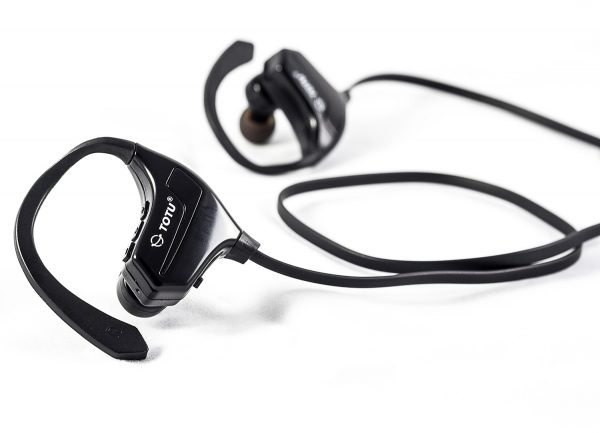 Personally, I like to hear the bass, mids and lows in my headphones but that's just the audiophile in me.  And I have come to find out that the average person doesn't really have a musical preference when it comes to headphone sound or else they wouldn't just settle for the stock earbuds that come with phones they buy.  As long as their music plays, doesn't skip and that they can hear it clear enough then that's all that matters.
From some of people that I have talked to about this issue, they have voiced to me that it depends on the music they are listening to. Some like the pounding of the drums in rock music and the bass in rap and dance, and some just like the clarity without the bass while listening to classical music or audio books or news stations. Myself, I prefer to have the rumble of the bass and I do listen to all kinds of music.  I just prefer to be able to hear all the tones and sounds in my music. I also like the low bass in my headphones when I watch Netflix on my LG G4 phone. However, the BT-2 is light with the bass so just keep in mind if you are someone that likes the thump and rumble of the mid and low tones in their headphones.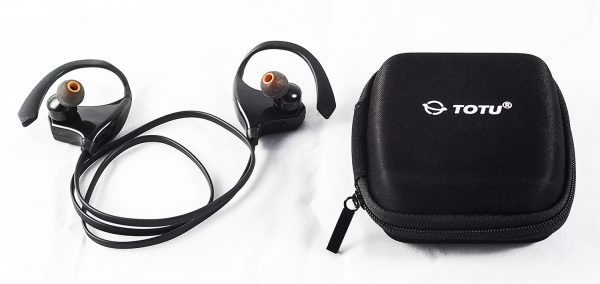 The BT-2 headphones are great if you sweat a lot from working out at the gym, biking up steep hills, running in a marathon or any activity that gets you drenched with sweat. These headphones are IPx4 waterproof so if you happen to be going for a run in the hot sun and then a flash rain happens to pour down on you, then worrying about these headphones getting damaged from all that water and moisture won't be a problem. However, other valuables such as your phone, wallet or any other item that shouldn't get wet may be a problem though.
The battery life is rated up to 7 hours but I got just over 6 hours when I tested these headphones. With fully charged headphones I started listening to music from several sources at 9 a.m. on my smartphone. I listened to  iHeartRadio, podcasts and listened to documentaries on YouTube. By the time 3 p.m. rolled around I was getting the low warning beeps. This could be an individual battery situation so maybe your battery life could go to the full 7 hours. Unfortunately, I didn't have other BT-2 headphones to compare battery life. For me, anything over 6 hours is great anyways, so I give 2 thumbs up for battery life. You can get a fully charge battery in just about an hour and a half and it also has a Stand-By time of 120 hours.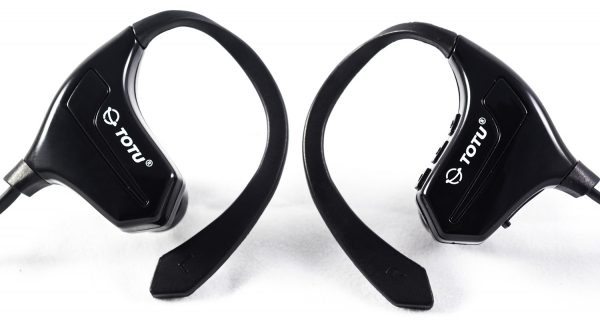 Although, having hooks on the earpieces are beneficial, having anything sit on your ears for long periods of time can become uncomfortable. So after a few hours I would have to take off the headphones for a minute just to give my ears a rest. After leaving the headphones off for a bit and wearing them again, they felt just fine. I would compare it to wearing eyeglasses for hours on end. They are light but after so many hours you may want to give your ears a break. However, if you only get to wear these headphones for one or two hours, you'll barely feel them on your ears.
One feature that I like about these headphones is that it can be connected to two devices at the same time. This is great if you are watching  Netflix on your tablet, and let's say your phone, which is also paired to the BT-2, gets a notification then you'll be able to hear that as well. Plus, it's just convenient to switch from one device to another without having to go through your device's menu to connect and reconnect the headphones. These headphones are also NFC compatible  and are Android and iOS compatible so you have your choice of either platform.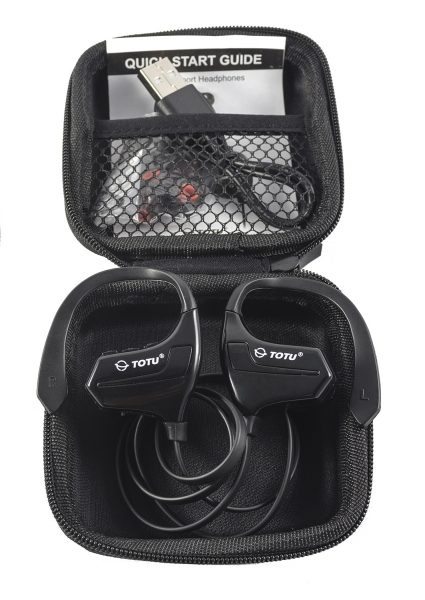 These headphones come with a nice crush-proof case so you can throw them in your bag, backpack or purse and feel confident that the BT-2 won't get tangled or damaged.  Plus, there are extra different sized earbud tips to swap out for a more custom fit for your ears and a MicroUSB cable to charge the headphones. The MicroUSB charging port is located on the bottom of the right earpiece behind a small rubber door.
Aside from my personal preference of the bass not being as low as I would like, these wireless headphones from ToTu would be the kind of Wireless Bluetooth headphones that I would wear and use all the time. All the other features are exactly what I look for in wireless Bluetooth headphones. These are comfortable, balanced, have long battery life, waterproof and are lightweight.
Source: The sample for this review was provided by TOTU. Please visit their site for more info.