We use affiliate links. If you buy something through the links on this page, we may earn a commission at no cost to you. Learn more.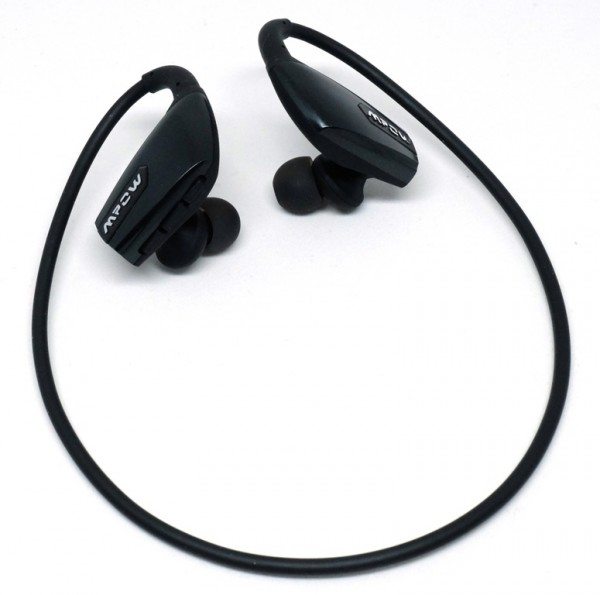 Last year I reviewed the MPOW Swift Bluetooth 4.0 Headphones and absolutely loved them. However, I still wonder whether or not there are other affordable Bluetooth in-ear headphones out there that I might like even more. This year the Gadgeteer was offered the MPOW Antelope Bluetooth 4.1 Wireless Sports In-Ear Headphones to review and I eagerly volunteered. Unfortunately, during the process of testing them, I had a great deal of trouble with the fit which led to problems with the audio quality. However, when I got them to fit just right, I found that I the audio quality was enjoyable, the Bluetooth range is decent, I liked the fact that the controls are on the earpieces and worked well, and the calling features worked well as well.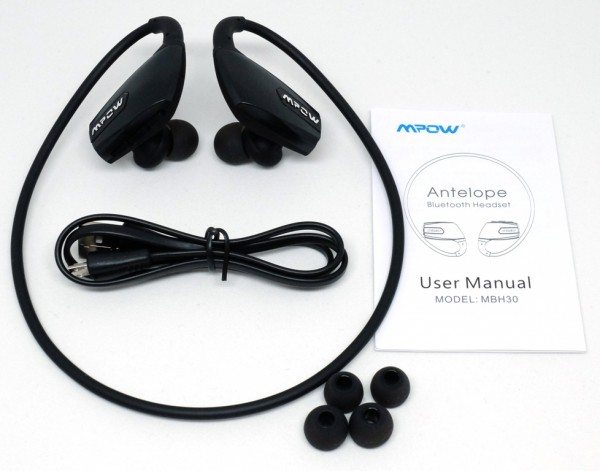 Package Contents:
MPOW Antelope Bluetooth 4.1 Wireless Sports Headphones
Three sizes of silicone ear tips (two small, two medium, and two large)
Micro-USB charging cable
User Manual
Technical Specifications:
Bluetooth Standard: V4.1
Bluetooth Operation: Class 2
Bluetooth Mode: Headset/Handsfree/A2DP/AVRCP
Bluetooth Range: >10m
Talking Time: Up to 8 hours
Playing Time: Up to 8 hours
Standby Time: 240 hours
Charging Time: 2 hours
Design & Build Quality

MPOW went with a "structural sweatproof design" (or what I call the loop-over-the-ear design) on the Antelope earbuds. This design also has a wire connecting each earpiece that is flexible but rigid enough to resist deformation (twisting, bending, etc). The earpieces themselves are made out of rigid black plastic and the inner portion that is closest to your ears when wearing them is coated in a velvety rubber. The controls on this set are located on the right earpiece. I personally like having the controls on the earpieces – it's something that I look for in a pair of earphones. The center button located on the bottom edge of the right earphone is the Multifunction button and extends farther out than the other buttons making it easy to find. The Volume Up (+)/Next Track button is located toward the front of the right earphone (nearest to where the wire arises from the right earpiece) while the Volume Down (-)/Previous Track button is located toward the back of the earpiece.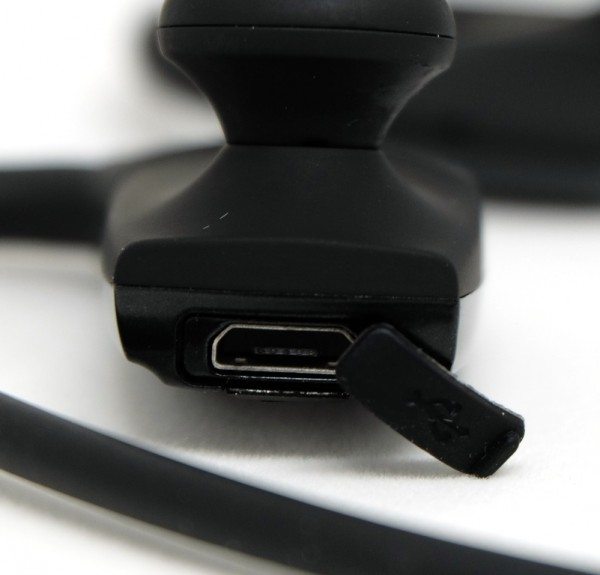 The micro-USB port to charge the earphones is located on the end of the left earpiece.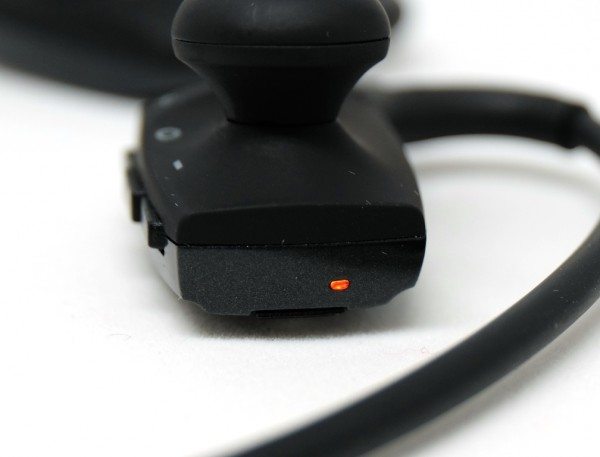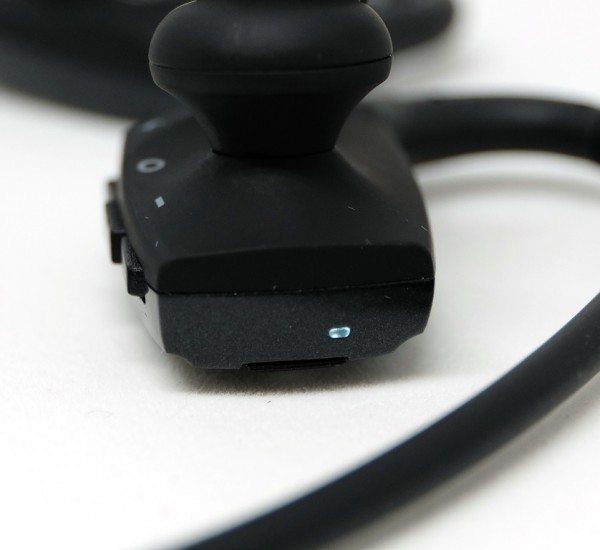 The LED status light is located on the end of the right earphone. When charging, the LED light is orange then becomes white when fully charged. When in pairing mode the light quickly flashes white several times per second and when connected, slowly flashes white.
Use
Pairing: To pair the MPOW Antelope Bluetooth 4.1 Wireless Sports Headphones to my Nexus 6 and iPod Touch 6G, I needed to place the earbuds in pairing mode by pressing and holding the Multifunction button for about seven seconds until I heard the voice prompt first say, "Power On", then "Pairing" and the LED status light flashed white quickly. I went into the Bluetooth Settings of both devices (one at a time after having placed the headphones into pairing mode for each). I then found "MPOW Antelope" listed under Available Devices (or Other Devices in iOS), tapped on it to pair, and the earphone's voice prompt then said "Connected". I didn't have any problems with the pairing process. One of the benefits of the MPOW Antelope in-ear headphones is that it allows your to connect them with two devices at once.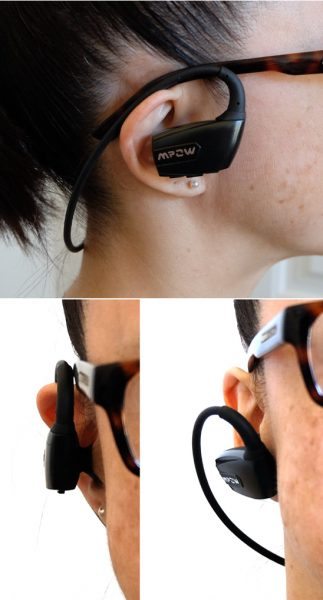 Fit: When testing these earphones as I exercised, they wouldn't even stay in for a few seconds. The wires that loop over the ears kept slipping off my mine, thus, the weight of the wire and headphones were no longer supported and fell off completely. If I didn't move very much or I walked around very carefully, they would stay in position. Also, you'll notice that where the wire hangs around the back of my neck, if I was wearing something that had a collar or even left my hair down, the headphones would not stay in – the clothing or my hair would jostle the wire which would, in turn, pull the earpieces out of my ears. In addition to all of that, since the wire is semi-flexible (or semi-rigid), it transmitted sound very easily when rubbing against or hitting anything which was clearly heard when listening to music.
Bluetooth Connectivity: When testing the Bluetooth connectivity, I found that I could go 52 feet in line-of-sight of my Nexus 6 before it started to drop the Bluetooth connection; and on my iPod I could go 69 feet in line-of-sight of my device before it started to lose connectivity. My tests also found that I could maintain connectivity through two walls when the distance was fairly small (less than 50 feet).
Music Controls: I liked the placement, size, and feel of the music controls. The Multifunction button situated between the Volume Up/Next Track button and Volume Down/Previous Track button extends farther out than the others so that it is very easy to find. When listening to music on Pandora, a short press of the Multifunction button would let me pause or play music and if I wanted to increase the volume or decrease the volume, all I would have to do is short press either the Volume Up or Volume Down button respectively. Long presses of the Volume Up or Down buttons allow you to skip ahead a track or go back a track – although I couldn't go back a track when listening to Pandora because it is a streaming music service – but all other controls worked well. And when listening to Amazon Music, all the controls worked well.
Playing Time: Testing the Playing time of the headphones revealed that on a moderate to moderately low volume I could play music through them for 10 hours! That's longer than the documented eight hours of playing time found in the user manual and a definite benefit for these headphones.
Charging: Once the battery in the headphones was drained completely, I was able to consistently charge them fully in two hours. That is impressive considering that they play for such a long duration. My MPOW Swift earbuds only play for about seven hours on moderate volume and charge in the same amount of time as these.
Calling Features: To answer a phone call when using the MPOW Antelope earbuds, I just short pressed on the Multifunction button. I found that both ends of the call sounded nice and clear. To end the call I just short pressed on the Multifunction button again. I was also able to reject calls by long pressing the Multifunction button (you then hear a high then low tone indicating that the call was rejected). I was even able to redial the last number by double pressing the Multifunction button. There is also the option to mute the phone call, which required me to press the Multifunction button simultaneously with the Volume Down button, however, this rarely worked in my tests. Another interesting observation was that when I was using the headset and answered a phone call, if the caller put me on speakerphone, this resulted in the sudden addition of bass frequencies.
Frequency Response: Using my Audio Test Tone Generator Android app set at one volume level, I found that when using the MPOW Antelope in-ear headphones, I could comfortably detect frequencies from 25Hz – 18,000Hz and thus they sound just like my MPOW Swift Bluetooth In-Ear Headphones.
Audio Quality: The audio quality is really affected by the fit of the MPOW Antelope in-ear headphones. If you don't place them in your ears in just the right position, they sound awful. Getting them on in the correct position was a challenge and in my opinion, took too much time. I kept having to adjust them to get my music to sound like it should. This is in stark contrast to my MPOW Swift earbuds – I can put them on in a second and do not have to adjust them to get them to sound decent. Anyway, when the Antelope headphones were positioned correctly they had a very nice bass response (for my taste) thus listening to music like "When it was Good" by Flipsyde was enjoyable. All frequencies appeared to me to be well balanced but the mid-to-upper frequencies weren't quite as clear when using the Antelope versus the MPOW Swift earbuds. I only noticed it because I kept jumping back and forth between these two headphones to compare the audio quality between them so you may not notice this (unless you are an audiophile).
Conclusion
I found that the MPOW Antelope Bluetooth 4.1 Wireless Sports In-Ear Headphones were unusable for me. The fit is completely inadequate, at least for my head and ears. There are only a handful of other reviews out there stating that they had trouble with the fit, so they may fit you just fine. When I didn't move around much and actually got them properly inserted into my ears, I found that they sounded fairly nice but did not have as crisp or clear a sound as my current MPOW Swift Bluetooth earbuds. However, they did provide very nice bass frequencies just like my Swift earbuds. They also paired easily, had decent Bluetooth connectivity, had easy to use music controls, played for up to 10 hours on moderate to moderately low volume levels, charged in two hours, sounded very clear when using the calling features, and they have more calling features than other Bluetooth earbuds I've tried. So if you think that you can get these earbuds to fit, they might make a fairly decent Bluetooth set for you. But you should consider that the semi-flexible wire gets knocked around by clothing with collars or even long hair and transmits loud rubbing sounds through the earphones, which is very distracting while listening to music. I myself, MUCH prefer the MPOW Swift Bluetooth 4.0 headphones that I reviewed last year.
Source: The sample used in this review was provided by MPOW. Please visit their website for more information or Amazon to purchase them.

Product Information
Price:
$24.99
Manufacturer:
MPOW
Retailer:
Amazon
Requirements:
Pros:

When positioned properly, audio quality was very nice
Playing time was 10 hours when volume level was at a moderate to moderately low level
Charging time was two hours
Almost all of the calling features worked well (except Mute)
Call quality was very nice and clear

Cons:

Fit was awful for me, but apparently worked for others who have reviewed these
Takes way to long to put these on and adjust them so that they fit properly
Did not stay on when exercising
Wire gets knocked around pulling the earbuds out and transmits sound when touching/rubbing clothing or long hair