The Gadgeteer is supported by readers like you! If you buy something through links on our site, we may earn an affiliate commission at no cost to you. Thank you! Learn more.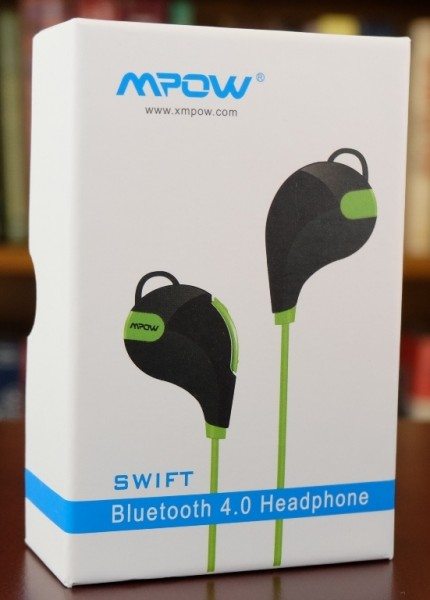 I only use in-ear headphones when exercising and have used a cheap wired Philips set (SHQ3200) for years, but now I think it's time for a Bluetooth set. I recently reviewed an iClever IC-BTH01 Bluetooth Stereo Headset and thought it was a decent pair but lacked the strong bass I like when working out. Since I have never purchased any earphones over $40 and have not been spoiled by the excellent sound of a premium $200 pair (this is how I choose to look at it – ignorance is bliss), I thought I would try another inexpensive set – the MPOW Swift Bluetooth 4.0 Headphones. Will these depose my other earphones?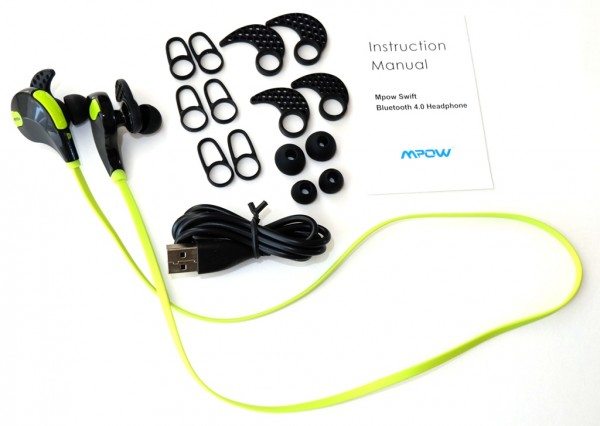 Package Contents
MPOW Swift Bluetooth 4.0 Headphones (22″ long)
Six sets of ear stabilizers
Three sizes of eartips
Micro USB charging cable
Instruction Manual
Technical Specifications
Bluetooth V4.0
Chips CSR8645 high-end chip from CSR Plc
Frequency Range 2.4GHz
Bluetooth Mode Headset/handsfree/A2DP/AVRCP
Operation Range Up to 30 feet
Talk/Playing Time Up to 5 hours
Standby Time Up to 185 hours
Charging Time 2 hours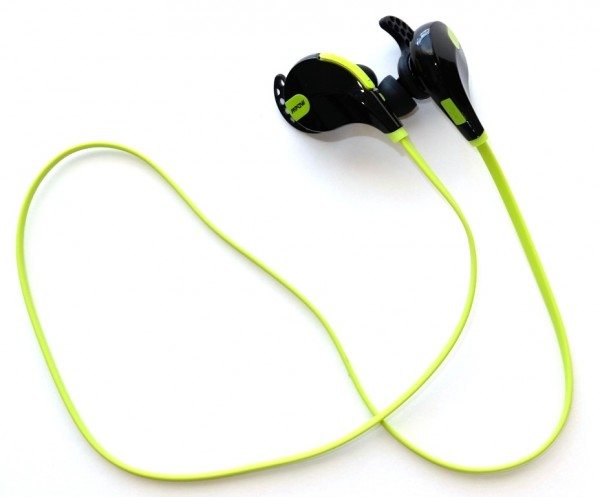 The MPOW Swift Bluetooth Headphones are sporty looking and a bit larger that your typical earphones. They are made of a strong shiny black plastic that seems rugged enough. Even though I tend to like my gadgets in black (and sometimes white), when it comes to exercise accessories, I do like splashes of color and thus I liked the chartreuse accents of these earphones. According the the website, they are also sweatproof.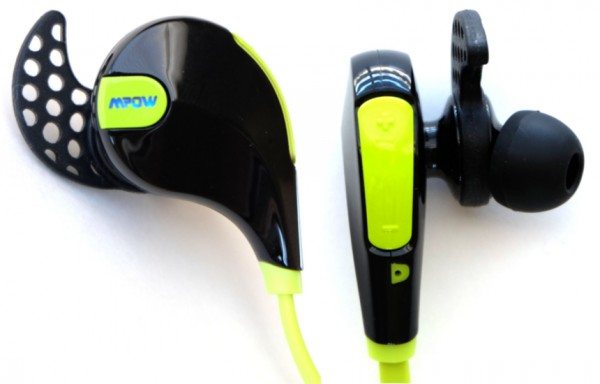 The right earphone accommodates all the controls. The Multifunction button (or MPOW button since it is labeled MPOW) is the Power, Pause/Play, and Answer/End/Reject Call/Mute/Redial button. The Multifunction button also functions as the status LED. Along the front edge of the right earphone are the Volume Up/Next Track and Volume Down/Previous Track buttons. Below these, you can see the microphone for calling features.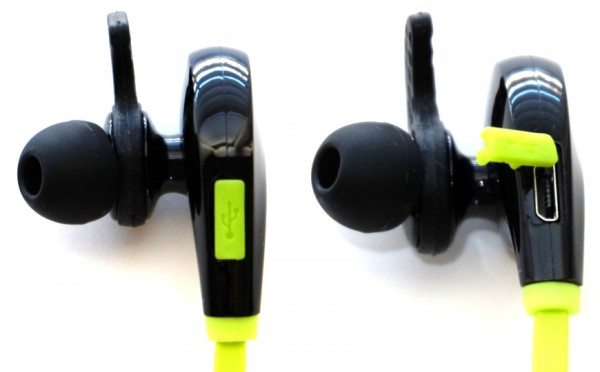 The left earphone contains the micro USB charging port. It is covered by a small rubber insert that can be quite difficult to remove even with fingernails. When it's removed, the cover must be held away from the port when plugging in the cable or it can easily get in the way.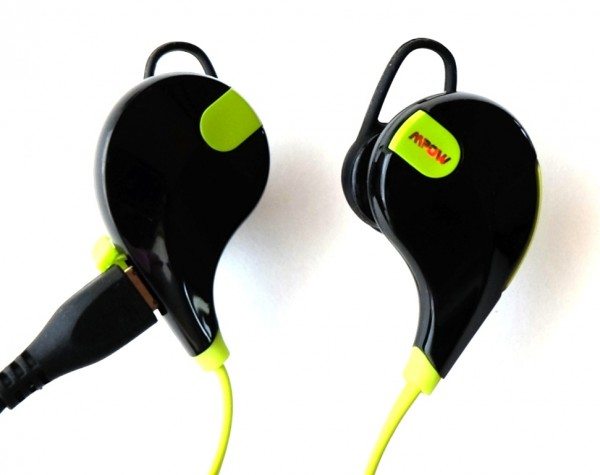 It takes about two hours to fully charge the MPOW Swift earphones according to the manual. While charging, the MPOW LED status light shines red then finally blue when finished.
Use
To power up MPOW Swift earphones, you must press the Multifunction button for about three seconds until the earphones say "Power On", and to turn them off you press it for another three seconds until they say "Power Off". However, if you are pairing them you must press the button for five seconds until the LED starts flashing red and blue and they say "Pairing" (make sure that Bluetooth is on), after which you go into your Bluetooth settings and select "MPOW Swift". The earphones then say "Connected" and flash blue once every five seconds while connected. I paired this with my Nexus 6 phone, HTC One X, and iPod Touch 5G without issues. These earphones do not have NFC pairing, but this is not an issue for me.
I also tested the Bluetooth connectivity. It appeared to maintain connectivity for up to 49 feet unimpeded and was able to maintain this even between two walls, albeit at a shorter distance.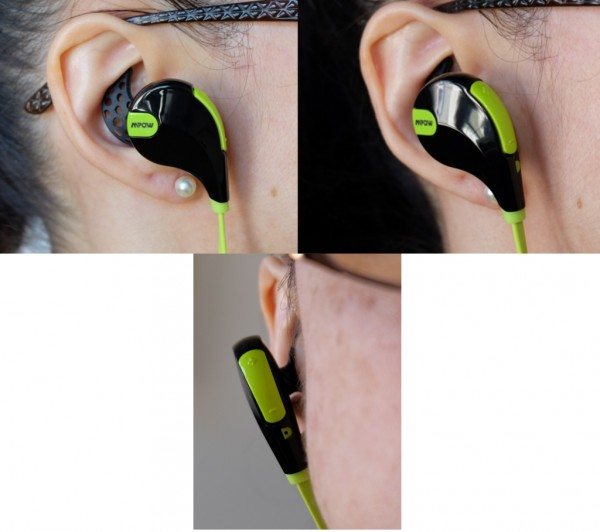 The MPOW earphones were more comfortable and remained in place better than either my Philips or iClever earphones. With all the different sizes of stabilizers and eartips, it was possible to find the right combination for an optimal fit for my ears. The medium eartips and the smallest stabilizers shown in the photos above were the best in helping to prevent the earphones from falling out while exercising but the stabilizers did start to make my ears a little sore after about one hour. The eartips provide a good seal which tends to block out most ambient noise (I don't recommend using these when exercising outdoors) and allows you to get the most out of these when listening to music or a caller.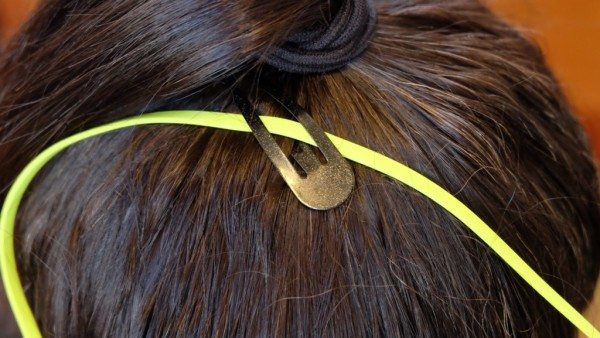 These earphones do have a very long flat cable (22 inches) but I was able to remedy that by pinning them just under my pony tail when exercising which worked out very well. Tucking them under a baseball cap might do just as well.
The music controls include the Volume Up button which you short press to increase volume or long press for two seconds to skip to the next track, the Volume Down button which you short press to decrease volume or long press for two seconds to go back to the previous track, and the Multifunction button which you short press to pause or play music. Using the controls worked well on my iPod whenever I listened to locally stored music, Pandora, Spotify, and Amazon Music. For the most part this was also the case when listening to music on my Nexus 6 except when using Pandora. In this case, just like the iClever earphones, I was not able to use the controls while it was the active screen. If I ran Pandora in the background, I was able to use the controls. This was determined to be an issue with my phone (the functions worked well on an HTC One X phone even when Pandora was the active app).
When listening to music, the Swift earphones seemed to provide a stronger and lower frequency response than the iClever making bass heavy music sound more complete. They had a frequency response as low as 20 Hz (as determined by using the Audio Test Tone Generator Android app), which is the lowest that the human ear can detect. My Philips pair still seemed to provide even stronger bass than the MPOW but the mid and upper frequencies are not quite as clear as either the iClever or MPOW earphones. The Swift earphones also worked well when watching Netflix from my Nexus phone. There was no discernible lag and the audio was clear.
The Swift earphones are equipped with aptX (a compression algorithm used over Bluetooth), which is supposed to improve Bluetooth sound but only if both the headphones and phone are equipped (Apple devices are apparently not equipped, the HTC One X is, and the Nexus 6 may or may not be equipped). When listening to music using my iPod and the HTC phone to determine if aptX seemed to affect the sound quality, I could not tell much if any differences in most music which included "Now We are Free" from the Gladiator soundtrack which contain strong vocals, a myriad of percussion and some bass drum or "I Am A Man of Constant Sorrow" from the O Brother, Where Art Thou? soundtrack which contains mostly vocals, banjo, and bass. There might have been a slight difference in the strength of the bass in the Knife's "Silent Shout" (slightly more bass on the HTC One X equipped with aptX), which is a bass heavy song. Of course it could be that I just don't have a trained ear.
There were a couple of pleasant surprises when using the Swift earphones. One of the treats was being able to connect them to two devices at the same time. Another was listening to almost seven hours of music/movies even though the manual states that the Swift earphones are capable of five hours of talk/playing time. In addition, when the battery was completely depleted, they charged in 1.5 hours which is also less time than that reported in the manual.
The MPOW Swift earphones also provide basic calling functions like answering a call (single pressing the Multifunction button), ending a call (single pressing the Multifunction button), rejecting a call (double pressing the Multifunction button), redialing the last number (double pressing the Multifunction button), and muting and unmuting a call (double pressing the Multifunction button while on the call). These were all tried with success. When speaking to someone using the Swift earphones, they noticed that my voice was clear but quieter than when I was on the phone and did not notice as much background noise as with the iClever earphones when moving around.
Some people have reported in other reviews that the buttons are too small. I did not feel that way. I liked them and found them easy to find and use when necessary. I actually prefer having the controls on the earphones rather that the in-line style that hangs from the earphone. When the controls are hanging, I find that I fumble around more trying to find the right controls, which is especially frustrating during a workout.
Final Thoughts
These are currently my favorite earphones of those that I own (but remember, I've never spent more that $40 on earphones).  They are inexpensive, remained in my ears without falling out during exercising, connected to two devices at the same time, provided almost seven hours of listening time, charged in less than two hours, and they sounded wonderful and provided strong enough bass for me to eagerly replace my wired Philips pair. The basic calling features also worked well and are all I really need.
Updates 07/25/16
I absolutely love these earphones! My review pair did finally quit on me – the left speaker started to pop and eventually, very little sound could be heard from it. Even so, I purchased two more pairs and love them. Note: when I ordered replacements, I was sent a couple of MPOWs that were defective and had to be returned – but when they work, they have fantastic audio quality and are wonderfully affordable!
Update 10/17/18
I now use these as a backup pair of earphones to my Jaybird X3's. This is my second pair of MPOW Swifts which I have been using for a couple of years now and I still love them because they fit well and sound great to me. My husband has been using his for a couple of years and loves them as well, although the cover for the charging port came off. When funds are limited, these are the earbuds I would choose.
Source: The sample used in this review was provided by MPOW. Please visit www.xmpow.com for more information or Amazon to purchase them for $29.99.


Product Information
Price:
$29.99
Manufacturer:
MPOW
Retailer:
Amazon
Requirements:
Pros:

Stayed in my ears while exercising
Nice bass when listening to bass heavy music
Provided almost seven hours of music playing time
Connected to two devices at the same time
Charged in 1.5 hours
Inexpensive but nice quality

Cons:

Long cable between earphones