We use affiliate links. If you buy something through the links on this page, we may earn a commission at no cost to you. Learn more.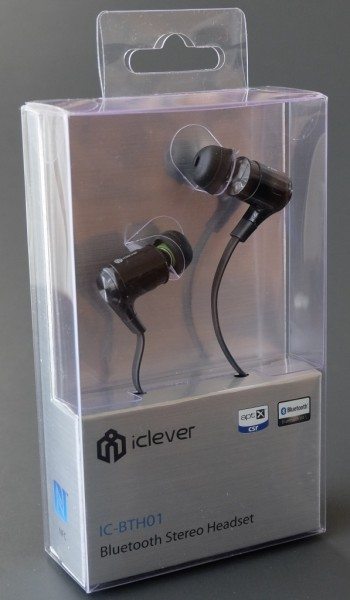 I've been using an inexpensive set of Philips wired earphones forever and have been pretty happy with them. However, the more time that has passed, the more I have thought about replacing them with a Bluetooth set, especially when doing chores around the house. The iClever IC-BTH01 Bluetooth Stereo Headset was then offered to the Gadgeteer for review, so I asked to review them to see if they would be a good replacement for my Philips wired pair (SHQ3200).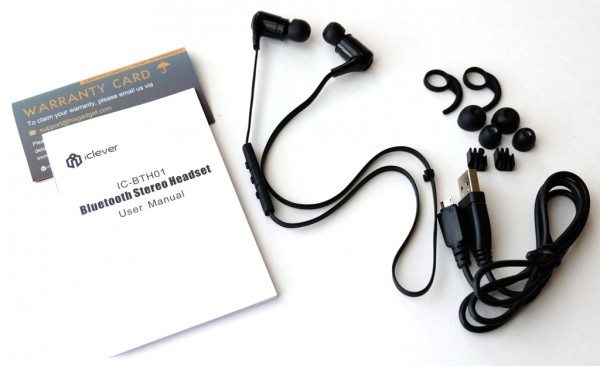 Package Contents:
iClever Bluetooth Stereo Headset (model IC-BTH01)
One set of stabilizers
Three sets of eartips (small, medium, large)
Two cord management clips
Micro USB charging cable
User manual
Warranty card
Technical Specifications:
Bluetooth version: Advanced Bluetooth 4.0 technology with APTX codec
Bluetooth profiles supported: HSP, HFP, A2DP and AVRCP
Operating distance: 10 meters
Talk time: About 5.5 hours
Music playing time: About 5 hours
Standby time: About 150 hours
Charging time: About 2 hours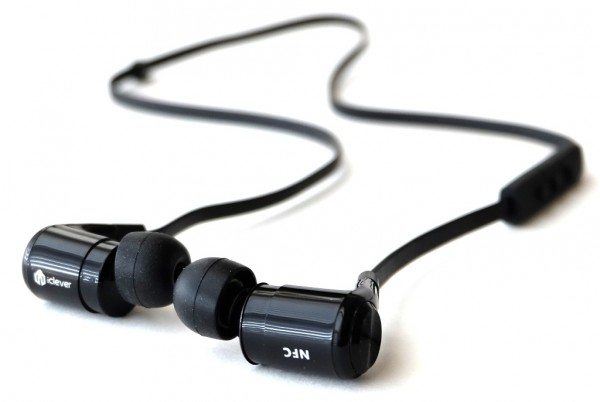 The iClever Bluetooth Stereo Headset has a minimalistic design. They are made of a lightweight, shiny black plastic and come equipped with NFC for easy pairing with your NFC enabled devices. The audio wires are coated in rubber and are flat.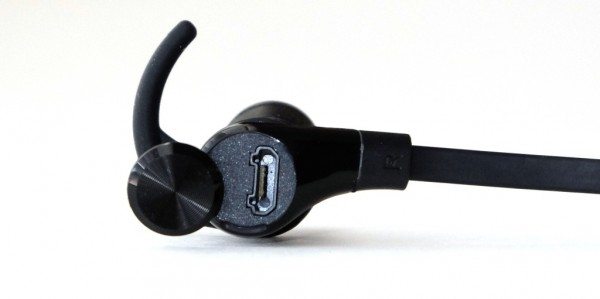 They also come with one set of stabilizers (shown above). The micro USB charging port may be accessed by removing the plastic cover on the right side earphone using a small notch.

All music and phone functions are controlled with the panel of buttons (Volume Up/Previous Track, Multi-function, Volume Down/Next Track buttons) which hang about 2.5 inches down from the right side earphone.

The microphone for calling features is on the flip side of the control panel.

The two cord management clips are a thoughtful accessory addition to these earphones to help adjust the length of the earphone cord.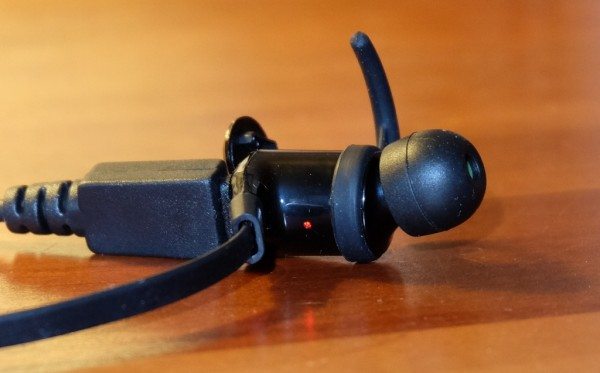 When charging the iClever headset, the LED light on the underside of the right earphone shines red. When it has finished charging the light will go off. The manual states that it should take about two hours to charge. This light will also flash red and blue when ready for pairing and will double flash blue every four seconds when connected.
Use
Pairing the headset was easy enough on a Nexus 6, HTC One X, and iPod Touch 5G. The manual states that the Bluetooth settings on the phone should be turned on and visible to other devices. You then hold the square Multifunction button down on the iClever headset for about eight seconds until you hear four ascending tones and the LED status light flashes blue and red. At this point since the iClever headset is capable of pairing using NFC (if you have NFC enabled devices), you simply pass the top portion of the right earphone over the NFC area within your phone, then tap "Yes" when asked if you wish to pair them. If you don't know where that area is especially on a phablet with a lot of area to cover, it may actually be faster to go into your Bluetooth settings and select the newly found Bluetooth headset labeled IC-BTH01. Successful pairing in either case was indicated by a single tone after which the LED flashed twice every second while connected. The headset will automatically turn off in five minutes if there are no devices connected to it.
Testing the Bluetooth connectivity to my Nexus 6, I found that a clear connection was maintained for about 39 feet unimpeded and could even be maintained through two walls with a shorter range.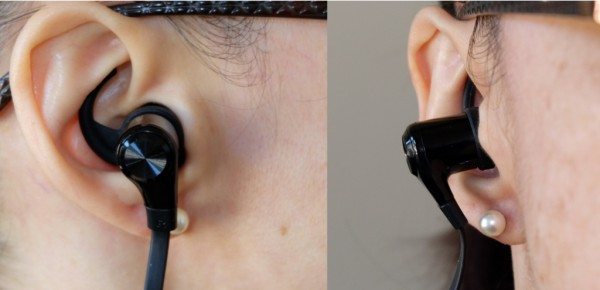 The iClever headset is comfortable enough – but really, can two tiny plungers crammed inside your ear canals be that comfortable? I also felt that the iClever earphones stuck out more than I'd like (these first two comments are obviously personal preference issues – you may find that you feel differently about these). In addition, the fact that the wire attaches to the end of the earphones seemed to cause issues with them falling out as I exercised, even with the stabilizers. However, I must say that this happens even with my wired pair especially with my right ear. I've come to accept that my right ear canal is not quite the right shape for most eartips to fit well *sigh*.
My very first impression of the iClever Bluetooth Stereo Headset's audio quality using a Nexus 6 and an HTC One X phone was that the music lacked depth and even sounded weaker and more monophonic than my wired pair but only for bass heavy music. This was so, even with the aptX codec (a compression algorithm used over Bluetooth), which is supposed to improve Bluetooth sound but only if both the headphones and phone are equipped (HTC One X is equipped but I cannot verify this on the Nexus 6). Anyway, I made sure that each earphone was completely sealed in my ear to obtain the most bass possible, but it still seemed lacking. The frequency response for these earphones went as low as about 25 Hz but I had to increase the volume quite a bit to detect it. When comparing the audio from my wired pair to the iClever, I found that the wired pair supplied more (or stronger) bass frequencies making the music sound more complete. This was obvious when listening to music like Pegboard Nerds' "Disconnected". Although I didn't notice quite the difference when using them to listen to other types of music or when watching Netflix from my phone. I did notice that the iClever earphone's audio sounded more crisp and clear than my wired pair.
The Previous/Next Track and Pause/Play controls worked well with music that is stored on my devices like my iPod Touch 5G. They also work with Amazon Music, Spotify and Pandora on my iPod, although when using Pandora on my Nexus 6, I noticed an interesting outcome. As long as Pandora was NOT the active screen, I was able to use the Next Track button (long press of the Volume Down button) and the Pause/Play button; otherwise, they didn't work. This was determined to be an issue with my phone (the functions worked well on an HTC One X phone even when Pandora was the active app).
The iClever headset also has several phone features: Answering and ending calls with a single press of the Multifunction button, rejecting a call by long pressing the Multifunction button for two seconds, muting a call by long pressing the Volume Up button for two seconds, transferring a call to the phone from the earphones and vice versa by long pressing the Multifunction button for two seconds during the call, and voice dialing someone by a single pressing simultaneously the Volume Up and Multifunction buttons and saying "Call <name or number>".
When testing these features most tested well, but there were a couple of things to note. First, when transferring a call from the headset to the phone, I walked away from the headset to another room and was conversing fine until I came back to the headset, then suddenly the call was transferred back to the earphones. I thought that this was due to losing Bluetooth connectivity and then reconnecting when within range of the phone. However, the second time it happened, I had only walked about five feet away from the earphones. Second, the call quality was fairly decent, although when talking to someone and walking around, the person I was speaking to heard noises caused by the movement. I suppose that is to be expected when the microphone hangs from the right earphone and moves around a bit while I move. And the last thing to note is that the Voice dialing worked well and is my favorite calling feature.
The iClever earphones worked continuously for about five and a half to six hours before they were completely depleted and needed charging. Charging the headset takes about two hours according to the manual. I found this to be accurate during my tests.
Final Thoughts
The iClever Bluetooth Stereo Headset is a decent pair of earphones. Music playback is crisp and clear. If, however, you love bass heavy music, you may be disappointed. When playing this type of music, the songs sound more monophonic and feel incomplete. These earphones also have a tendency to work loose during exercise. However, the headset does have some nice phone features, the best of which is the voice calling.
Note: For another opinion on this headset go read Julie's review.
Source: The sample used in this review was provided by iClever. Please visit www.iclever.us for more information or Amazon to purchase them.

Product Information
Price:
$79.99
Manufacturer:
iClever (Hisgadget)
Retailer:
Amazon
Requirements:

Bluetooth - compatible with all previous Bluetooth versions

Pros:

Clear, crisp audio
Nice phone features, voice calling especially nice
NFC pairing

Cons:

Lacks strong bass
Prone to falling out when exercising