We use affiliate links. If you buy something through the links on this page, we may earn a commission at no cost to you. Learn more.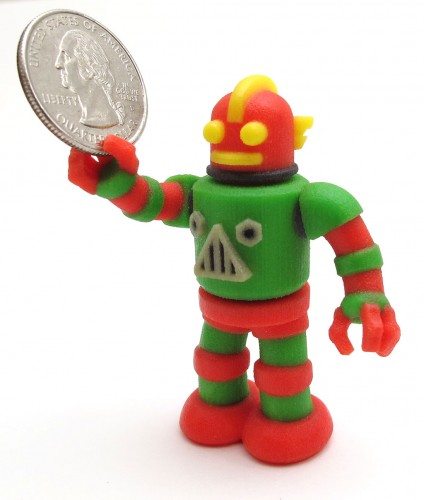 Warning: If you like robots, DO NOT READ this article. Don't.do.it… If you decide not to heed my advice, it won't be my fault if your productivity goes down the drain for the next 8hrs and your credit card starts to complain. You've been warned.
Note: Click the images in this review to see a larger view.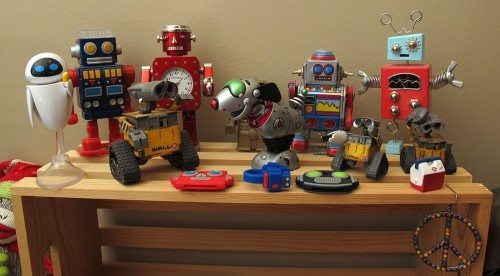 I love toy robots and have started a small collection which you can see in the image above. I tend to like the ones that look a little retro, but I'm not that picky. The other day I was surfing around and somehow happened upon one of the coolest sites I've seen in a long time. It's a 3D printing site called My Robot Nation.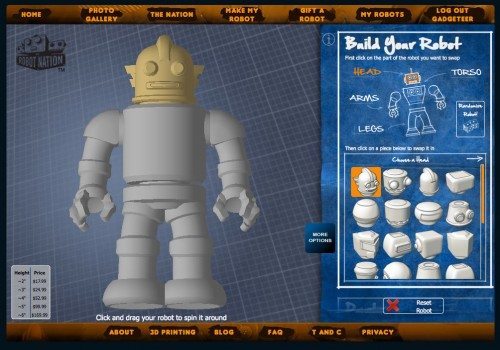 Using their web based building tool, you can construct your own custom robot from over 9 billion part combinations. You can choose from many different heads, torsos, arms and legs. One caveat though… you have to use Chrome or Firefox to use their web based builder tool as it requires a WebGL enabled browser.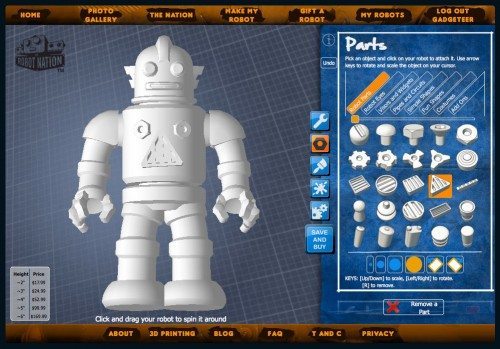 You can add all kinds of parts and stickers to your robot such as bolts, grills, visors, logos, letters, etc. Each part can be rotated and sized. You can even spin the robot around to add parts to the back side.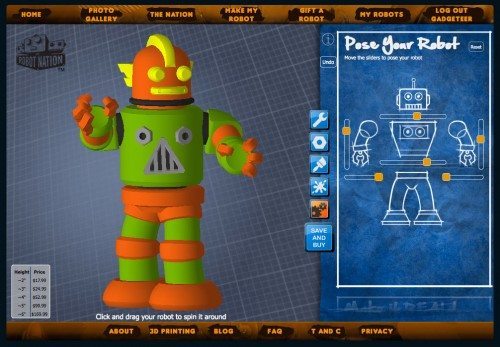 When you've finished adding parts, you can paint your robot by simply choosing a color and pointing and clicking on the part you want to paint.
But wait, there's more! You can also pose the figure by turning the head, torso and arms.
Are you drooling yet?
I think I spent 2hrs or more building my first one, which you see above. I decided to purchase the smallest size – 2 inches due to price. $17.99 didn't seem that much to pay for a 2 inch tall custom robot that I designed myself. But $169.99 for a 6 inch robot was way more than I wanted to spend. So I placed the order and waited about a week for my creation to arrive.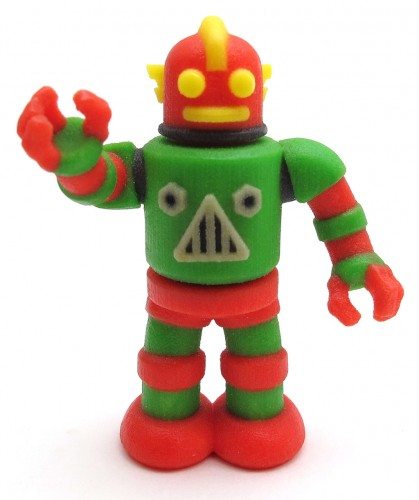 Here he is! Pretty cool right? If you aren't familiar with 3D printing, here is some information about it directly from My Robot Nation's site:
The printer projects the digital model of the 3D object into a compact base of gypsum powder (similar to plaster of Paris). Next, just as an inkjet moves over paper to print a document, it deposits a binder with 24-bit color layer-by-layer into the plaster-like base, literally building your robot millimeter by millimeter from the powder.

As it's built, the loose powder around it supports its structure so there is no wasteful scaffolding to remove, no toxic materials or run-off, and the unused loose powder is recycled right back into the machine.
According to their FAQ, the printing process is pretty time consuming. The robot is printed at a rate of about one inch per hour and requires about 48 hours to cure.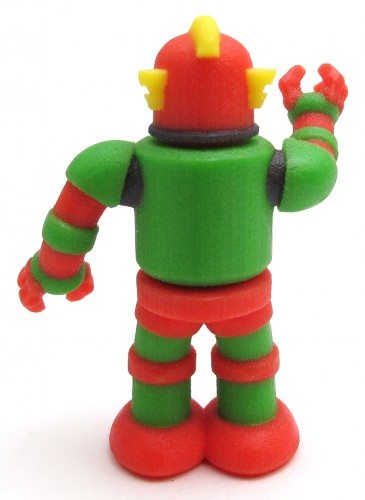 The figure feels a bit fragile and isn't something you want to "play" with or give to a small child. I'm pretty sure that dropping it on a hard surface from even a very short distance would cause it to break.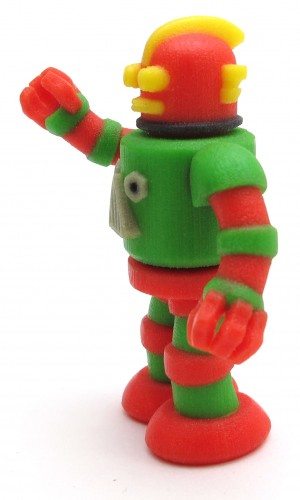 I am really happy with the way my first Robot turned out and I definitely have plans to create another one or a whole army of robots in the near future. The online building tool is very easy to use and is a lot of fun.
So, who is going to order one? 🙂
Product Information
Price:
$17.99 - $169.99
Manufacturer:
My Robot Nation
Pros:

Fun!
Create a one of a kind robot figurine
Tons of customization options

Cons:

Larger sizes are very expensive
Fragile