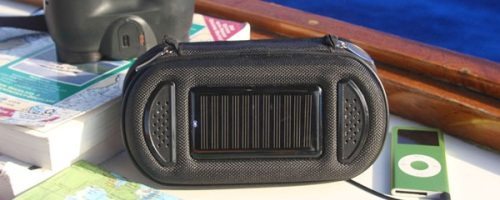 How excited was I to try this product, a protective case that charges a wide variety of personal electronics – iPods, phones, GPS units, handheld game devices, and such – and has an amplified speaker built in? And can recharge itself with a built-in solar panel? And priced under $60! Woot woot! Sign me up!
I soon had a Solicharger-SP from SolLight in my hands to try out.
The package includes the case, a short set of instructions, and a bunch of tips – micro USB, mini USB, Apple, USB, and 'reverse' USB.  Some will be used to power your device, others help charge the unit.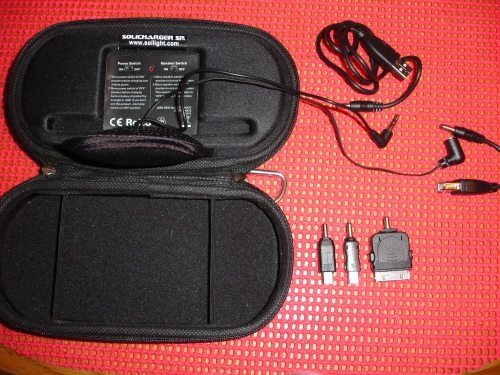 The specs for the case are:
External dimensions: 7.25″ long x 4″ wide x 1.75″ thick
Internal dimensions: 7″ x 3″ x just under 1″
Weight: 9 ounces
Battery: Lithium-Ion 1500mAh
Solar panel: 2″ x 3″, 5v 70mAh
Output: 5vdc, 500mA
Amplified speaker
The numbers for the dimensions are kind of misleading since the case has very rounded corners and is wider in the middle than on the top or bottom. The upper half of the opened case is filled with the battery and speakers. The case also features a blue LED to tell you it is charging, a pass-through grommet for the charger cord, and two external loops with small carabiners.
The outer case is a sturdy, stiffened black Cordura nylon, and the inner case is a slightly fuzzy material that slightly connects to the rough part of low-profile Velcro. There is not much actual padding in the shell- most of it is between your device and the case lid with the battery, etc. in it.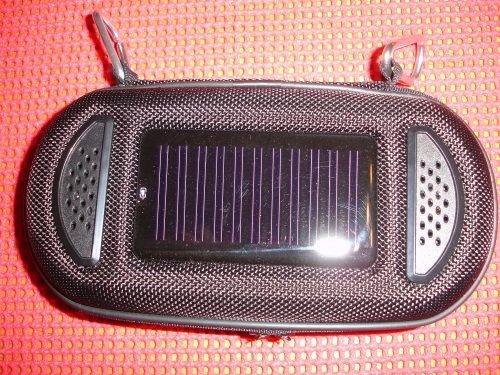 Internally, there are two non-adjustable elastic straps, a small storage pouch that is not big enough for all of the tips, and the 'control panel' for the speaker and charging functions. There are instructions on the panel as well, which is helpful to remind you that the power switch has to be 'on' to run your device, and 'off' when charging. A small red LED lets you know the speaker elements are turned on.
There are also two 6″ or so cords inside. One is a typical right angle 1/8″ stereo plug, and the other is a right angle jack to take the charging or power tips. One issue with this case is that the charging tip and adapter will add about 1.5-1.75″ to the length of your device- and I really doubt you could use it and zip up the case if your device has a side-mounted charging port. My Samsung Galaxy S (Epic) fits, but there is not a lot of length to spare.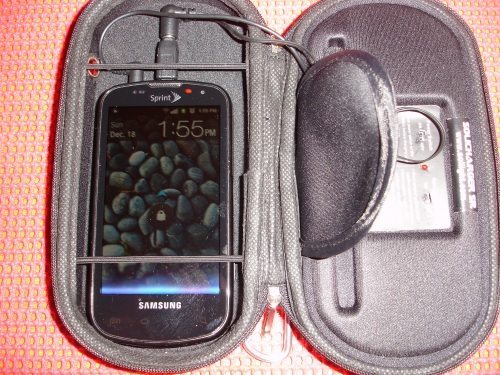 Charging the case is easy enough, and you can charge the case while still using the speaker functions. You can use either the 22″ USB cable to plug into a powered USB port, or the short 'reverse' USB adapter so you can plug another USB cable into it, such as an AC/USB plug. The maker says it will take about 3-4 hours to charge fully. A blue LED indicates that it is charging, but there is no visible signal that the case is fully charged.
Charging the case with the rather small solar panel takes 20-24 hours of light, depending on the light quality. Even a small amount of light from the window is enough to trickle charge the battery.  If the internal batteries are fully depleted, it may not charge with the sun and would need to be hooked up to another source for about 15 minutes to get the charging process started. Also note that using the sun alone can generally only charge it about 90% of the way.
A fully-charged case should give your device a complete charge, but it may take over an hour to do so depending on several factors. The solar charger is not quite powerful enough to keep your unit charged when playing music.  You will eventually use juice faster than the solar panel can recharge it, but the cases batteries and solar panel will certainly extend your device's battery life significantly! In my decidedly non-scientific trials, I got less than half my smartphone's usual battery drain when I used this case to play music (without the amplified speakers). With the amplified speakers also using the battery pack, I still got about a 25% or so boost in battery life.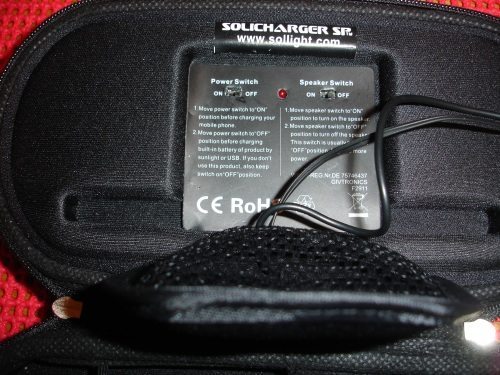 The speakers are OK. They boost the volume quite a bit, but add a lot of noise and distortion as the volume goes up. Sometimes I would have sworn I was listening to an older LP album with the hisses and popping. Charging the case as you play music seems to add a lot of noise, and even charging the player in the case seems to add some.
There are no external controls, so you need to open the case to change volume, change tracks, etc. Not a real problem if you have a good playlist going and have treated all your music so the volume is leveled out but that does not apply to me, so I constantly have to open the case and adjust things. You can also use it as the photo from the site at the top of the article suggests, and keep the player outside the case- but frankly if I wanted to do that I would buy a better external speaker unit.
Overall, the SolLight Solicharger-SP case does an OK job on all of its aspects – protection, portability, amplified speakers, and charging. Other cases may do many of these better for a lower price, but I cannot find many that do it all like this one can. Personally, I'll stick to the iMainGo2 case for the sound vs. price benefits.
Support The Gadgeteer
:
We may earn a small affiliate commission from purchases made from buying through links on our site. As an Amazon Associate I earn from qualifying purchases. Learn more.
Product Information
Price:
$59.95 MSRP
Manufacturer:
SolLight
Pros:

Universal protective case
Good selection of tips
Charges and amplified speaker

Cons:

Solar panel is small, underpowered
Speaker quality is only fair
Charging cord may not fit devices with side-mounted charging ports