We use affiliate links. If you buy something through the links on this page, we may earn a commission at no cost to you. Learn more.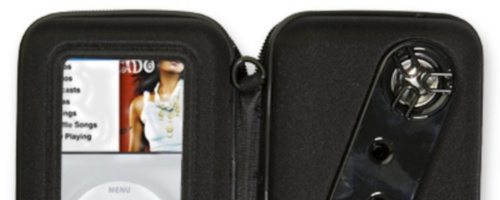 I am not a fan of headphones for most purposes, but I love small, portable speakers so I was happy to test out the iMainGo2 speaker/case from Portable Sound Laboratories, Inc. It was not long before I was a huge fan!
When I read the letter the company sent along, I admit that I was skeptical- they all start to sound alike after a while. This one even had the audacity to say that others have compared this little $40 unit to a Bose system! Ridiculous!
Or so I thought until I got it all together.
The site is not awash with audiophile specs, but the basics are:
Premium titanium high output stereo speakers
Digital music amplifier
Tuned porting for bass reproduction
Wake-up alarm feature (on alarm equipped iPods only)
Ultra-portable stereo and protective case
4AAA batteries (included) with a battery life of up to 30 hours
One year limited warranty
3.8″ x 5.7″ x 2.4″ and 9oz.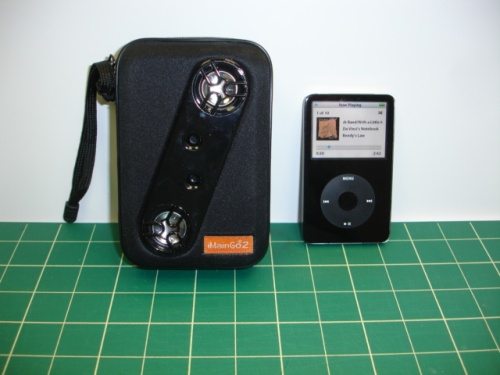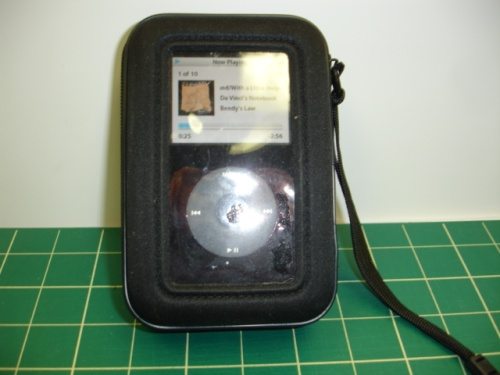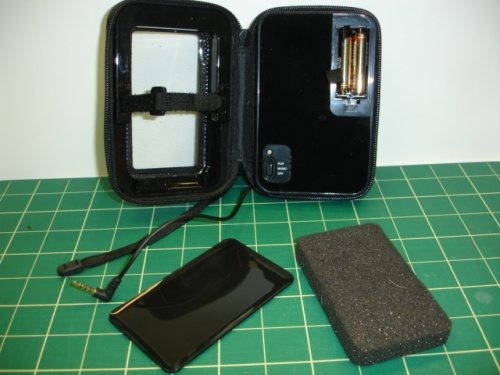 OK, here is the idea… this is an MP3 player case. It fits many players, although it is designed for iPods and Zunes. It uses a standard 3.5mm stereo headphone plug, so it will also work with CD players, many cell phones, and more. Here is where it differs from most speaker cases…
You can mount the player securely against the front film and work many of the controls from the outside using a  Velcro strap, some good foam, and a rigid plate.
It can work as a conference phone on a lot of cell phones, or a guitar amp with a plug adapter.
It features an off/music/alarm switch option- if your iPod can wake to an alarm, it will wake the case as well!
It features a smart little molded area to hold the headphone cord safely.
Oh, yeah- it sounds wonderful!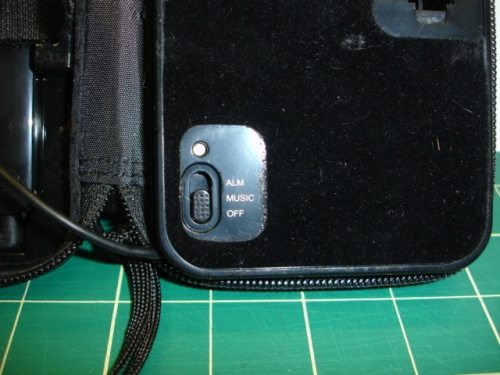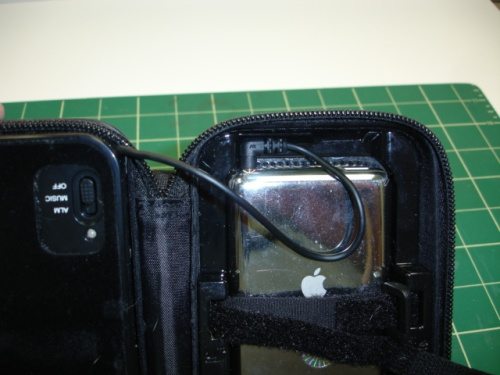 Their comparison to the Bose is not a fluke, amazingly! This little package with the low price sounds absolutely amazing! I can plug my iPod, etc. into my office Bose radio, and while the Bose is louder, I cannot detect a lot of difference in the quality of the sounds. Other speakers I have in this size range are tinny, underpowered,  weak in bass and/or the higher notes- but the iMainGo2 plays the music crisply and clearly. You can hear details that in most small speakers are just 'noise'- fingers sliding on guitar strings, soft music behind a voice, fading tones… it is awfully close to the quality of my big Sony stereo.
The volume is great as well. There is not a separate volume control, but with the iPod turned up, the sounds were clear and loud enough to use in a classroom (playing music during CPR practice, in fact!)
And did I mention it is only $40? I have to admit- if I had seen these in the store at that price, I would have assumed they are the same old speaker case I have tried before and been less than pleased with, but DANG! I woulda been so wrong in thinking that. The case even fits my Blackberry nicely- the cool features just keep adding up!
The case itself is well made and thought out for the most part- tough nylon, strong zipper, big pull, and even a nice wrist cord. A couple of minor quibbles include that the battery cover comes off kind of easily (I misplaced mine for a few days) and the deep well for the batteries is kind of awkward, and the point that if you pull the Velcro strap that holds the iPod in place out from the other side of the frame, it takes forever and a pointy tool to thread it back in.
Other than the minor issues of the batteries, the biggest negative thing I have is that the main off control is inside the zippered case, and I always forgot to turn it off when I turned off the iPod from the outside. Some iPhone users apparently use it with the iPhone facing inside and would prefer two mounting straps but I was happy with the iPod mount. None of this is a big deal, especially at this price point.
Great sound, solid construction, good pricing- what is not to love with this? I know I certainly love it!
Product Information
Price:
$39.95
Manufacturer:
iMainGo2
Pros:

Sounds great
Good small details
Well made

Cons: