We use affiliate links. If you buy something through the links on this page, we may earn a commission at no cost to you. Learn more.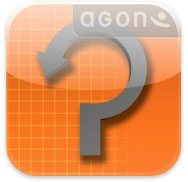 I'm always on the lookout for a fun game for my iPhone that can give me a few minutes of entertainment. I prefer puzzle style games because they typically aren't frantic. Who needs more stress in their life right? 😉 Arroic from Outlaw Games is sort of a cross between a pool game, coin collecting game and an accelerometer labyrinth game. The funny thing is that I didn't like this game at all the first few times I tried it.
The object of the Arroic is to sink the ball into the target hole. Sounds easy, but it quickly becomes challenging due to different obstacles scattered over each level.
To get your ball from its starting point to the end point, you have to draw arrows that it will follow. This is where I got in trouble during my first attempts to play the game. I thought I needed to use the obstacles as bounce points get from one place another. This works, but it is hard to do and is not always required. If you look at the screen shots above, you'll see the level that you start with and then the arrows that you can draw to get from the start to the finish. Each level has a preset number of arrows that you can use. After you draw them, you tap the Go button and the ball with follow the arrows. The longer the arrows, the faster the ball will roll.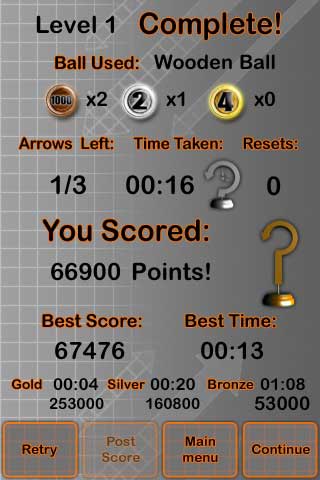 You'll also notice coins on each level. You can position your arrows so that the ball will hit the coins as it moves. When this happens, you will earn points and a higher score. The faster you complete a level will also earn you points. So, you can play the game for points, best time or just play to finish each level regardless of points or time. If you do get a high score, you can show off by posting it.
The game get's tough quick when gooey obstacles are introduced that your ball will stick to as it comes in contact with them. You are allowed to shake the iPhone to help move the ball along. Watch out though,  you can only shake the device a few times per level.
The graphics and animations are good and game mechanics are smooth and easy to learn.  This game doesn't have any background music, but the sound effects are pleasing.
The full version of Arroic has 61 levels and the lite (free) version has 6. Give it a try and let me know what you think.