We use affiliate links. If you buy something through the links on this page, we may earn a commission at no cost to you. Learn more.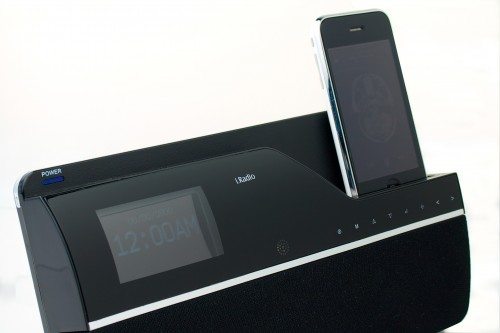 Looking for an iPod dock with a little pizzazz? How about one that links up with your home WiFi connection, plays podcasts and FM/Internet radio from around the globe, and – here's the kicker –streams music in from you home computer? The WiFi Internet Radio (Model IR-3101) from MerConnect can do all these things and quite a bit more, pushing the traditional iHome docking station idea into something quite multi-functional, easy-to-use and entertaining.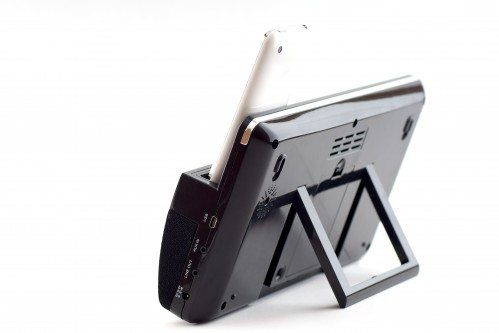 Grandparents, who are easily amused by anything with a glowing LED 2.5" display, will get a kick wondering what the heck this Internet Radio kabob'r is. Being the kind, considerate granddaughter I am, I keep it simple – it's a neato looking alarm clock that glows in the dark.
Setting the dock up to utilize wireless connectivity is a snap, and doesn't take much effort. The Radio Dock quickly found available WiFi networks, and I connected to my home network by using the remote to navigate and enter my password. From there, it was just a matter of picking a home location to choose music from, which can vary with your current location to your own personal preferences.
I searched around the podcasts section and found a random Bar Chat show in California. No idea that existed.  There's lot of stuff out there in podcast land just waiting for a legion of fans!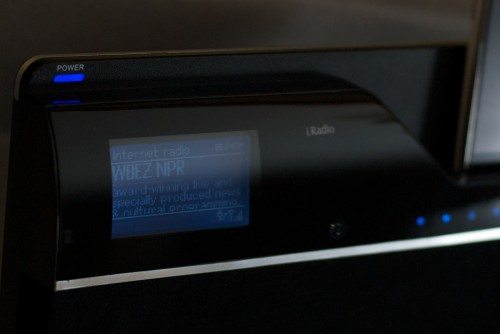 The Radio also docks iPods and iPhones with a breeze. Drop the iPhone into the dock, and it's ready to roll. You must have the remote handy though in order to switch songs because the home key is obscured by the design of the dock.
Don't have your iPod or iPhone handy or just too lazy to pick it up off the floor? Try using the UPnP support to wirelessly transmit your music to the radio. If you have Windows Media you're in luck because it support UPnP, but iTunes users have to jump through a few loopholes.
Never miss one of our posts again. Sent MON, WED, and FRI with the latest gadget reviews and news!
After a quick Google search, I found a company called Twonky that can broadcast your iTunes library to their servers using the UPnP protocol. I downloaded their 30-day free trial and voila, the WiFi dock found my entire iTunes library – Wirelessly! Brilliant. I barely had to do anything at all, except enter my self-made Twonky Username and Password.
For our European fans, the radio supports DAB. I was unable to test this portion of the dock out because I'm reviewing it here in the USA. If anyone winds up purchasing the sound dock, please let us know how the DAB functionality performs.
Everything isn't sunshine and roses with this dock. There are a few glaring issues of concern namely the speakers weak. With no treble or bass adjusters, the sound is somewhat tinny and shallow, and on par with a basic, portable iHome sound dock. If you were hoping for Bose or Bowers and Wilkins perfection, then you will be mightily disappointed.
The WiFi docks works with IEEE 802.11 b/g wireless configurations, supports the newest generation iPod and iPhones, has USB, AUX in and Line Out I/O ports. You can either run this puppy off 6 AAA batteries or with a power adapter. The remote requires 2 AAA batteries.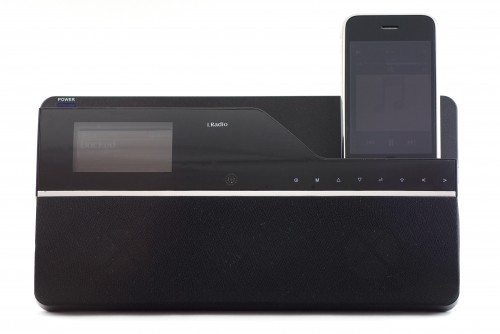 In the box you will find the remote, USB cable, AUX cable, power supply (mine was European), and a useful manual with a retail price of $159.99.
Photos courtesy of Chris Tooley – http://WWW.TOPHERPHOTOGRAPHY.COM