We use affiliate links. If you buy something through the links on this page, we may earn a commission at no cost to you. Learn more.
I've been a dedicated Machead (as one of my friends likes to call me) for going on 2 years now. I use a 24″ iMac as my main desktop computer and a 15″ Macbook Pro as my travel companion. At my day job I use a Dell Inspiron notebook, so I live in both worlds during the work week. I don't hate the Windows OS, but I find for me that I enjoy using a Mac over a Win box. I guess it's my strong Unix background or something… Anyway, I don't normally get very excited about most hardware running Windows as they just aren't my thing. Guess what? I recently had the opportunity to test drive a device that even a Machead can appreciate…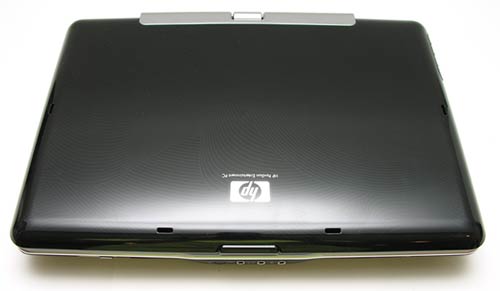 The folks at HP sent me the HP Pavilion Entertainment PC TX1000. This baby has everything but the kitchen sink packed into a nice sized package. Here are some of the main specs:
AMD Turion 64 X2 Dual-Core 2.0GHz processor
2GB of RAM
160GB HD
12.1″ WXGA Hi-definition HP BrightView Widescreen Touch-screen display (1280 x 800)
Wifi 802.11a/b/g and Bluetooth
LightScribe Super Multi 8X DVD R/RW with Double Layer support
Dimensions: 12″ x 8.8″ x 1.5″
Weight: 4.2 lbs.
Windows Vista Premium
I don't think you can see from the image above, but the TX1000 has a deep Blue hi-gloss cover that has an imprint finish in a wave pattern that was inspired by a Zen garden. Although it's very nice looking, it is very shiny and also quite smudge prone.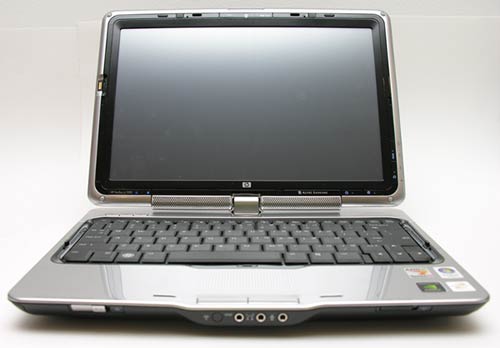 Open the screen and you are greeted with a very nice display. I don't think it is quite as bright as my Macbook Pro, but it's very nice. The display is glossy, which I prefer because they are easier to clean. But the best feature of the display is that it can rotate 180 degrees and fold flat.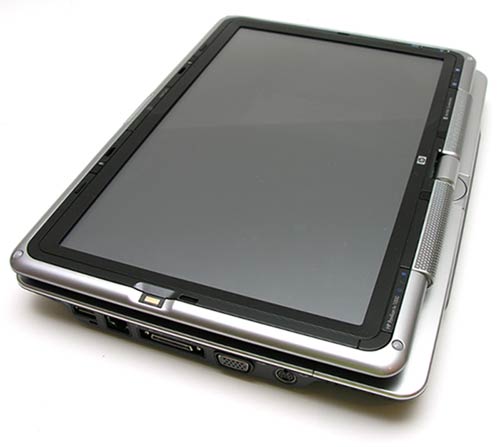 Yes, this notebook converts into a full touch screen tablet. Very nice! A special stylus is not required either. Even though it comes with a pop out stylus, you can use your favorite one with this device. So you can even use your finger if you like. I've only tried other tablets briefly, but I think I almost prefer their special radio controlled styli better because the touch screen on the TX1000 felt a little unresponsive at times. I would have to tap more than once on a web link or button for it to recognize what I wanted to do. I think I prefer the keyboard to using a stylus because I can type so much faster than I can write. That's just me though and I'm sure it all depends on getting used to it.
I do like that when you flip the screen, it automatically goes into portrait mode which is great for surfing web sites and reading documents.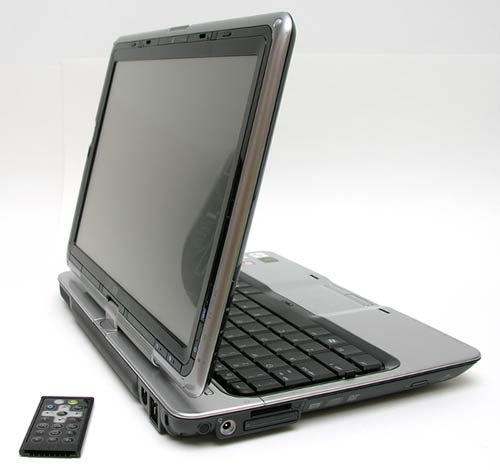 Another great way to use the TX1000 is to turn the screen around 180 degrees and instead of folding it flat, leave it as is and use the notebook as a DVD viewer. It even comes with a pop out Infrared remote, so you don't have to get up from your LazyBoy to pause movies. The viewing angle of the widescreen display is also very good compared to some laptops I've tried in the past.

Let's take a quick tour… Along the front edge is the power slider switch, IR receiver, 2 headphone out jacks (1 w/SPDIF Digital Audio and 1 Stereo) and a microphone jack.

On the Left side, there is the AC adapter port, 5-in-1 media card reader, underneath it is the pop out remote control and next to it is the DVD-RW optical drive.

Flip to the Right side and you'll find the pop out stylus, a USB 2.0 port, Ethernet port, Expansion port, VGA out and S-video ports. You can also notice media controls built into the edge of the screen.
Speaking of media, this is where this notebook shines. The TX1000 has built in Altec Lansing speakers which sound REALLY good. This device also has a media interface called QuickPlay that gives you access to features like the DVD functions, TV, Video, Karaoke, and the integrated Web camera.

The back side has an RJ-11 modem port and 2 more USB 2.0 ports.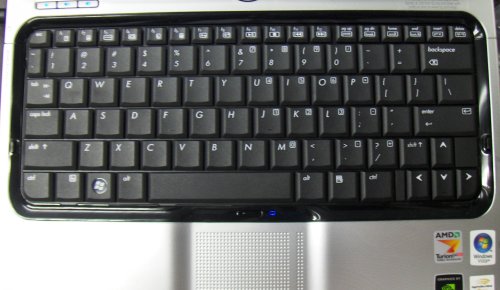 I love the keyboard size and feel. It feels like the full size keyboard that I use all day with my desktop computer. I love not feeling cramped.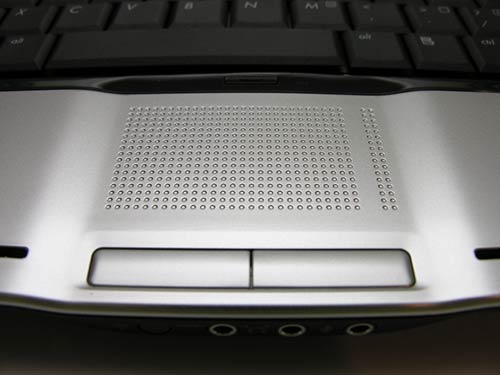 The touch pad area is really nice too. It has many tiny indentations that give your finger a non slip surface to travel across. Also the right most edge has a dedicated scroll area.
Battery life is pretty decent. The smaller 4 cell battery lasts approximately 3hrs, while the higher capacity 6 cell battery typically ran for about 4.5hrs. Great for watching 2 movies on a flight.
If you're looking for a media-centric laptop that won't break your back (4.2lbs) and your bank account (it starts out at $1299), you might want to take a closer look at the TX1000. I'm not trading my Macbook Pro in for one, but I wouldn't turn one down if someone wanted to give me one either ;o)