We use affiliate links. If you buy something through the links on this page, we may earn a commission at no cost to you. Learn more.
I have eyed this bag with great interest for the last year or so, and I got one to review from Maxpedition. It is a durable bag with ENORMOUS zippers and not a stitch of Velcro in the whole bag. It can be carried in two ways… by the carry handle on the top or with a waist belt that tucks into a pocket in the back of the bag. The waist belt is difficult to adjust (or maybe because the material is still very stiff from newness), but it's two inches wide and reasonably comfortable. There is no padding anywhere to be found, and the material is a very stiff, thick-weave ballistic nylon which appears indestructible. I would not put electronics into this bag without putting it into a padded case first. This bag seems best suited for gear to be used in the field… first aid kit, flashlights, multi-tool, or it could make a good pack for someone looking for a toolkit belt-pack. I would not use it for my travel gadget bag due to the lack of padding, but as a geocaching or hiking bag, it would serve quite nicely, as long as you are not carrying too much with you.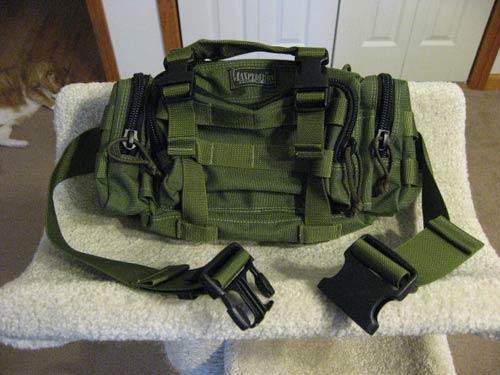 The first compartment is the large main compartment, accessible through the top by a single zipper with a nylon pull. The main compartment has a flat mesh pocket behind, made of a wide-gauge durable mesh. This pocket is great for storing papers, though they have to be folded. The main compartment measures 8″ long, 6.5″ high and 2.5″ deep. This would be a good compartment for a first aid kit and travel documents.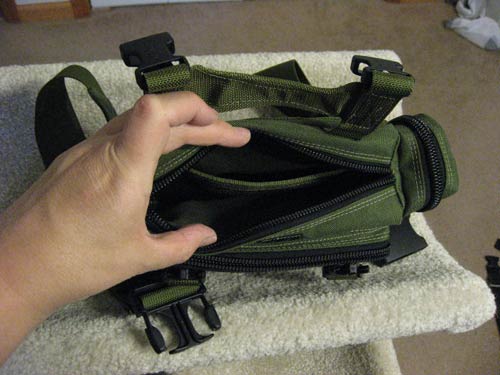 The front compartment is a wide-mouthed, mostly flat pocket, accessible with a single zipper. Upon opening this pocket, you will see a flat pocket along the back, with two flat pockets stitched onto it in front. The front side of the compartment is bare. This compartment measures 7″ long by 4.5″ high and 1″ deep. If it were .5 inch taller, it would be practical for digital cameras, but it is not quite tall enough to make it practical.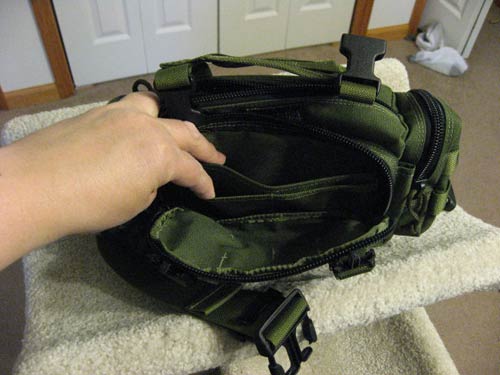 The front of the front compartment has thick nylon bands that are used as attachment points for Maxpedition's accessory clips, and there are two snap clips that go up through the bottom band that are used to attach the top handle. You must undo these clips to gain access to the front pocket. The clips can be loosened or tightened, depending on how much you decide to bulk up the front compartment.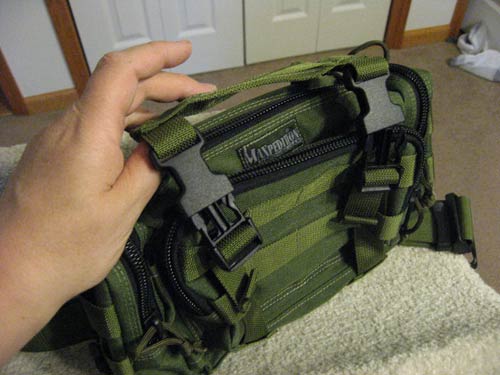 To either side of the bag are two more pockets. They measure 5″ tall by 2.5″ wide by 1.25″ deep. These would be good for small walkie-talkies, tool kits, short flashlights, small GPS units, radios…but not tall enough for my Garmin 60Cs and not side enough for my Treo 700p. They each close with a single zipper and the outside of each pocket has more nylon bands for Maxpedition accessory clips.
Never miss one of our posts again. Sent MON, WED, and FRI with the latest gadget reviews and news!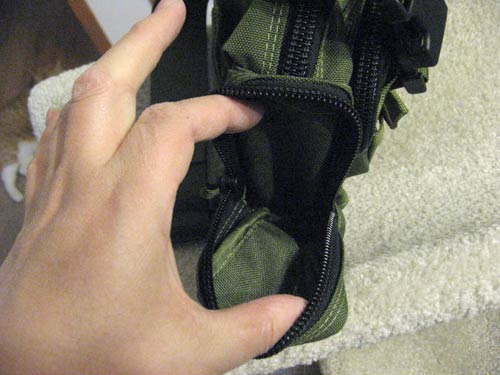 So, did this bag meet my lofty expectations? Well, if my goal is a super durable bag that can store my survival supplies while trekking through the most forbidding landscape, then it certainly does work on that level. As a travel bag for my gadgets? I cannot recommend it for that use. My Victorinox Travel Bag has the same dimensions, and makes much more effective use of the available space. I don't think it could take the punishment that the Proteus takes, but unless you are on an adventure with ruggedized gadgets, I'd stick with a bag like the Victorinox bag or the CityWalker gear bag.
Oh, and that's my cat Murphy in the background. He likes to insert himself into photos.
Product Information
Price:
62.99
Manufacturer:
Maxpedition
Retailer:
Maxpedition
Pros:

Very durable…materials and zippers appear to be utterly bombproof
Carry handle option, something not common in a waist pack
Attachment point option for someone with that need
No Velcro in any of the pockets

Cons:

Material is very rigid and scratchy, no interior lining…iPods need not apply (unless in protective cases)
Fairly expensive
Poor use of available space
Carry handle must be partially detached to access front pocket
Waist belt difficult to adjust
Single zipper access (I prefer double zipper)