We use affiliate links. If you buy something through the links on this page, we may earn a commission at no cost to you. Learn more.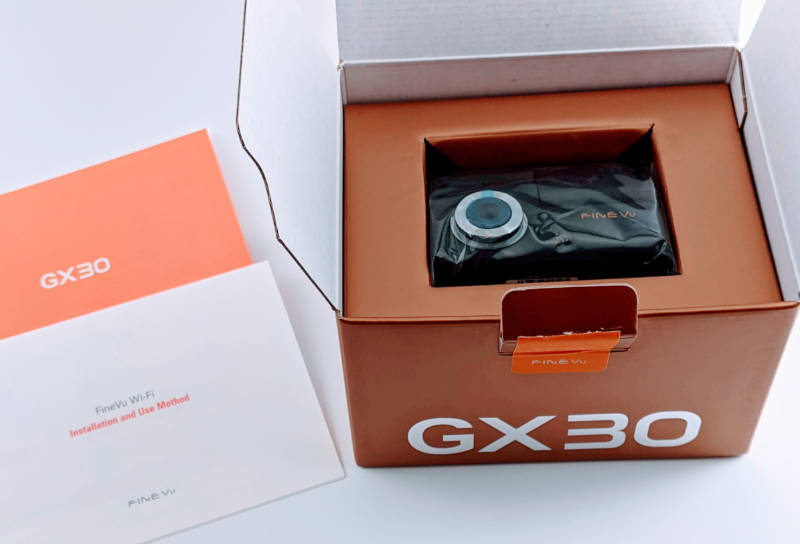 REVIEW – The FineVU GX30 dashcam puts all its features in a package that fits neatly behind the rearview mirror, plus just a smidgen of widget in the back window. Thankfully, no cars were damaged during the evaluation of this dashcam, but if it happened, I could have shown you the pictures!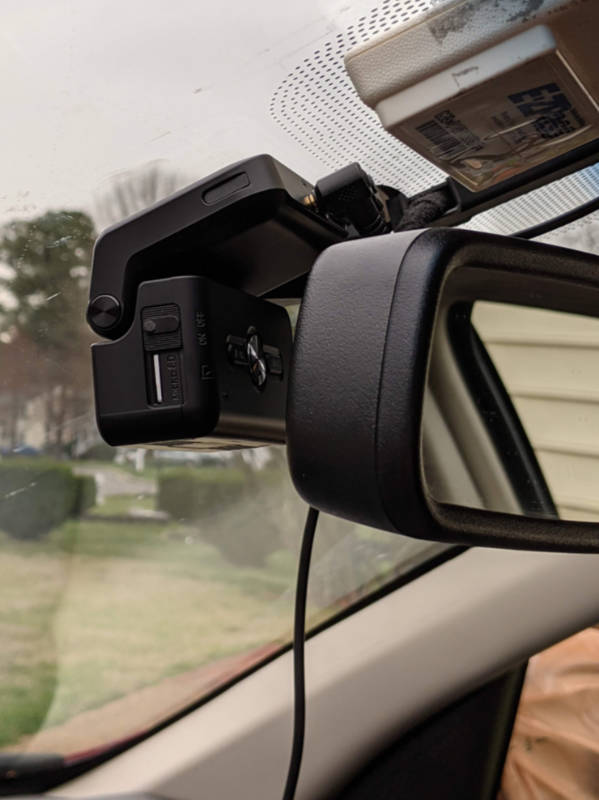 What is it
The FineVU GX30 is a two channel HD dashcam of excellent build quality. (Should we be saying 'windshieldcam' at this point? Maybe it's too early if I just started the trend.)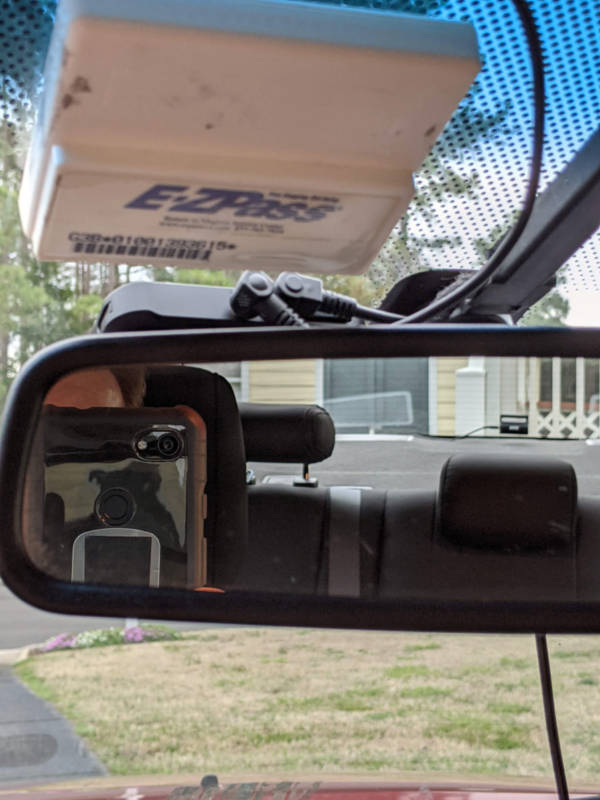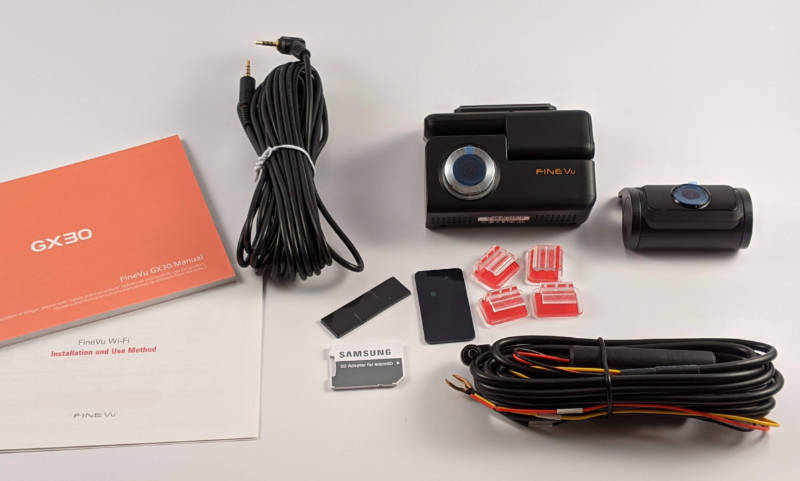 What's in the box
One GX30 dashcam 

One rear camera

Cord for hard-wiring front camera to car power source

Rear camera cord

32GB micro SD card

Micro SD to SD card adapter

Manual

Quick start instructions

Extra adhesive strips for cameras

Adhesive clips for cord management

MISSING

:  Cigarette lighter power cable
Hardware specs
Size & weight:

Front : 78.5 x 65 x 52mm / 116g,  Rear : 53.4 x 29 x 42.3mm / 26g

Memory capacity:

Micro SD Card 32GB

Recording modes: 

Driving: 1 min. interval

Driving event (impact): 20 sec. recording (10 seconds before and after detection)

Manual: 20 sec. recording (10 seconds before and after detection)

Parking: Impact and motion detection: 20 sec. recording (10 seconds before and after detection)

Driving time lapse: 30fps recording after impact detected

Parking time lapse: 30fps recording after impact detected

Image sensor: 

Front : 2.07M pixels, 1/2.8″ SONY Exmor R STARVIS Image Sensor   

Rear : 2M pixels, 1/3″ CMOS Image Sensor

 Lens:

Front/rear: Full HD wide-angle

View angle: 

Front: more than 145 degree of the opposite angle / 115 degree of the horizontal angle / 62 degree of the vertical angle

Rear: more than 134 degree of the opposite angle / 105 degree of the horizontal angle / 80 degree of the vertical angle

Video: Front/Rear [email protected]

GPS: Built in

Voice: Built in

Speaker: Built in

Wifi: Built in

Accelerometer: 3-axis acceleration sensor, +2g / -2g

Input power: DC 12V-24V

Battery: Super capacitor (for video storage in case of external shutoff)

Power consumption: 4.4W

Temperature limits: 

Operation temperature : -4F~158F

Storage temperature : -22F~176F 

Interface: Power port (3.5ohm), rear camera connection port (2.5ohm), USB A type Wi-Fi port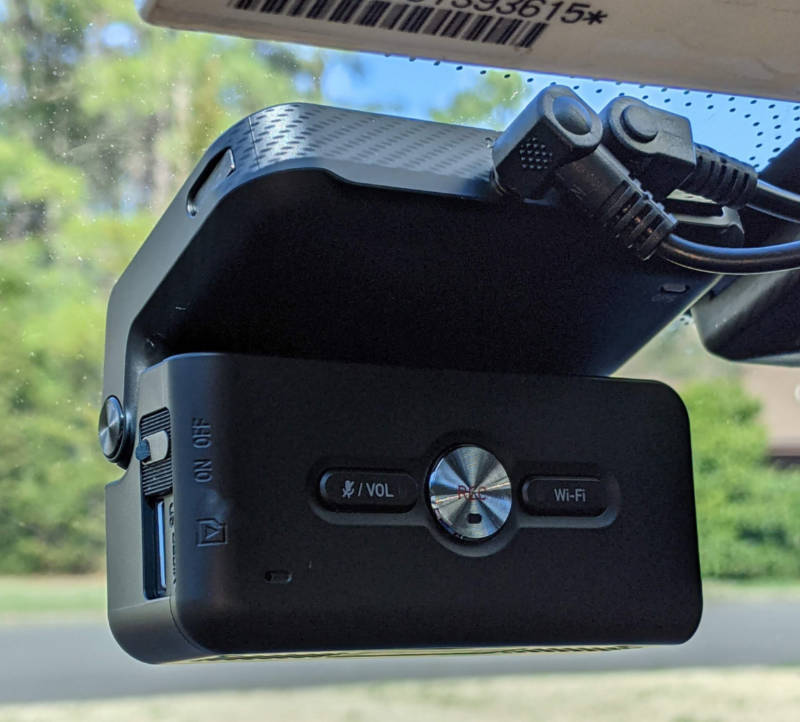 Functions: HDR (high definition recording), Smart Time Lapse, FineVu Wi-Fi, Speed Camera Alert, Advanced Driver Assistance Systems (lane, speed, proximity), Installation Angle Guide, Format free, Auto Night Vision, Driving Rest Guide, Time Alarm, Battery Discharge Prevention, High Temperature Protection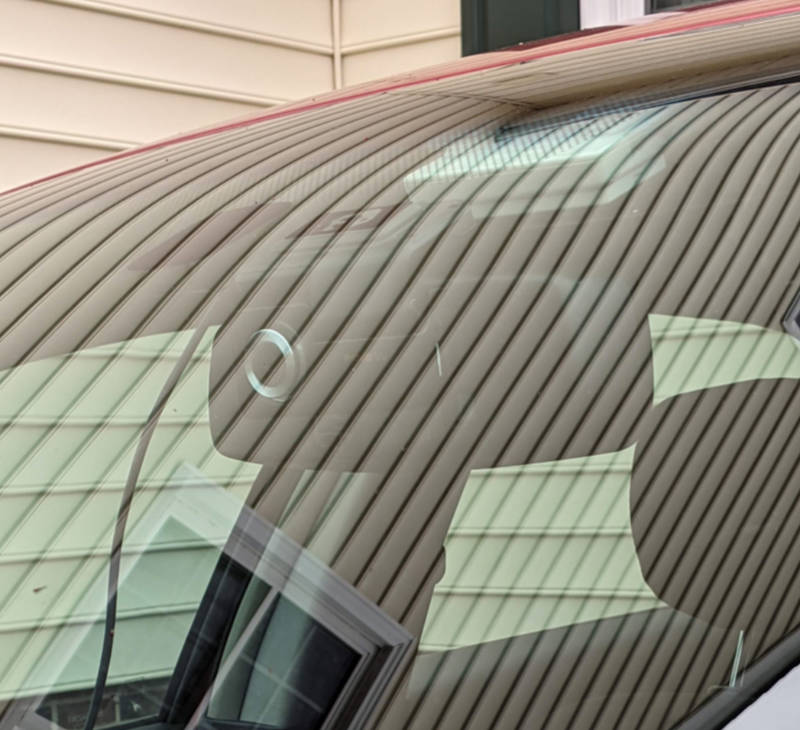 Design and features
The FineVU GX30 is sized to hide neatly behind a rearview mirror if that is a good installation location for you. I'd rather have mine where I can see the LEDs on the back, but fewer things blocking the windshield is probably safer, so I opted to put it behind the rearview. This may also invite less concern from law enforcement.  The GX30 records full time, automatically and captures events per your settings in the phone app. It gives warnings for lane departure, speed cameras (some regions), movement of the vehicle in front when stopped, cross traffic proximity, and impact. Recording is in high density quality and the lens operates well in very low light conditions.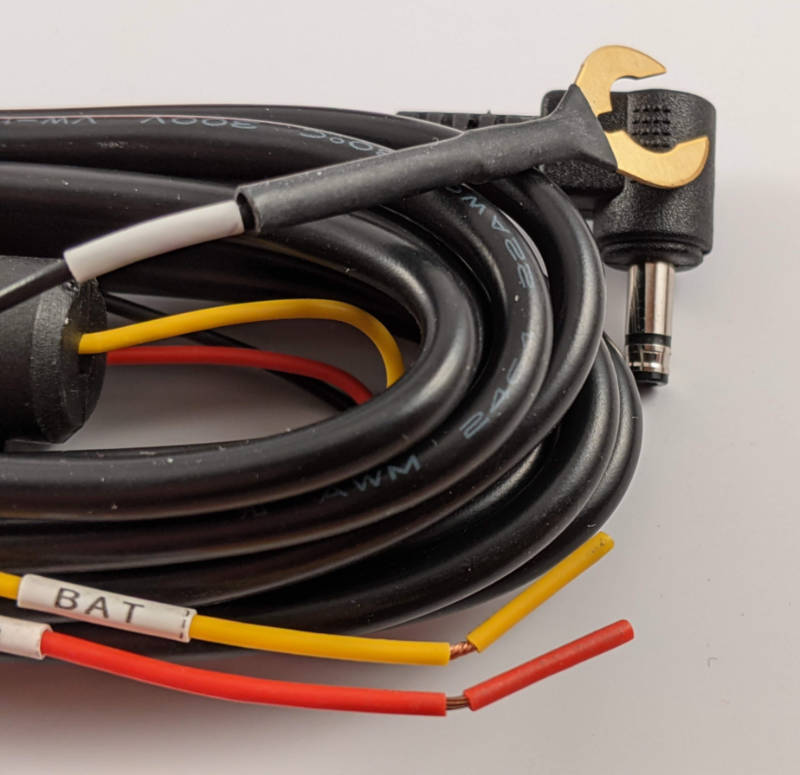 Installation and Setup
The GX30 came with no cigarette lighter power cable. The company considers that cable an accessory, available for additional purchase.  It is actually sold with wire for a hardwire/permanent installation.
On request FineVU kindly sent a cigarette lighter power cable to facilitate this review, but they really need to include that cable in the box. I can't imagine that most dashcam buyers are searching for one that requires permanent installation. With all the dashcams on the market, that is probably enough to make people keep searching. Let's hope FineVU reconsiders the cigarette lighter plug cable for future customers.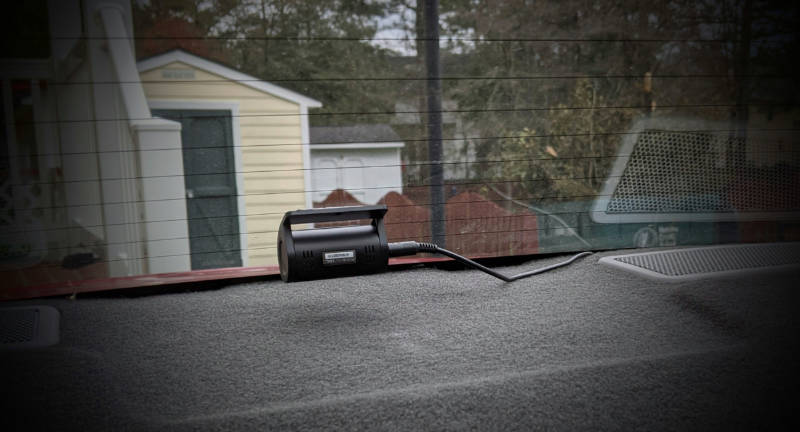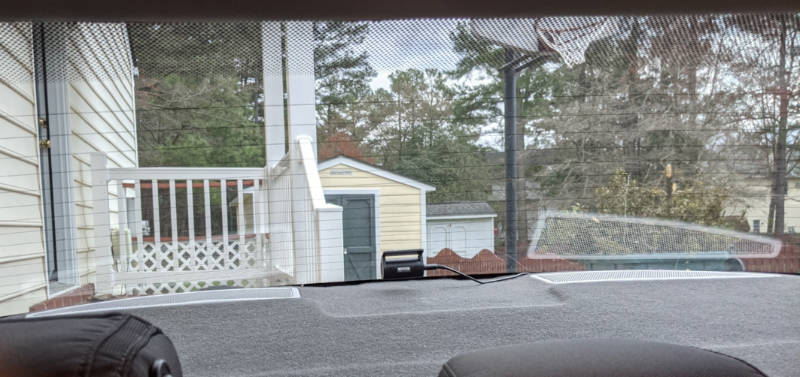 Mounting was easy and the sticky tape on the camera mounts is nuclear strong. I wanted to relocate my rear camera after mounting it in a corner (dumb) and it took several minutes of work with a razor blade and careful, measured force to get the rear camera off the glass.  An extra piece of two sided mounting tape is included for the front and rear camera mounts.  Even with the camera in the center of the back glass, my view to the rear was never blocked.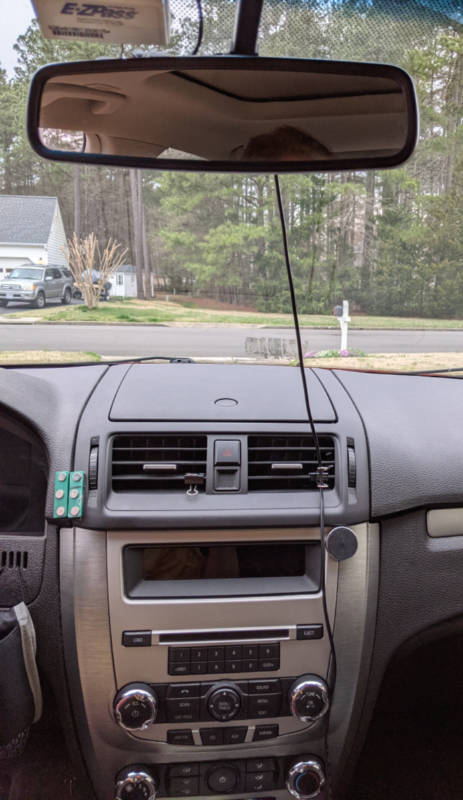 This was my install routine: The cord for the front camera goes down behind the rearview mirror, through binder clip handles at the vent, then alongside the console, and is plugged into an accessory plug inside the console/arm rest. 
I hid the first 2 feet of the rear camera cord inside the overhead liner at the windshield, then coaxed it down the driver's side windshield post, down to the carpet, and along the driver's door through two cord management clips, then along the lower back door at the carpet, and up and tucked into the door-side of the back seat and up to the corner of the seat top near the window. Then along the rear shelf at the window until 5-6" of the cord shows where it plugs into the rear camera.
Testing and observations
The stubborn abbreviations!  Let's get those out of the way.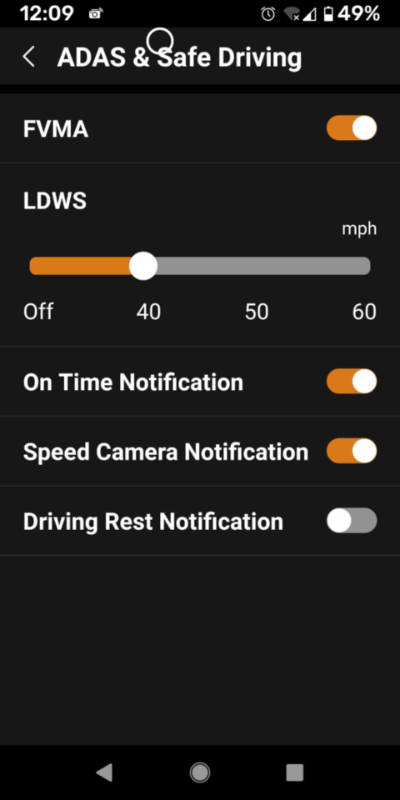 ADAS: Advanced Driver Alerting System. The umbrella term for all the safety stuff this dashcam does.
FVMA: Front Vehicle Motion Alert. Prevents the embarrassment of the car behind you beeping because you missed the car in front of you driving off when the light turned green. Around here I get beeped if I don't move in the millisecond the light turns green, so I don't really need this feature when I have the handy impatient drivers behind me.
LDWS: Lane Departure Warning System.  Not perfect but I rate it a 'pretty good' and will use it on highway trips. If I'm alone. More on that soon.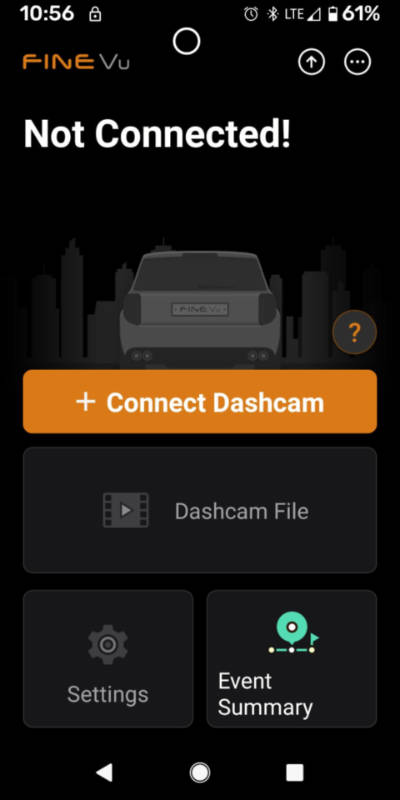 The phone app connects to the phone via a dedicated wifi network. It is not necessary for the phone app to be connected while driving around. I think the main reason to use the phone app is to make settings, which cannot be made without the phone app connected to the camera, and to download videos from MicroSD card to the phone.  While there is no LCD view-screen on the camera, you can see live video in the app, when the app is connected to the camera. The phone app does nothing useful if it is not connected to the camera.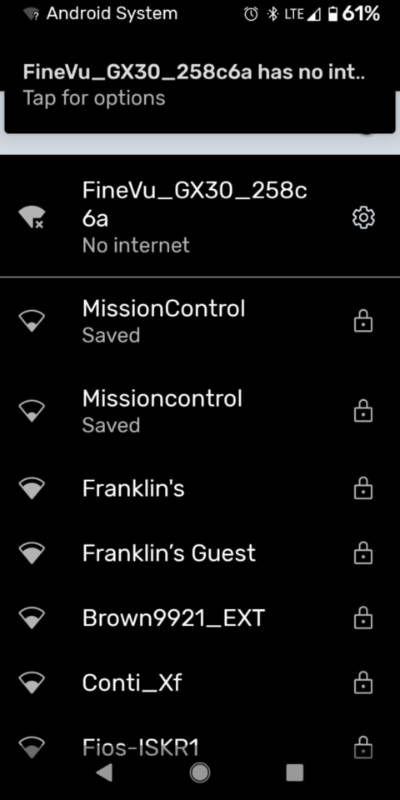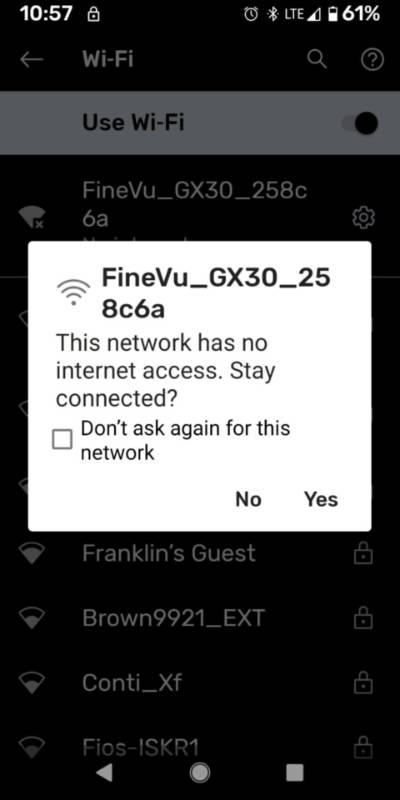 Reconnecting the app to my phone's wifi was more reliable if I did NOT click the box shown in the photo above. The connection routine is, phone wifi on, press button on back of camera to turn camera wifi on, find the FineVU network name among the phone wifi station choices, wait for the white box shown above, tap 'Yes' and go back to the main phone app screen. Video recording starts and the front cam view displays. You can toggle to see the rear cam in full phone screen only. The front cam can display in the thumbnail window in the main app screen or in full screen view.
The camera sounded the lane departure warning system (LDWS) tone too often during in-town driving and misinterpreted certain road painting as a lane departure. It also alerted during normal, in-lane highway driving so I disabled this feature. Ok, it annoyed my wife. I'll probably turn it on for solo highway trips because I like having gadgets do their thing. It was nice to discover that the LDWS can be set to only operate above certain speeds.  
Speed and red light camera detection / alerting never occurred for me, and my area has them. The manual stated this capability varies by region. 
The GX30 automatically reduces recording frame rate when there is no event, but FineVU says it recovers the full frame rate (30fps) recording when any event is detected. In the 32GB standard recording mode, you can record driving videos of 190 minutes. In the smart time-lapse mode, 578-minute videos can be recorded continuously without overwrite.
There was an occasional tweedle sound (technical term) when traffic passed in front of me at 90-ish degrees. E.g. When I was the first car at stop lights or in store parking lots waiting for cars to pass. I'm not sure of the need for this unless one is prone to be too far out in intersections. Maybe some drivers will appreciate this warning. For me it was an occasional, 'hey, a car just went by' notification.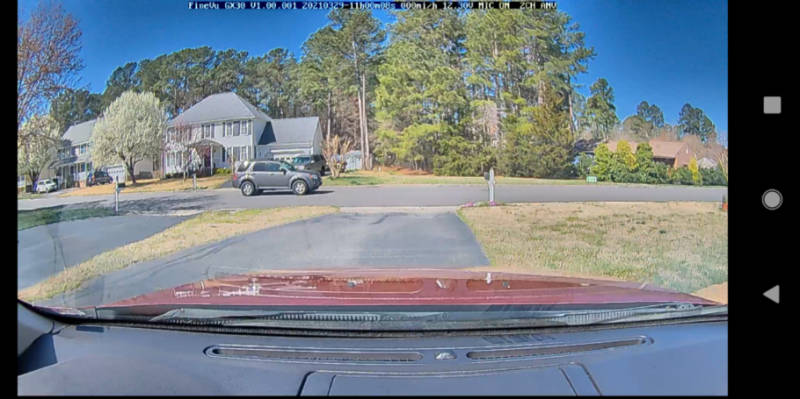 This car wasn't close enough to cause a tweedle.
Here are some day and night, front and rear camera video footage examples:
And this oddity is worth mentioning.
For some reason, GX30 videos downloaded from the FineVU app onto my Pixel 3a XL will not play in Google Photos.
Videos moved from the dashcam micro SD card onto my Chromebook and uploaded into Google Photos play just fine on the Chromebook.
Thank you Julie for recommending the free app 'VLC'.  The videos played perfectly through VLC.
What I like
Solid build quality

Clear video capture by both cameras

Impact alert occurs even when driving gently over speed bumps. That gives assurance it would do its thing in a crash.  

Very complete manual

A brand name microSD card is included (Samsung)
What I'd change
Every

dashcam should ship with a cigarette lighter plug adapter. 

The wifi connection to the phone app only occasionally needed to be 'Forgotten' and re-entered. Tips in the manual on how to minimize this delaying step could be useful.

You'll need a magnifying glass to see the screenshots of the phone app in the manual.

LDWS needs tweaking to limit false alerts.

The shiny silver rim around the front camera lens may increase theft risk. If the rim were dark, the camera would be less visible from outside the car.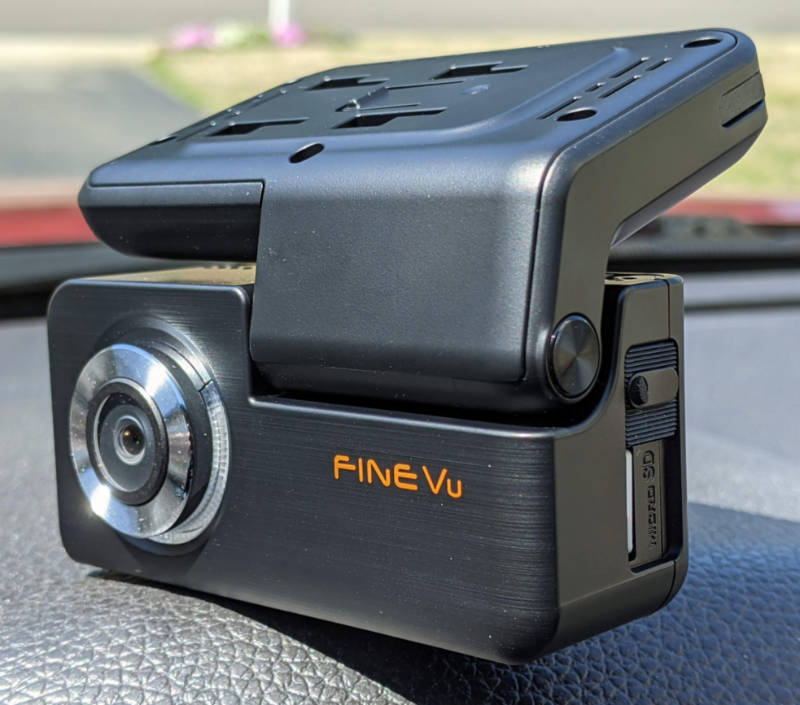 Final thoughts
The FineVU GX30 seems a very well made, quality dashcam. With the inclusion of a cigarette lighter plug adapter, which is reasonable at this price point, this dual dashcam set earns a both thumbs-up recommendation.  
Update 8/26/21
I was away for a week's vacation for which we drove my wife's wagon. Upon return, my car's battery was very dead. The only thing I had left turned on in that car was the FineVU dashcam. BUT – – In the app I had set it to turn off after x hours. So while it isn't conclusive what pulled the battery to zero, I have a primary suspect. I now turn the dashcam off for every overnight or other period away from that car.
Update 12/27/21
The FineVU dash cam drained my car battery down overnight again, as it did not obey its app setting to turn off in 3 hours. I'm having to remember to physically turn it off after every drive.
Price: $280
Where to buy: Amazon
Source: The sample for this review was provided by FineVU.