We use affiliate links. If you buy something through the links on this page, we may earn a commission at no cost to you. Learn more.
As with other high capacity, hard disk drive based portable audio players, the Toshiba Gigabeat F40 allows you to consolidate a vast catalog of music within its relatively diminutive dimensions. Packing an entire music collection into a small space, itself is a revelation. You will see what genres you tend to favor and those that you short-change. You will discover holes in your collection "What I don't own a single Beatles CD?". "What no Grand Funk Railroad?". You will re-discover old favorites in your collection that you may have forgotten about for years. Large capacity audio players can help you to enjoy your music in a way that the dimensions of today's generation of flash players simply does not allow.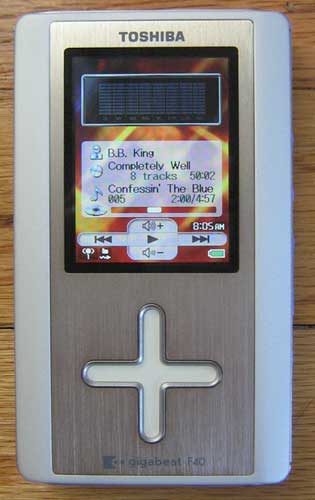 The Toshiba F40 ships with ear buds, a cradle, a pair of manuals, an applications software CD, a coupon for a Napster trial software, a USB cable and an AC adapter. The core application on the applications software CD is gigabeat room, a music management program that runs on Windows-based personal computers. Gigabeat room is somewhat akin to iTunes or Windows Media Player, although it is dedicated for use with Toshiba's audio players.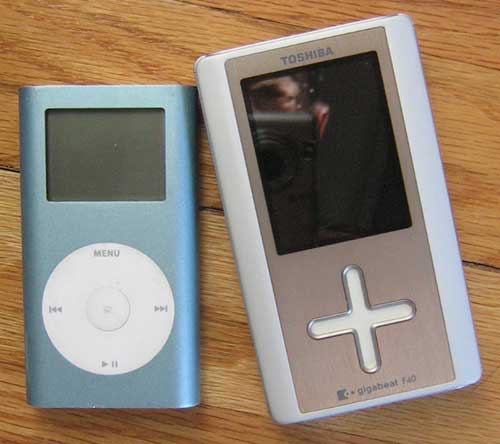 Apple iPod mini on left, Toshiba Gigabeat on right
Toshiba has packaged the F40 handsomely. Though light, it feels solid in the hand and has heft. It's corners are beveled and rounded. Control buttons arrayed down the left-side of the case glow a cool shade of blue when active. The 320 x 240 color screen provides stand-out resolution.

Internally, the unit houses a 1.8″ Toshiba forty gigabyte micro hard-disk drive. For brains, it employs a 300Mhz 32-bit Samsung microcontroller based on the ARM instruction set. The F40 runs Linux kernel version 2.4.18, busybox and SAMBA.
Gigabeat Room
You manage the contents of the F40 from your personal computer with gigabeat room (see screenshot below). Gigabeat room encodes music CDs in the WMA format, then encrypts the output, and then transfers tracks to the audio player via a USB 2.0 connection. The entire operation is surprisingly fast, a typical CD will take from 3 to 5 minutes to rip.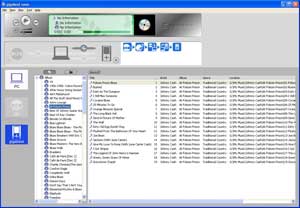 Click to view full size screen shot
Gigabeat room interfaces with the GraceNote online CD database, downloads meta-information about the tracks it is ripping, and automatically catalogs tracks on the audio player. The transferred tracks are accessible on the player based on album title, the artist's name or genre.
Many F40 users and would-be users grouse about the encryption step enforced by the Gigabeat system since this makes it impossible to share or backup files on the Toshiba. The purpose of the encryption presumably is to provide some safeguards against illegal copying of copyrighted works. Law-abiding users of the Toshiba will feel that they are being penalized for the sins of others.
Gigabeat room also will synchronize an audio collection on your PC with the player; for example, it can duplicate a collection of MP3 tunes that you might have under your "My Music" folder. The synchronization action also performs the encryption step while copying the files to the player; only the files on the player are encrypted, gigabeat room does not modify the original tracks of your music collection.
The synchronization feature presents an alternative for those who want to have more control over their music library or for those who have already built up a large MP3 collection. You have more control over the organization of tracks on the file system, encoding parameters, and the encoding format. More importantly, you also can preserve your audio files in an unencrypted medium, which means you can upgrade to a different player or have multiple players for different functions.
Odds are after a few days of use, you will experience a crash of the Gigabeat Room host software. It is not an experience you appreciate after dishing out a lot of money for an audio player. Fortunately, these crashes come infrequently and are more an annoyance than a hindrance.
Playback
The F40 boasts 16-hours of playback time for MP3 and WMA encoded music. This puts it ahead of the advertised 15-hours of playback time for the 40GB iPod Photo.
The F40 gives you lots of choices when it comes to listening to music. First, you decide to listen to the tracks of a particular artist, genre or released album. Then, you decide whether you want to hear those tracks once in sequence, repeatedly in sequence, or in random order.
For example, you can listen to all tracks categorized in the genre of "General Jazz", a category that may span numerous artists and dozens of albums in random fashion (radio order). Alternatively, you can pick a familiar album, perhaps an old, favorite "The Best of…" album, and have the Gigabeat player play through the tracks once in strict sequence. You can even play a single track over and over; a feature that might come in handy if you have a need to train your spouse subliminally to take out the trash or divest the Cancun timeshare.
If the standard categories of artist, genre and album title don't suit you, you can also create your own playlists with gigabeat room. When you create a play list, you choose tracks from your Gigabeat collection and order them in the list as you see fit.
The playlist screenshot below gives you a flavor for the eclectic possibilities:

Click to view full size screen shot
Sound Quality
The F40 produces excellent sound quality for most recordings in genres ranging from classical to blues to funk to Parisian café music. On a few CDs, the rendered sound falls short of the norm and is distinctly muffled and muddy. Gigabeat room encodes CDs in Microsoft's WMA format with a default bit-rate of 128 kbs. Given the ample capacity of the player, it is probably worth your while to change the default to encode at 192 kilobits per second ; you gain a significant improvement in sound quality for a modest sacrifice in capacity.
The F40 provides 32 equalizer presets for a wide-variety of music genres. Three of the presets, dubbed SRS WOW, are designed to provide a surround-sound experience. Gigabeat room allows you to assign equalizer presets to a selection of tracks. Although this is easy to do, a more convenient system would automatically associate equalizer presets with musical genres.
The Gigabeat Interface
The F40 has a cross-shaped pad on the front-panel beneath the display called the "Plus Touch". While the Plus Touch resembles the directional buttons on a video game controller, they respond to taps of the finger as opposed to hard presses or pushes. It is easy to overlook this point in the manual and can otherwise cause moments of consternation.
You use the Plus Touch to navigate the menu system and the music catalog. You can browse tracks by artist, album title, genre or playlist. There are a few tricks that are helpful to know: sliding your finger south to north along the Plus Touch pulls up the main menu, sliding your finger left to right returns the player to the standard playback screen.
Ear Buds
The ear buds are huge and backed by Frankenstein style nodes. They hang tentatively in the ear and are usually busy either falling out of your ear or threatening to fall out. You should plan on replacing them with something more comfortable.
Cradle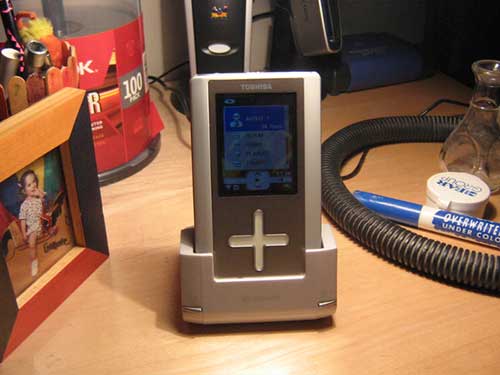 The cradle will recharge your Toshiba Gigabeat and hooks it up to your computer via a USB 2.0 interface.
It has two buttons on the front corners, one to engage the synchronize function; the other to engage the system's "riprec" function, which endeavors to make ripping a CD onto the player a single button press operation. When a CD is present in a CD drive and the button is pressed, a program called "gigabeat watcher" on your PC detects the button press, launches gigabeat room and rips the CD. Unless you look at the gigabeat room display, there is no way to tell when the ripping has ended. It would be better if the ripping ended in a CD ejection, then the riprec button could provide "headless" operation. As it is, it is a not-so-useful gimmick.
The cradle also provides an audio-out port that connects to a pair of amplified speakers. It is dead easy to take your current computer speaker system and wire it to the cradle to create a desktop stereo system. You can listen to music without having to boot a PC or keep a digital music library on it.
Extras
There's more to the Gigabeat player than audio playback: gigabeat room will also synchronize a digital photo collection between your PC and the F40. You can later view these files on your Gigabeat player either by manual navigation of the collection or by the player's slide-show function You can view your collection at the same time you listen to audio.
You can connect a digital camera up to the USB port of the Gigabeat's cradle and directly transfer photos to the player.
When the Gigabeat is nestled in its cradle, you can access its contents from a Windows PC as a removable hard disk drive. It looks and feels like any other removable hard disk drive. The hard disk is formatted with the FAT32 file system; It is even possible to run the Windows defragmenter on it or share it on a local-area network.
In this capacity, it serves as a general purpose, high-capacity portable hard disk drive.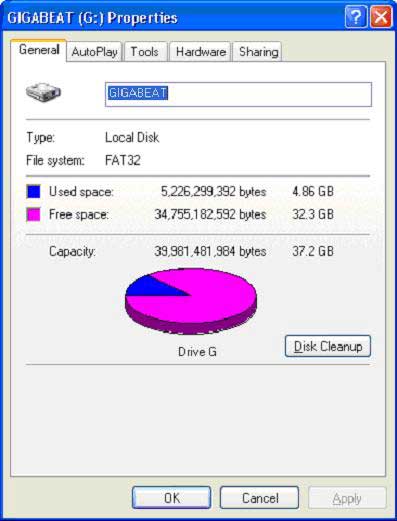 The Competition
The F40 compares well against other highly-regarded players on both price and features. Compared to the 40GB iPod Photo, the Gigabeat is cheaper and has a bigger screen with higher resolution. Creative Lab's Zen Touch is comparably priced and has extraordinary battery life and an FM radio; on the other hand, it does not display photos and has a smaller screen with poorer resolution that the Toshiba Gigabeat.
| | | | | |
| --- | --- | --- | --- | --- |
| Make | Model | Street Price | Capacity | |
Battery Life (nominal)
Yres
XRes
Cost per GB
Apple
iPod Photo
311
40
15 hours
160
128
$7.78
Toshiba
Toshiba F40
228
40
16 hours
320
240
$5.70
Creative Labs
Zen Touch
230
40
32 hours
160
104
$5.75
Community
Gigabeat users get together on the My Gigabeat web site. The web site has Gigabeat related news and a forum where users exchange tips, rumors, and reviews. There is a nascent effort to port Rockbox, an open-source firmware replacement for portable audio players to the Gigabeat. Read about it here. If you are possessed with an irresistible urge to tinker, try this Google group: Toshiba Gigabeat, modifying and hacking.
Summary
If you can tolerate a few quirks, the F40 is well worth considering; its strengths and charms make for an extensive list:
long battery life
high-resolution color screen
provided docking station hooks up to powered speakers to make a desktop stereo system
handsome and rugged
value
fast CD ripping
USB charging
digital camera photo download
digital photo slide show
portable hard-disk drive
Enjoyment of these features is diminished by some bugaboos and annoyances, including:
periodic crashes of the PC host software
copy protection scheme
ill-fitting ear buds
The F40 should appeal to gadget-friendly persons seeking good value in a hard-disk portable audio player. It takes time to discover its charms but, when you do, you'll find you have a fantastic, new way to enjoy your music collection.
Product Information
Price:
299.99
Manufacturer:
Toshiba
Pros:

Long battery life
High-resolution color screen
Provided docking station hooks up to powered speakers to make a desktop stereo system
Handsome and rugged
Value
Fast CD ripping
USB charging
Digital camera photo download
Digital photo slide show
Portable hard-disk drive

Cons:

Periodic crashes of the PC host software
Copy protection scheme
Ill-fitting ear buds