We use affiliate links. If you buy something through the links on this page, we may earn a commission at no cost to you. Learn more.
There seems to be no shortage of memory card readers that will handle Compact
Flash and SD/MMC. But when a few of the more specialized memory cards get thrown
in the mix, buying the right reader can get a little trickier. Today I am going
to take a look at the USB Brando

32-in-1 Card Reader Combo, a reader that accepts just about every memory
card on the market today.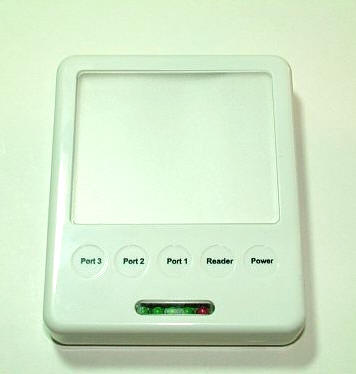 Specifications:
32-in-1 CARD READER/WRITER built-in USB 2.0 3-port HUB
Self powered using Universal Serial Bus (USB)
USB 2.0 transfer rate up to 480 Mbps, backward USB 1.1 transfer rate up to
12Mbps
Plug & Play and Hot Swapping support
Power supply: DC + 5 volts supplied by USB port
Operating temperature: 0 ~ 70C degree
Durability:10,000 cycles of insertion/removal of each USB port and CARD READER
slot.
Included in the package is the card reader, a mini-USB to USB 2.0 cable, a
user guide and a Windows 98Se driver disk. Composed of milky-white plastic and
measuring 3.36" tall x 2.76" wide x 0.62" thick, the 32-in-1 looks suspiciously
similar to a slim luminescent night light that I used to own. This is largely
due to the 1.9" tall x 2.27" wide screen that fills with a soft blue light when
the reader is plugged into a host computer's USB port.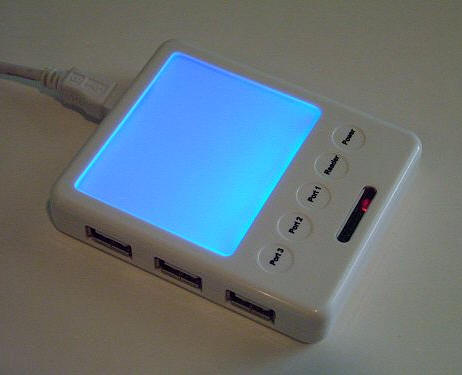 Under the large night-light on the front of the reader are five circles
printed with a legend explaining the row of LED lights below.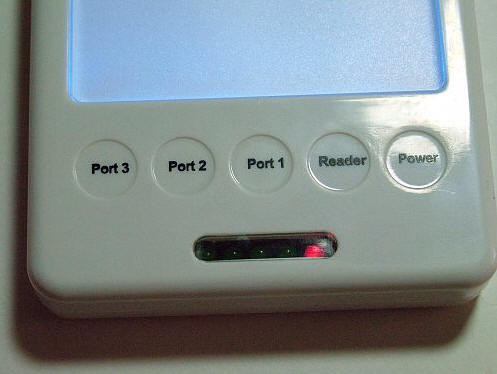 When a card is plugged in one of the four slots on the right side of the
reader, the corresponding LED will glow green, as will the LEDs for ports one
through three when a USB cable is connected.
On the right side of the reader are are four card slots.
Slot one accepts CF type I, CF type II, CF-ultra II,
Micro Drive, CF-pro, CF pro II, CF Extreme, CF Extreme III and CF-PSP II. Slot
two accepts MS, MS (Magic Gate), MS-Pro (Magic Gate) and HS-MS-Pro (Magic Gate).
With an adapter, Slot two can accept MS-Duo, MS-Duo (Magic Gate), MS-Pro-Duo
(Magic Gate) and HS-MS-Pro-Duo (Magic Gate). Slot three accepts SD, SD-ultra,
SDC, SD-Pro, SD-ultra II, MMC, HS-MMC, MMC Pro, MMC Plus, RS-MMC, and with an
adapter it will accept Mini SD and T-Flash. Slot four accepts SM, xD and xD (M).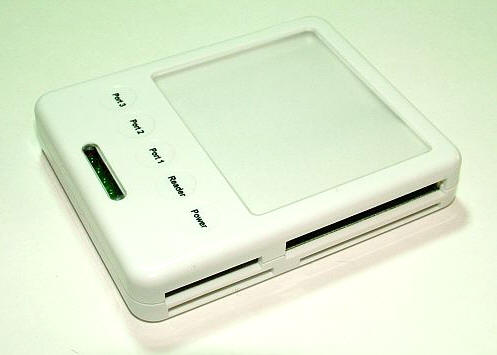 Quite a few of the really tiny new card formats use either a Memory Stick or
an SD card adapter, which should be kept with this card reader so that they can
be used in tandem when needed.
The left side of the reader has three USB ports. These ports may either be
used as a hub for powering or connecting various peripherals, or they may be
used to read flash-based USB memory devices.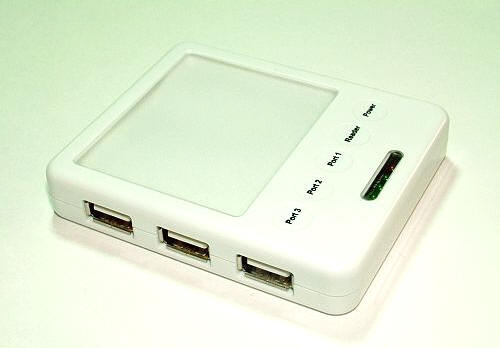 The mini-USB cable plugs into the top of the reader, and there is also a tiny
jack (AC Adapter is not included) if additional power is needed.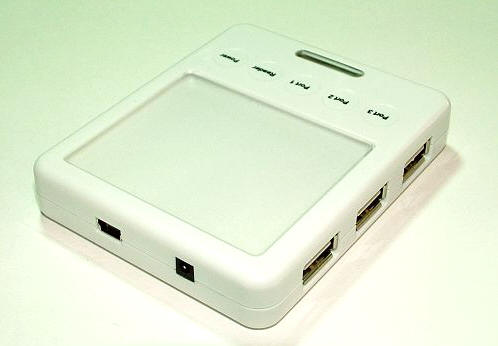 One of the special features of this reader is that it touted as being quite
speedy. When most people read "USB 2.0 transfer rate up to 480 Mbps, backward USB 1.1 transfer rate up to
12Mbps" in the specifications, it won't mean a thing to them, so here is a real
world example. I chose a 556MB movie file from my computer and transferred it to
a San Disk Ultra II 2.0GB SD card docked in this reader; it took one minute and
nine seconds. To compare, I transferred the same movie from my computer to the
same memory card docked in the

Atech iDuo, my usual card reader. The iDuo took one minute and 26 seconds.
On a larger file, or when there are many files being transferred at once, this
speed difference should be even more noticeable.
The compact size of the 32-in-1 Card Reader and its built-in three port USB
hub feature makes this a convenient laptop gadget. If you have been looking for
a slim card reader that can handle just about every memory card format
available, then you might want to take a look at the
USB Brando

32-in-1 Card Reader Combo. Its night light feature will be an extra bonus
when traveling. ;0)
Product Information
Price:
28.0
Manufacturer:
Brando USB
Requirements:

Supports Windows Me/2000/ XP & Mac OS X without USB device driver
Supports Windows 98Se with USB device driver

Pros:

Easily portable
Speedy transfers
Will read just about every memory card on the markey today - as long as the right adapter is brought along
Operates as a three port USB hub

Cons: