We use affiliate links. If you buy something through the links on this page, we may earn a commission at no cost to you. Learn more.
Wow, do I have the ultimate gear bag for all of you gadgeteers out there!
Well, it could almost be the perfect bag (at least for me) if it wasn't for one
thing… Velcro. But I'm getting ahead of myself…
The Tactical Gear Bag from The Military
Watch Resource was designed with military and law enforcement personnel in
mind. Made of black nylon, this bag has more pockets than just about any gear
bag I've ever seen. If you're an organization freak, you're going to be in
heaven! Well, that is except for one thing… Velcro.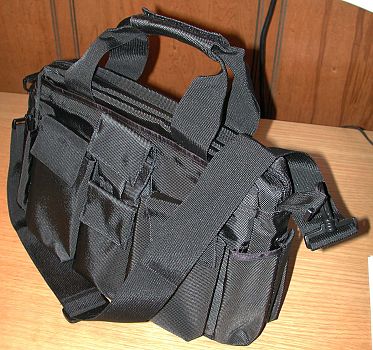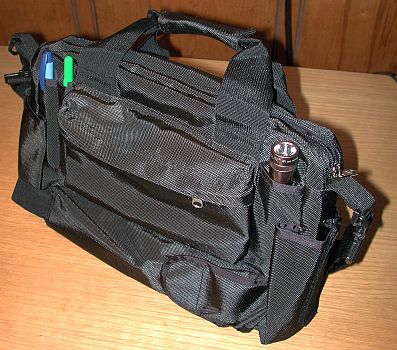 At 14" x 10" x 6" inches in size, it sounds deceivingly small. But trust me,
there's room for a lot of stuff in this bag. A heavy duty zipper opens to reveal
one large main cavity with a removable divider in the middle. The interior walls
of the bag are lined with a soft Velcro compatible material. This lining is thin
though. So the potential for tearing or snagging it seems like a real possibility. Especially after
prolonged use of the bag and / or inserting and removing sharp or pointy
objects.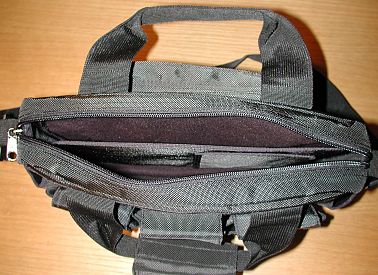 I was pleased to discover that the interior of the bag was large enough to
accommodate my Fujitsu Lifebook enclosed in my WaterField sleeve case, and still
had room to spare for other items. The interior does not have any pockets (if
you don't count the divider), and that is something that I would like to have
seen.
All of the pockets are located on the exterior of the bag. Actually, the
exterior is ALL pockets! On one side, there is a large zippered compartment that
I used to hold my check book, billfold, and sunglasses. On the left side of this
pocket are 2 narrow slots that can hold pens or pencils. On the opposite side is
a wider slot that works great for a flashlight.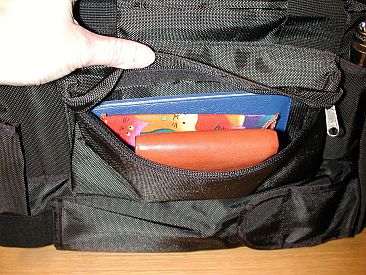 Below the zippered pocket is a compartment that I could only guess was for a
baton or club of some sort. Remember, this bag was geared (pun intended) for
people in law enforcement and the military.  So far, I've not found a use
for this compartment. I tried putting a mini umbrella in it, but it would not
fit. Darn!
On the other side of the gear bag is an impressive arrangement of individual
pockets. Six of them to be exact! Two large (4 x 6in) flapped pockets surround a
set of two narrower compartments. With one of these actually being two small
cavities that share one flap. The larger pockets can hold items such as PDAs, cameras,
peripherals, etc. While the smaller pocket could conceivably house a cell phone
or other small device. The dual compartments are pretty small, so I used one to
hold a tube of lip balm and the other worked great for my
Mobius Swiss Army Knife.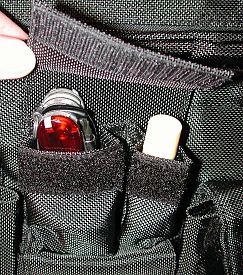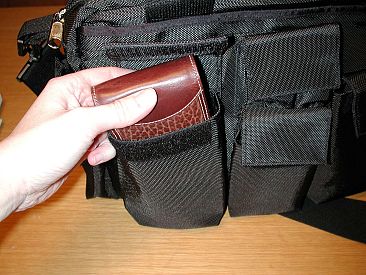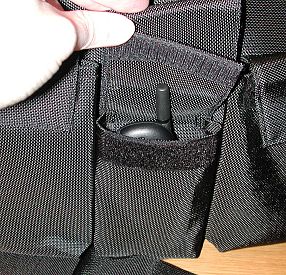 Directly behind all of the pockets on the front is a large hidden pocket.
Held closed with… you guess it, Velcro. This area is supposed to be used to
hide a gun. Well, since I don't have a gun, I used it to hold items such as
plane tickets and other papers that I wished to remain flat and uncrumpled. I
was also pleasantly surprised to find that this pocket was big enough to hold a
standard sized magazine.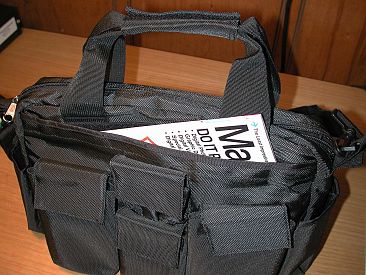 Think we're done with pockets? No way! We have two more on either end of the
bag. These are large compartments that have adjustable drawstrings that work
well for water bottles, and other similarly large items. The drawstrings feed
thru the sides of the bag where an adjustable lock is located on the interior.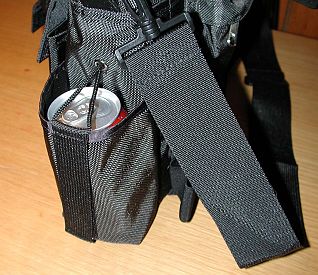 To transport this bag, you have 2 options. The included removable and
adjustable shoulder strap, or by the carry handles. The shoulder strap lacks a
comfortable pad, but it works ok. I mainly found myself using the carry handles
9 times out of 10. They are dual handles with a wrap around Velcro grip.
The Tactical Gear Bag is a quality bag. The materials and stitching are all
very good. So, what's not to like right? I actually have a love / hate
relationship with this bag. On the one hand I love its small size and bevy of
storage options. But what I just can't get past is the freakishly overuse of
Velcro! I tell you what, I seriously doubt if this bag was meant for use
during law enforcement / military stealth ops. The first time someone would try
to retrieve an object, the sound of Velcro ripping would alert any criminal or
enemy from yards away! It's not news that I am NOT a fan of this type of closure
material. But I can't help but think how great this bag could be if it used 
zippers or magnetic clasps instead. As a result, I'm still using my
WaterField
Cozmo as my everyday gear bag. However, if you don't mind Velcro, and need a bag
with pockets galore, you really should take a closer look at this bag.
Price: $50.00
Pros:
Pockets, pockets, pockets!
Small but able to hold a lot of items
Cons:
Velcro
Interior lining is thin
Velcro
No padding
Product Information
Price:
50.0
Manufacturer:
The Military Watch Resource
Pros:

Pockets, pockets, pockets!
Small but able to hold a lot of items

Cons:

Velcro
Interior lining is thin
Velcro
No padding