We use affiliate links. If you buy something through the links on this page, we may earn a commission at no cost to you. Learn more.

A Perplexing Positional Puzzle for Patient
Persons

I'm a gadgeteer.  It's
true.  Sometimes I have to have the latest and greatest no matter the cost
(financial ouch).  So why am I so impressed about this $15 borderline electronic
device?  Read on, I dare you!

I saw this ingenious contraption at a friend's
house.  The online photo does not do it justice, but essentially you have a
roughly oval sphere made of hard clear plastic.  Inside are a variety of plastic
colored ramps and whoozits, and the star of the
whole thing is a shiny gold toned ball.  In a nutshell, this is an update of the
classic wooden labyrinth – you know, the wooden box
with two knobs where you roll the ball around the maze.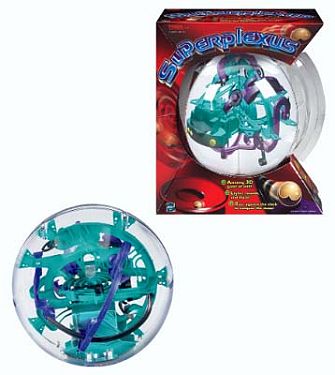 The thought behind the
SuperPlexus (by Hasbro) is evident. 
There are three "levels" and you can choose any of them by positioning the ball
to start at the appropriate "gate."  Note, that completing one level
automatically puts you in position as if you started from the next level.  The
ball's path is shown by small circles revealing numbered "steps" and an arrow
showing how to go.  Often, the next step is to rotate the sphere upside down or
some other way to move your friendly ball along.

There are a total of 100 steps to go from complete
beginning to end.  The first 25 or so steps (level 1) are fairly easy – there
are "guide rails" for much of the level, so as long as you give it a fair effort
you should be alright.  Level 2 gets harder, and I've only made it around ½
way through, and Level 3 is laughably difficult.  The
levels are made harder, by having shorter (or no) guide rails. 

Early on in Level 2, if you make it past a
deceptively difficult part, you are rewarded by having your ball go along the
long yellow curved ramp, (#31 or so), and you then find yourself well on your
way to #35, where the ball sits in a yellow cup, and you then tilt the sphere to
make the cup swing to the next stage.  Enjoy it while you can, for you will
likely hear the sound of your ball falling off and hitting the sphere, yet
again.  At around #66, you go around a large spiral in the center of the sphere,
and when the ball makes it to the center of the "black hole" it then drops into
a waiting "bucket."  The bucket pivots, and you rotate the sphere upside down to
cause the ball to drop to the other side of the spiral.  It is ingenious
engineering and planning like the above that keep me coming back for more.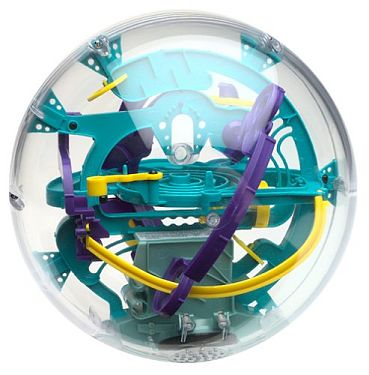 The SuperPlexus
takes 3 AAA batteries, which I am basically using as
a storage area until one of my TV remotes runs low.  Powering the sphere results
in a few flashing lights, and a horrible sound like a
beating heartbeat that makes me more nervous than I usually am.  There are some
electrical contacts within the game, to run as a timer and ensure you don't
cheat – you can't get to a certain point without triggering the appropriate
contact.  All in all, you don't need the electronics.  You can toggle the sound
on and off.  I would have used the electronics more if there were contacts
though out the game, with gratifying sounds/lights for various
"accomplishments," but that could have well doubled the cost of the game. To
"win" per the instructions, you must complete each level within the allotted
time, and make it all the way through to the end.  I sincerely doubt it is
possible, but I really don't, as this is a wonderfully devious maze.  It does
have a high frustration level, and I can see myself playing with it for 10
minutes at a time, every few days, for the years to come.

It is recommended for ages 8 and up.  My 11 month
old daughter likes to roll it on the floor (it's a bit heavy, but durable, and
the rolling ball makes a bit of noise).  Even my wife has been caught playing
with it from time to time.

I have seen it online at amazon.com for about $13
plus shipping, up to around $30 on some other sites.  The missus found it at
KayBee at our mall for about $15, which is cheaper
than just about any accessory I've ever bought for my iPAQ. 
If you have $15 in your pocket and you visit this site, you will likely want one
of these.  It's more fun than all the gum in the world, and a lot cheaper.
 
Price: $13 – $30
Pros:
Incredibly
well thought out
Easy to play, hard to master
Appeals to all ages
Repeat playability
Reasonably priced
60 day money back guarantee
Cons:

High frustration factor
Could use more electrical contacts and lights
Product Information
Price:
13.0
Manufacturer:
Hasbro
Pros:

Incredibly
well thought out
Easy to play, hard to master
Appeals to all ages
Repeat playability
Reasonably priced
60 day money back guarantee

Cons:

High frustration factor
Could use more electrical contacts and lights