The Gadgeteer is supported by readers like you! If you buy something through links on our site, we may earn an affiliate commission. Thank you! Learn more.
Product Requirements:
Device:
Hewlett Packard 540 Series Jornada Pocket PC
Well, once again E&B
has come out with a stylish answer for those of us that don't want to carry
our PDA's without the protection of a leather case.
This particular model is for the Jornada 540 series. As with their other
Slipper cases; this model is custom fitted to your Jornada, and is fashioned
from Napa leather that has a very fine, subtle grain to it.
On the bottom front right of the case, is the E&B metal tag. I really like
this particular logo, as it is simple and classy.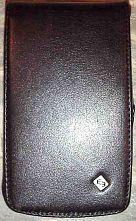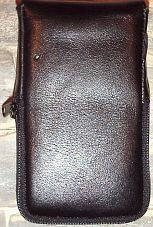 The back of the Slipper case is plain, except for the small hole that is
located over the reset button, very handy.
My immediate impression of this case is that it looks professional and
dignified.
I'm not sure what the flip lid is lined with, but there is definitely
something stiff and protective inside there. This should be adequate to protect
your screen from normal "dings".
Upon opening the case, you insert your Jornada by simply sliding it into the
top-loading, fitted pocket. The pocket itself is lined with a very soft,
slightly padded, fuzzy material.
One of the best design features that you'll notice, involves the pocket that
the Jornada slides into. Instead of breaking up the smooth line of the cutout
area, by adding a leather "bar" below the screen and above the buttons,
E&B decided instead to make a cut-out that encompasses the entire front of
the Jornada's face, with the exception of its borders. I think that this
design is very pleasing to the eye, and I am impressed that they did it this
way.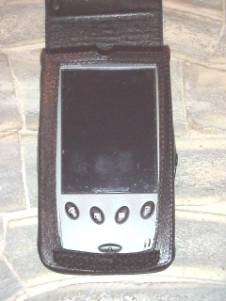 All of the Jornada's buttons are easily accessible, as is the speaker.
The top flap of the Slipper case consists of a wallet area, as with other
E&B cases. Because of the unique stylus shape of the 540 series and the
Jornada's lack of internal storage for it, E&B has cleverly made a little
pocket for the "string-bean", next to the slide-in slot for your ID or
credit card. There is also a larger pocket behind the cardholder area, for
another card, or perhaps some folded cash.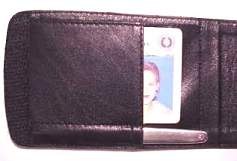 The top of the Jornada is left exposed: so your CF slot, IR port, headphone
jack, and LED/indicator button are easily accessible when the flip cover is
folded back. However, you will not be able to close the case if you have your
headphones plugged in, as the jack will most likely stick up too high.
The cutouts for the jog-dial and record button are perfectly lined up and
centered on the left side of the case.

The E&B Slipper does utilize Velcro for its closure system. Although I am
not a fan of Velcro, I will say that it appears that this is a less fuzzy type,
and that it truly does not look that bad. There is a simple, thin strip running
on the bottom and top inside edges of the case, and that is it. Unlike the Palm
IIIc case that I reviewed some time ago, there is no extra strip on the left
side of the screen. I actually don't mind this Velcro's placement. There is
still the slight "rrrrrriiip" sound that accompanies any product that uses
Velcro – however I must say that I appreciate the fact that the Velcro is on
the case where it belongs, and not affixed to the back of my PDA, where it
doesn't belong. J

Running around the bottom half is a zipper. Because this case is basically
made so that you can insert your Jornada, and never remove it again (unless you
just really want to), E&B had to come up with a way to allow syncing in this
case. Well, the zipper solves this dilemma quite nicely. You simply unzip the
bottom half of the case, exposing your Jornada's naked bum, and then insert
said item into your cradle. It takes a couple of tries to get used to this
system, but very soon you are doing it without thinking.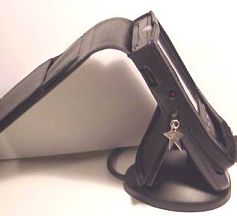 I guess my one and only complaint about the E&B Slipper involves the
zipper-pull. It is about an inch long and quite dangly. The first thought I had
when I saw it was that I should go ahead and stick something else on the pull,
if it was going to just dangle there anyway. Well, you'll notice that I stuck
a charm on there, and personally I like it better that way. I realize that the
zipper-pull is not going to bother everyone, I just want you to be aware that
the head does dangle – and swapping it out with a charm – if you're so
inclined, is an option.
Overall, I think that this case is beautifully done. It looks professional and
upscale – and unless you need a "sport utility" type case, you should like
the coverage that it offers.
Price: $36.95 w/o clip, $39.95 w/clip (Available in
Black or Burgundy)
Pros:
Able to sync in case
Very well made
Professional appearance
Cons:

Dangling zipper-pull
(which may not bother anybody but me!) J
Support The Gadgeteer
:
The Gadgeteer is supported by readers like you! If you buy something through the links on our site, we may earn a small affiliate commission. Thank you! Learn more.
Product Information
Price:
$36.95
Manufacturer:
EB Cases
Pros:

Able to sync in case
Very well made
Professional appearance

Cons:

Dangling zipper-pull 
(which may not bother anybody but me!) J