We use affiliate links. If you buy something through the links on this page, we may earn a commission at no cost to you. Learn more.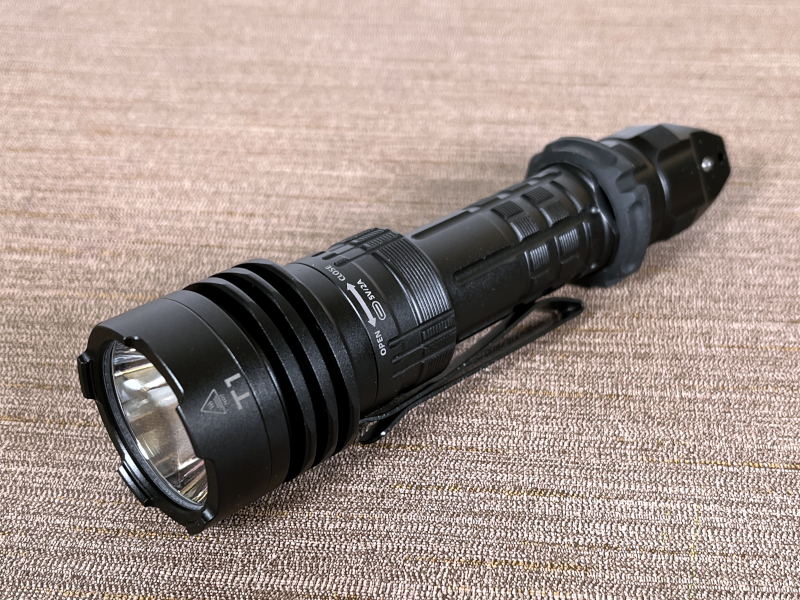 REVIEW – I have a tactical flashlight that I keep beside my bed for emergencies around the house and yard, but I've wanted one for my car as well.  Maybe I get a flat tire at night, maybe I run out of gas and have to hike to the nearest gas station, or maybe I come across someone who needs help.  For these kinds of situations, I think having a powerful and dependable flashlight could be very helpful.  Today, I am reviewing the WUBEN T1 tactical flashlight.
What is it?
The WUBEN T1 is a tactical flashlight that has four levels of brightness, a rechargeable lithium-ion battery, and an innovative three-way switch in its tail.  With an IP68 rating, it should be suited for any weather.  The T1 is made by WUBEN, and its mission is to guide people out of darkness.
What's in the box?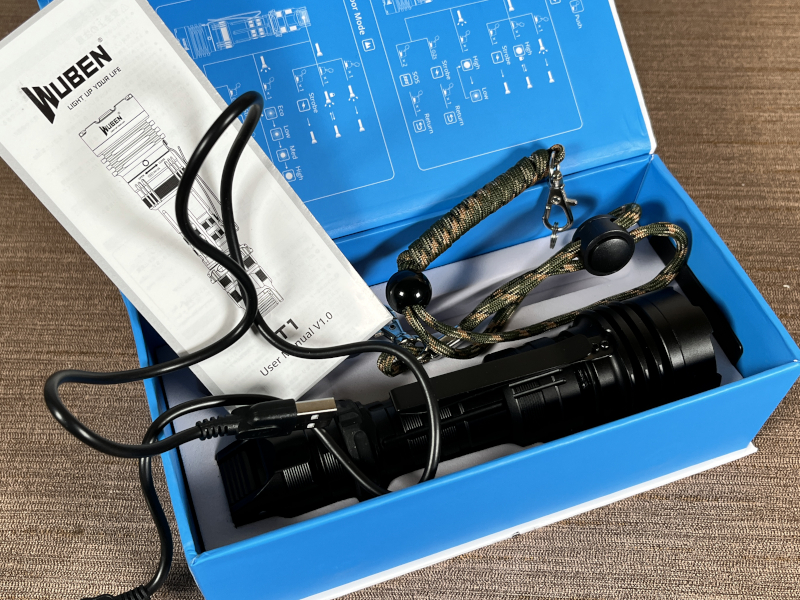 WUBEN T1 tactical flashlight
USB-A to USB-C charging cable
Two spare O-rings
User manual
Wrist strap
Hardware specs
Light Source: Luminus SST-40 LED
Max Brightness: 2000 lumens
Battery: 18650 Li-ion battery rated at 3100 mAh
Switch: Three-way on tail
Charger: via USB-C
Dimensions: 25 x 1.5 x 1.5 inches
Weight: 7.9 ounces
Material: unknown
IP Rating: IP-68
Impact: 5 feet impact resistant
Max Runtime: 100 hours
Max Distance: 544 yards
Design and features

The WUBEN T1 tactical flashlight has a look and feel that is very typical of small, tactical flashlights.  It's about six inches long, perfect for holding with one hand.  The exterior is a matte black color and is full of hard edges and ridges that make it easy to hold.  WUBEN does not specify what the T1 is made of, but I assume it's an aluminum alloy, as it has a hefty feel to it.  The tail has an interesting button mechanism, there's a large belt clip that runs along one side of the body, and the head is crenelated.  I like the design.
Installation and setup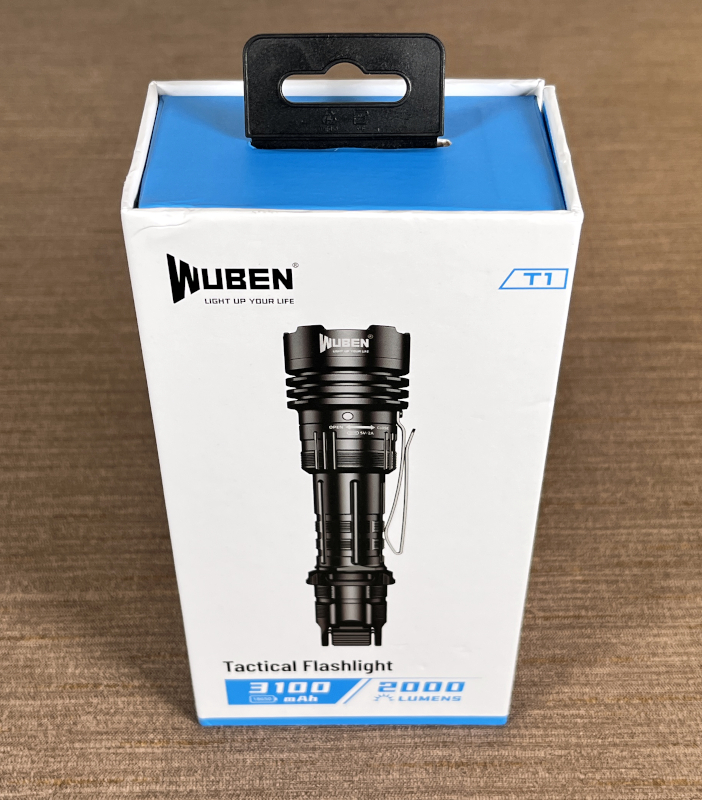 The T1 comes well-protected in a solid box with custom foam inserts.  The first thing I did was read through the user manual, which has a foldout style similar to old-fashioned maps.  The font is eye-blindingly small, but at least the English is good.  There are numerous graphics designed to explain how to use the T1 and change between its two modes and alter the brightness of the light.  The manual is not as clear as it could be, but with a little time and experimentation, I managed to figure things out.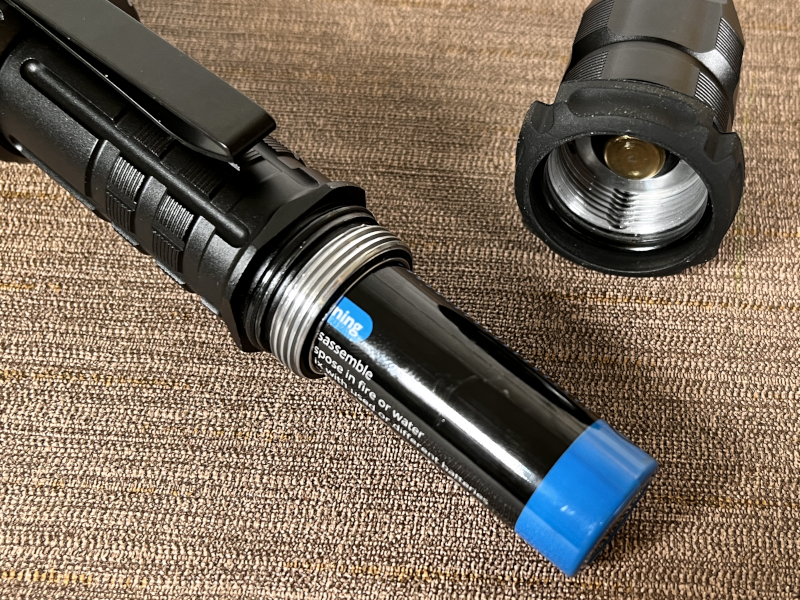 Light many flashlights, the T1 comes with a small piece of plastic in the battery housing to prevent the battery from being drained during transit.  WUBEN thoughtfully included a small blue sticker on the flashlight reminding me to remove this before use, so I unscrewed the tail, found the so-called "insulation sheet," and removed it.  When I clicked the button on the tail, the T1 turned on, which is a good start.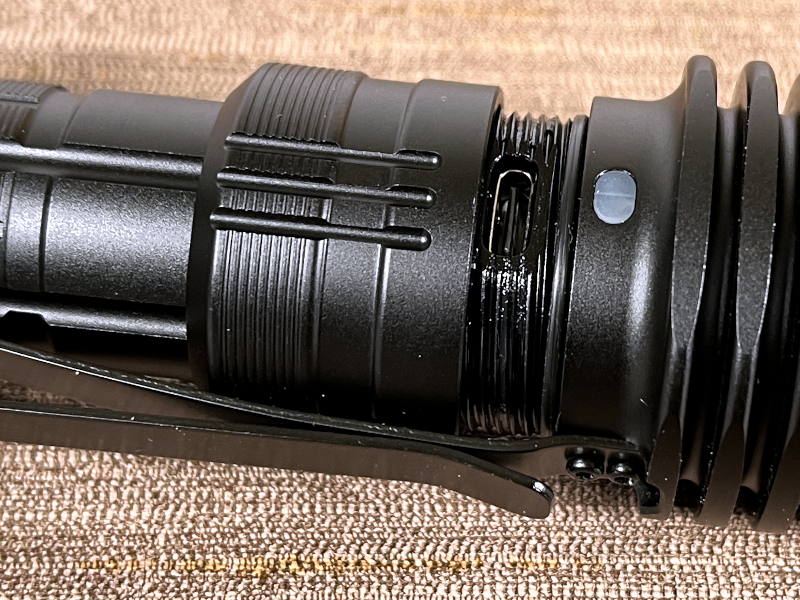 Although the battery was already at least partially charged, I wanted to see how to charge it.  Unlike the K3, the battery doesn't have a built-in charger.  Instead, there's a twist ring around the flashlight, just below the head, that rotates down until it reveals a USB-C port.  The included cable is USB-C on one end, but unfortunately, it's still USB-A on the other.  As most chargers these days are USB-C, I wish WUBEN had included a newer cable.
Performance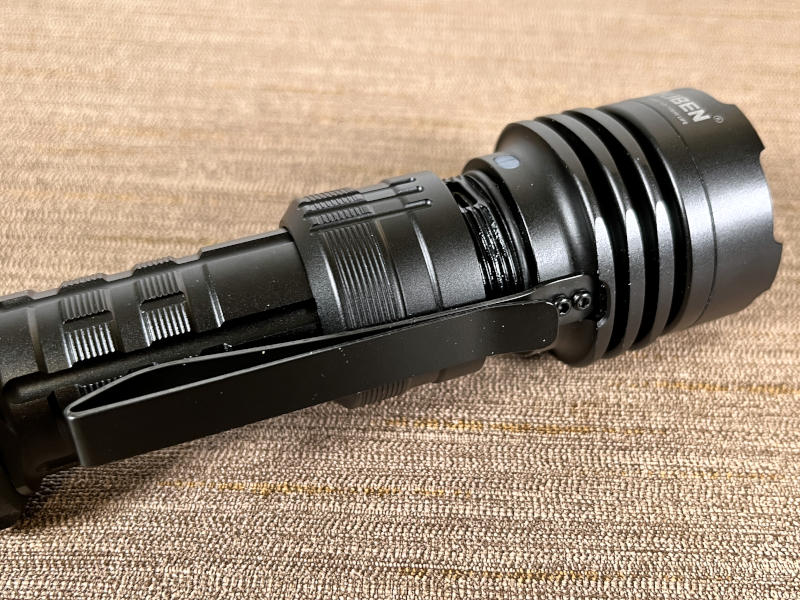 Right away I was confronted with the belt clip.  It's long and extends over the twist ring.  When I tried to grab and twist the ring, the belt clip got in my way.  As I turned the ring, the clip quickly bent over to the side.  I don't know why WUBEN chose to put the clip over the twist ring, but that's a poor design choice.

The clip is held in place by two very small screws, which do not provide nearly enough strength to keep it stable; I found that it frequently skewered off to one side or the other.  I don't like the design of the belt clip at all, so I used a very small hex wrench to unscrew it, threw the clip away, and replaced the screws into holes.  As the purpose of this light is for emergencies in my car, a belt clip isn't really important to me.  If a belt clip is important for how you plan to use your tactical flashlight, then I would recommend either getting a holster or looking for a different flashlight.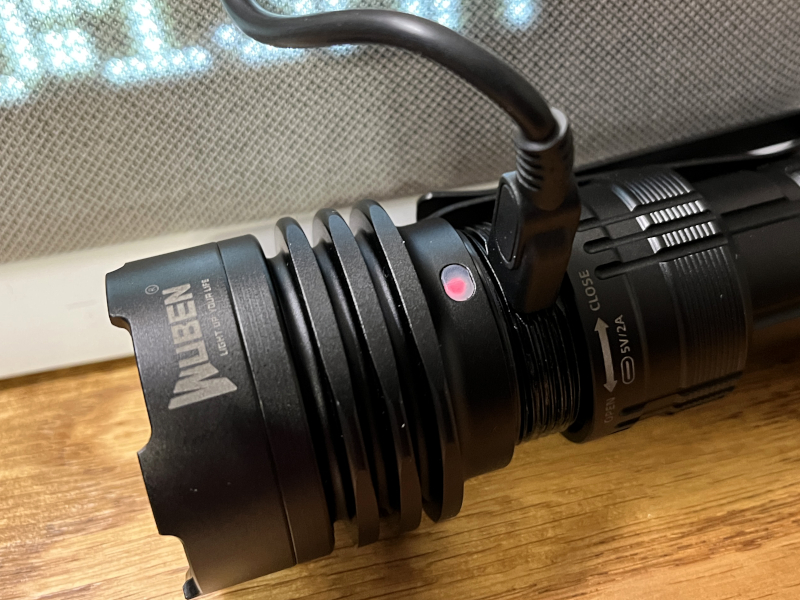 The charger itself works great.  There's a small LED just above the twist ring that turned red when I began charging; it turned blue when the battery was fully charged.  As for the twist ring, I really like this mechanism, as it does a great job protecting the charging port from dust and water, much better than the little rubber pieces that some gadgets use.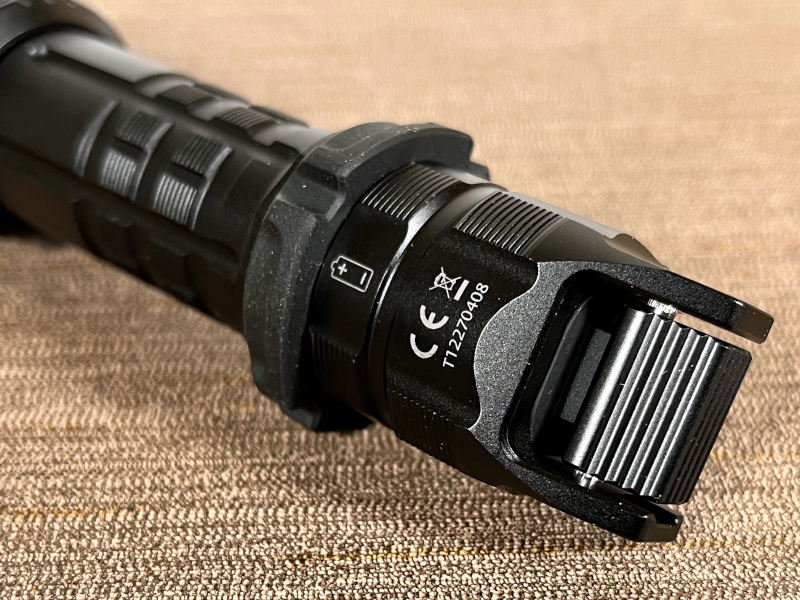 The T1's "claim to fame" is the unique "tactical tail switch."  It is a single switch that has the functionality of three switches.  It can be tapped down, pressed down until there's a click, and pushed sideways.  All of these enable the T1's modes, levels of brightness, and special effects.  This switch is both a blessing and a curse in my opinion.  It's a blessing because there's only one place my hand needs to go in order to turn on the flashlight and set it the way I want.  This is handy when it's dark or when I'm in a high-stress situation.  It's a curse because there are a plethora of choices that require me to memorize exactly when and for how long I tap, press, and push in order to get to the setting I desire.  In a tactical flashlight, this confusing set of options is undesired.  I wish WUBEN would take this back to the drawing board and redesign this to be simpler.  The silver lining is that the basic functionality of the flashlight, turning it on and setting brightness, is pretty easy, and everything else can be ignored.
The T1 comes in two different modes, tactical mode, and outdoor mode.  There's no explanation in the manual of these differences or when I should use one over the other.  As far as I can tell, there's only one difference between these two modes:  In tactical mode, I can switch between high and low brightness, and in outdoor mode, I can switch between high, medium, low, and eco brightness.  That's it.  The first thing I need to decide is how many levels of brightness are important to me.  As I plan to keep this in my car, I think I only need two levels, so I want to put the T1 in tactical mode.  To switch modes, I must tap the switch five times and then press it once.  After that's done, I can forget about modes.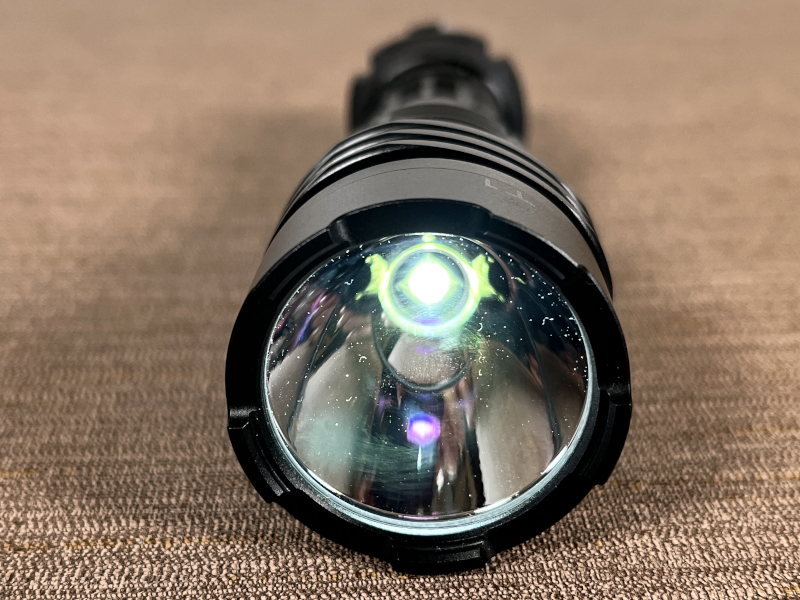 For basic operations, I only need to remember two things:  I press the button until it clicks to turn it on and press it again to turn it off.  When it's on, I push it to the side to change between low and high brightness.  That's easy, and it works great.  At 2,000 lumens on high mode, the T1 is more than bright enough to light up my backyard at night.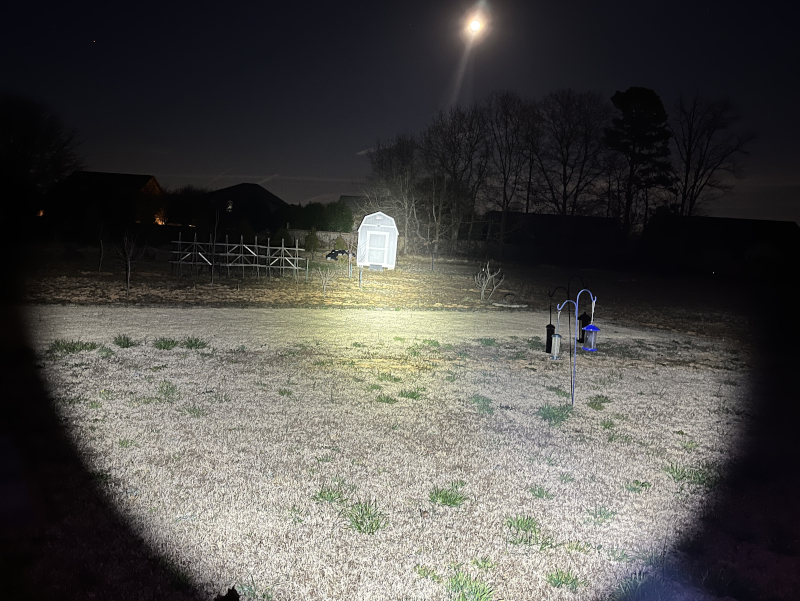 The T1 has four additional settings that may be of use in certain situations.  If the light is off, then:
If I tap and hold, it turns on until I let go.
If I push and hold, it strobes until I let go.
If the light is on, then:
If I push for 2 seconds, it will strobe until I press again.
If I push twice, it will flash in an SOS pattern until I press again.
As I won't need these settings the vast majority of the time, I'm sure I'll quickly forget how to set them.  I can leave the manual in the glove box—I suppose that SOS might come in handy one day—or I could leave the box in the trunk, as WUBEN thought to include diagrams of how to activate these settings on the inside lid.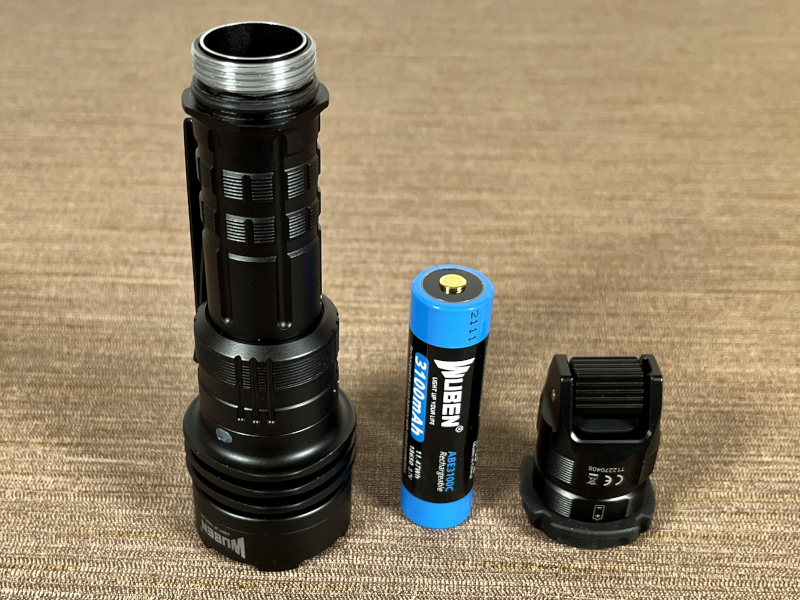 According to the manual, the T1 will run for:
1.5 hours on high
2.5 hours on medium
10 hours on low
100 hours on eco
I fully charged the T1 and then left it on high; it lasted for 110 minutes, 20 more than the manual says, which is great.  During this time, I noticed that the T1 become quite warm.  It was never hot enough to burn me, but it was enough to be a great hand warmer on a chilly February morning.
WUBEN has a short video on YouTube that gives a quick overview of the T1.
Extra Features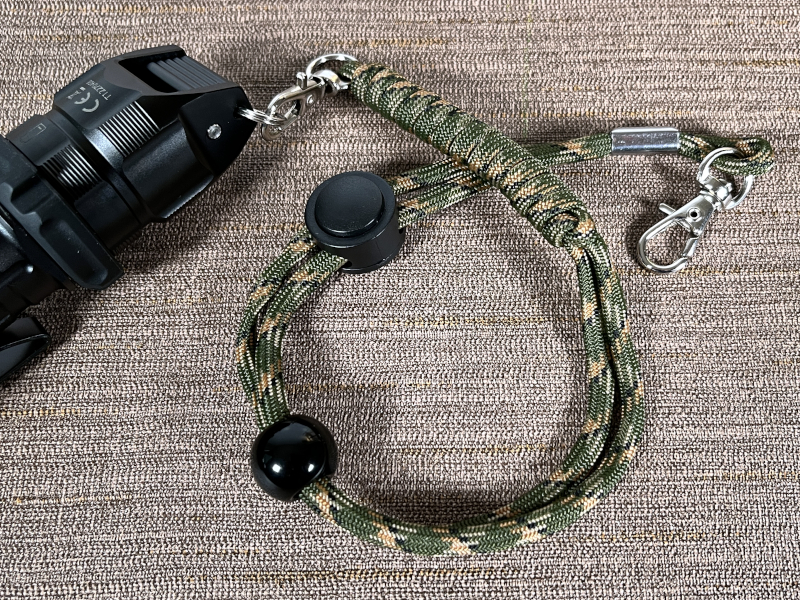 The T1 comes with a wonderful wrist strap.  There's no mention of how to set it up in the manual, but as there's only one hole on the flashlight near the switch, that's where it has to go.  I really like this strap.  It feels like it's made of nylon, has clips on both ends, and an adjustor in the middle to keep it snug on my wrist.  I even like the camo-inspired design.
The T1 has an IP-68 rating.  The #6 is the highest level of protection against solids; no dust, dirt, sand, pollen, or anything should get inside the T1 when it's closed tight.  The #8 is the highest level of protection against liquids.  The T1 is completely waterproof and should function as normal when submerged underwater.  To test this, I put some water in a sink, turned on the flashlight, and submerged it in the water.  It worked great, even when I left it in there for about a minute.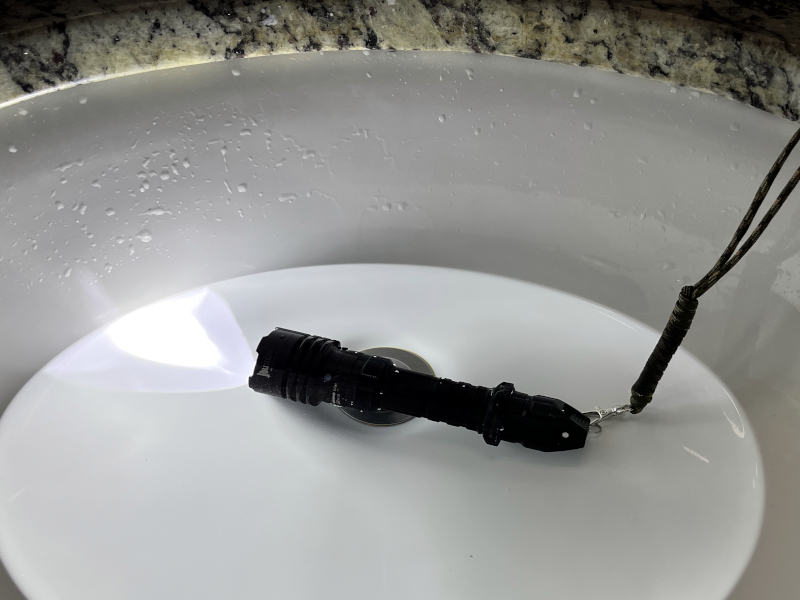 Although this is the first professional tactical flashlight that WUBEN has made, they have a wide variety of other flashlights, from EDCs to penlights to bike lights to headlamps.  The Gadgeteer has recently reviewed several flashlights from WUBEN, including the WUBEN C2, the WUBEN D1, the WUBEN E6, and the WUBEN H5.
What I like
Compact, sturdy design
Rugged, durable body
A single switch to control everything
More than bright enough to help with any roadside emergency
What I'd change
Redesign the belt to be stronger and not block the twist ring
Simplify the settings
Final thoughts
The WUBEN T1 tactical flashlight is a solid, sturdy flashlight that works well in a variety of emergency situations.  The basic features are easy to use with its single tail switch, and extraneous settings are available if necessary.  While the belt clip is poorly designed, the wrist strap is a delight.  The T1 is super bright, more than sufficient for my needs, and waterproof.  If you need a sturdy, durable tactical flashlight (but don't require a good belt clip), I recommend taking a look at the T1.
Price:  $89.99
Where to buy:  WUBEN's online store (Use coupon code gadgeteerT120 to earn 20% off the price. Expires 4/12/22)
Source: The sample for this review was provided by WUBEN.