We use affiliate links. If you buy something through the links on this page, we may earn a commission at no cost to you. Learn more.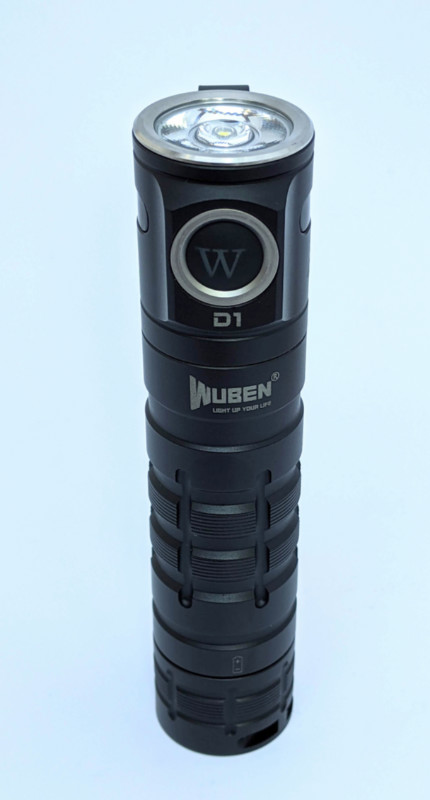 REVIEW:  This is the third Wuben flashlight I've reviewed and the company continues to impress with their quality products. The Wuben D1 EDC flashlight uses a pretty big battery. It has a 3.6V, 18650 size battery and is the smallest flashlight I've seen that uses that size battery. Subtract an inch off of any of my EDC items and it's helpful. Well, maybe not my knife, but flashlights for sure. I'm on a steady search for the most brightness I can get from the smallest flashlight possible. The Wuben D1 flashlight goes a good way towards achieving that objective.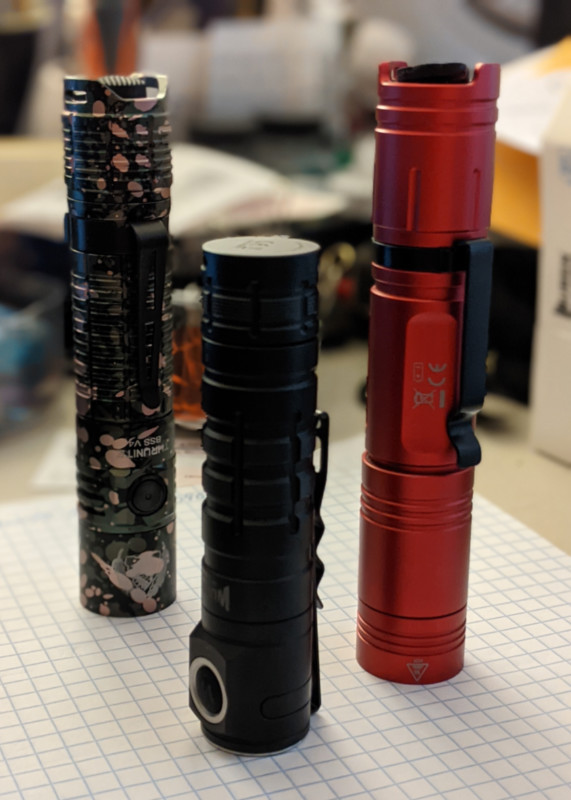 All three of these flashlights use an 18650 battery. Note the black Wuben EDC D1 size vs. the other two.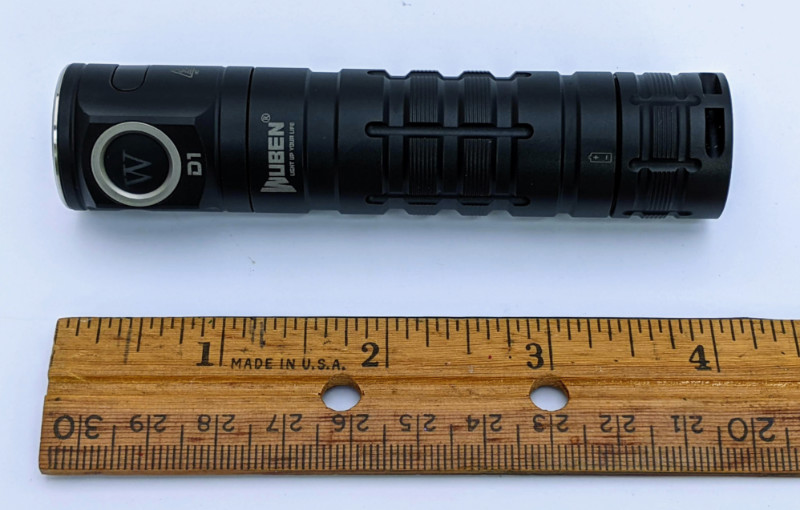 What is it
The Wuben EDC D1 flashlight is a tough, rechargeable LED flashlight with multiple lighting modes and a unique 'charge other devices' feature built into the supplied charging cable.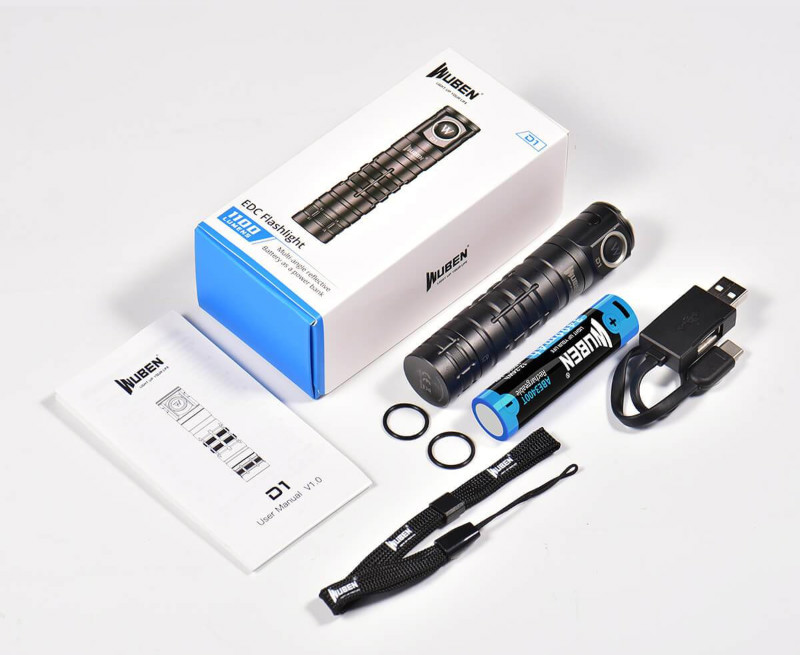 What's in the box
D1 flashlight

18650 3.6V battery

Lanyard

2 spare O rings

User manual

Warranty card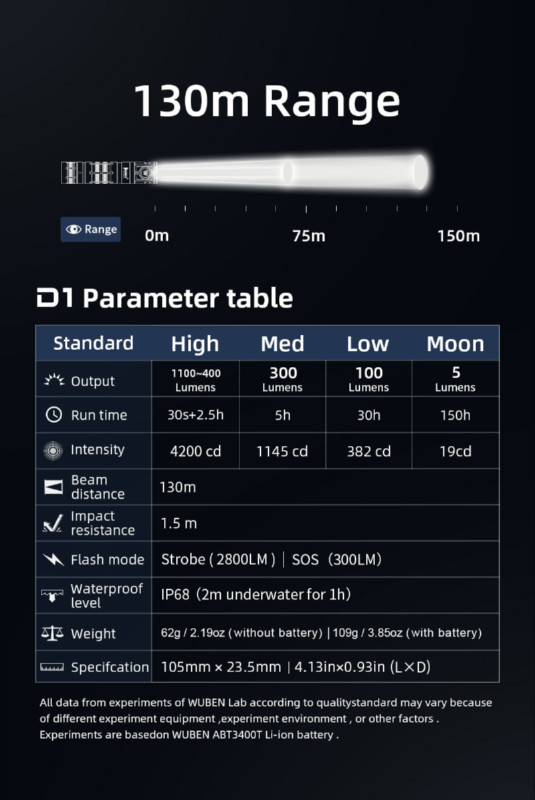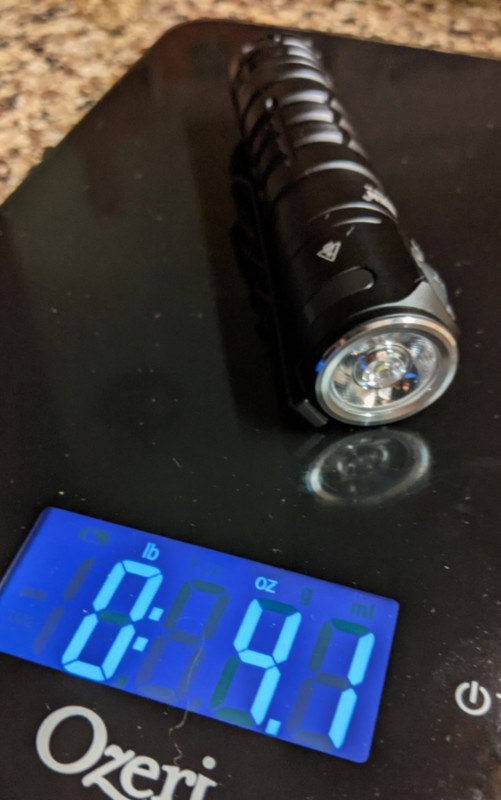 Never miss one of our posts again. Sent MON, WED, and FRI with the latest gadget reviews and news!
Hardware specs
IP68 rating

Weight: 4.1 ounces with battery

Measurements:  Length:

4.13in x Width: 0.93in

Sealed construction. Battery has a USB C charging port.

175 degree floodlight lens

1100 lumen maximum brightness

Magnetic tail cap

6 light modes: High, Medium, Low, Moon, Strobe, SOS

Lumens: 1100, 300, 100, 5.  Strobe: 2800 lumens. SOS: 300 lumens.

1.5 meter drop/impact resistance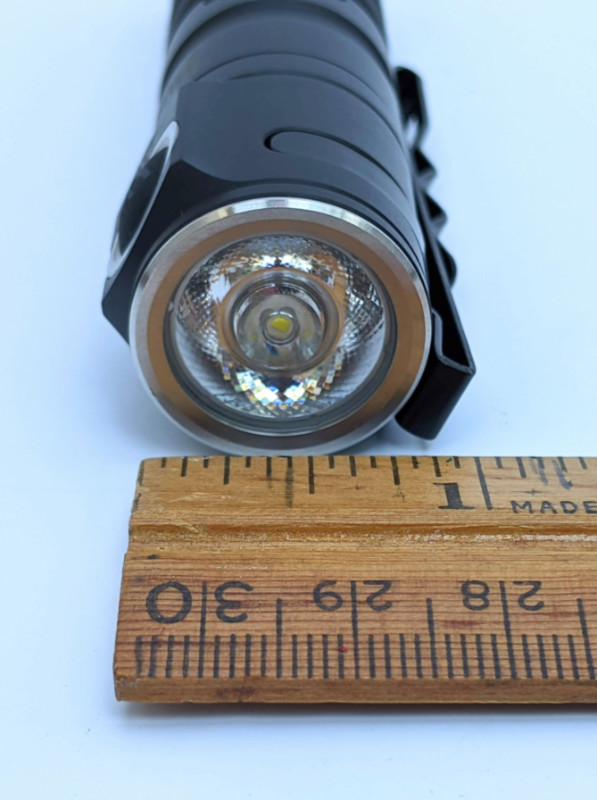 Design and features
From the Wuben website:
[Super Flood] A multiangular reflectance lens combined with a high beam and dipped beam.
[High Power] Maximum output comes to 1100 lumens and 130 meters beam distance.
[Wide Angle] Wide beam provides 175 degrees super floodlight.
[Power Bank] Charging by Type-C port on a 18650 battery, plus power bank function.
[Super Portable] Dual-way clip, weighs only 109g (battery included), 4.13in x 0.93in.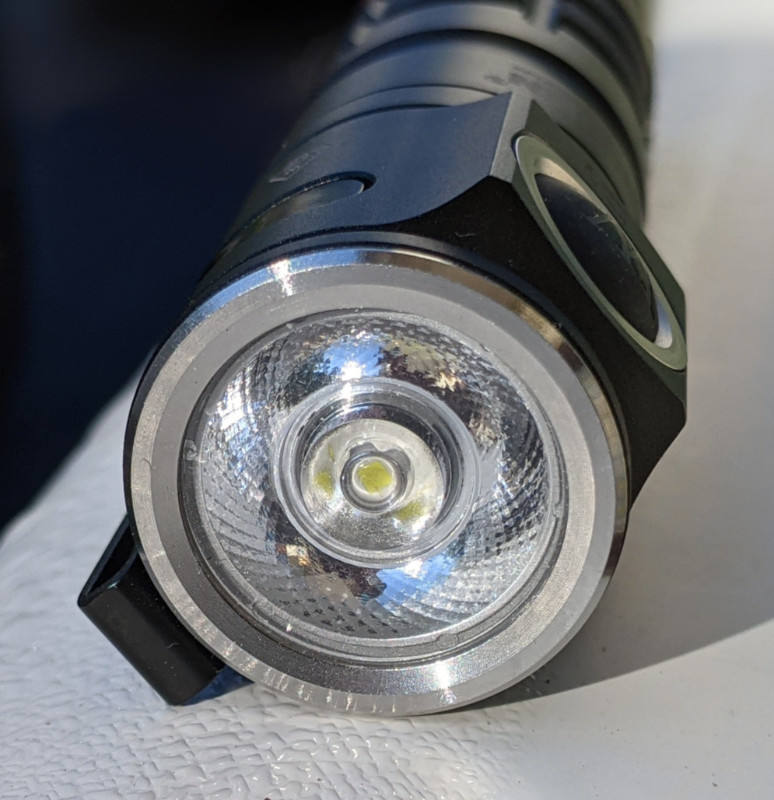 Note the unusual lens on the D1. This seems to be responsible for casting a wider floodlight type beam, thus minimizing a sharply defined, very bright center-of-beam spot that many flashlights project. Neither is right or wrong, this is just how the D1 is. The very center of the beam is discernibly brighter but is not a sharp circle of light as seen with many flashlights. It's more diffused which seems to widen the distribution of the overall amount of light at each of the brightness settings.
The EDC D1 has a unique charging cable. The battery with this cable can be used to charge other devices. The cable has an extra USB A port on it into which a phone charging cable as an example, can be plugged. I described that process below.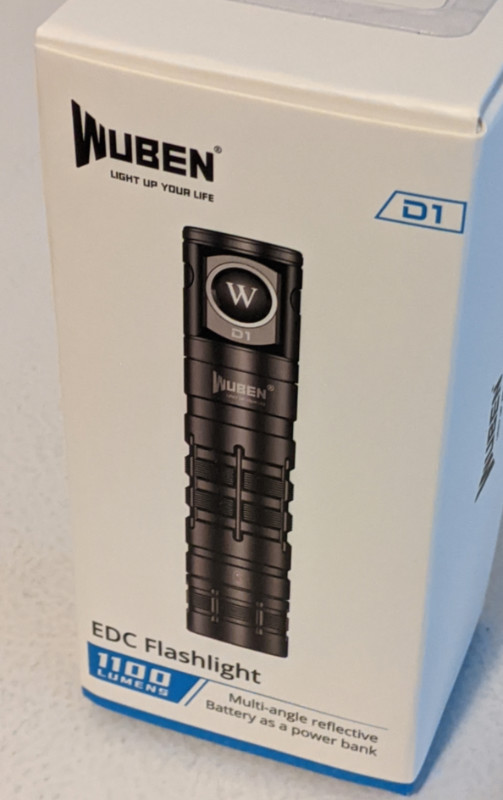 There is a blue and red LED inside the power button to indicate remaining battery capacity. It illuminates for 5 seconds when the light is turned on. When it shows steady blue, power is from 90-100%.  Flashing blue indicates power is at 40-90%. Steady red means 15-40% power. Flashing red means 15-0% power.  
Installation and Setup
Charge the battery via the USB C port on the battery itself, insert the battery into the light, replace the tail cap, and the light is ready to use. The battery has a red LED at the top/positive end of the battery. It flashes red when charging and shows steady red when fully charged.
Testing and observations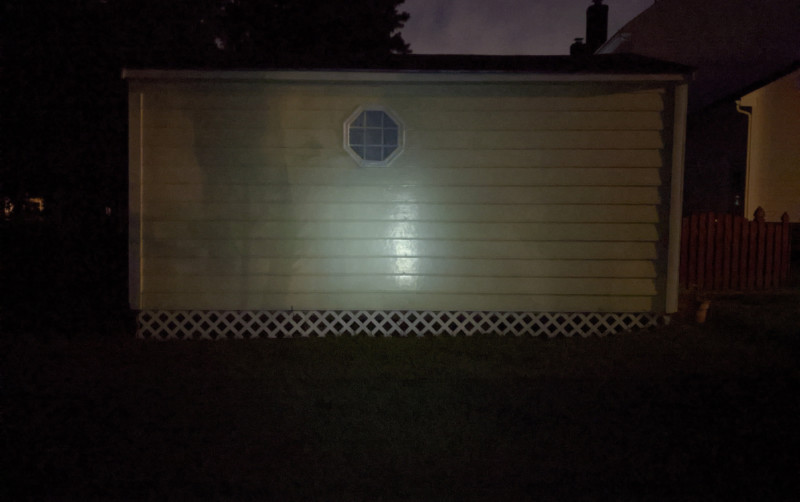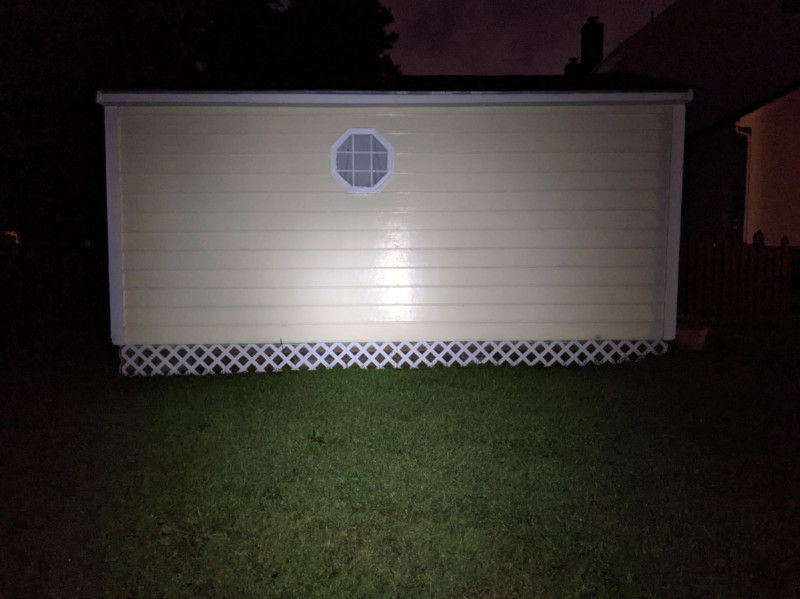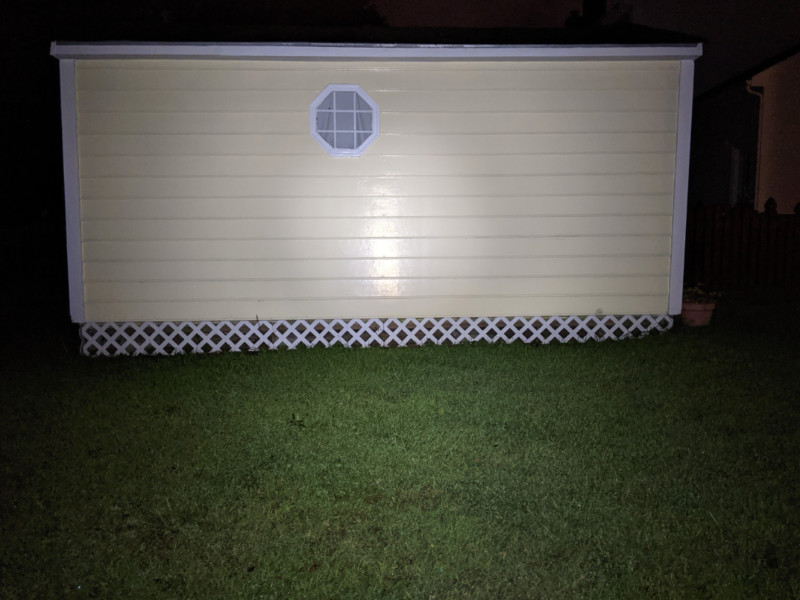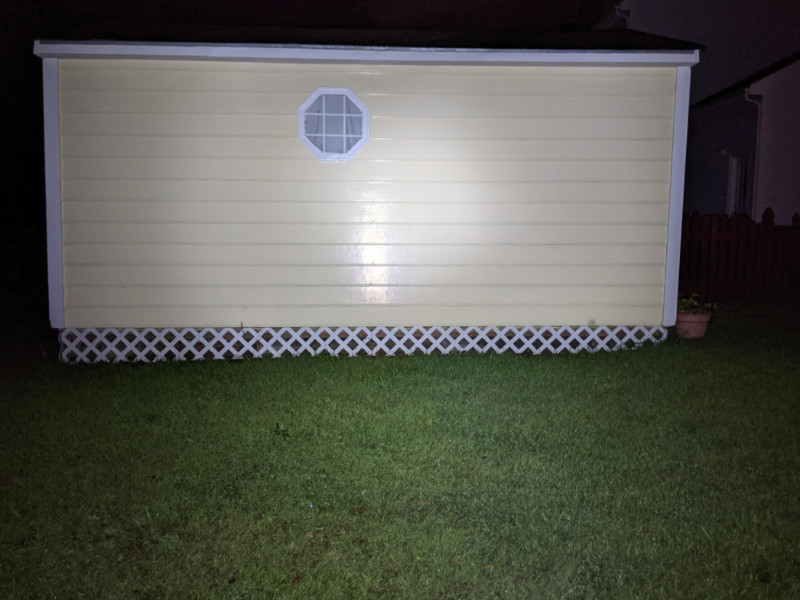 I liked the wider flood style beam the D1 projected.  Note the pattern of light on 'shiny shed', and also the amount of light on the lawn, at the various brightnesses.  They are in sequence of 5, 100, 300 and 1100 lumens.
The light is fairly evenly distributed within the full circle of the light's beam although there is still a bright, diffuse center to the beam that is clearly brighter than that outside the center of the beam. To me it's a good balance compared to a very defined, bright center of light that many flashlights produce.
I don't find myself in many situations where I need a flashlight to stick magnetically to a metal surface. The most marketed scenario I've seen among a variety of lights is, of course, mounting the light to the car hood while working on the engine. Even if I needed light in that setting it would be pretty rare that the light would be pointed in the proper direction once I stuck it to a metal surface. The light could be lighter and maybe shorter if the magnet were omitted. 
Feature request ?!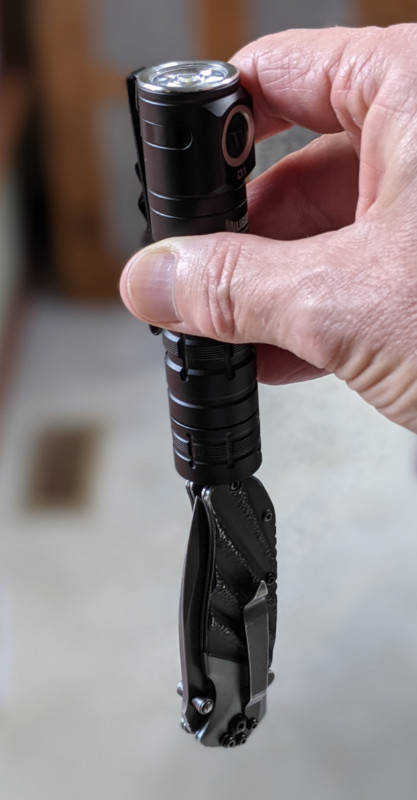 This D1 has a habit of grabbing other metal objects from my pocket when I draw out the light to use it, and usually drops said item loudly to the floor. That's not helpful to the surface of our hardwood floors if it's a pocket knife, nor very good for my fountain pen that has a steel cap.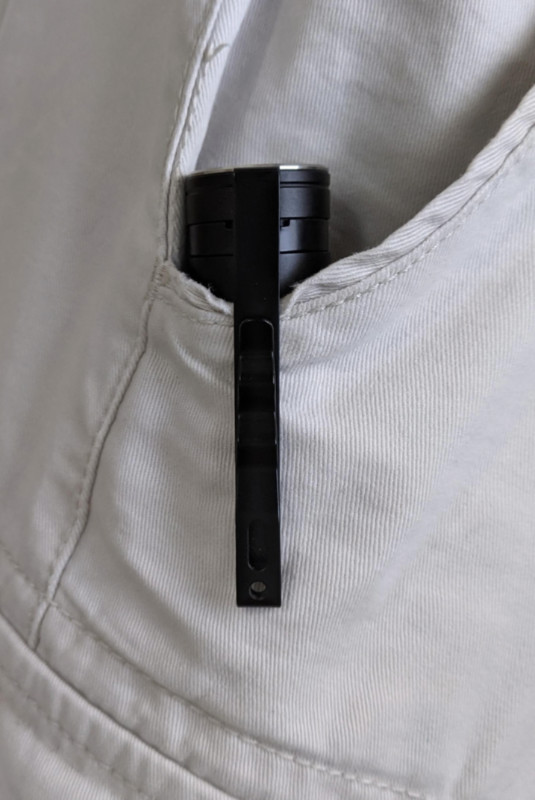 The clip style lets the flashlight actually go down in a pocket with the lens level with the pocket edge.  I clip it loosely as above when I'm actively using it, putting it away, using it again, etc.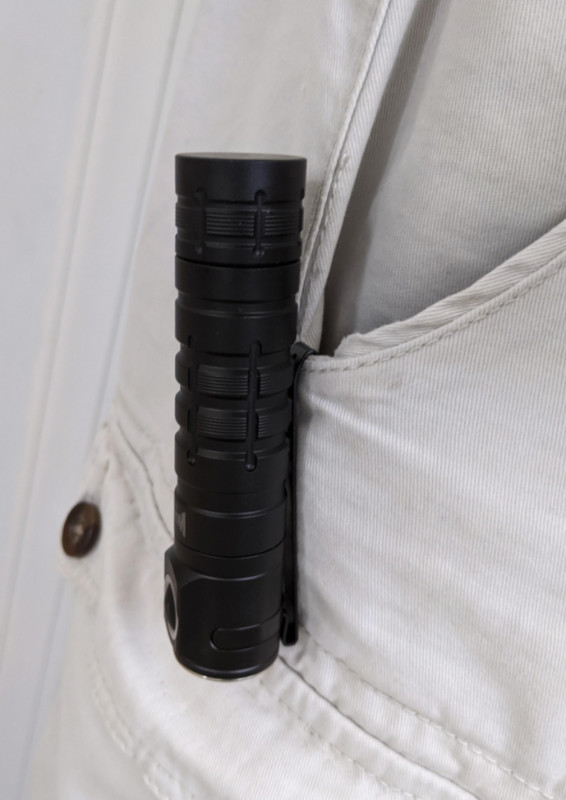 While the flashlight's clip is 'two way' it doesn't work for me 'the other way' in a pocket as above.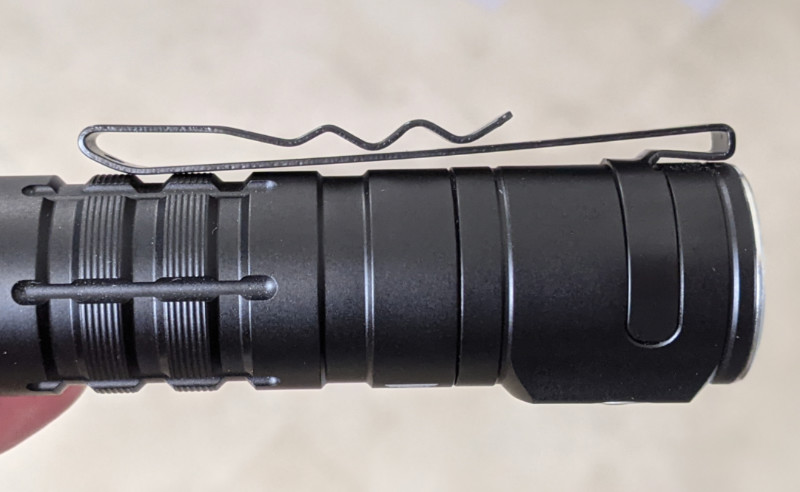 I know, cargo shorts are out of fashion. My wife and daughters told me. In 2019.  But I think clipping the flashlight so that it's down in the pocket is the best way to carry the D1 without much risk of losing it.
The cord that ships with the D1 has a unique feature.  It has an extra USB A port on it so you can use the D1's battery to charge something else.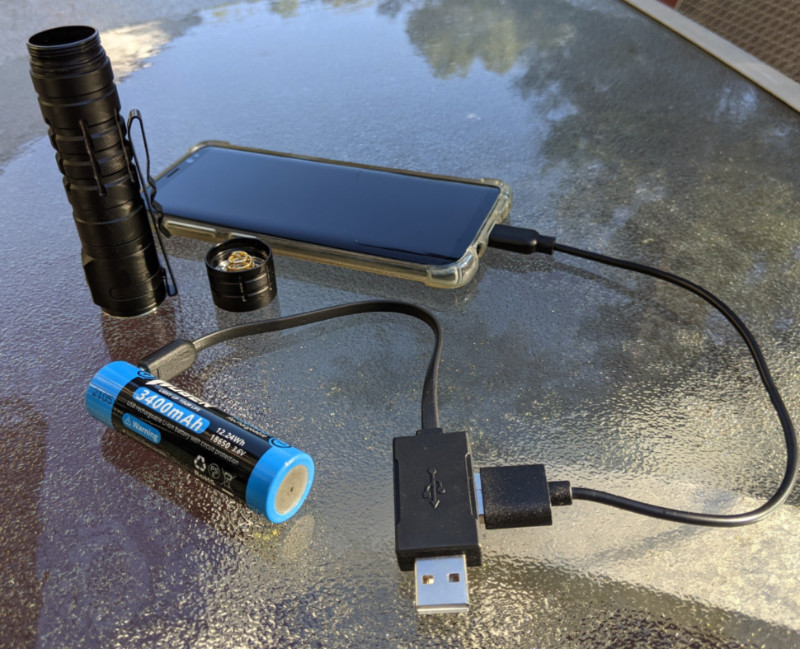 Here I've set up the battery to charge a cellphone.  
I'm doubtful I'll use this feature but it's an option I haven't seen before. I'd hate to sacrifice my flashlight's capability in favor of my cell phone. In many emergencies I'd want both my phone and flashlight to operate at normal capacity. But in a pinch, you can charge stuff with the D1 battery thanks to the special cord that ships with it. And this could be a very handy feature if you had a spare 18650 with you.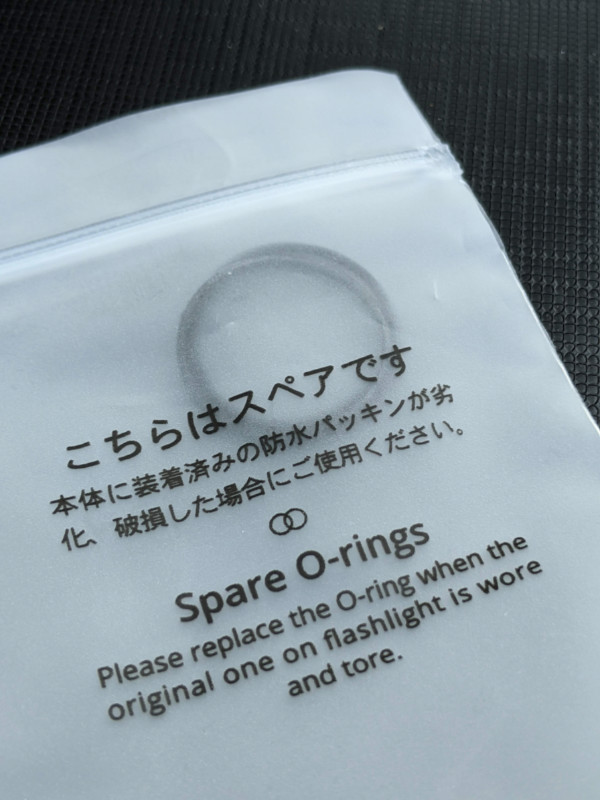 Someone at the factory know'd I'm from the south. The text on the O-ring pack made me laugh.
What I like
Excellent range of brightness choices.

Tough construction

Professional feel, fit, finish, and operation. 

Nice light distribution throughout the illuminated area.

High capacity rechargeable battery of an easy to find size if extras are desired.

This pocket clip style puts the light as deep in the pocket as it can go when using the clip.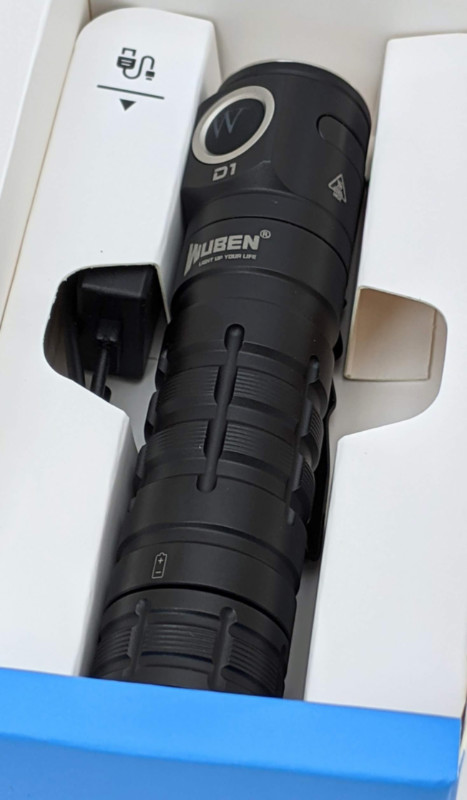 What I'd change
Omit the tail cap magnet?  

No other gripes, complaints or suggestions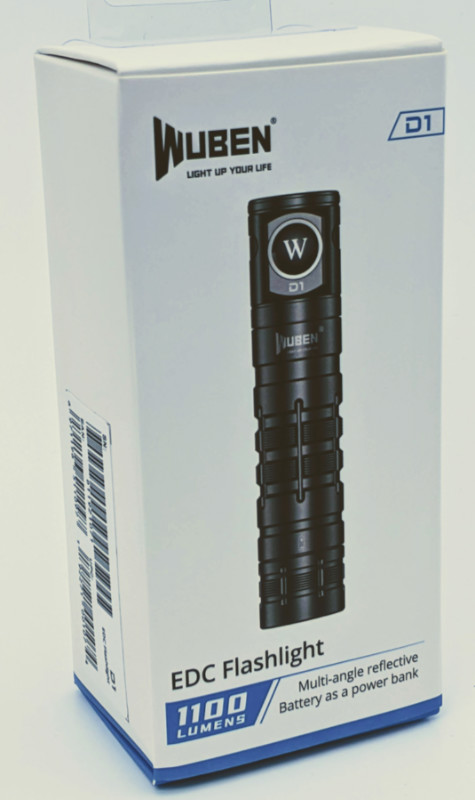 Final thoughts
Wuben makes excellent flashlights and the Wuben EDC D1 flashlight is continued evidence. This flashlight is quite easy to recommend.
Update 6/14/22
The battery in the Wuben EDC D1 flashlight no longer shows its 'finished charging' steady red LED light built into the battery. The red LED continues flashing even after an overnight charge. The battery has only had around 10 charging cycles so it should not be at its end of life. It reads proper full voltage after a 2-3 hour charge so I'm continuing to use the light. If performance suffers I'll contact Wuben since it's still in its one year warranty period.
Price: $56.99
Where to buy: Wuben (Save 20% with code: GAD20  Expires: 11/25/21) and you can find many of their flashlights on Amazon
Source: The sample for this review was provided by Wuben.