We use affiliate links. If you buy something through the links on this page, we may earn a commission at no cost to you. Learn more.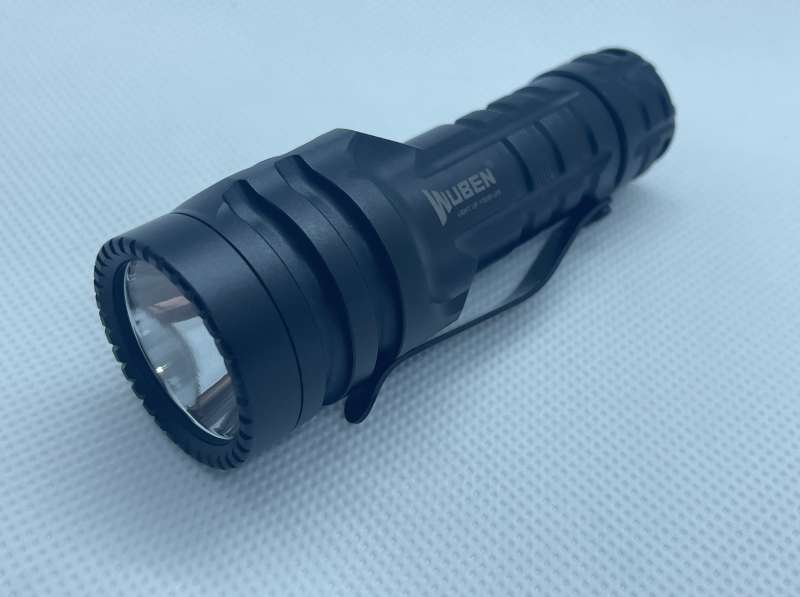 REVIEW – A short time ago, I used my flashlight to help a cinema patron find their smartphone. We all have "flashlights" built into our smartphones, but they are not much good if they are hiding under a chair and their ultra-wide beam angles don't work well for many uses. For this reason and many others, I've chosen to Every Day Carry (EDC) carry a "real" flashlight. For sure, Wuben's E6 EDC flashlight is ideally suited for this task!
What is it?
The Wuben model E6 is a pocket-sized flashlight that operates on AA or 14500 rechargeable batteries.
Hardware Specs:
50-grams (1.8-ounces) without battery
87 x 30mm (3.43 x 1.18-inches)
900 lumens maximum
Three brightness levels, strobe, and SOS
IP68 sealed
.4A, 9V at 2A, 12V at 1.5A, 18W maximum per port
What's in the Box?
E6 flashlight
14500 battery
Spare o-ring
Lanyard
User manual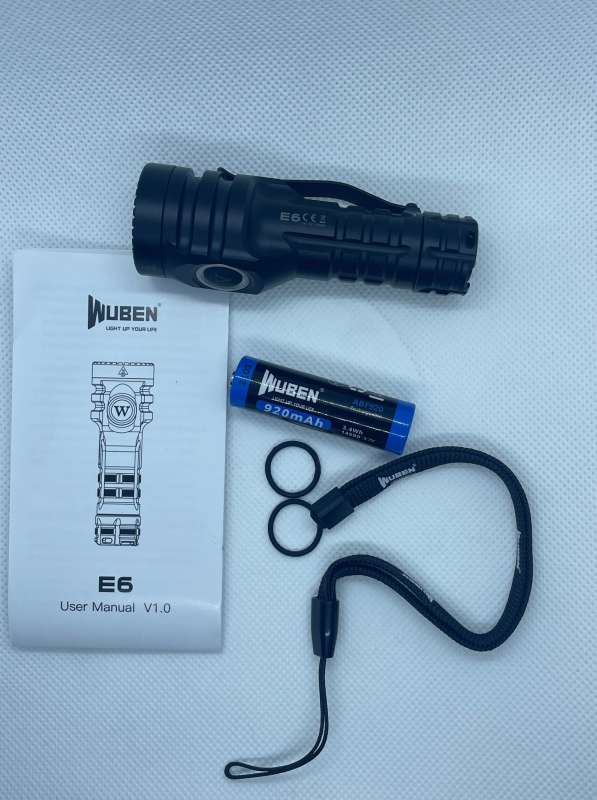 Design and Features
Wuben's E6 flashlight arrived well packaged, with foam protecting it from bumps and bruises.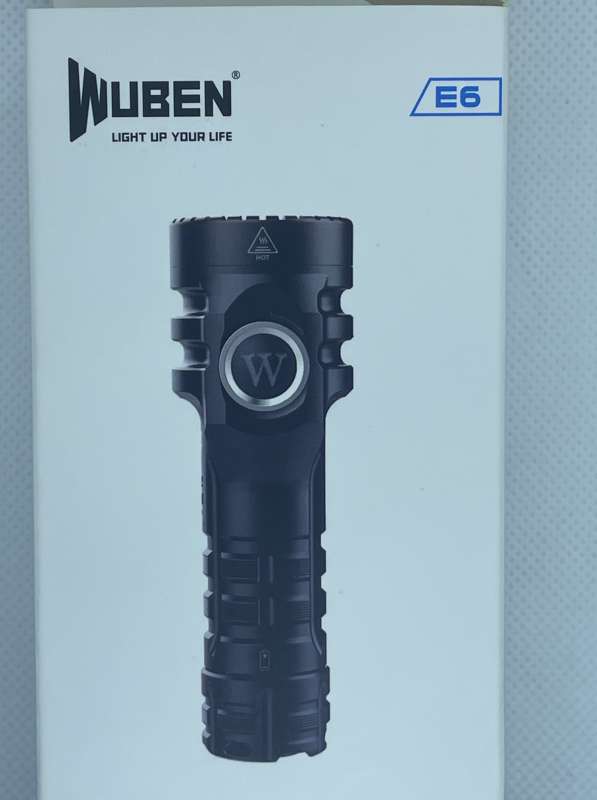 Wuben includes a rechargeable 14500. This battery is the same size as a common AA battery, but the voltage output is 3.7-volts (a AA is 1.5-volts so be very careful not to use the Wuben battery in another device as it might cause your gadget to fry).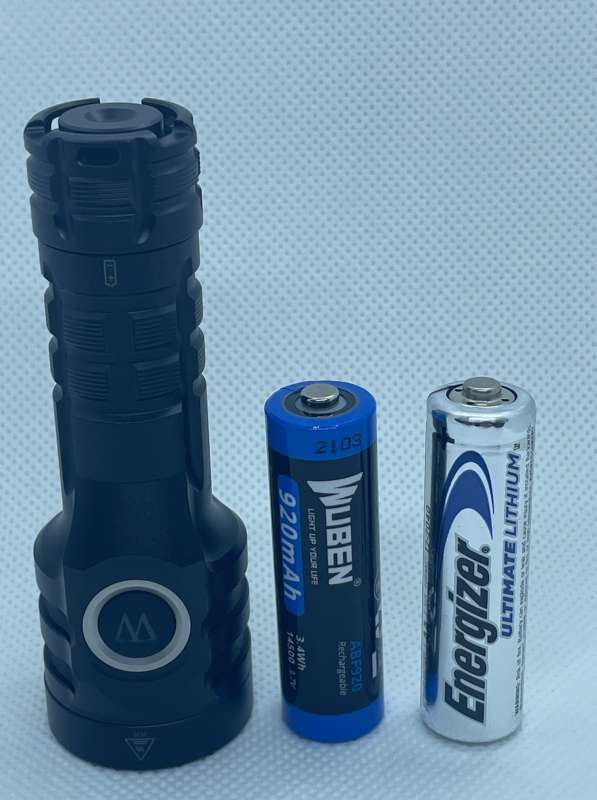 To use the 14500 battery, it needs to be charged. I have several that work well. In Nitecore I2 Intellicharger, it took about an hour.
Feeding the E6 is simple – unscrew the tail-cap and insert the battery, positive end first, replace the cap, and screw on tight.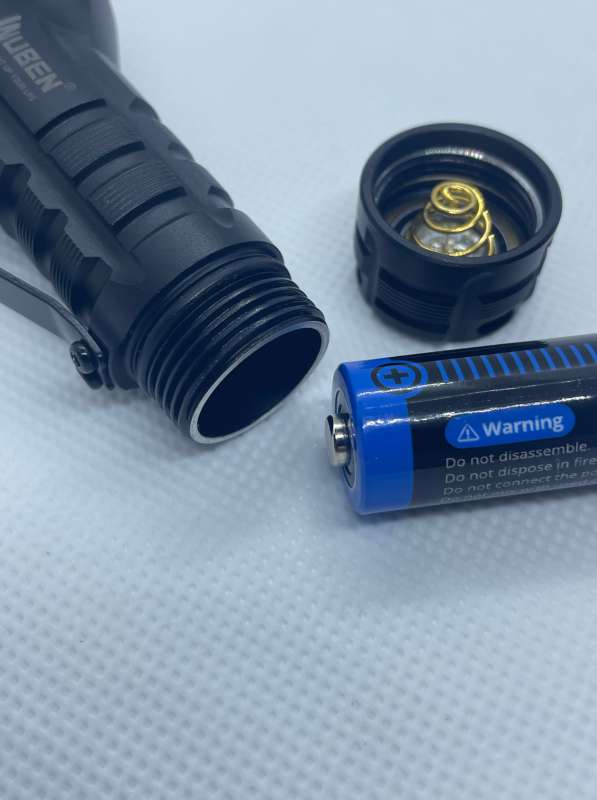 If you don't have a suitable charger, have no fear! The Wuben E6 also operates on AA batteries, but the brightness levels won't be as high as when using the 14500 because of the lower voltage. The specifications state high-medium-low levels at 900-100- and 10 lumens using the 14500 battery and a still-impressive 375(max)-100-and 10 lumens using AAs.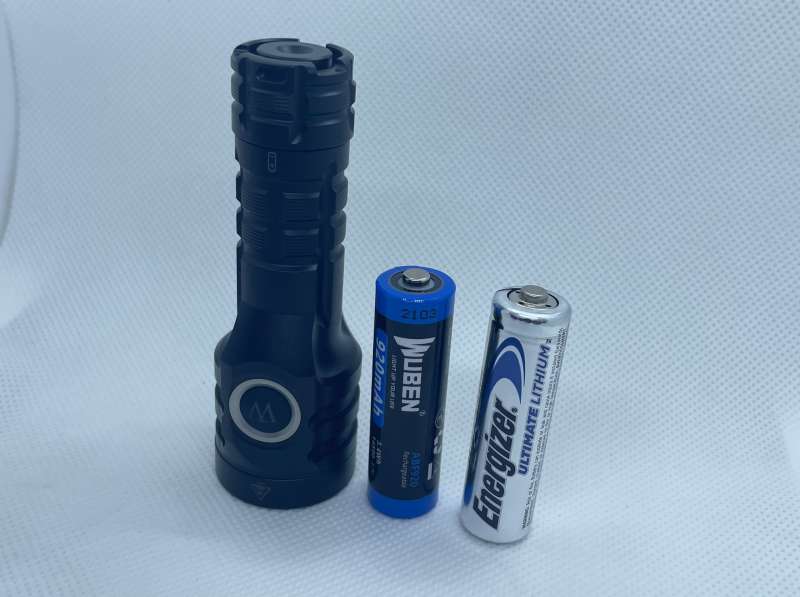 Many will debate the merits of one battery type over another. For me, The14500/AA combination is ideal. Years ago, I chose a digital camera that used rechargeable AA batteries during a trip to Disney World. A few hours into the first day, I was unpleasantly surprised to find I had neglected to turn it off while in my pocket and the batteries were dead. As an avid snapshot photographer, my heart sank, but only for the 5 minutes it took to go into a store and pay for a pack of AA. While doing so, I overheard a mom talking to another Disney cast member about a dead camera and lamenting she would not be able to take any more pictures until returning to her hotel room to recharge. Since then, whenever possible I have sought gadgetry that uses common batteries. My travels have taken me to some very remote places, all of which had AA batteries in the smallest corner stores, huts, village markets, and even street vendors. It's very comforting to know that in a pinch, I can buy AAs rather than pocketing a paperweight.
For a flashlight that's less than 3-1/2 inches long, the "throw" this light produces genuinely shocking, thanks to its wide reflector.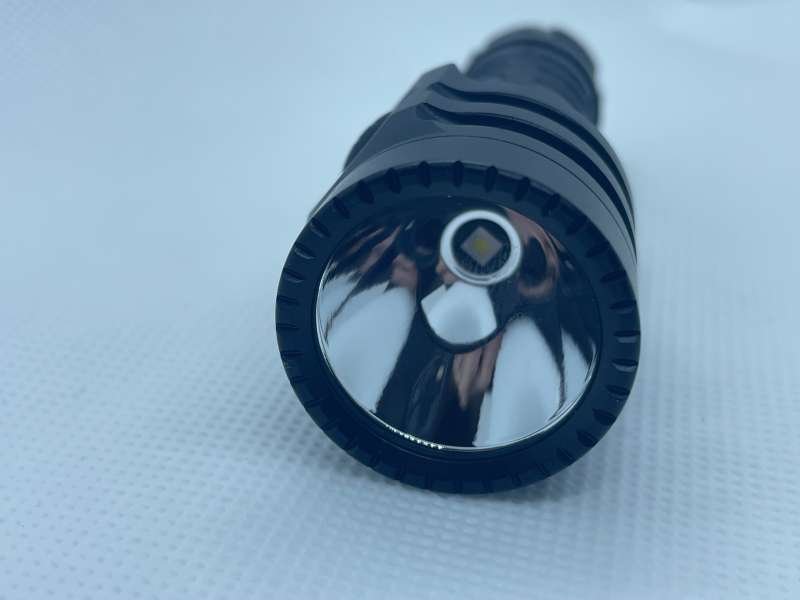 I've used many single-AA-sized flashlights over the past 30 years or so and none are as good as this one. With the 14500 battery, Wuben's specifications call for a maximum beam distance of 450-meters (1480-feet) and I believe it. It's truly impressive. This flashlight throws a beam further than any other single-AA flashlight (except the virtually identical Manker T01 which to my knowledge is no longer being sold).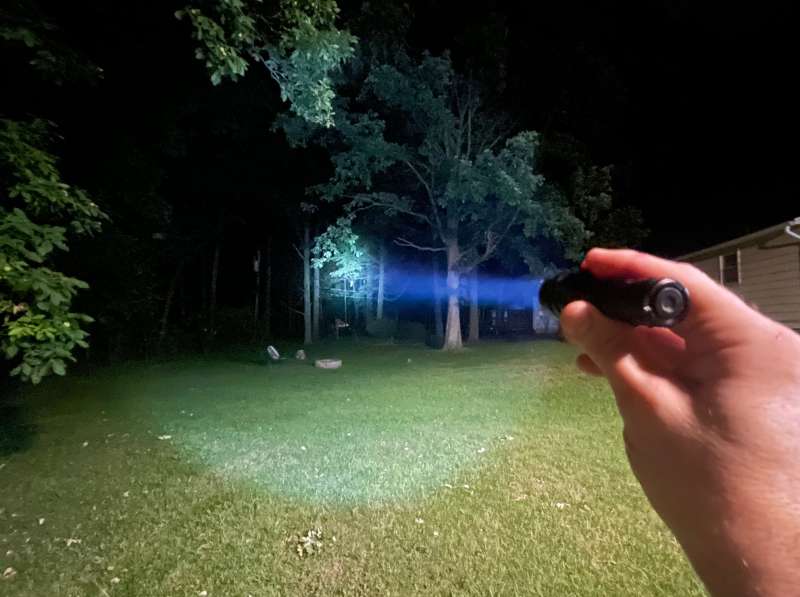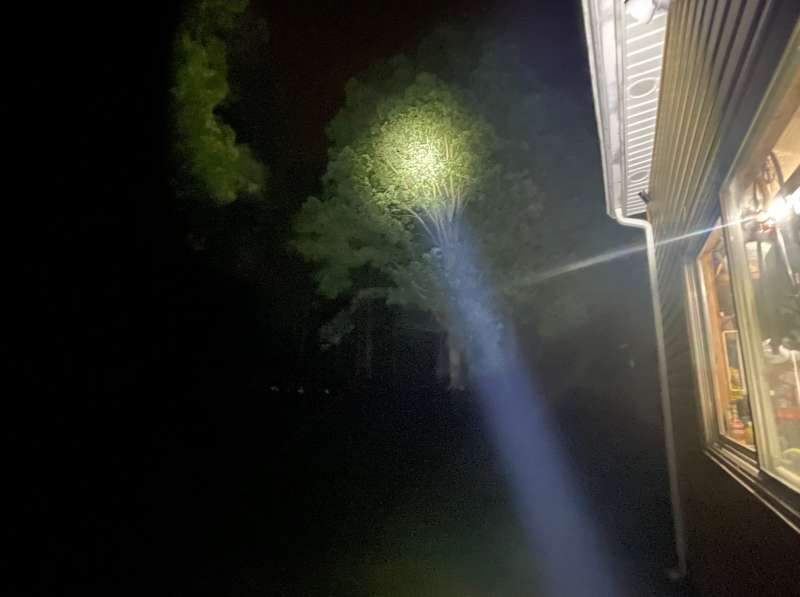 The E6's beam pattern is very smooth with a well-defined hotspot and wide corona.
Low…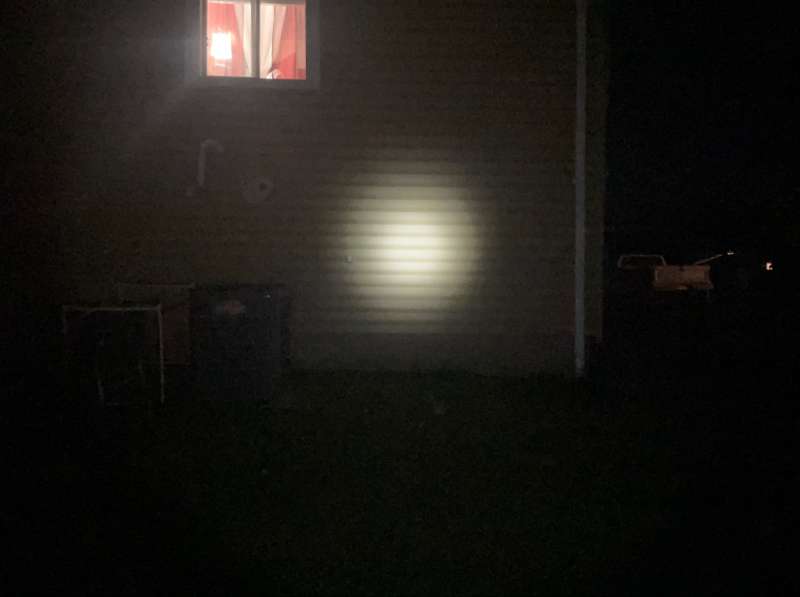 Medium…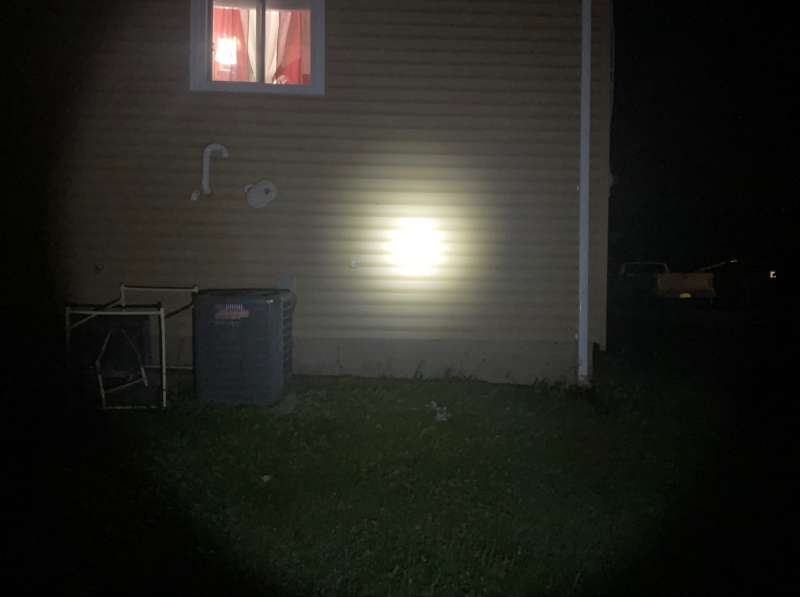 High…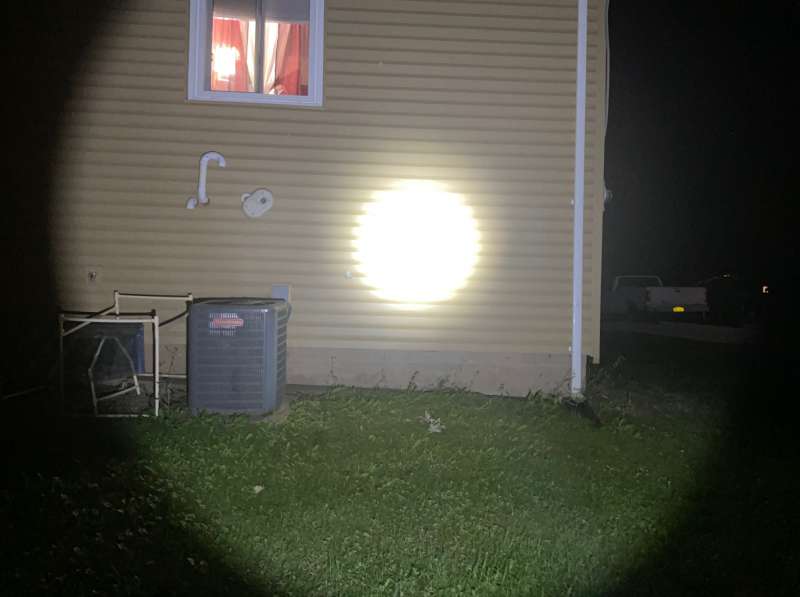 Here is a beam shot comparing the Wuben E6 with a similarly sized AA single-cell flashlight that I would consider bright at about 120-lumens. It's easy to see that the Wuben E6's 900-lumen output is the dominant player here.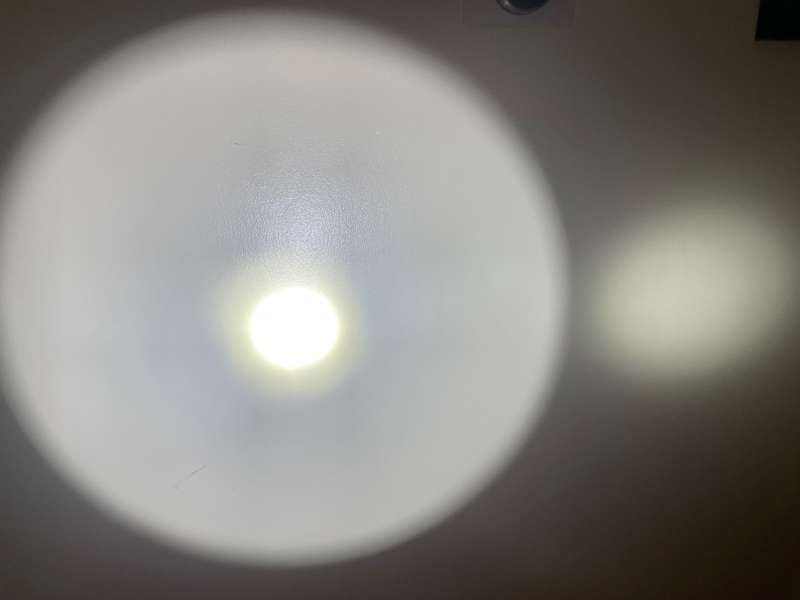 It should be noted that the flashlight will get a bit warm when operating in the brightest mode, but not uncomfortably so.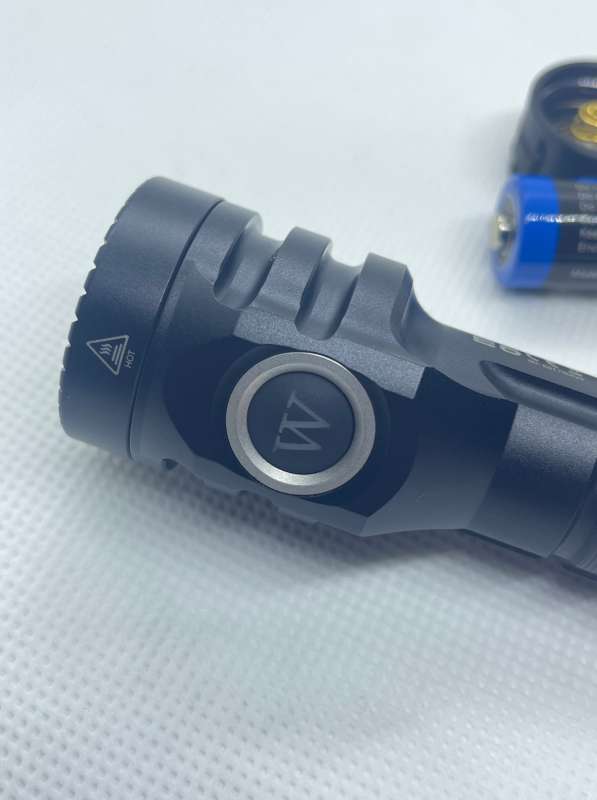 I've long held the opinion that the smaller a potential EDC item is, the more likely you will carry it and have and use it when you need it. The Wuben E6 virtually disappears in the bottom of my pocket and, in my opinion, is an ideal size for EDC carry – it's not too big or too small. For comparison, it's a little longer, but about the same diameter as a C-size battery. I did not have a C-battery so here is the size comparison with a D-battery.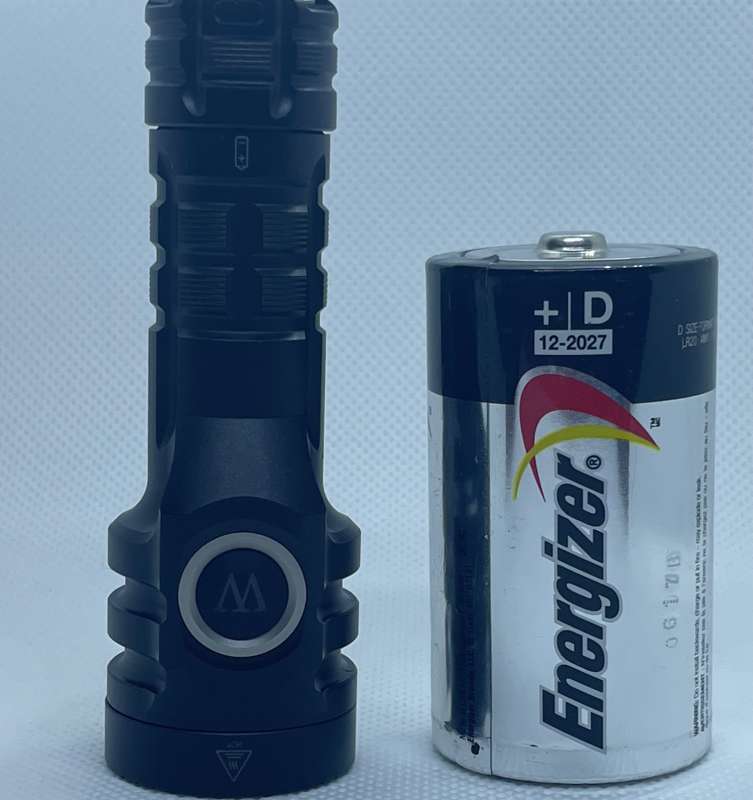 If deep carry is not your cup of tea, the flashlight is equipped with a solid but removable clip for purse or pocket-lip carry.
The user interface is a single button. A quick press turns the flashlight on and off. After it's on, a long press changes the three brightness levels. Two rapid presses initiate a fast strobe mode that can. When in this mode, two more rapid presses toggle an automatic SOS mode. Three rapid clicks activate and slowly pulses a blue LED inside the pushbutton, illuminating a Wuben "W." This feature makes it easy to find the flashlight in the dark. Four rapid clicks enable and disable a lockout mode which prevents an accidental press of the button from turning the flashlight whilst riding in a purse, pocket, or tool pack.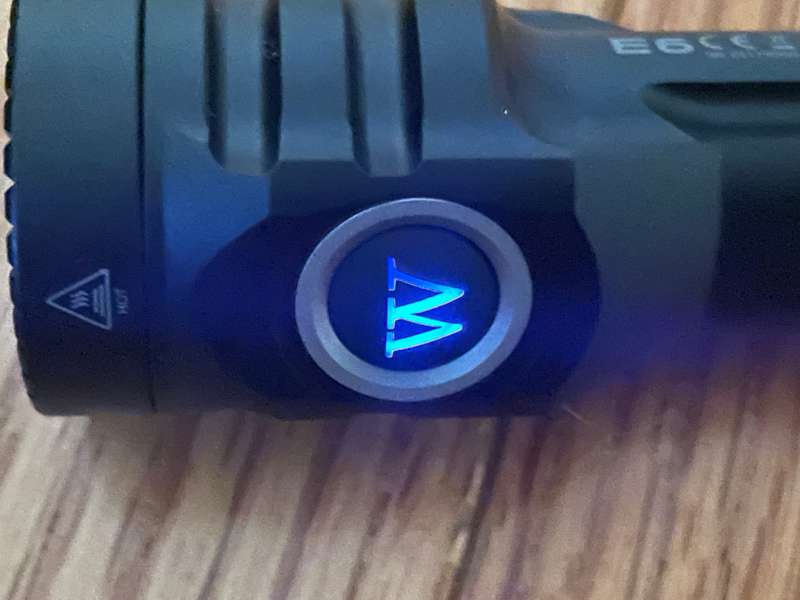 The E6's finish is HAIII hard-anodized over aluminum and should protect the light from light bumps and bruises. I've had other flashlights with this coating and they will eventually wear a but, this has never affected the performance of the flashlight.   The housing is also IP68 rated which means it should be able to be submerged in 1.5 meters of water for up to 30 minutes, but it's not designed as an underwater light.
What I Like
Perfectly EDC size and weight
Impressive throw and smooth beam
14500 and AA operation
What I Would Change
Maybe add an integrated charger?
Final Thoughts
Since I was in college in the '90s, I've carried a flashlight in my pocket and the days I don't use it are very few. Wuben's E6 is a brilliant combination of size, battery, and brightness and perfectly suited to be my new EDC, supplanting my Manker T01! I love it!
Price: $46.99
Where to buy: Wuben (Save 20% with code: GAD20 expires 12/31/2021)
Source: The sample for this review was provided by Wuben.