We use affiliate links. If you buy something through the links on this page, we may earn a commission at no cost to you. Learn more.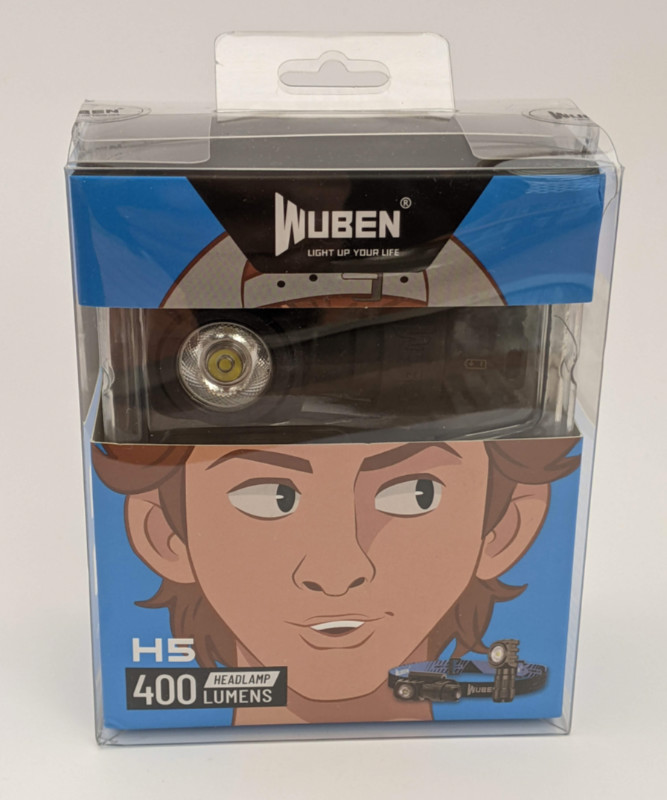 REVIEW – The WUBEN H5 Multifunctional Clip Flashlight is a versatile flashlight that comes with a unique, well-made clip device you've never seen before. The flashlight can be removed from the clip for hand-held use but if kept in its clip holder it can be a head light on the included strap, or attached to a belt or hat brim. The rechargeable battery is the same size as a common AA battery so you could have a pocket full of backups when away from charging.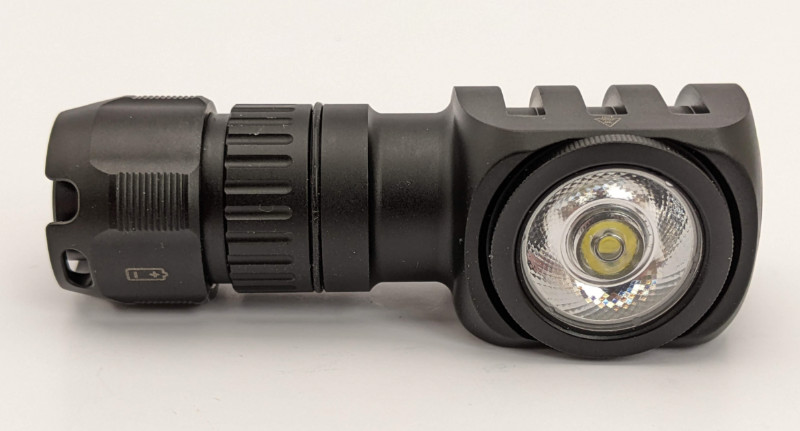 What is it
The WUBEN H5 Multifunctional Clip Flashlight is a rechargeable, water-tight, LED headlamp with multiple brightness levels and SOS flash. The H5 can be in its clip or removed for pocket flashlight use.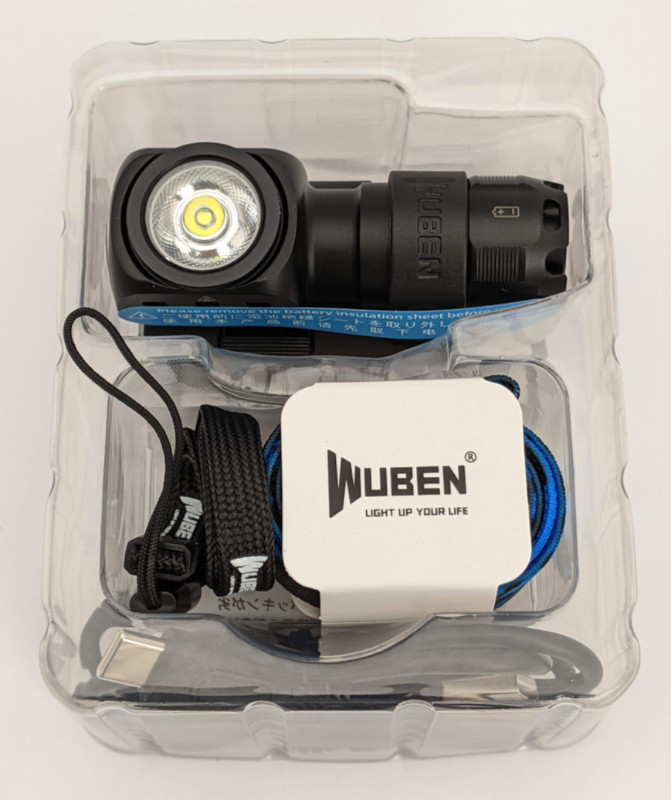 What's in the box
Wuben H5 multifunctional clip flashlight

14500 lithium-ion battery

2 replacement O rings

Lanyard

Charging cable – USB A to USB C > cOnFiRm <

Adjustable elastic head strap

Manual sheet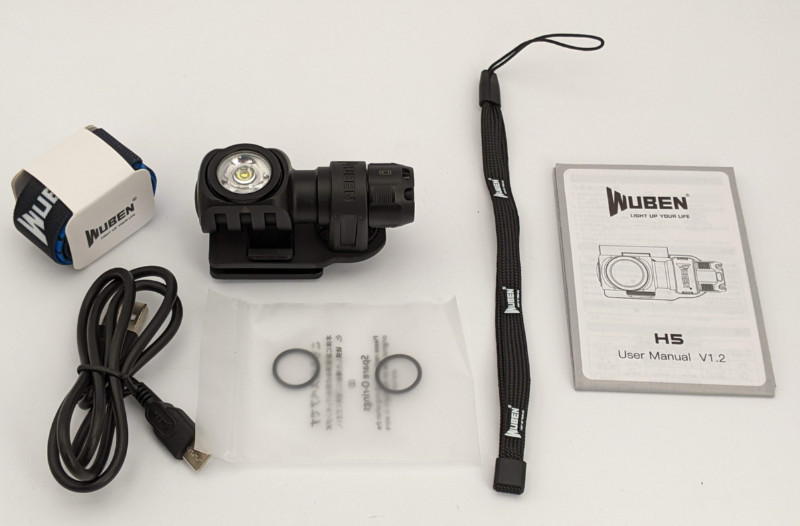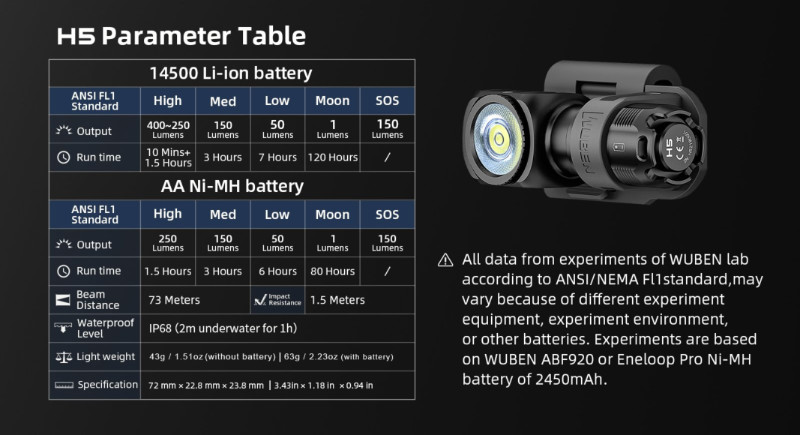 Hardware specs
4 brightness modes plus Morse code SOS flash

Rechargeable 14500 Lithium-ion battery with USB C charging port

Measurements: 3.43" length x 1.18" width at widest point, to .94" width at the thinnest point

Weight with headband and clip: 3.6 oz.

Weight of flashlight and battery only: 2.5 oz.

IP68 water resistance rating

175 degree beam angle / spread

Lumens: 400, 150, 50, 1, 150 lumens SOS

Magnetic tail cap

Magnet on clip holder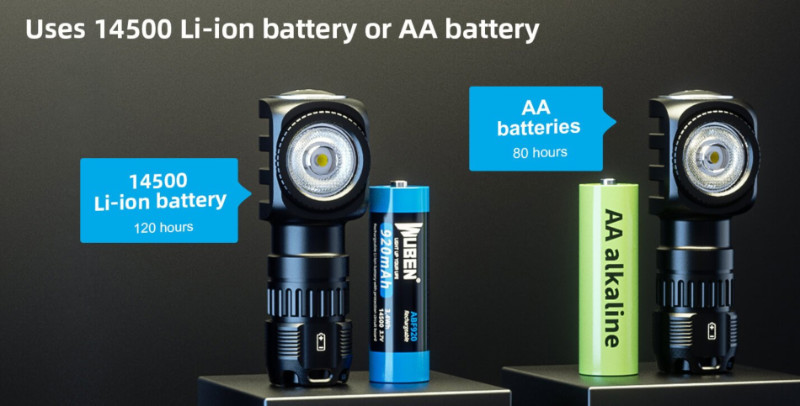 Design and features
Unique clip holder with 360 degree rotation capability

Clip holder has magnets on the back

Use the flashlight with its clip on a belt, jacket lapel, pocket, hat or with the head strap as a headlamp

Use the supplied rechargeable 14500 battery or AA alkaline battery.

High, medium, low, moon, and SOS brightness modes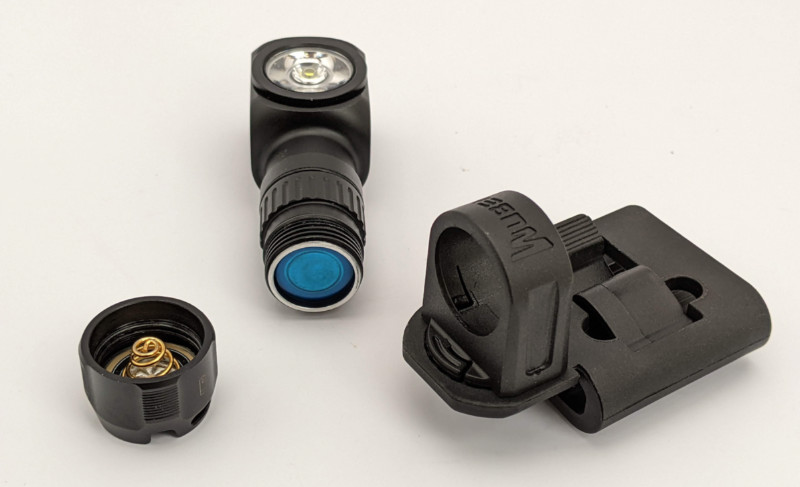 Installation and Setup
After opening the box and setting out all the items that come with the H5, I unscrewed the tail cap and removed the round, blue, plastic protective cover on the battery, then fully charged the battery with the USB C charging cable plugged into the battery.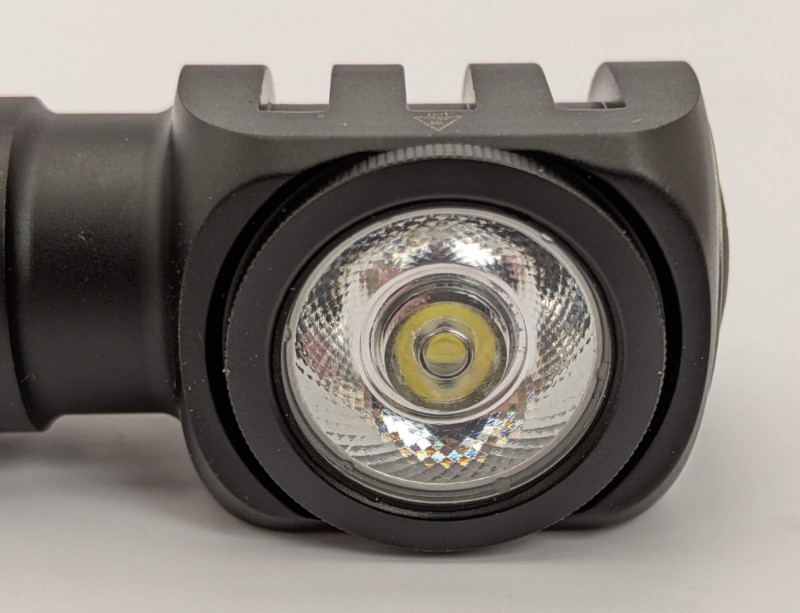 Testing and observations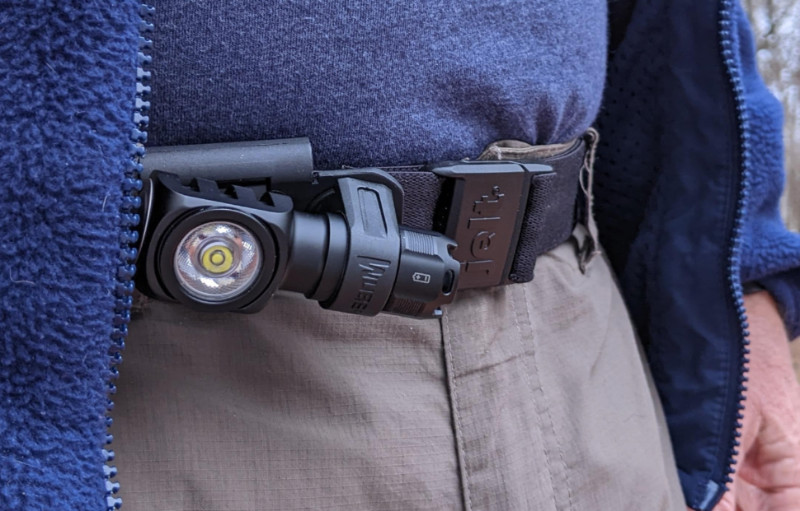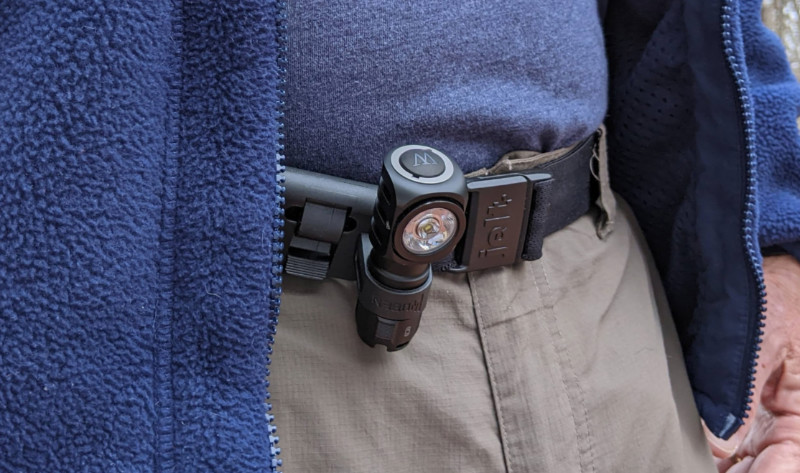 There's the H5 in front of my Thanksgiving rolls and pie. Note the rotational ability of the clip.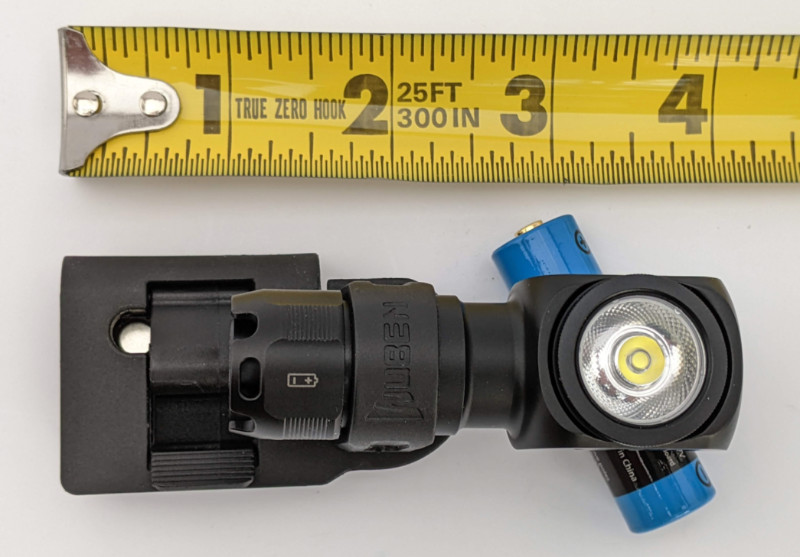 CLIP HOLDER
The Wuben H5 flashlight has a unique clip holder into which it can be affixed, and it allows for attachment to the headband for its primary intended use. This light holder can also be clipped to the front or side of a belt or even on to a cap. There is a small securing clamp to hold it tightly to something thin, like the headband, but it will not clamp closed on a belt, hat brim or anything thick.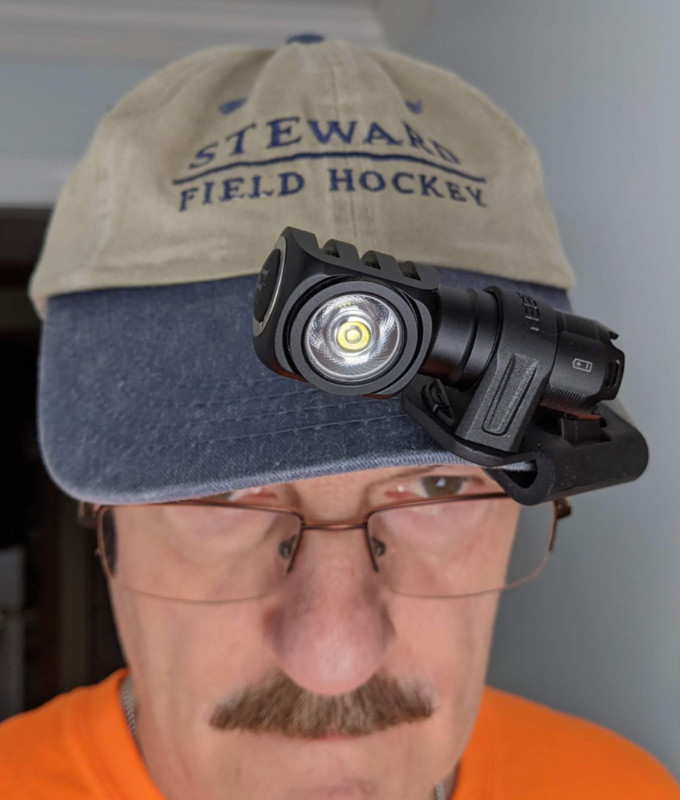 For clipping onto thicker items the clip holder depends on friction alone, so the thickness of what you're clipping on determines the security of the clip's hold. When clipped on to my belt or a hat brim the light was secure and didn't jostle about.
The biggest hangup of using the clip holder is, the H5 tail cap must be removed and the light inserted into the clip holder's hard plastic loop, then the tail cap reattached. There is no 'quick draw' option if you had the H5 on your belt and wanted to use it quickly as a hand-held flashlight.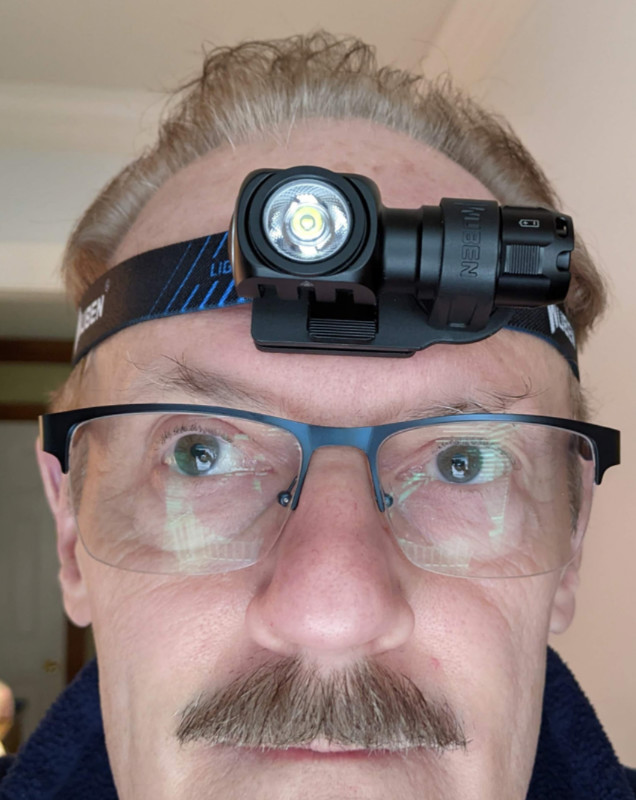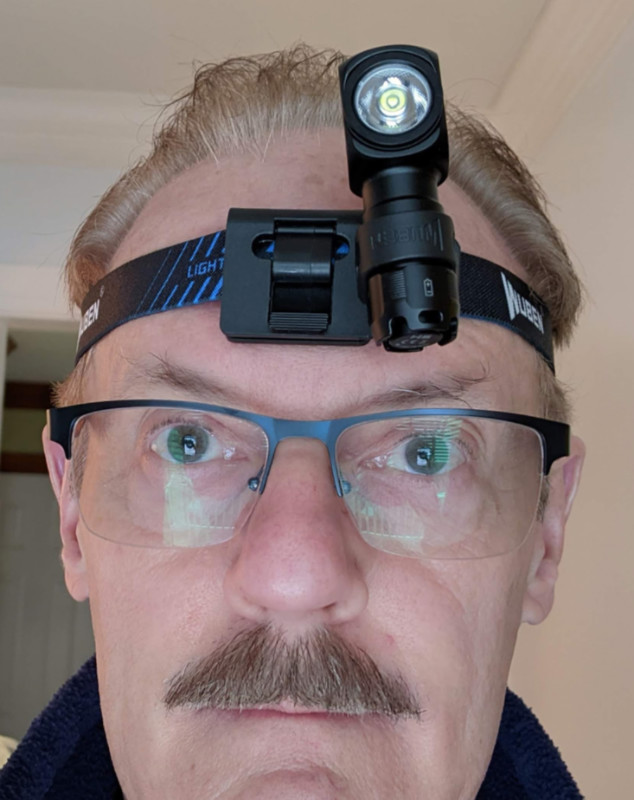 HEADLAMP USE
With the H5 as a headlamp mounted on the supplied headband, it felt light and was not fatiguing with extended use. I wore the Wuben H5 headlamp style for 90 minutes of nighttime diced onion frying which I prefer to do outdoors on a grill side burner. It was an excellent light for outdoor cooking in low light conditions.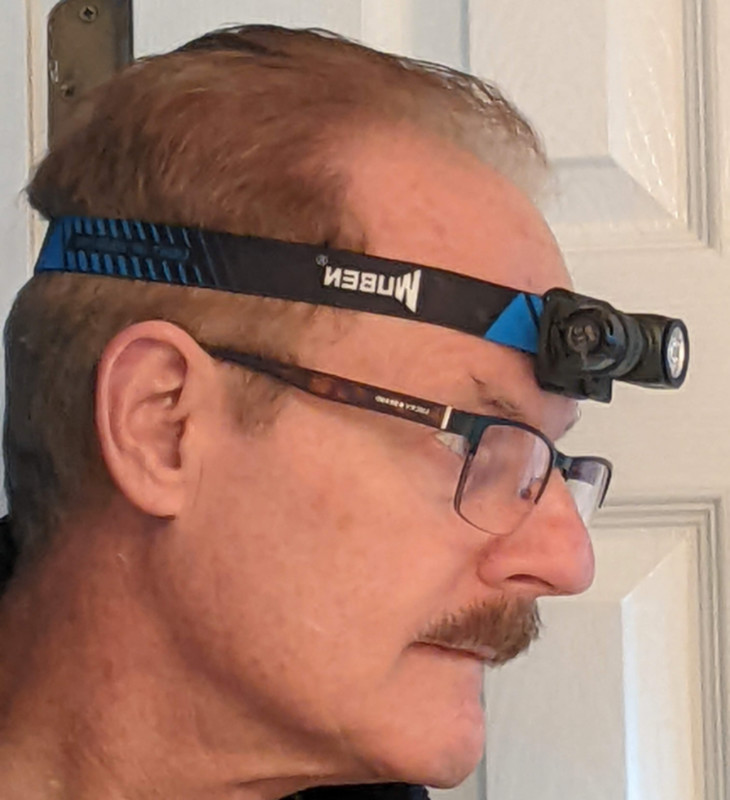 For a couple of night dog-walks in our 'low traffic, but some traffic' neighborhood, I set the light to SOS flash mode as we walked. That not only gave me a good view of the street on each flash, but was more than adequate for cars to see the light beam well before they could see the dog and me. I had never used SOS with other lights that have that mode. I wish the H5 had a flash mode but more later on that.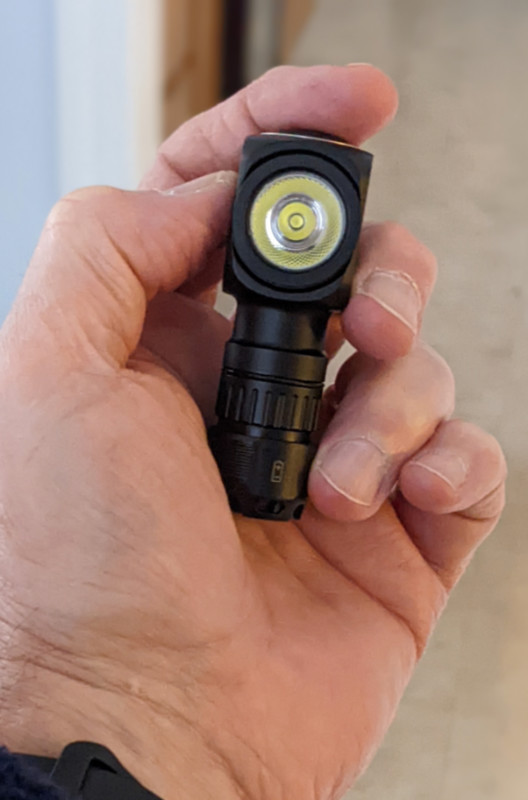 HAND FLASHLIGHT USE
The Wuben H5 works great as a pocketable handheld flashlight. I carried it this way for over a week. With its light-head at 90 degrees from the body of the flashlight, it takes an extra step of orienting the beam out in front of oneself before turning the light on, or I may have shined the bright light in my face in the dark a bunch of times.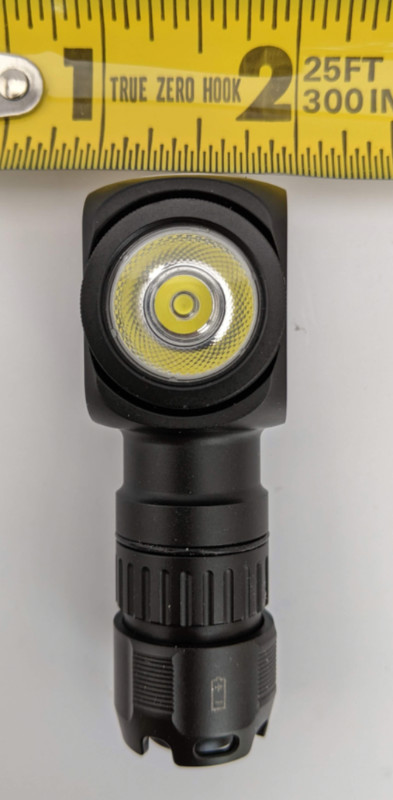 The tail cap is strongly magnetized and should be secure if used holding onto steel or iron.
The H5 never accidentally turned on in my pocket.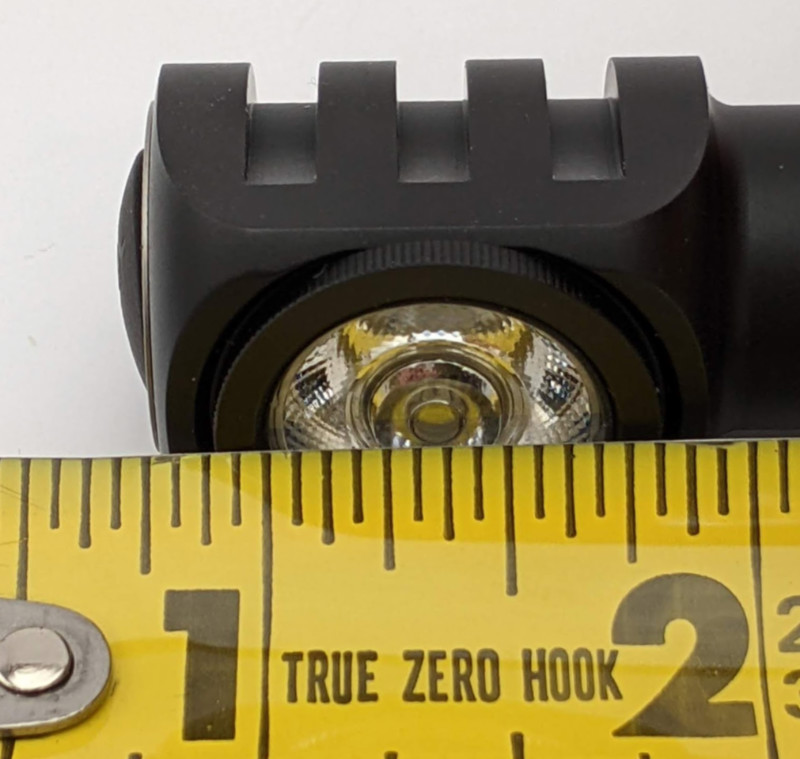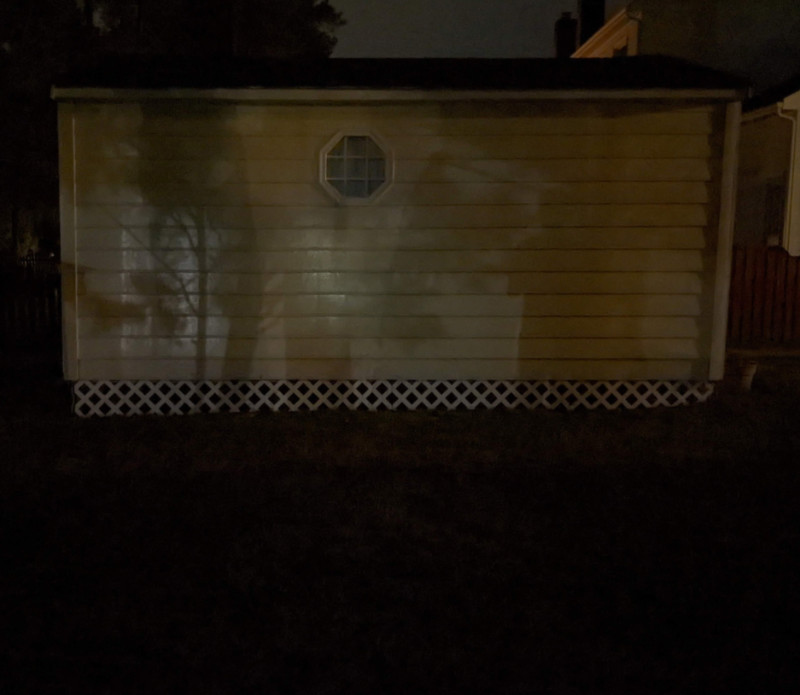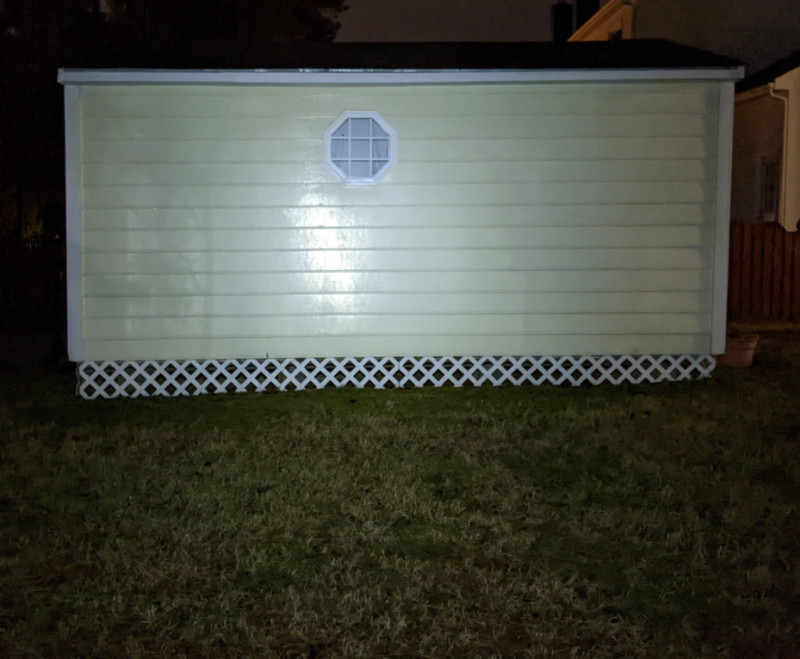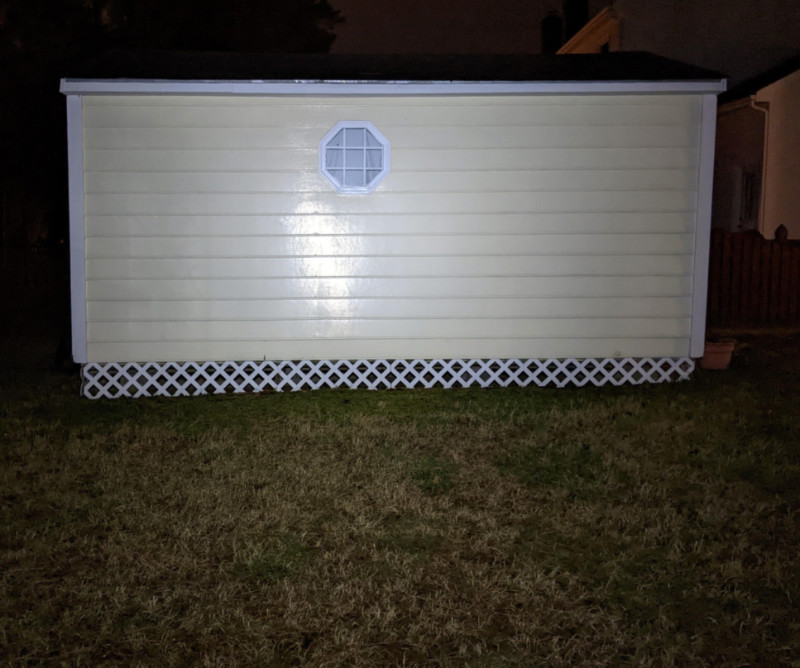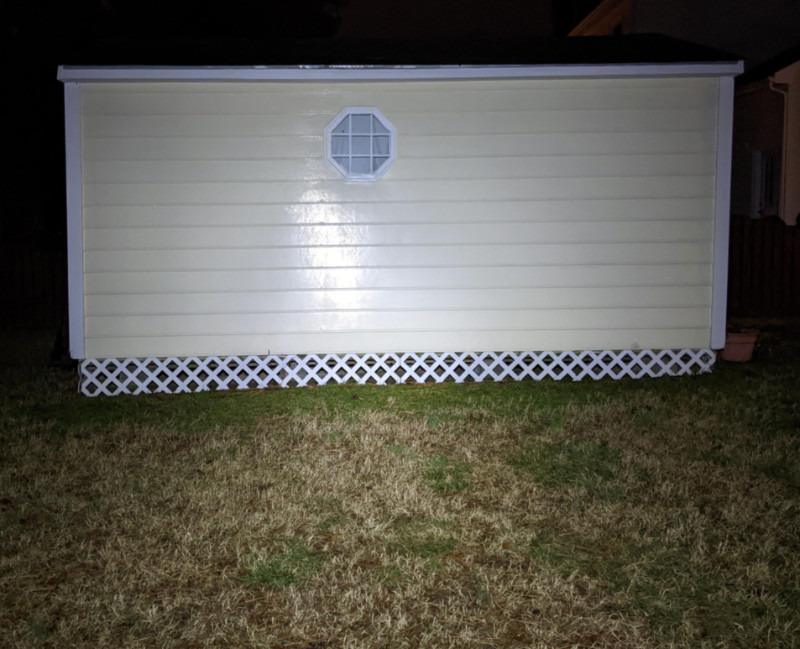 These photos show the H5's brightness settings from lowest to highest. Note the 'spill' on the grass for a better differentiation of each mode.
BEAM
The beam has a defined center spot of light that has a soft edge vs. a sharp edge. This allows for greater light diffusion over a wider area of the full beam. You can aim the bright center of the beam at your target, or turn the light slightly away to view the subject with the less intense edge of the beam. 
SOS OR FLASH?
I wish flashlight makers would stop using SOS mode. I prefer a slower strobe or flash function like you see from bike lights. If you're truly lost in the wilderness and a helicopter flies over, a flashlight's regular flash mode will work just fine to indicate your location. 
The 2 second pause that happens after each time the SOS Morse code sequence completes is a fairly long pause in some settings like oncoming traffic. When walking, running or biking, steady flash is safer for the very best 'see me' visibility.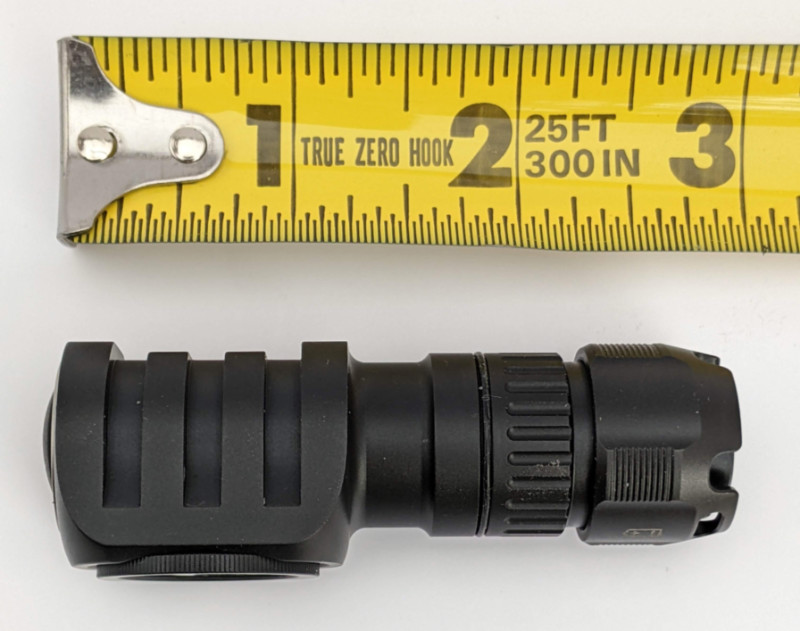 What I like
Wuben's tradition of making solid, well designed, nicely finished products continues with the H5

Great choice of brightness levels from discrete to very high brightness.

Tailcap magnet works well without adding excessive weight.

The battery has a charging port, allowing the flashlight to be fully sealed (instead of a charging port in the flashlight)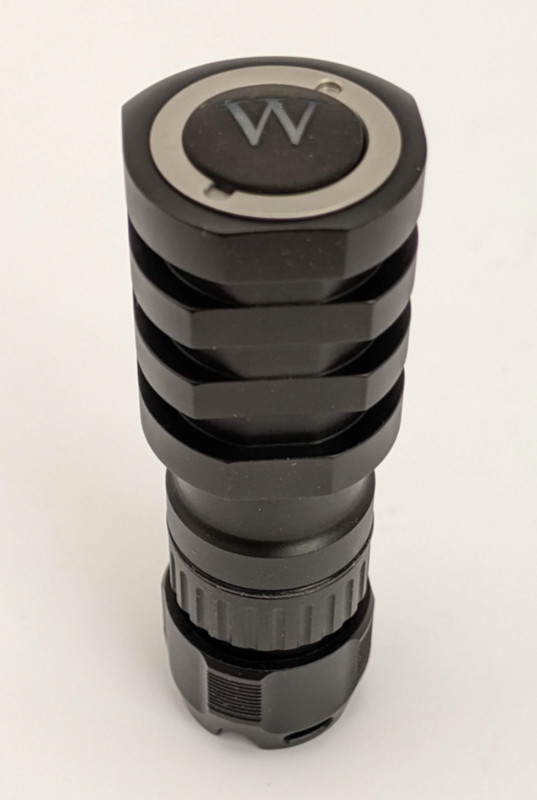 What I'd change
I'd prefer a flash mode instead of SOS mode. 

A quick release to remove the flashlight from the clip would be a useful feature.
Final thoughts
The WUBEN H5 Multifunctional Clip Flashlight has a unique clip that allows you the flexibility to use the light in several ways beyond a traditional flashlight configuration. The H5 Clip Light is made to high quality and performance standards. I recommend it.
Price: $49.99  Use 20% discount code gadgeteer20. Code expires April 1, 2022.
Where to buy: Wuben
Source: The sample for this review was provided by Wuben.