We use affiliate links. If you buy something through the links on this page, we may earn a commission at no cost to you. Learn more.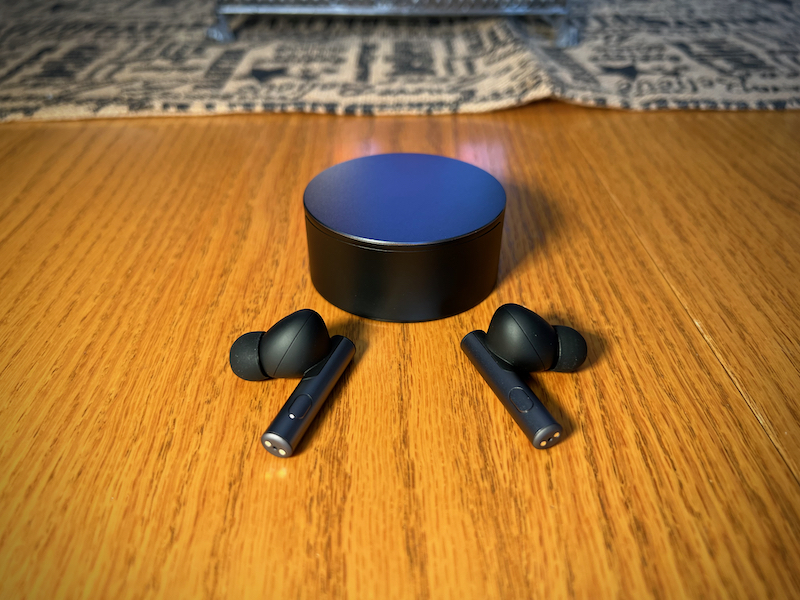 REVIEW – I like to listen to music and podcasts but I don't like wires getting in the way. The convenience of Bluetooth audio has made this so much better in the last ten to fifteen years. Bluetooth audio quality has never been known to be great but the convenience made it worth the tradeoff in sound quality. This compromise between usability and audio quality has been diminished in recent years with many new headphones and earbuds coming on the market focusing on getting the best audio quality available over a Bluetooth connection. Oddict's TWIG PRO earbuds enter that arena with a Qualcomm Snapdragon Sound-powered offering.
What is it?
Oddict's TWIG PRO is a pair of true wireless stereo Bluetooth earbuds paired with a charging case, offering a sleek design, decent battery life, and premium sound quality.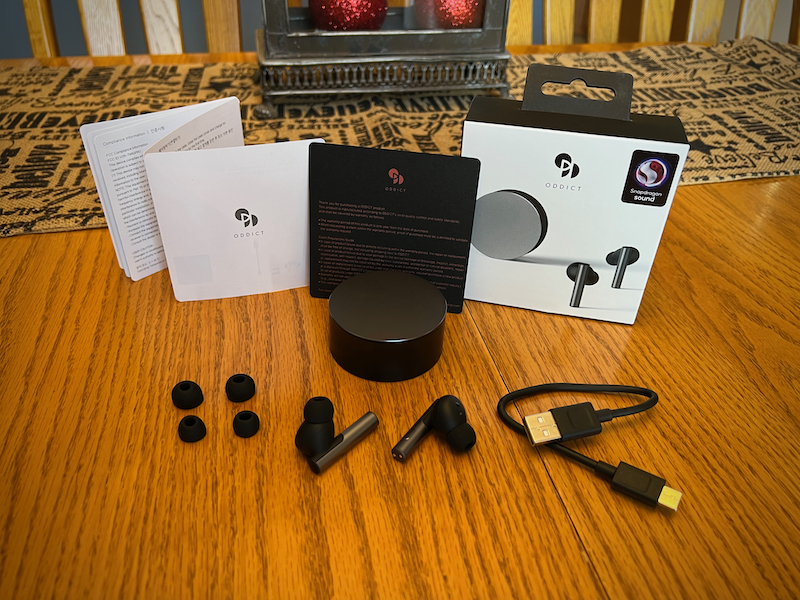 What's in the box?
ODDICT TWIG PRO true wireless earbuds
USB-A to USB-C Charging Cable
Charging Case
3 Sizes of Silicone Tips
Quick Start Guide
Warranty Card
Hardware specs
Earbuds
Communication Network: Bluetooth Version 5.2
Music Play Time: 5.5 hrs (NC On) / 6 hrs (NC Off)
Microphone Sensitivity: 42 dB
Output Power: Power Class 1
Standby Time: 34 hours
Driver Unit: 12 mm / Dual Layered Carbon Paper
Max. Communication Range: Discoverable within 10 m / 33 ft
Operating Frequency: 2.4 GHz (2.402 GHz ~ 2.480 GHz)
Driver Unit Sensitivity: 103 dB/mW
Full Charging Time: Earbuds – 1.3 hours, Case – 1.5 hours
Audio Codec: SBC, AAC, aptX™ Adaptive
Driver Unit Impedance: 32 ohms
Quick Charge: 10 min. charging = 40 min. Playing
Battery: Lithium Polymer DC 3.8 V / 30 mAh
Driver Unit Frequency Response: 20 Hz – 20 KHz
Call Time: 5.5 hrs (ANC On) / 6 hrs (ANC Off)
Microphone Frequency Range: 100 ~ 8,000 Hz
Earbud Weight: 9.8 g (each 4.9 g)
Compatible Bluetooth Profiles: HFP v 1.8 / A2DP v 1.3 / AVRCP v 1.6
Noise Cancelling Type: Feedforward + Feedback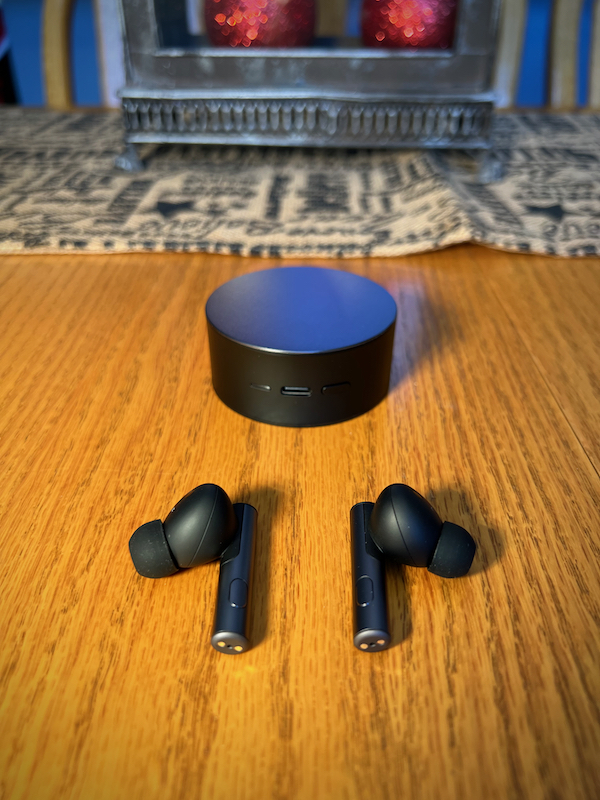 TWIG PRO Case 
Input Power: DC 5 V / 0.5 A or more
Full Charging Time including Earphones: 1.5 hrs.
Number of TWIG charges with Charging Case: 1.5 times
Standby Time: 3,400 hrs. max.
Wireless Charger Operating Frequency: 110 KHz ~ 150 KHz
Size: 2.24 x 2.24 x 0.99 in. / 56.9 x 56.9 x 25.1 mm (HxWxD)
Weight: 46.5 g (charging case)
Operating Temperature: 0 ~ 45 °C / 30 ~ 113 °F
Design and features
The ODDICT TWIG PRO true wireless earbuds are a pair of true wireless stereo Bluetooth headphones with a sleek charging case. The earbuds are like small aluminum sticks with an ear piece sticking out of one end, in some ways reminiscent of Apple's AirPods Pro but maybe a little more industrial looking. They come in one color that Oddict calls Aluminum Grey. It's a combination of dark aluminum, black plastic and black silicone ear tips. The dark gray aluminum look is similar to Apple's Space Gray color scheme from the last few years. The earbuds are a half in-ear design which means they don't go deep into the ear canal. There's enough of a seal for the noise canceling to work but not tight enough to make them uncomfortable to wear for hours at a time.
Each earbud has a small oval button near the bottom of the stalk. This is a physical button, not a touch-sensitive button, which is a nice feature compared to some touch-sensitive buttons I've used that are either hard to find or not very responsive to touch. This also prevents me from having to press the earbuds further into my ear while tapping on them like my Samsung Galaxy Buds do.
The charging case is round, about 2.25 inches across and an inch tall. The top is a round piece of aluminum and the rest of the case is made of plastic. About half of the bottom flips open to reveal the charging slots for the earbuds. On the opposite side from the door that flips open there is an LED charge status light, a USB-C power connection, and a button to check the battery level and reset the Bluetooth connection.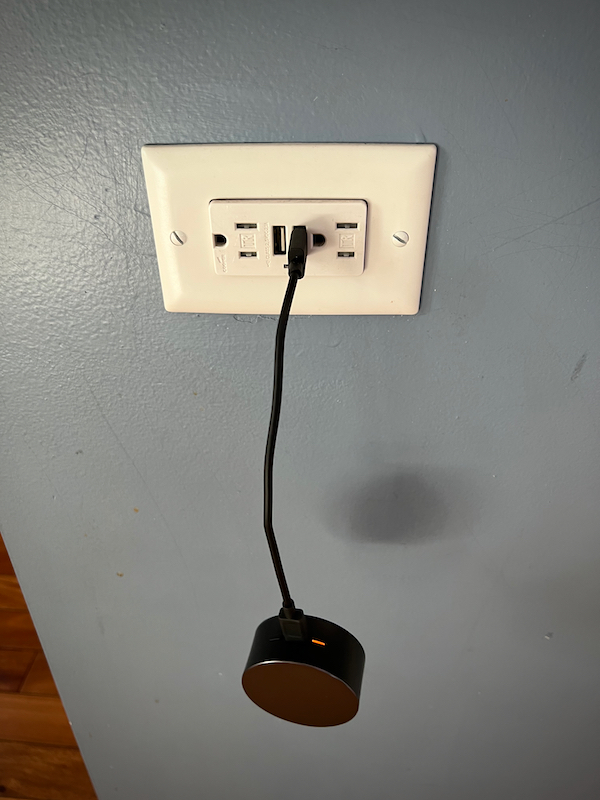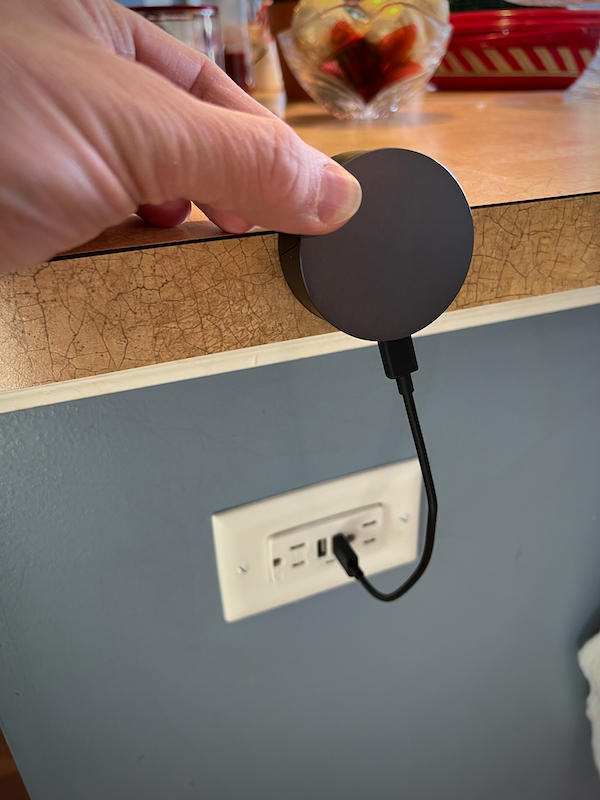 Installation and setup
Before using the ODDICT TWIG PRO true wireless earbuds for the first time there is a plastic film that needs to be removed from each of the earbuds. It's also recommended to charge them for at least 10 minutes before pairing them for the first time. Once there is enough charge, open the case and after five seconds they'll go into pairing mode. Find TWIG PRO in your phone's Bluetooth settings and select it. In my experience, on both an iPhone 13 Pro Max and a Google Pixel 6, this process only took a couple of seconds each.
To turn the earbuds off, place them back in the case. They'll disconnect from your device, turn off, and start charging. The case battery is large enough to charge the earbuds up to 1.5 times. Battery life is rated at up to 15 hours, which should be enough for most long listening days. Make sure to keep a little bit of charge in the case because the earbuds won't turn off when placed inside if the case battery is dead. This could cause your phone to send audio to the earbuds when you're expecting to hear it on the phone, which could be a problem if an important call comes in and you don't realize what's going on.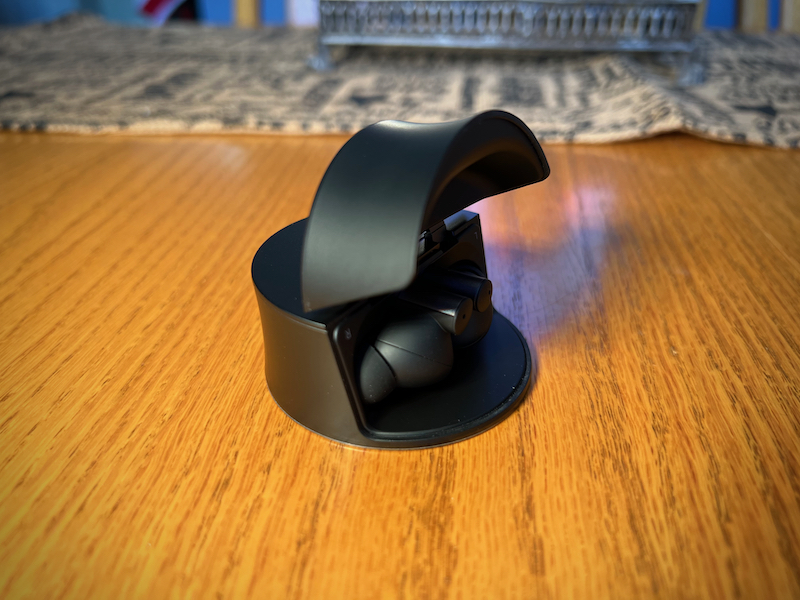 Oddict makes an app for both iOS and Android which allows you to control settings, check battery levels, find the earbuds, and update their firmware. The app is optional but if you want to change EQ settings or control other aspects of the earbuds, it's the only way to do that. 
The earbuds come with three different sizes of ear tips. They come out of the package with the medium size ear tip already installed. That size fit perfectly for me so I didn't try the other sizes. 
The case can be charged with the included USB-A to USB-C cable (connected to a computer or USB-A charger) or with a Qi-compatible wireless charger. Be aware that this cable is very short – maybe about ten inches. This will limit where you can charge them unless you have a longer cable to work with. Oddict says charging the case can take 1.5 hours, but that would depend on the size of your USB charger and would of course be slower using wireless charging.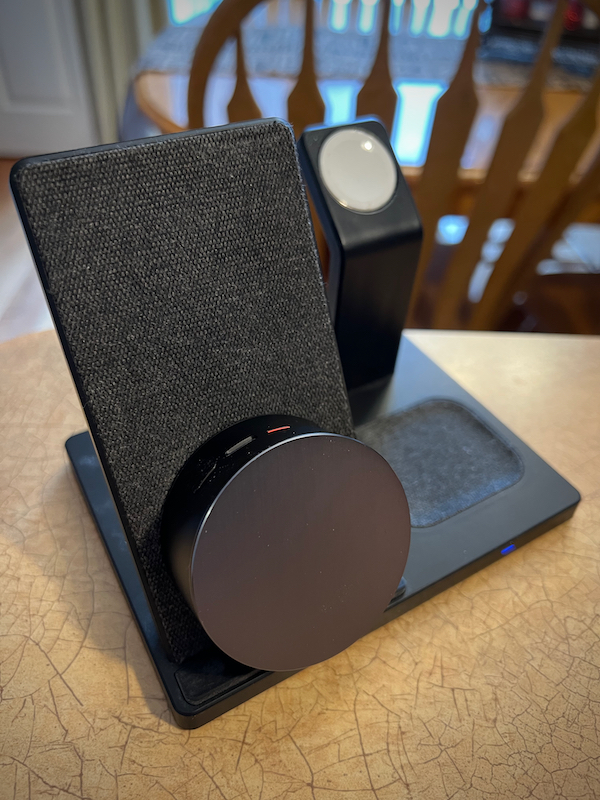 Active Noise Cancellation is on by default and comes on a few seconds after the earbuds are placed in your ear the first time. Using the app you can change the level of noise reduction as well as turning it off completely or activating ambient mode. By pressing the button on the earbuds you can cycle between ANC and ambient mode, but there is no option to turn these options off completely – once one of these modes is enabled you have to go to the app to turn it off. It would be nice if the button would cycle between ANC, ambient, and off. 
In Use
Once the ODDICT TWIG PRO true wireless earbuds are paired with your phone or another Bluetooth-enabled device, everything works like any other set of Bluetooth headphones. The button on each earbud can be used to play/pause music, skip tracks forward and backward, answer or hang up calls, turn on noise-canceling and ambient mode, and to summon your favorite voice assistant. The button has a satisfying click to it so you know when it's been pressed. There is no beep for every button press, which I find refreshing – sometimes those beeps can become monotonous or annoying after the first few times you hear them. There are some soft beeps to let you know when you've enabled ambient mode or noise-canceling mode, as well as when you activate the digital assistant.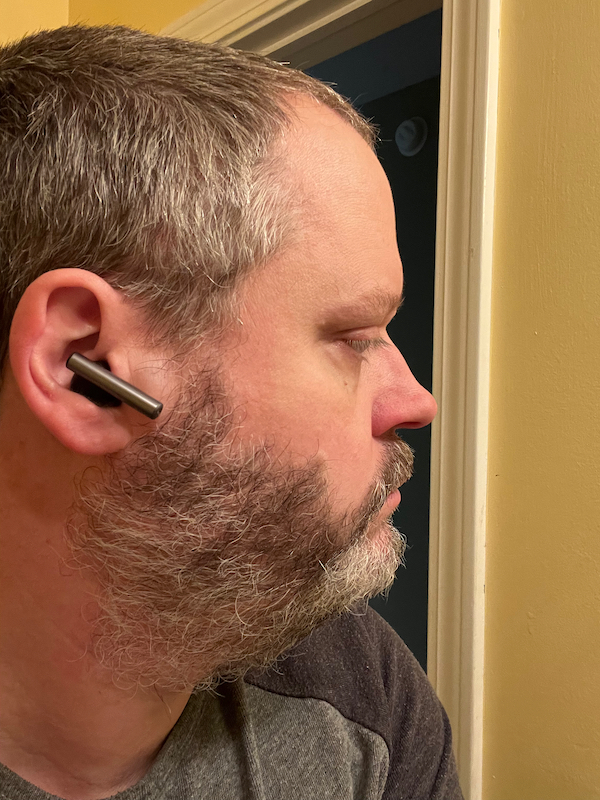 The TWIG PRO fixes one of my least favorite things about many similar sets of earbuds – the multifunction button does the same thing on both earbuds. You're not limited to volume down and skip back on the left and volume up and skip forward on the right. Since I listen to a lot of podcasts with only one earbud in this limitation has been a frustration on a lot of other Bluetooth earbuds I've used.
I never had the feeling that they were going to fall out of my ears. Although they don't fit super tight they felt solid and didn't move very much as I moved my head or when I was eating. I like knowing that these aren't going to fall out at the most inopportune time.
Phone calls were clear, both on my end, hearing the caller, as well as at the other end. The people I talked to on the phone with these in could hear me clearly without wondering why I sounded distant or making any other complaints about the audio quality.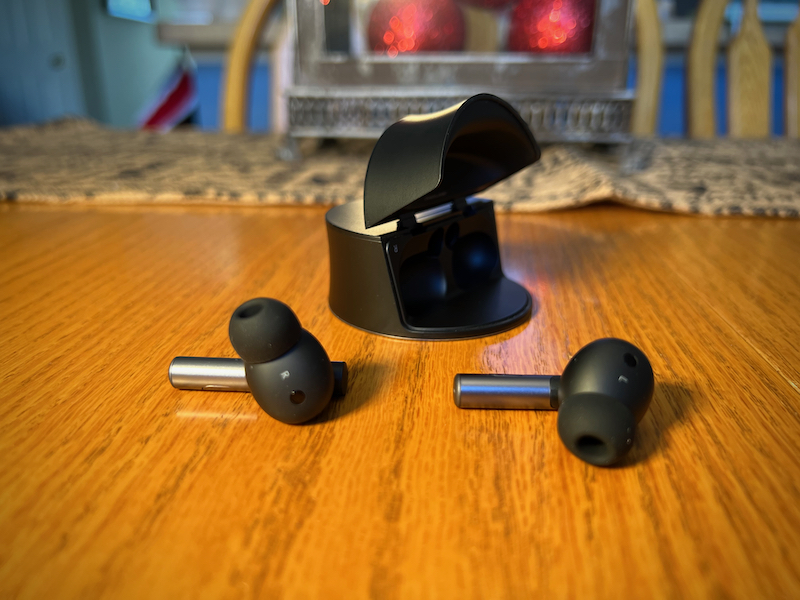 One minor inconvenience I found as I was testing these was that I accidentally hit the button a few times when I was taking these out of my ears. This started playback of whatever audio source I was listening to. It didn't take long to get used to taking them out of my ears, but this is just something to watch out for. You don't want to come back to your phone after a couple of hours and find that it played through several podcasts or your specially-curated music playlist. It can be frustrating to have to backtrack and figure out what you missed.
I like to carry my Bluetooth earbuds around in my pants pocket with my change, a few USB thumb drives, fingernail clippers, and a few other everyday carry items. This case is just a little too big for me to do that comfortably. It fits in my pocket, but it just feels a little too bulky. I started carrying it around in my inside jacket pocket, which was no problem at all, but I don't typically wear that in the summer so I'll have to figure out another way to keep these near me.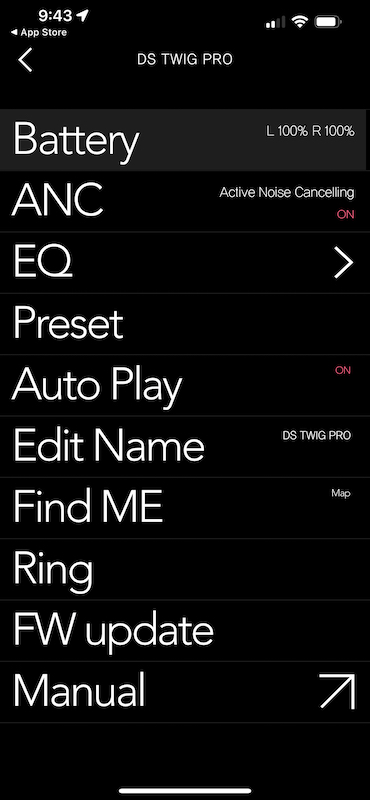 I found that I sometimes couldn't enable ANC or ambient mode. This was the case with the buttons on the earbuds as well as with the Oddict app on both of my phones. In the app it told me, "ANC settings cannot be changed without wearing the earbuds." I knew I was wearing them because I could feel them in my ears and I could hear music coming out of them. I was even able to control music playback and the automatic play/pause was working when I would remove an earbud and put it back in. I decided to try pushing the earbuds a little bit more into my ears and it seemed to work then. I don't know if the ear sensor just isn't very sensitive or what but it wasn't as consistent as I would have liked.
The TWIG PRO earbuds have a "Find ME" feature that plays a high frequency tone through the earbuds if you are connected to them by Bluetooth but don't remember where you set them down. If you're not connected to them, this feature shows a map with a pin showing their last known location. There is no GPS built in to these so you have to enable location sharing on your phone when you install the app. This won't help you find them if you already know they're at home but don't know if they're lost behind the couch, under the bed, or in your favorite pair of jeans, but at least it can help you know you didn't leave the at work or drop them while out on a run.
Sound Quality
Overall the sound quality of the ODDICT TWIG PRO true wireless earbuds were very pleasing to listen to. The default EQ setting was usable, and worked great for spoken audio, but I wanted to tune things a little bit to my preferences for music. The EQ controls in the Oddict app were appreciated, but a little frustrating at times. There are four preset EQ settings: Jazz, EDM, Pop, and Classic. If you choose to make your own adjustments you can save up to 5 custom settings. The EQ customization page has a series of concentric circles with the words Warm, Hard, Soft, and Cold in quadrants near the corners of the screen. There is a pink circle that can be dragged anywhere around the screen to adjust the quality of the sound. This is a fun way to adjust the sound but it's not always easy to figure out what exactly will happen when you drag the circle to different parts of the screen. Here's what I was able to figure out: Warm turns up lower frequencies while keeping higher frequencies the same; Hard turns up higher frequencies while keeping lower frequencies the same; Soft turns down higher frequencies while keeping lower frequencies the same; and Cold turns down lower frequencies while keeping higher frequencies the same. You can drag the pink circle around anywhere between any of these areas and it will do its best to do a combination of these four. This is a unique way to adjust EQ but honestly, I'd just prefer a 10, 15, or 31 band EQ graph so I know exactly which frequencies I'm adjusting.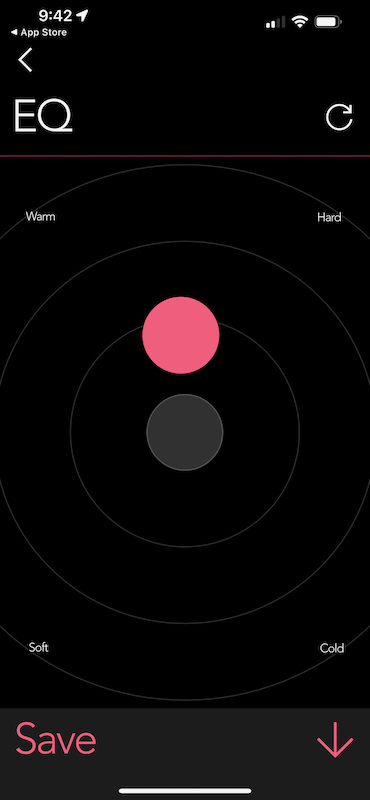 This brings up another, more frustrating, aspect of the EQ settings. If you make a manual adjustment, an option to save your settings as a preset comes up at the bottom of the screen. This is a convenient way to bring up your favorite settings for different types of music or spoken word audio. The problem is that once you make a manual adjustment, if you back out of the EQ page to change other settings in the app, it reverts back to whatever preset you had selected before you made your changes. Yes, you can save your settings as a preset, but you can only save five custom presets, which get eaten up pretty quickly if you have to save a preset every time you make a change. This same thing happened on both my iPhone and my Pixel 6.
Another even more frustrating problem came up when I was writing this review. After a few weeks of living with these headphones and using the app to make changes, now if I go into the app on my iPhone and make an EQ change, the whole app freezes up and won't restart. I had to fully restart my phone to get it to open up again, and it froze up right away after the first EQ change I made. I tried it again with the Android app and it didn't have the same problem. I don't know if it's the most recent update to iOS that changed something under the hood, but the app hasn't been updated since I first downloaded it so I don't think anything has changed there.
These problems aside, the sound quality of these earbuds is really good. I recently reviewed the Shure AONIC 215 Gen 2 earbuds and I said about them that they were my favorite Bluetooth earbuds for listening to music. I would say that the TWIG PRO are almost as good and easily my second favorite pair of earbuds for music listening. Plus, with a smaller case and the fact that they're easier to put in my ears, I'll probably be reaching for these more often when I want to listen to music. If I had a complaint about the overall musical quality of the TWIG PRO I'd say I would prefer a little more bass, but considering the size of the earbuds I don't think there's a lot more that can be done.
What I like
Controls are the same on both earbuds
They fit great in my ears
Actual physical buttons
Solid construction; feels like they will last a long time
What I'd change
Volume controls on the earbuds
Real EQ graph in the Oddict app
Longer charging cable
Final thoughts
When you listen to as much audio as I do every day you want the experience of using Bluetooth earbuds to be as easy and distraction free as possible. Other than the charging case size preventing me from keeping them in my pocket and a few quirks with the settings app, these could easily be my everyday carry earbuds. With that in mind, I'll always make sure to keep the ODDICT TWIG PRO true wireless earbuds charged up and in my jacket or backpack, ready to go when I want to enjoy music or a movie.
Price:  $129.99 at Amazon; $149 from Oddict
Where to buy: amazon.com or oddictofficial.com
Source: The sample for this review was provided by Oddict. For more information visit their site.