We use affiliate links. If you buy something through the links on this page, we may earn a commission at no cost to you. Learn more.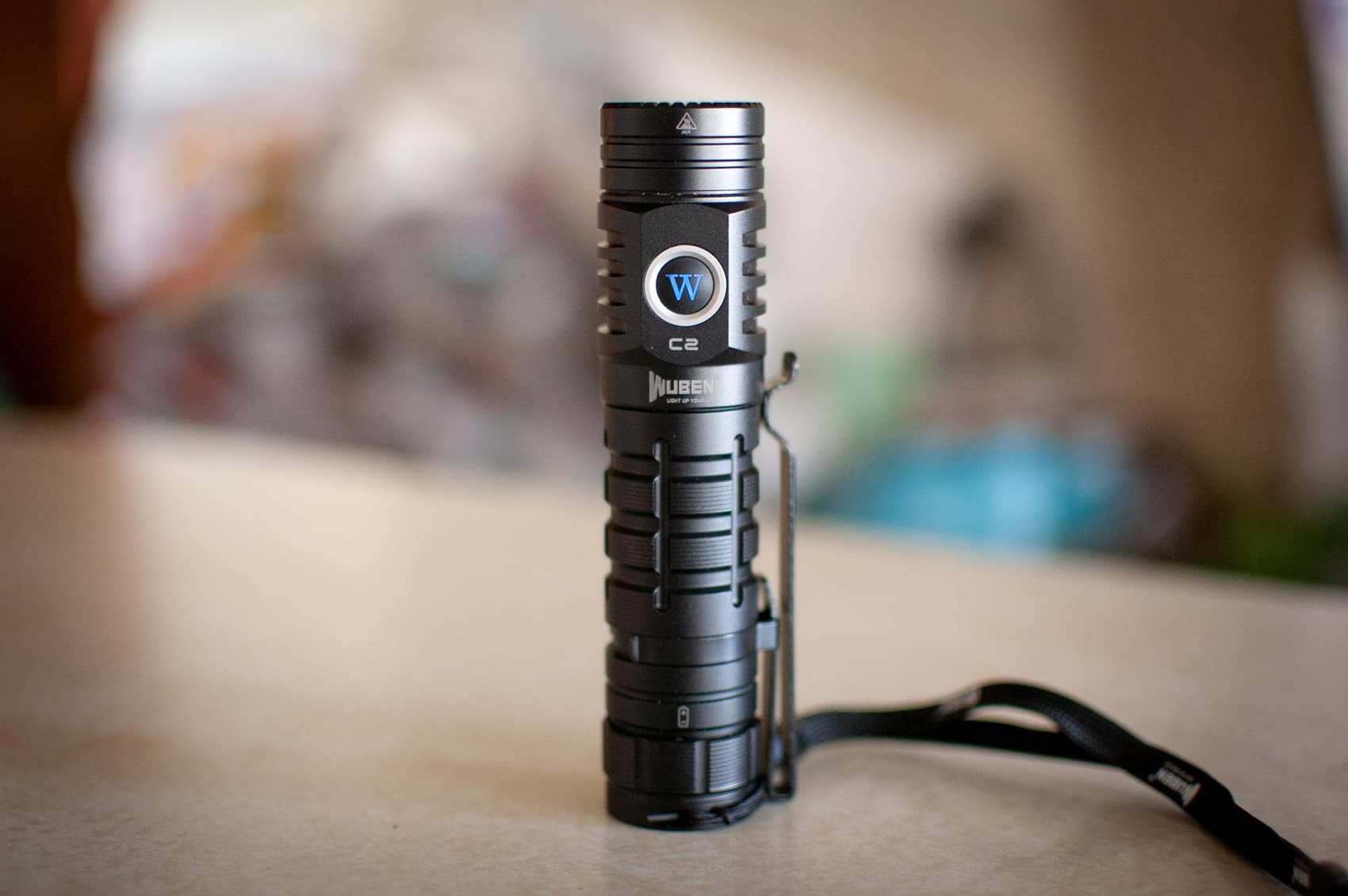 REVIEW – During the winter hours, the sun seems to set before you know it, making a flashlight an important addition to your EDC arsenal. Today we're reviewing the Wuben C2 Power Bank Flashlight, a surprisingly versatile torch for outdoor or general use.
What is it?
The Wuben C2 is a rugged handheld flashlight with a rechargeable 21700 battery and several light modes. It has a 2000 lumen brightness for a short time in turbo mode. Notably, it includes a standard USB port, allowing the battery to be used for charging phones and other portable devices in a pinch.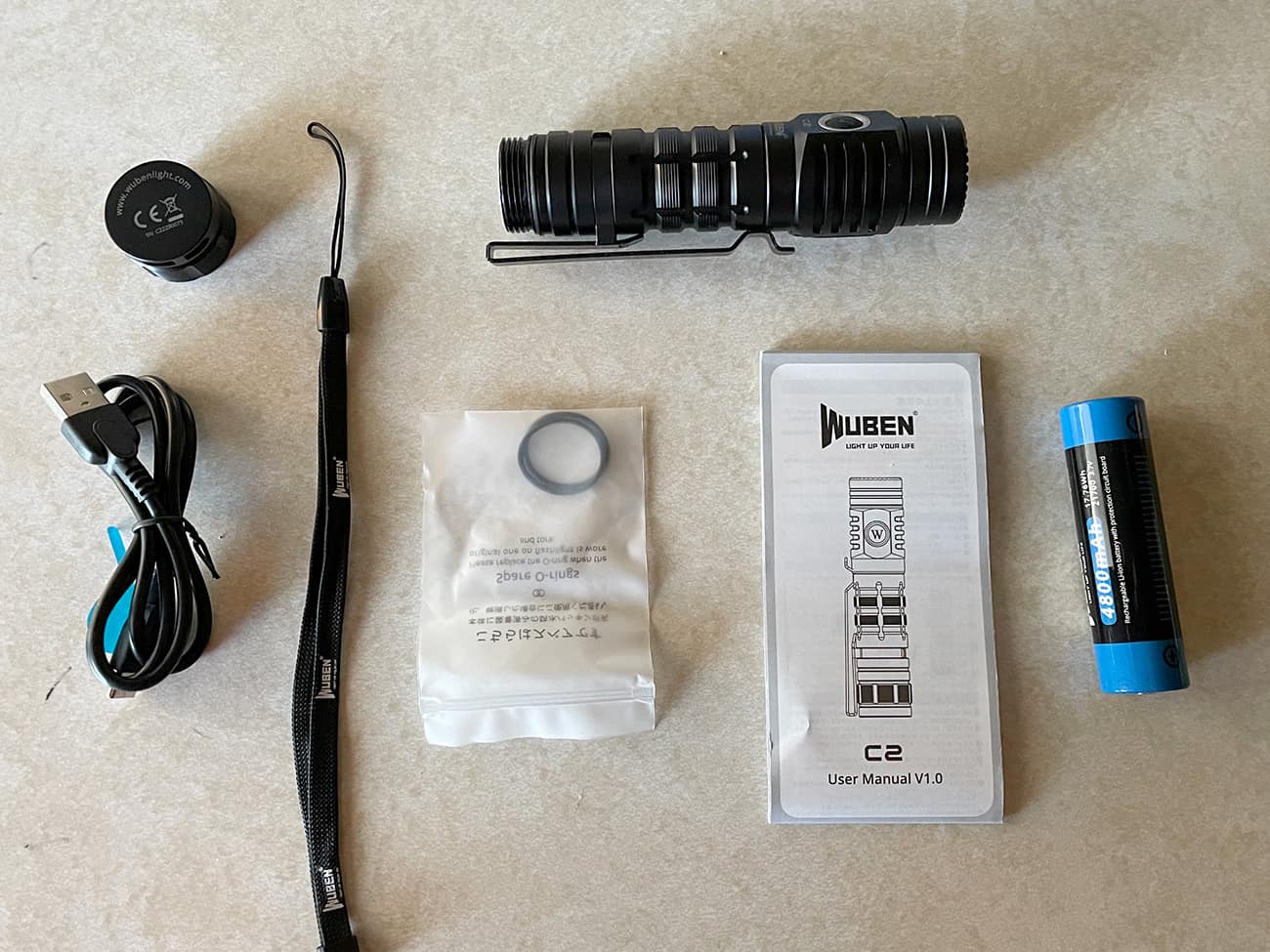 What's in the box?
Wuben C2 Flashlight
Wrist strap
21700 battery
USB-A to USB-C cable
Extra rubber o-rings
User manual
Hardware specs
5.06" L x 1.14" D
3.85oz without battery | 6.70oz with battery
Up to 2000 lumens
Longest beam throw is up to 358 meters
Equipped with a rechargeable battery and it can also be used as a power bank to charge your Smartphone, camera, or walkie-talkie through an integrated USB-A port
Comes with a standard 21700 (4800mAh) battery but it is also compatible with a 18650 (2600mAh) battery
IP68 waterproof rating and has passed the 1.5m anti-drop test
Turbo, high, medium, low, economy, strobe and SOS modes

Turbo 2000-700 lumens, 1 min + 3 hours
High 1200-600 lumens, 3 min + 3.5 hours
Med 400 lumens, 5 hours
Low 130 lumens, 15 hours
Eco 5 lumens, 300 hours
Design and features
The Wuben C2 Power Bank Flashlight is a solid little beast of a portable light source. Its best use case is out in the wild, lighting up your hikes or campsites or evening outdoor activities while also providing a backup power source for your electronics.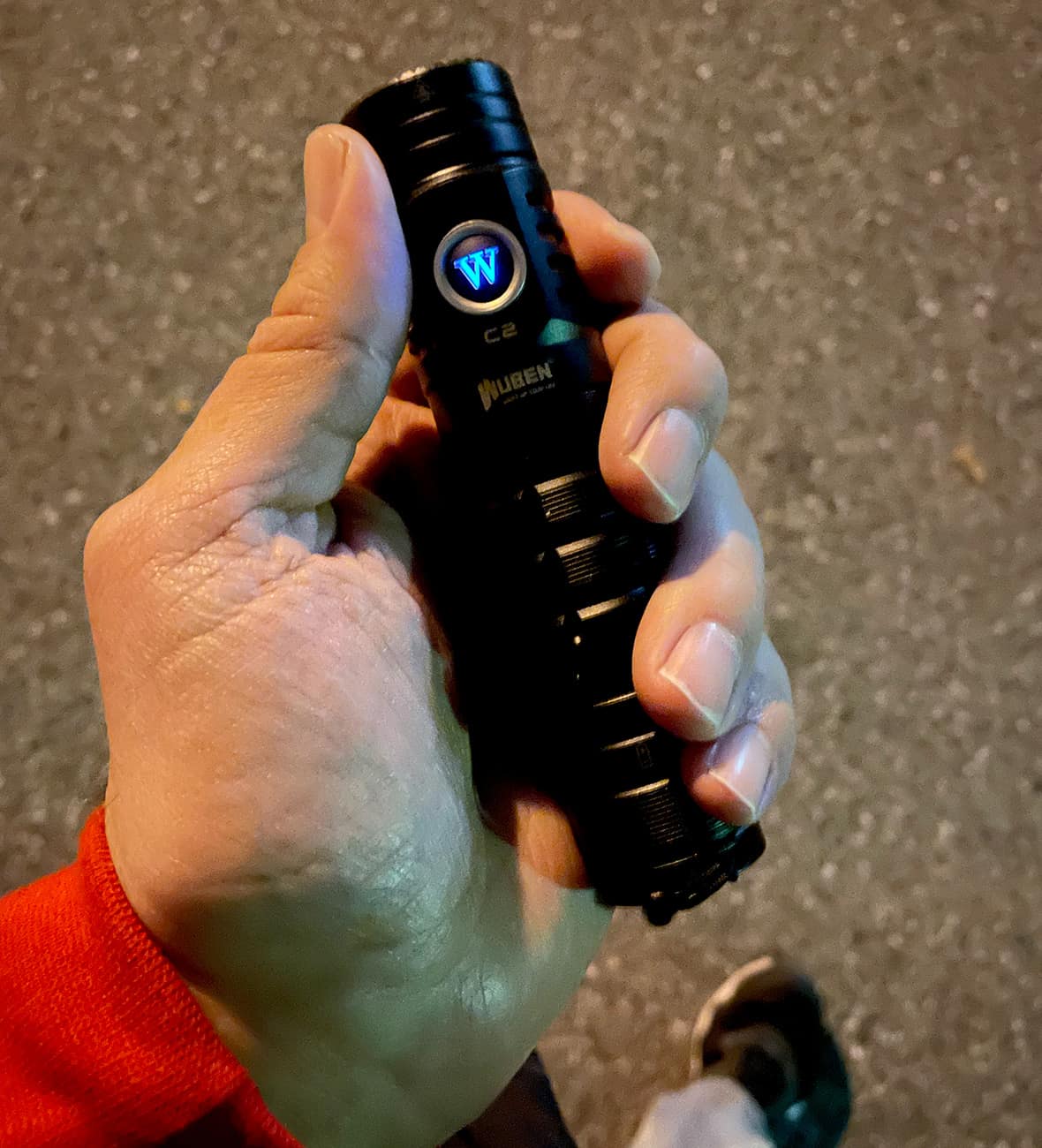 While I didn't get a chance to go deep into the woods with the C2, I did carry it with me on many walks through the city, into the basement to find old Christmas wrapping paper (I knew it was down there) and traversing darkened parking lots after shopping.
I typically carry a tiny rechargeable flashlight, about the size of a tube of lip balm, that bounces around unnoticed in my pocket. Not so with the C2. At 5" long, it's actually one of the larger flashlights I've carried on a daily basis for quite some time. I'll admit, I've really gotten used to (or been spoiled by) all these tiny LED flashlights that barely take up any room on my person… there was a good several days that I had to get used to carrying something even as large as the C2. I'm sure there are plenty of us out there who carry much larger lights on the regular.
But you know what? After about a week, I really liked having a flashlight on me as substantial as the C2. The extra weight (about the same weight as a roll of nickels) was less noticeable, but that extra brightness is worth it.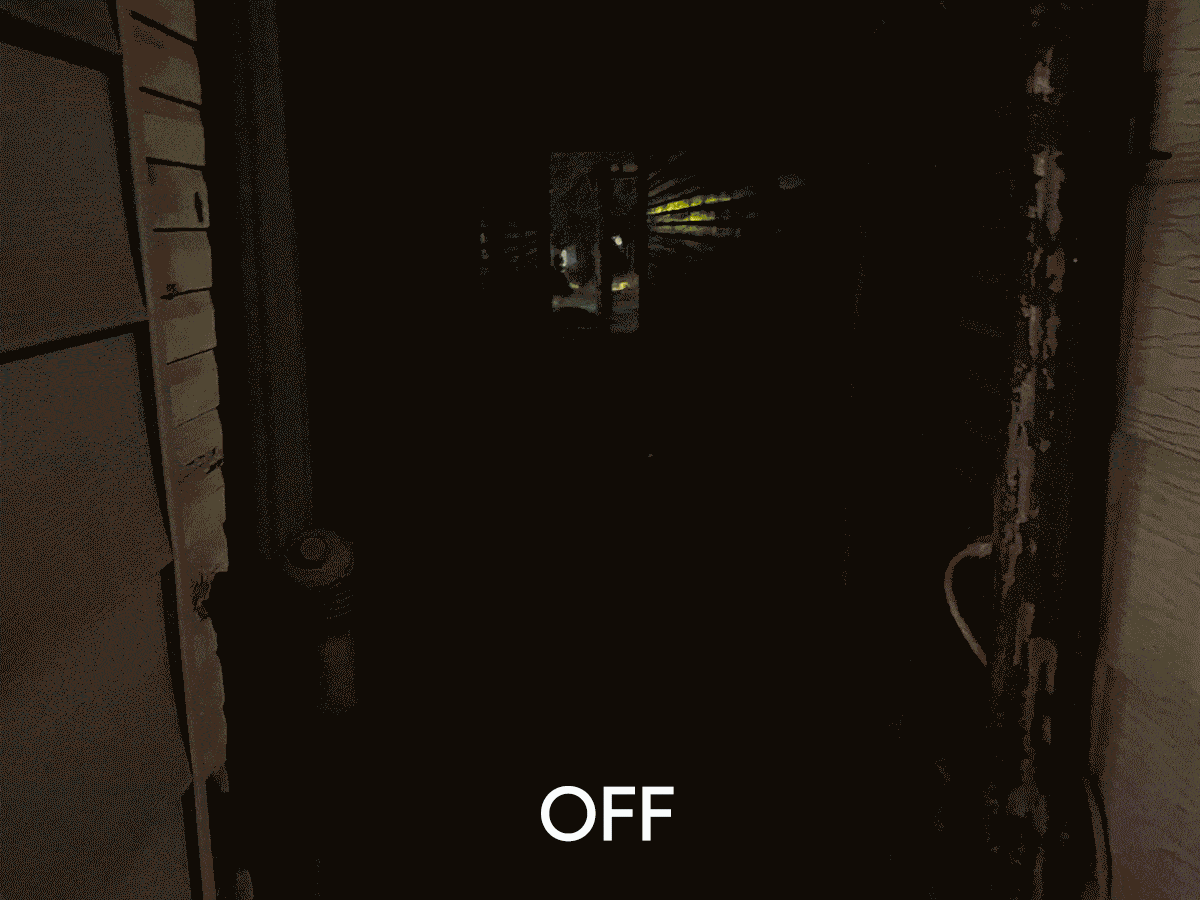 In high-power mode (not Turbo) the C2 throws about 1200 lumens of light, which is almost overkill for most normal situations. You'd probably only need something that bright if you were trying to spot something in a field or in the woods.
The large rubber button, which you can set to have an always-on illuminated "W" logo (love this), is easy to find in the dark. One click sets the light to the last brightness setting you were using. But by holding down the button for a couple seconds, the C2 powers on at the lowest setting. This is fantastic. I think it's a fairly standard feature, but being able to not temporarily blind yourself and others is very nice to have.
In fact, that click-and-hold became my default method of turning on the light. And in most cases, I only really needed the lowest setting (5 lumens, lasting 300 hours!), since I was trying to be discreet while on walks and in parking lots. It's wicked sus (as the kids say) to see some 1000+ lumen spotlight traveling up a length of cars.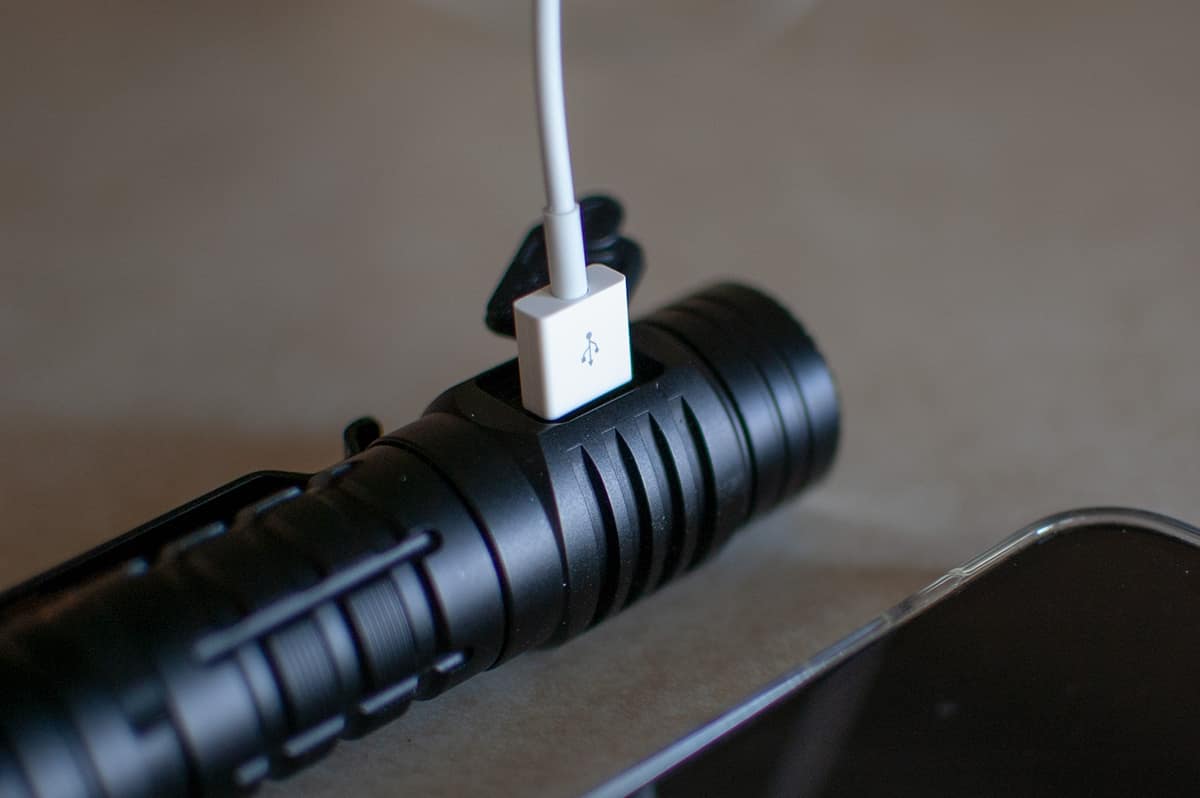 There are several "emergency" light features, such as a flashing strobe or "SOS" morse code mode, requiring 2 quick button presses. Three quick presses turns on and off the glowing "W" on the button, and four quick presses turns on the button lock, which is also nice to have when packing the light away.
Outside of the lighting features, the construction of the Wuben C2 flashlight is excellent. No rattles or loose parts. It has a lot of ridges and texture, and since it doesn't skimp on size, it feels good in the hand. It comes with a very large belt clip that's actually really difficult to remove, which is a good thing. I've had some tiny lights and the clip flies right off, which isn't super great when either the light or the clip skitters across the ground in the dark.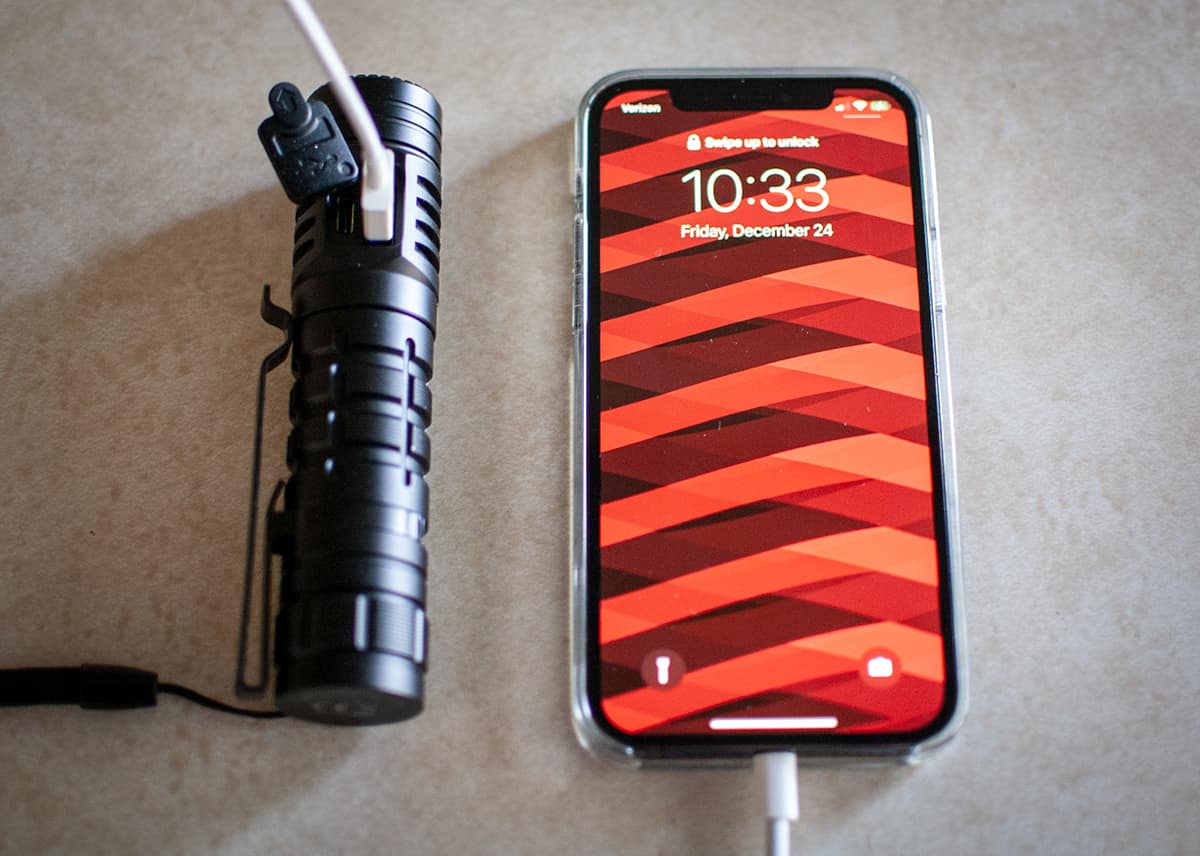 There are no magnets on the body. Some lights I've had have a magnet in the bottom so you can attach the light to a car hood or pole, but not so with the C2. This is fine, I tend to worry more about strong magnets being close to my watch or wallet.
The last feature, and somewhat unique, is the built-in USB-A port for charging external devices. The included 21700 battery provides 4800mAh of power, which could charge an iPhone 12 Pro about 1.7 times. It's just a nice feature to have when outlets aren't an option, out in the woods or during a power outage. And considering the power-sipping low setting is typically enough to adequately light your immediate surroundings, you can reserve quite a bit of the battery for charging your equipment. Extremely handy.
Unfortunately, other than a low power indicator, there's not really a way to check the battery level, so it's just good practice (for pretty much all your electronics) to keep the battery topped off.
What I like
Unique power bank function for charging phones, etc.
Simple operation
Sturdy, solid, feels good in the hand
What needs to be improved
A bit too large for pocket carry for me, but great in or strapped to a bag
Power level indicator would be nice to have
Final thoughts
The Wuben C2 Power Bank flashlight is extremely good at what it does, throwing massive amounts of light wherever you point it. This is one of the larger flashlights I've reviewed, and in many instances, it's great to have a nice, big torch in your hand with a nice, big battery inside. Having the C2 double as an emergency power bank extends its usefulness, and at a very attractive price. There's a lot to love about this EDC flashlight.
Price: $42.29
Where to buy: Wuben's website (Save 20% with coupon code: gadgeteer20 expires 3/31/22)
Source: The sample of this product was provided by Wuben.