We use affiliate links. If you buy something through the links on this page, we may earn a commission at no cost to you. Learn more.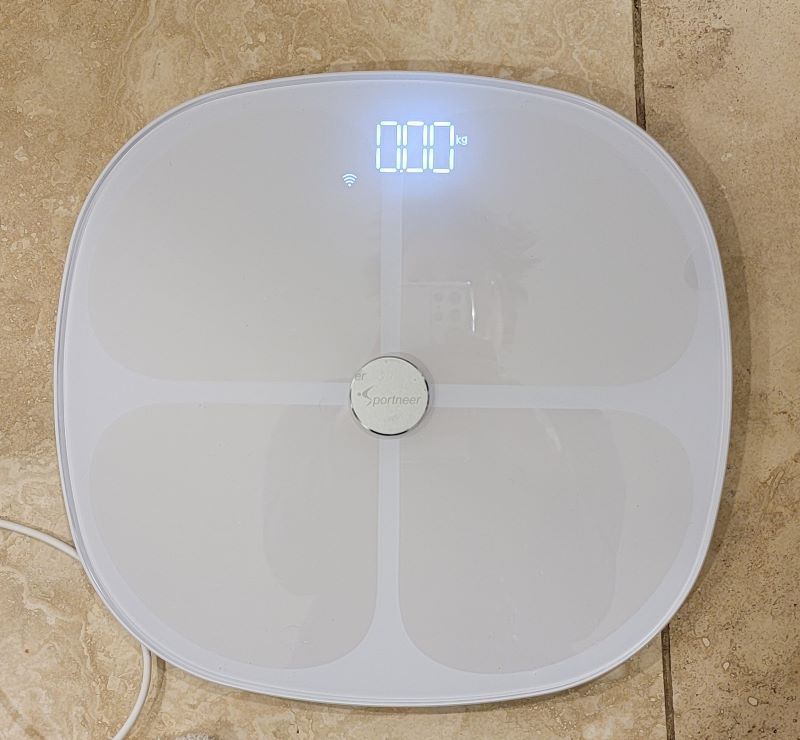 REVIEW – We just rang in 2022 and I think we all know what that means:  New Year resolutions to lose weight!  But what if I just made better choices during the holiday season?  Only a cold hard dose of reality could possibly make me do that, and it arrived on my doorstep one day in the form of the Sportneer Smart Scale.  This interesting piece of technology will probably give you more than you ever wanted to know about your body and its composition.
What is it?
The Sportneer Smart Scale uses bio-electrical impedance analysis along with eight sensors to generate detailed health reports.  It will measure water, protein levels, bone mass, body fat, skeletal muscle, muscle mass, weight,  BMI, BMR, metabolic age, subcutaneous fat, fat-free body weight, visceral fat, and lean body mass measurements.  Together with the app, it will store your profile and give you exercise recommendations from a video library based on your individual results.
What's in the box?
Sportneer Smart Scale
Measuring handle
Charging cable (USB-C)
User manual

Specifications:
Dimension: Scale 320 x 300 x 21mm
Handle 317 x 35 x23mm

Weight Range: 0.2-180kg (0.4lb-396lb)

Display Type: LED

Outputs(LED screen): Weight, Body Fat%, BMI, Muscle(Skeletal Muscle Mass)

Power Supply: 400mAh lithium battery lasts up to two months

Data Transmission: Wireless transfer

Testing Method: Direct segmental Multi-frequency BIA

Electrode Method: Tetrapolar 8-point Tactile Electrode 

Installation and features
The Sportneer Smart Scale is easy to set up.  I put mine on to charge while I downloaded and registered the app. When I was ready to face the consequences of Thanksgiving, I opened the app and put in my birthdate, height and other information they need to compute your BMI.  I stepped on the scale and held onto the handle — and it didn't work.  I got an error message.  I did that a few more times and then I did what everyone does – I looked at the directions.  I probably should have done that first, but hey, it's a scale … I figured how different could this be compared to every other scale I've ever been on?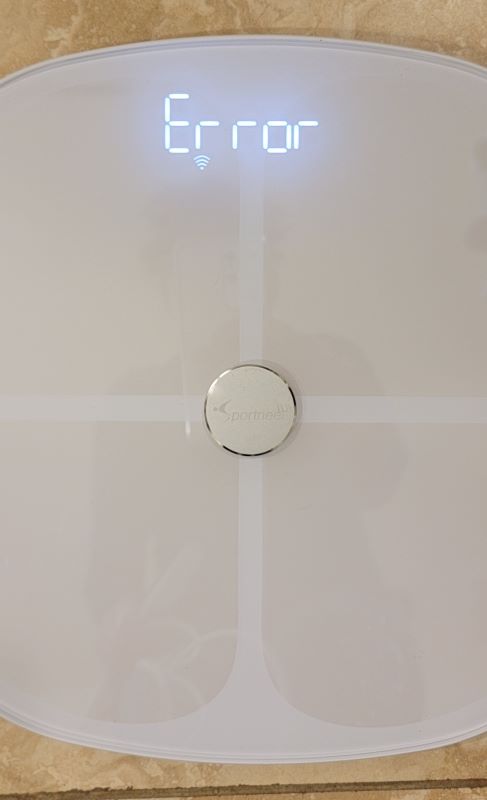 Well, it turns out that if you have a pacemaker or metal in your body, this scale might not work, and that's why I was getting an error message.  It makes sense because they send an undetectable small electric charge through you to get all of the data.  It would have been nice to know that before I ordered the scale, however.  I scanned the Sportneer website to make sure I didn't miss that tidbit of information, but I didn't find it.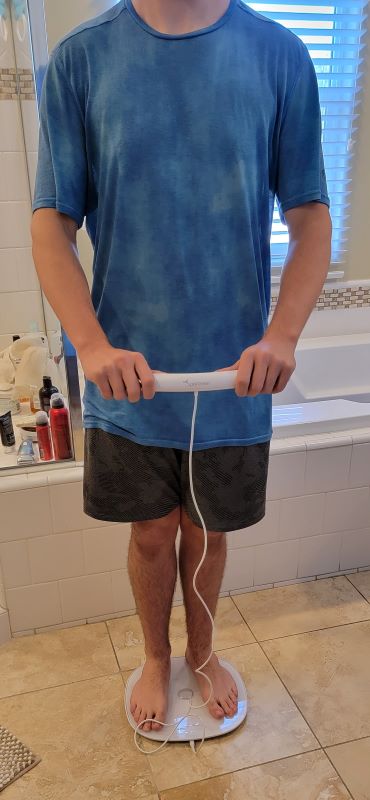 My son has neither a pacemaker nor metal in his body, so in the name of reviewing I coerced him into trying out the scale and it worked very well.  He wasn't thrilled with me posting pictures of him or sharing his information, but as long as I didn't use his face in the pictures, he agreed to help me out.  I was surprised at the results because he appears fairly fit, and I know he plays basketball daily, yet the data from the scale showed his BMI was a little high and his fat content was just over the standard. The data was very detailed and according to Sportneer has a less than 2% chance of error which is usually only found in professional health and fitness equipment.  Later, I realized I ballparked his height wrong and that probably affected the results.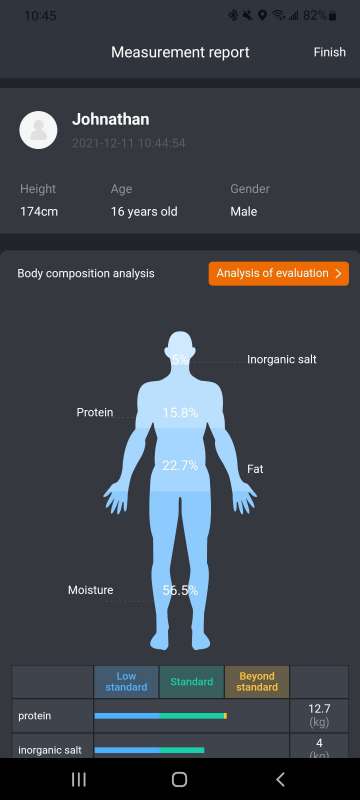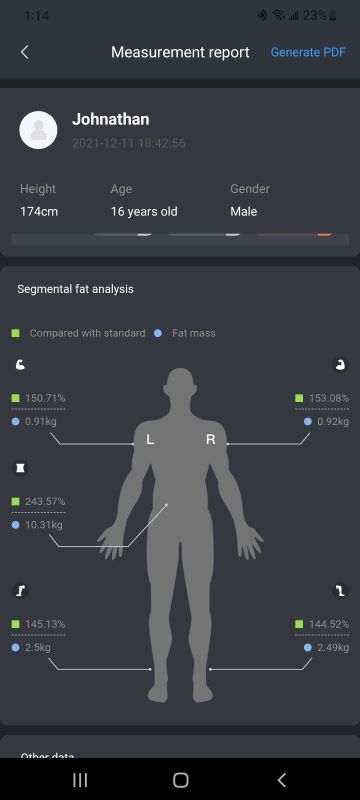 I've included a number of screenshots so that you can see the depth of information available through the app.  You can really go down a rabbit hole of analysis!  You can generate printable reports of all the data as well, which I think would be neat if you were using this in a health club setting.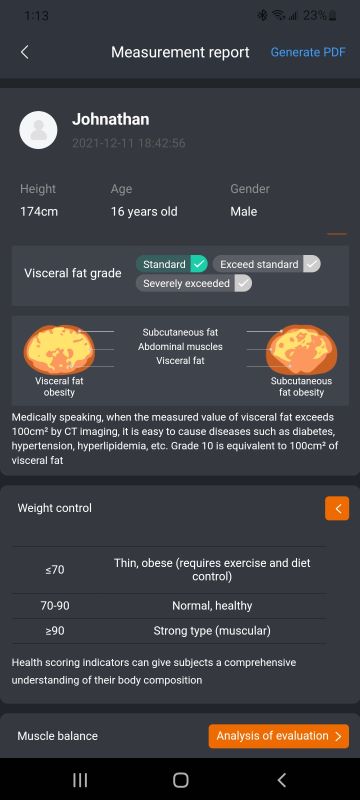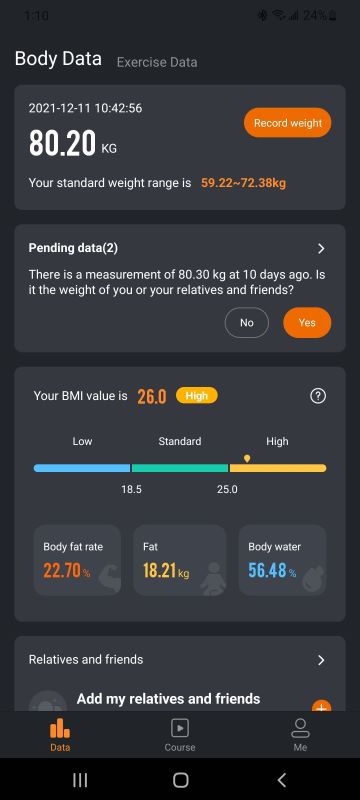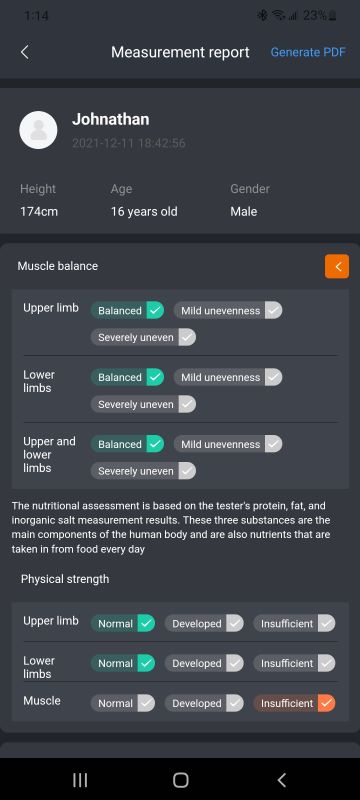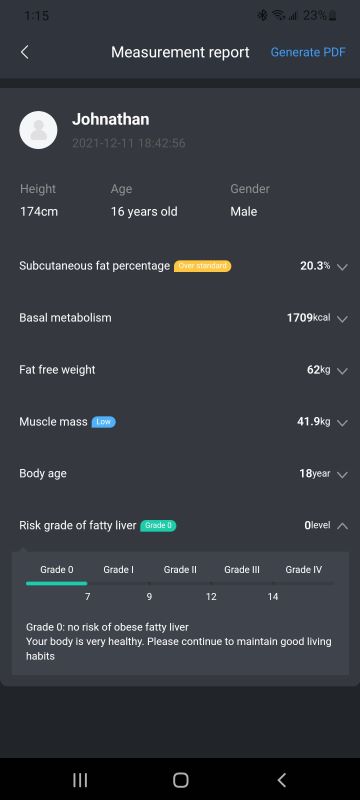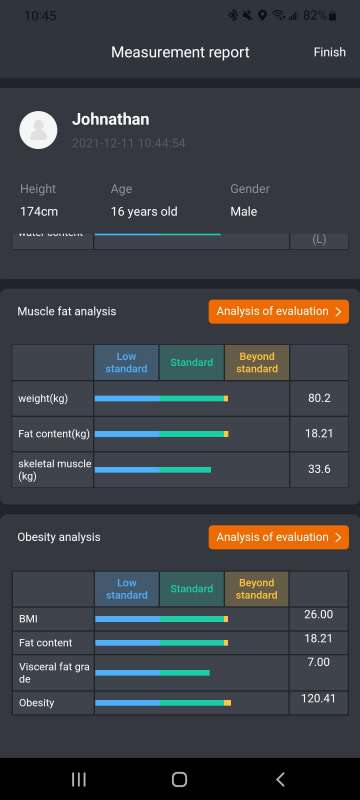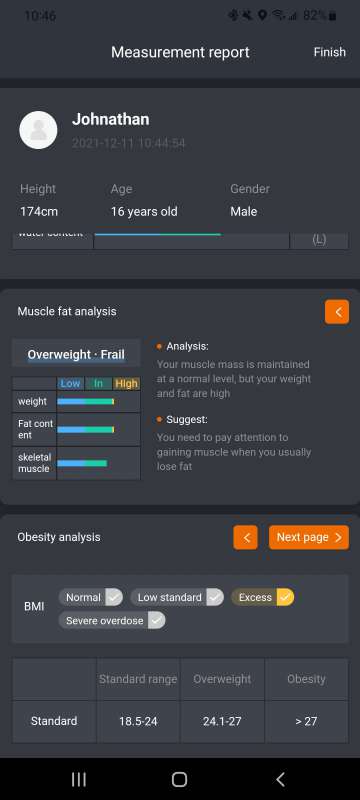 Also included with the scale is a video library of suggested exercises based on the data to help you where you need it.  The animated sequences show how to do the exercises and what muscles they are targeting.  It also tracks your data and logs your activities so that you can see what you've accomplished.   I thought the exercise suggestions were kind of a nice bonus.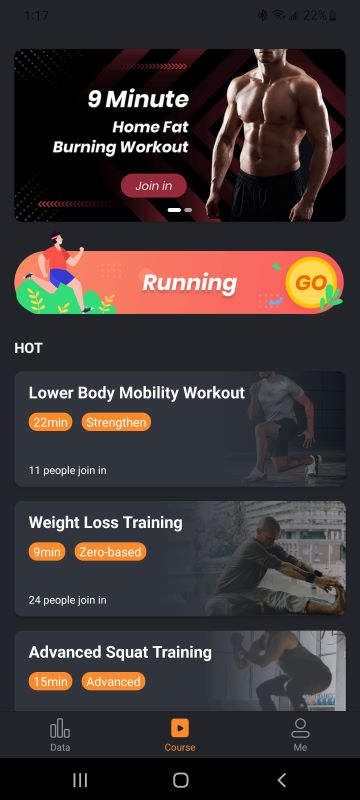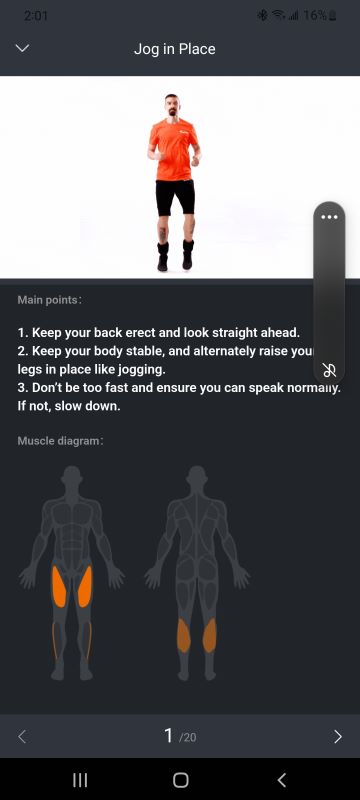 The app also allows you to add an unlimited number of profiles with the app so that you can track and manage many household members or even a whole fitness studio.  I think if I had more than one person in my household using this scale, I'd rather use a tablet or an old phone that wasn't being used anymore that could be dedicated for use with the scale.   That way, if another family member wanted to see their results, they wouldn't need to access my phone.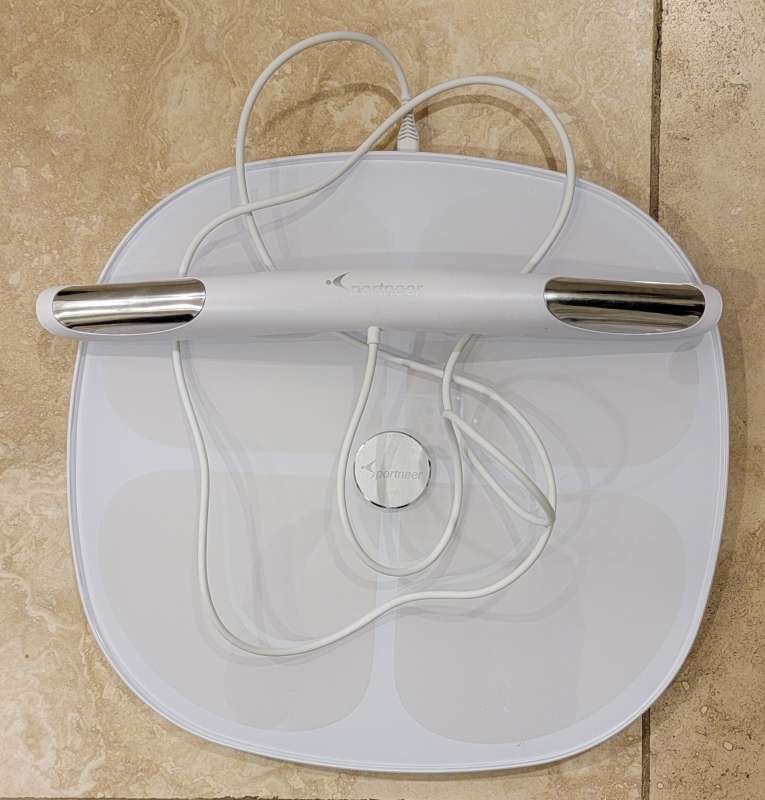 One thing that I think they could improve on is the handle and cord.  There is no way to store or make the handle and cord look better or disappear.  It looks pretty sloppy just sitting there on the scale, and I guess it could even be a tripping hazard.  If the cord and handle were somehow retractable or could store away somehow, I think that would be better.  The handle is only needed if you're doing the full data set, so you could leave it in a cabinet or drawer until you're ready to use it.  The scale without the handle will give you your total weight in kilograms by default (you can change measurement units in the app).
The Sportneer Smart Scale is rechargeable via USB-C and will last up to two months without a charge according to the website.
What I like
Breadth and depth of data.
Exercise suggestions.
What I'd change
Cord and handle need a place to live.
More clarity about who can and can't use this item at the point of purchase.
Final thoughts
The Sportneer Smart Scale is a pretty neat scale and I think the price point is reasonable for what it does.  I just wish I could use it!
Price: $69.99
Where to buy:  Sportneer and Amazon
Source: The sample for this review was provided by Sportneer