We use affiliate links. If you buy something through the links on this page, we may earn a commission at no cost to you. Learn more.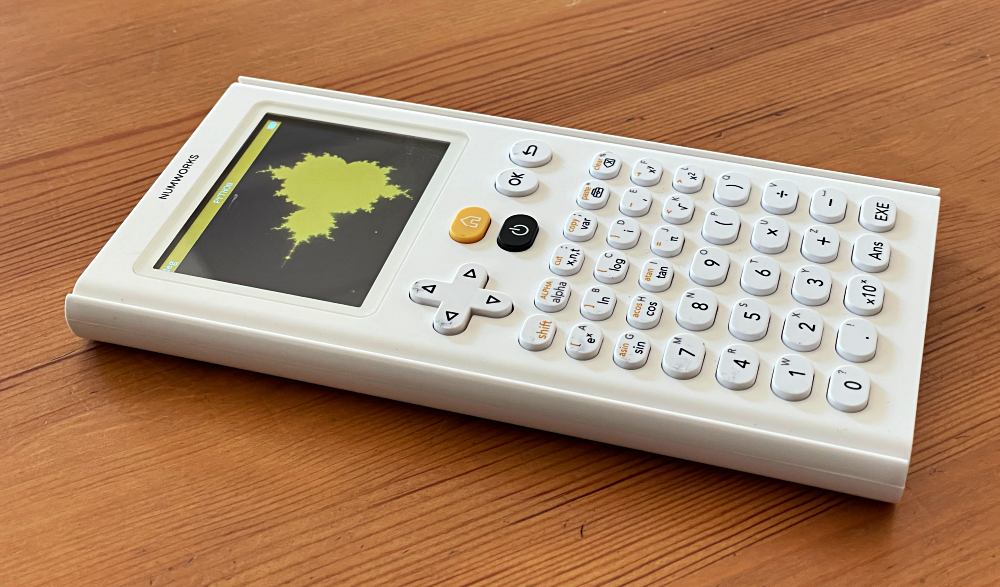 REVIEW – I've always thought graphing calculators just looked cool. I can also say I've never had to use one for anything other than normal calculator functions. My son on the other hand starting using one for Calculus in high school and has since pretty much had to use it daily. When this NumWorks Graphing Calculator came up for review I though it looked extra cool, and I knew just who could put it though it's paces.
What is it?
In case the NumWorks Graphing Calculator's name didn't give it away, it's a calculator with graphing functions, Python built-in and a very user-friendly navigation scheme.
What's in the box?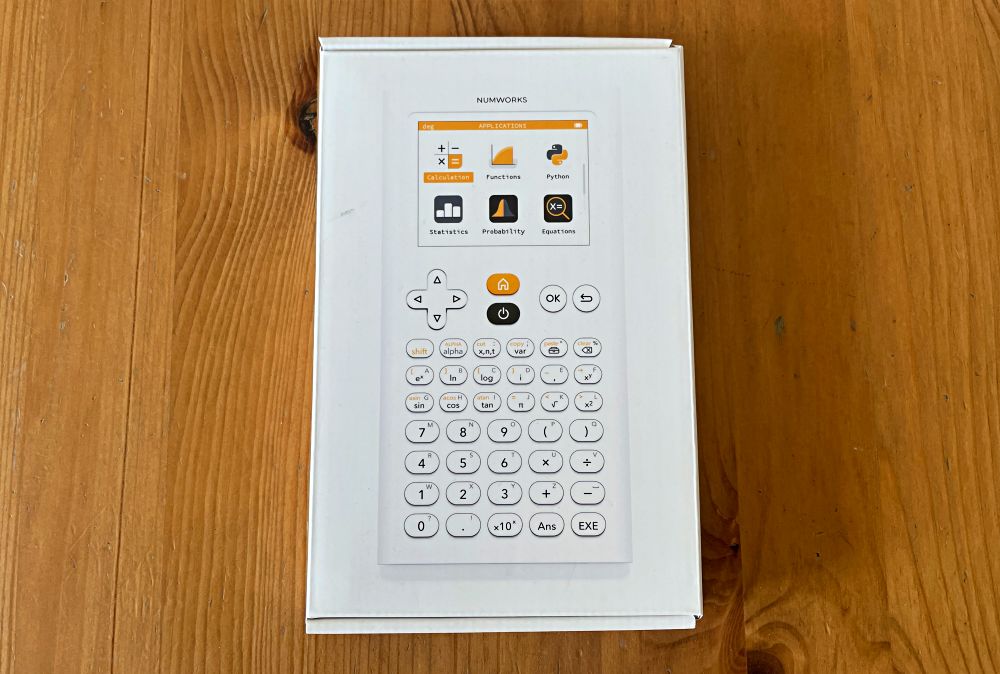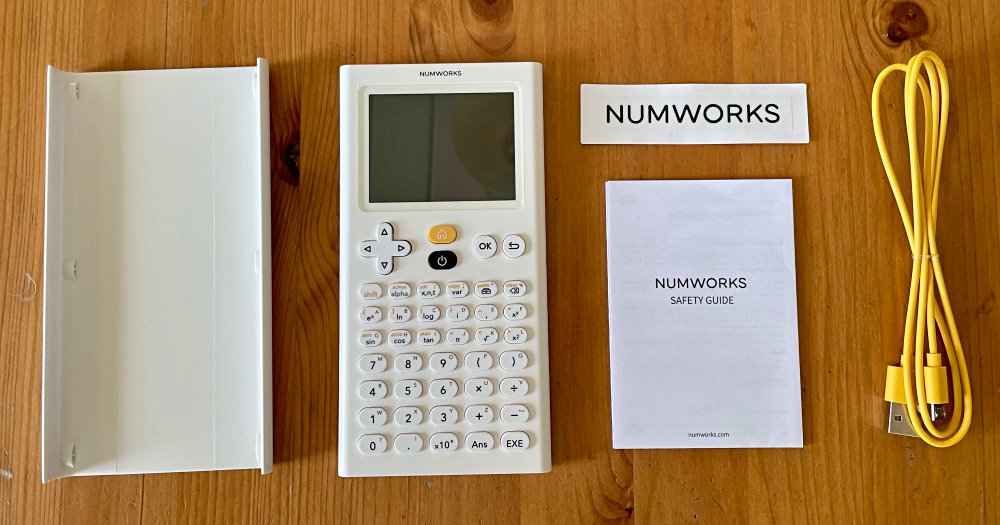 NumWorks Graphing Calculator
Protective cover
USB-A to Micro-USB charging cable
Safety guide
NumWorks sticker
Hardware specs
Dimensions: 6.3 x 3.2 x 0.4″ | 5.9oz
CPU: 216 MHz ARMv7 processor
Memory: 8mb flash ROM, 256kb static RAM
Screen: 2.8″ color IPS LCD, 320×240 pixels
Power: Rechargeable, 1450 mAh LiPo battery via Micro-USB connector
Runtime: ~20 hours actual use
Design and features
The NumWorks Graphing Calculator stands out right away in its all white appearance, color screen and yellow charging cable.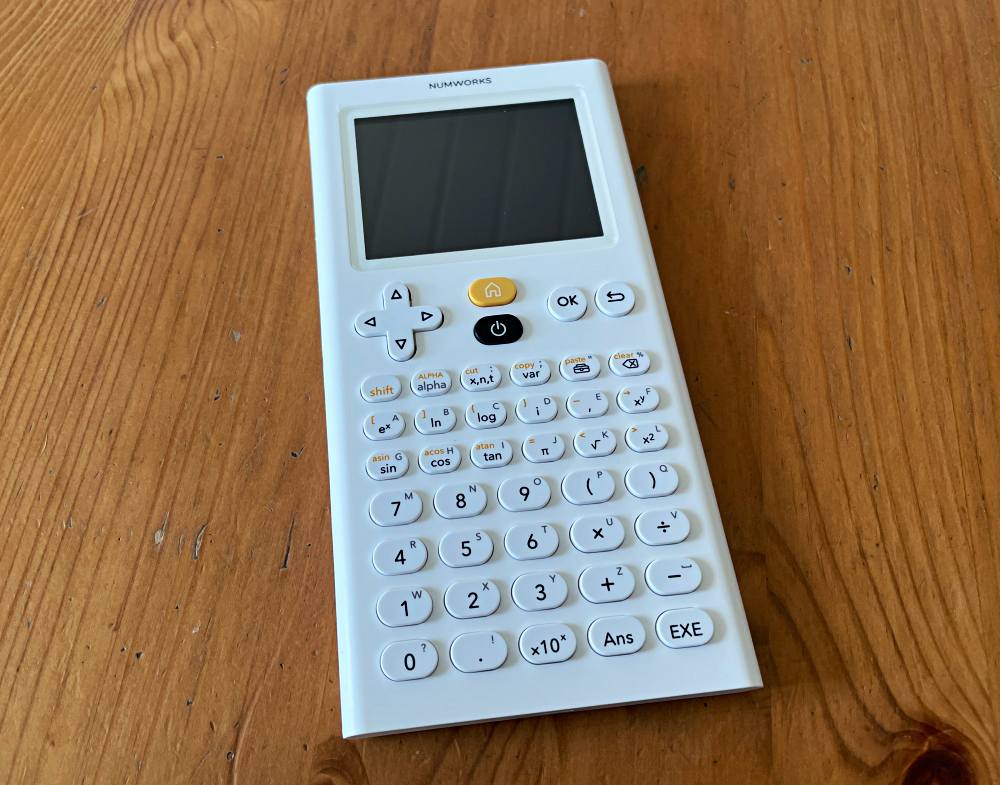 Their website has a full emulator/simulator which lets you use all functions in your browser before buying. You can even download the emulator if you want.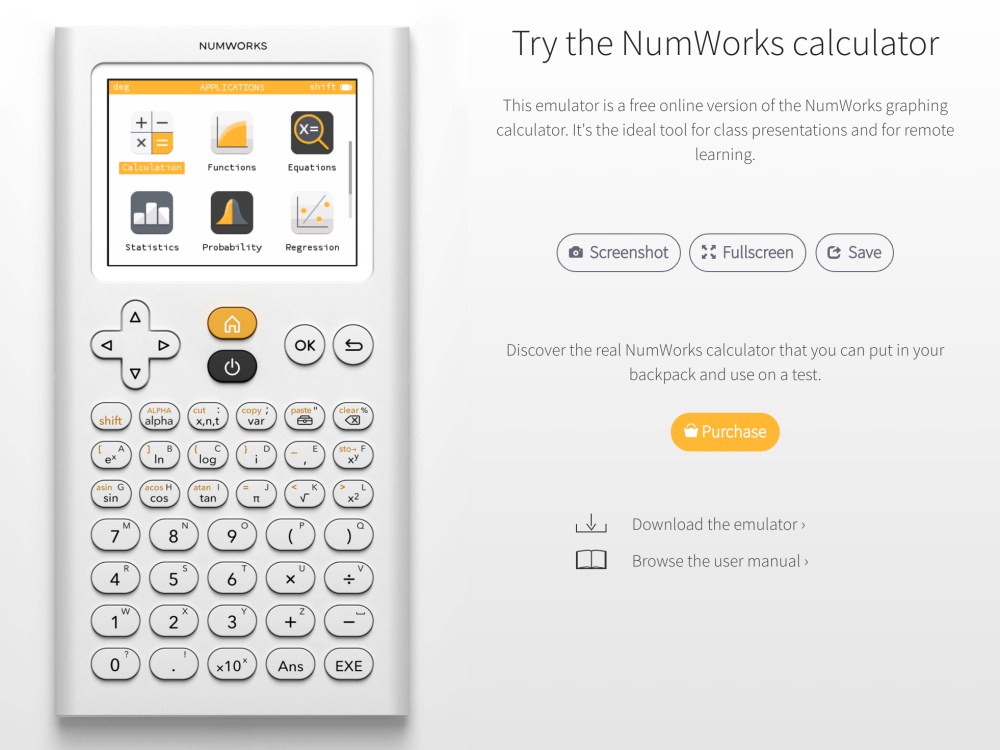 The cover protects the screen and slides or snaps onto the back when the calculator is in use.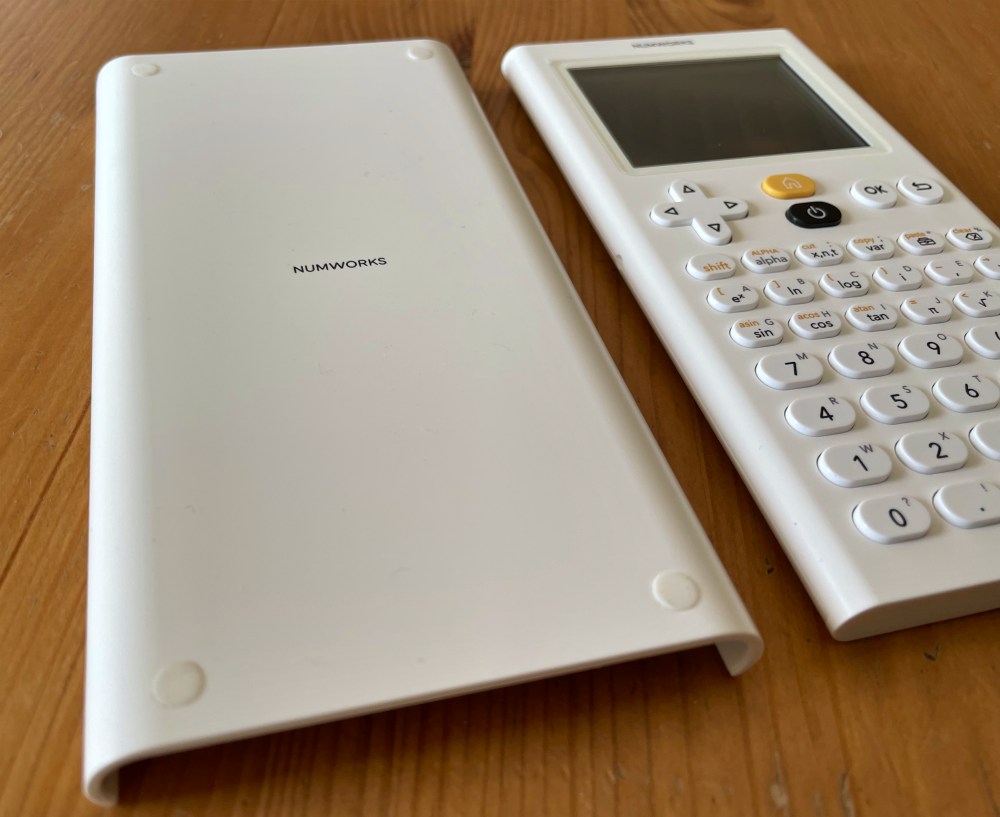 The rechargeable LiPo battery provides 20 hours of use and charges quickly with the included Yellow (RAD!) Micro-USB charging cable.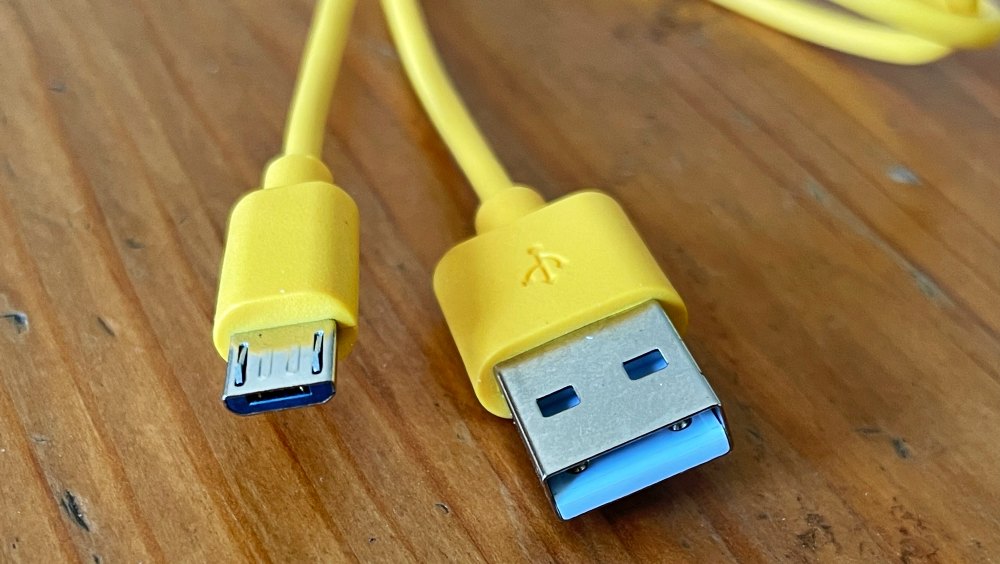 Setup
As with any rechargeable product, the first step is to plug it in and top-off the charge. Connect the Micro-USB connector to the port on the calculator, and the USB-A end into a power source.
The cover slides off in either direction, and then can be left off or snapped/slid onto the back during use.

After turning on, the calculator alerted me that there was an "UPDATE AVAILABLE" notice.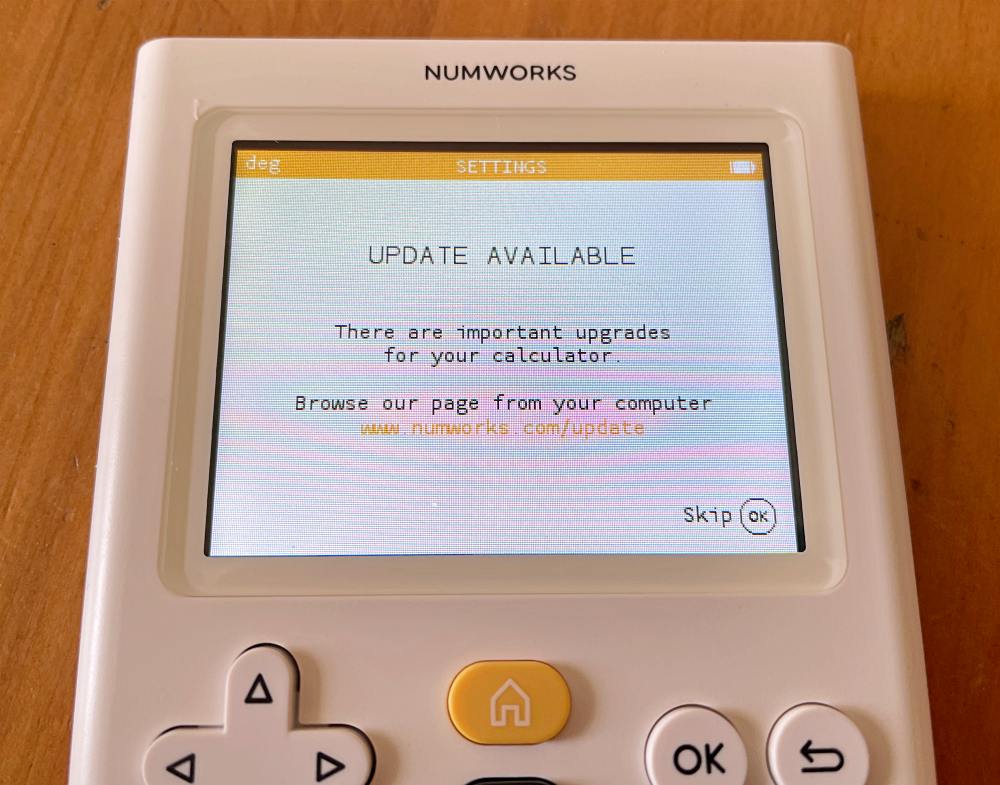 To do this you'll need to go to numworks.com/update and create a NumWorks account where you'll be able to connect your calculator to your computer and run the update using a WebUSB compatible browser like Google Chrome, Chromium or Edge. The update only took about 30 seconds after recognizing the calculator.
You are also able to skip this if you've got urgent calculations to do, but the updates are worth doing. There have actually been 24 updates since August of 2017 addressing bugs, refining features and general improvements. Here's a link to the version history. Very cool to see this level of detail.
Performance
Scientific and graphic calculators can be more than a little intimidating and that's one place the NumWorks really excels. When Satchel (my son) started Calculus, the recommended calculator was a TI-84 and the curriculum was designed around it to the point that if you had a different model it could be difficult to keep up. I bring this up for a couple reasons…
If you were taught on a TI, HP or something else, you may be really efficient at the functions you frequently use. That won't necessarily translate to the NumWorks. However, if you need to find an unfamiliar function, the reverse could be true. Satch was able to enter "i" for an imaginary number on the NumWorks easily, but on the TI he's familiar with it took almost 5 minutes to uncover how.
In a structured course environment (High school and up) it's possible a specific calculator may be required to streamline instruction.
It does however meet all requirements of the ACT calculator policy and is listed on the approved calculator lists for all College Board tests including the SAT, AP and PSAT.
Out of the box, the on screen menu and hierarchy just feels familiar, which helps in navigating to find functions easily via the arrow and OK keys. Satch found it super easy to just start using the NumWorks right away. The navigation is clear and literally helps you find the functions you're looking for. The color screen is easy to read and very vibrant. When I asked him to compare the NumWorks and his TI-84 Plus CE, or at least describe how they're different, he pulled up the settings screen for each. This contrast alone speaks volumes to me as it would put me squarely in the NumWorks camp.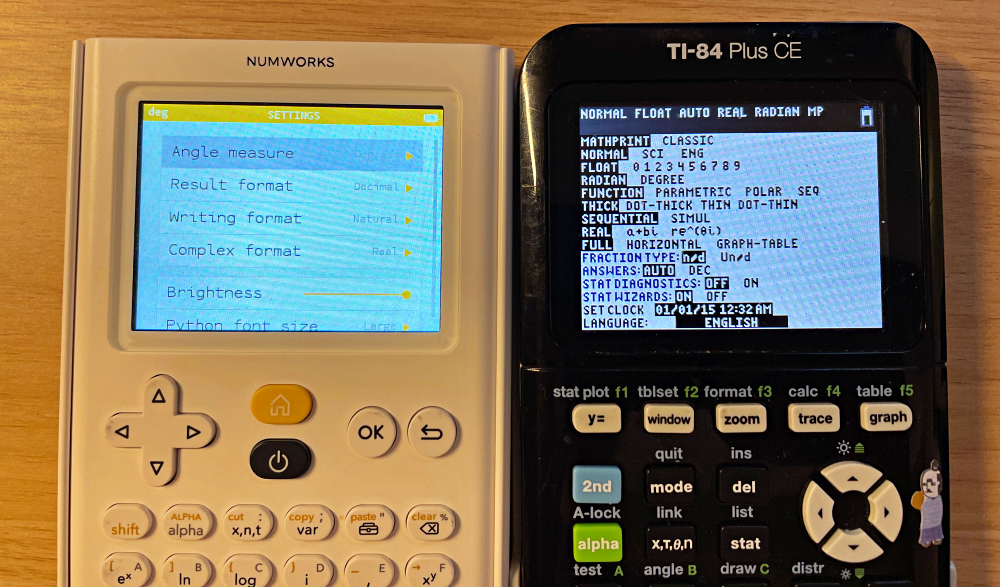 When he went to update the software, it asks to make an account and at some point asks for some additional information including school. He noticed that all the schools seemed to be elementary through high schools which kinda confirms the state of how entrenched the TI and similar solutions are in the higher education system. That's not to say that this calculator wouldn't be useful or even more powerful, just that anyone already using a TI is likely to continue using a TI.
As for running functions and actually graphing, here's a side by side video where Satch runs similar things on both the NumWorks and his TI-84. You'll see where the navigation definitely looks more friendly on the NumWorks, as well as that he clearly knows his way around the TI a bit more.
I haven't yet touched on the Python capabilities and that's mostly because it's not my thing. Satch explained that you can basically import scripts you've open sourced, or written yourself and load them onto the NumWorks through the USB cable. They load super quick and run the gamut from the Mandlebrot Set (fractals and infinitely increasing magnifications) to games like Pong and many more. This is a far cry from being able to plug in numbers that resemble words when you flip the calculator upside down.
What I like
This thing just looks cool
Home screen and navigation is intuitive and feels familiar
Built-in python is both neat and powerful
Great for entry-level into graphing and discovery
What I'd change
Would like to see the number buttons called out in a unique color block
If you're used to a specific calculator, you may still be faster on that
Final thoughts
The Numworks is a great alternative to the traditional calculator models from the classic brands. It excels for anyone starting out as its design and menu structure invites you to explore, removing the intimidation factor that some graphing calculators can present. It's great that their simulator lets you try all functions so you really can test drive it first. It may suit younger users best as class courses in higher education are often tailored specifically to the TI-84 series or other long-running brands. It's also a great entry to Python that could engage young minds (maybe even this old one).
Price: $99.99
Where to buy: Numworks and Amazon
Source: The sample of this product was provided by Numworks