We use affiliate links. If you buy something through the links on this page, we may earn a commission at no cost to you. Learn more.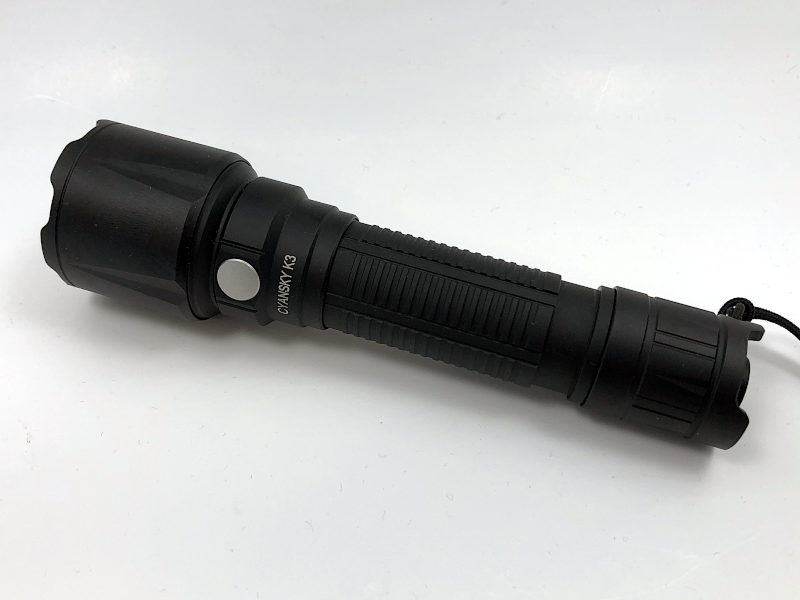 REVIEW – As I've mentioned before, I live in a neighborhood more rural than urban, where there aren't many streetlights.  I want a flashlight that's powerful enough to light up any part of my yard, should something unknown happen.  I had hoped that the UT90 Predator from IMALENT would be that light, but it died not long after I reviewed it.  I suspect that it was not really waterproof, despite its IPX8 rating.  I'm still looking for a good flashlight, and I think I've found it in the Cyansky K3 Flashlight.
What is it?
The Cyansky K3 is a tactical flashlight.  Despite its smaller size, it has a range of 650 yards–that's over six football fields long, one-third of a mile–and a brightness of 1600 lumens.
What's in the box?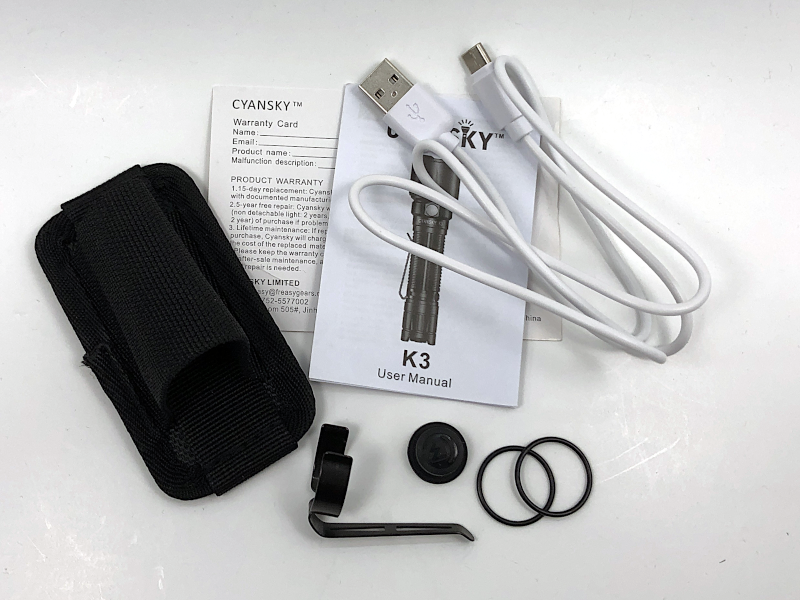 Cyansky K3 Flashlight and battery
Charging cable (USB-A to USB-C)
Belt clip
Holster
Wrist strap
Two spare o-rings
One spare tail cap
User manual
Warranty card
Hardware specs
Light source: Luminus SFT-40-W LED
Brightness: 1600 lumens
Range: 650 yards
Battery: 5000mAh 21700 Li-ion
Switches: Side and tail
Charger: via USB-C
Dimensions: 6 inches long, 1.5 inches wide at the head and 1 at the tail
Weight: 7.3 ounces
Material: Aluminum alloy body
IP Rating: IP-68
Impact: 2 meters impact resistant
Runtime: From 2 hours on the highest setting to 100 hours on the lowest
Design and features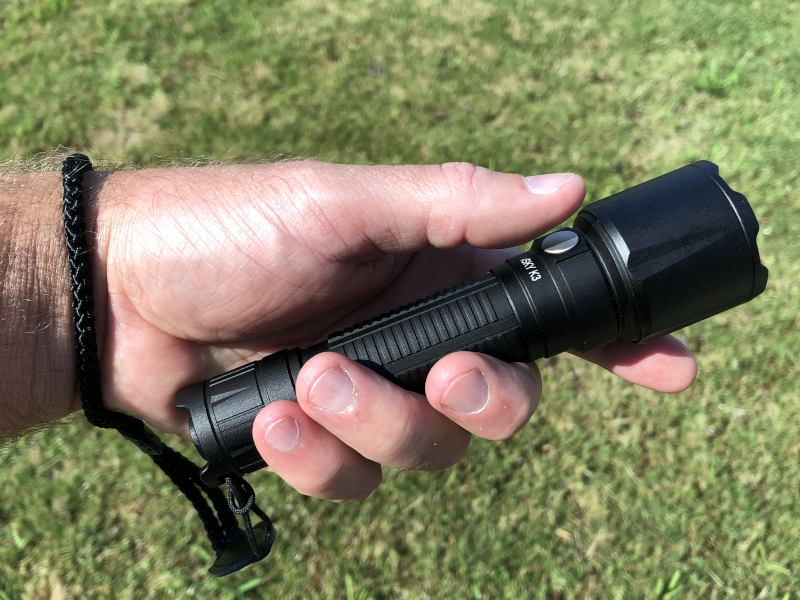 The Cyansky K3 Flashlight is a solid, perhaps even dense, flashlight.  The entire body is colored black and has a hard-anodized, anti-abrasive finish.  It feels like it will last a long time.  At only six inches long, it fits easily into my hand, and the controls are easy to use one-handed.  It has a lot of ridges and hard angles, making it look more like an outdoor flashlight than an around-the-house flashlight.  I love the way this flashlight looks and feels.
Installation and setup
The manual is small and the font is even smaller.  While it has seven pages of information about the flashlight itself and how to operate it, there are zero pages on how to setup the flashlight or maintain it.  The manual feels unfinished, and this is a glaring omission that Cyansky should fix ASAP.  The good news is that these things can be figured out with a bit of trial-and-error.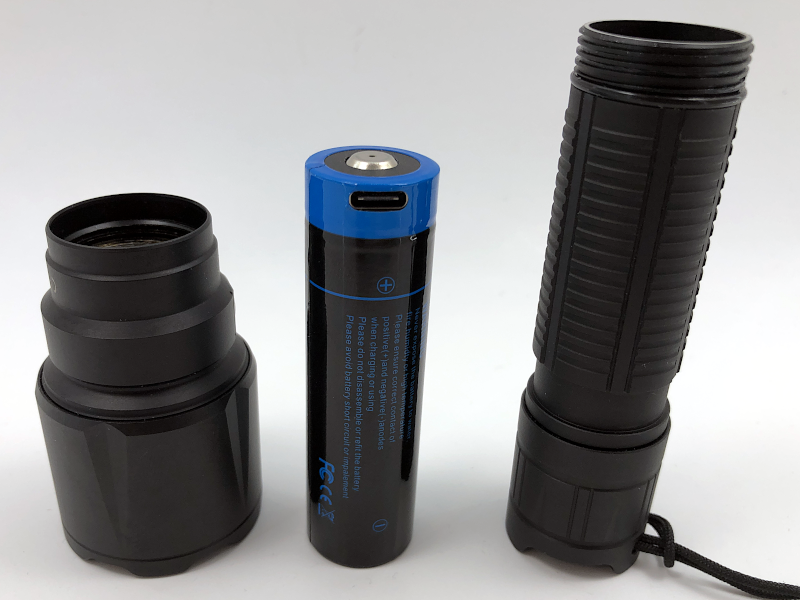 The first thing I did was unscrew the Cyansky K3 Flashlight head and the tail of the light and popped the battery out.  As I suspected, there was a small piece of plastic on one end of the battery–it's designed to prevent discharge during transit–which I removed.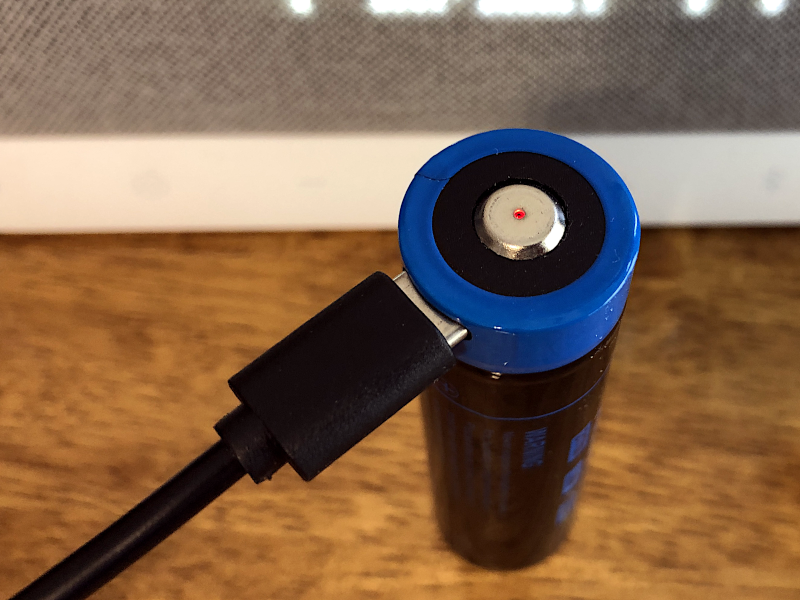 The second thing that I did was plug the USB-A end of the included cable into my Soundcore Wakey and the USB-C end into the battery.  It felt really weird to be plugging a cable directly into a battery, but it seemed to charge just fine.  There's a very small LED on the top.  When I first plugged it in, it was red; when it finished charging, it turned green.  I put everything back together.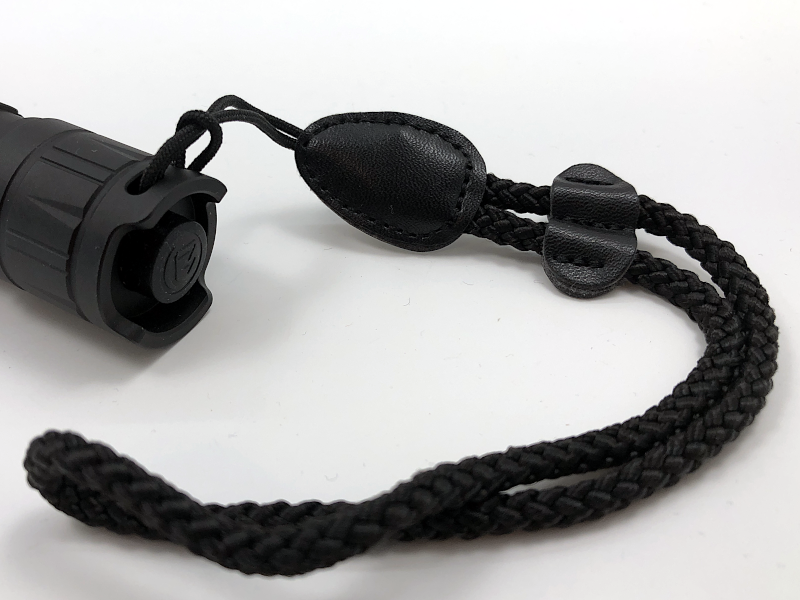 The third thing I did was remove the belt clip, as I don't expect to use this.  It was on pretty tight, and I had to use a screwdriver to pop it off.  I then attached the wrist strap instead.  The holes on the base are very small, so it was a lot like threading a needle.  Once secured, however, it won't go anywhere.
The Cyansky K3 Flashlight was now ready to rock!
Performance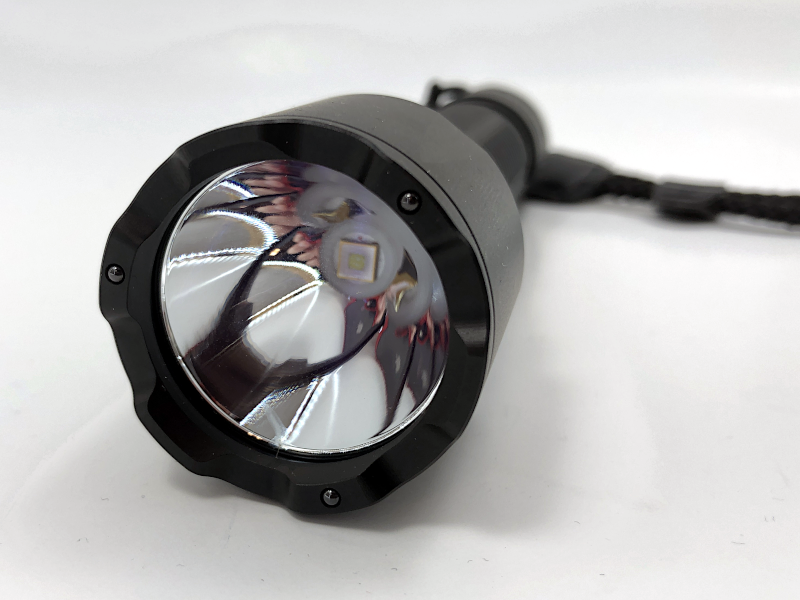 Cyansky's website and manual say that the light on the K3 is Luminus' SFT-40-W LED.  Unfortunately, I can't find this LED anywhere; Luminus doesn't appear to make this product.  There is, however, the similarly named SST-40-W, so maybe there's just a typo?  If so, this is a "high brightness cool white LED."  One distributor described it as an LED for "maximum output…without concern for overall efficiency or heat."
Whatever LED is in this Cyansky K3 Flashlight, I can say this for sure:  It's bright!  I live on a lot that's just over a half-acre, and it can easily light up any part of my yard.  I think it has an effective range of somewhere between 200 and 300 yards.  This is exactly what I need while living in this neighborhood.  If you buy this flashlight, just don't shine it into your eyes.
One night I went outside and took a series of pictures in my backyard.  The first was on low: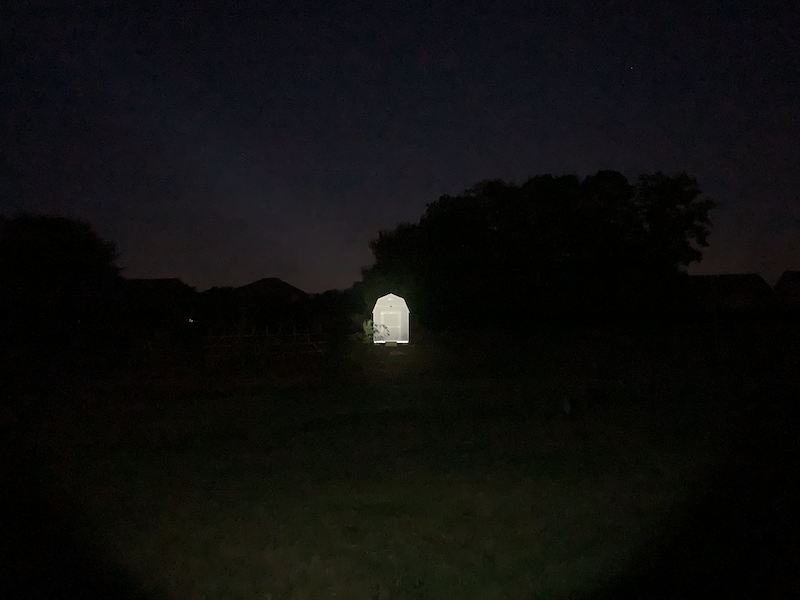 The second was on medium: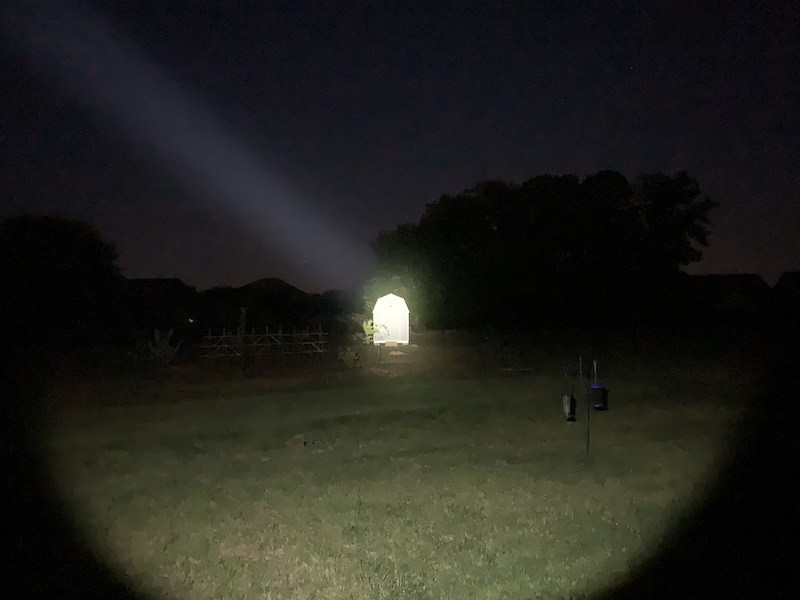 The third was on high: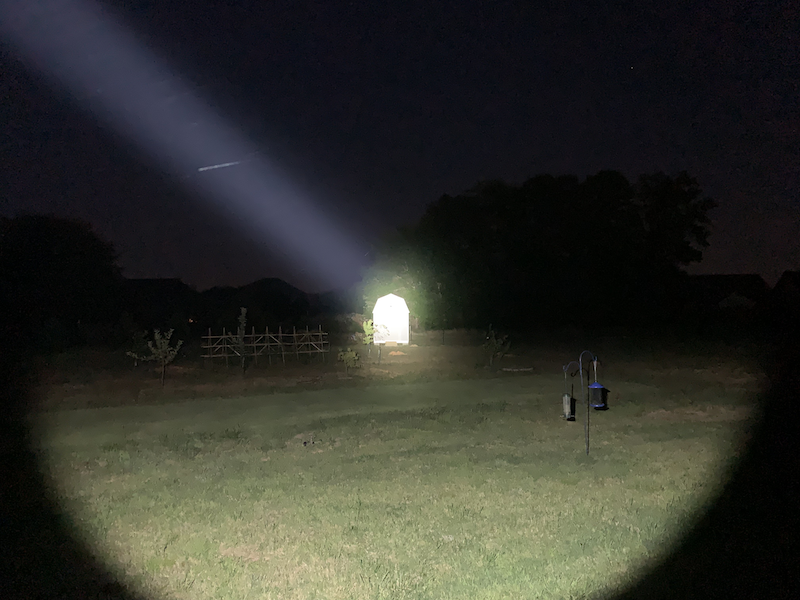 The fourth was on turbo: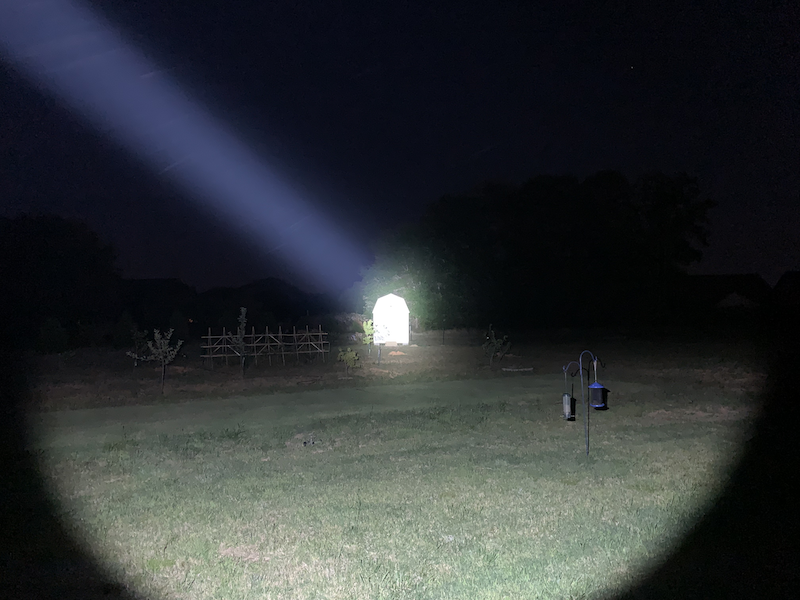 Unlike the Predator, which had a crazy mix of double-, triple-, and quad-clicking controls, the controls for the K3 couldn't be simpler.  The tail switch turns it on and off, while the side switch rotates the LED between low, medium, high, and turbo.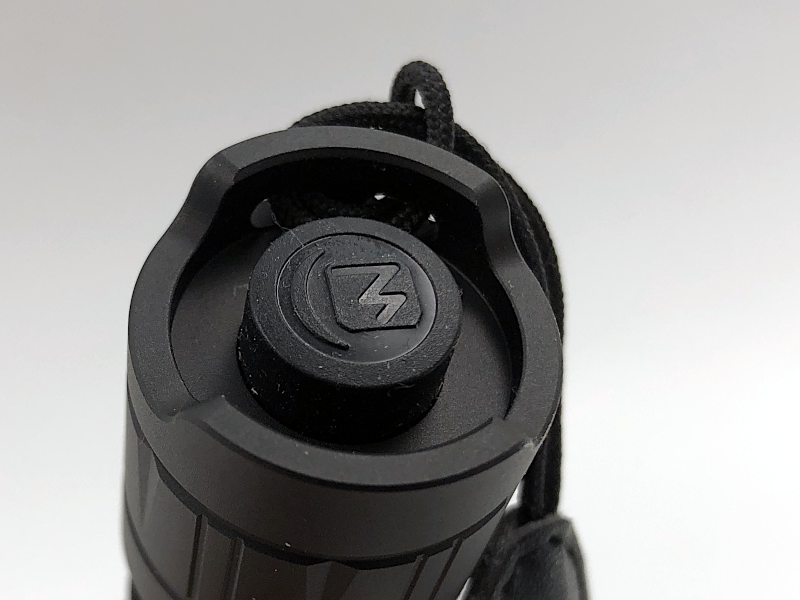 The Cyansky K3 Flashlight tail switch can also be pressed down part way to turn on the light, and releasing it will turn it back off.  This is useful when I want to quickly turn the light on and then off again.  If the side switch is pressed and held for one second, the LED goes into strobe mode.  I can't see myself needing this, but I suppose it could be useful if I needed to signal someone else.  Maybe we are searching for a lost dog in the woods, and the strobe tells everyone else that I found it.  In any case, I love this simple turn-on-and-set-brightness design.  It's uncomplicated, which frees me up from thinking about my flashlight and allows me to concentrate on trying to see whatever I'm looking for.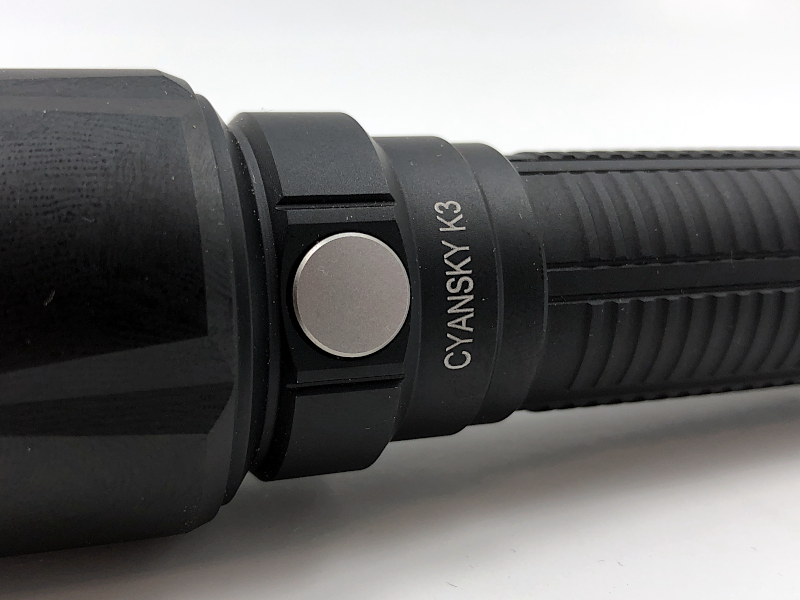 The Cyansky K3 Flashlight is powered by a 21700 rechargeable, lithium ion battery.  These are considered compact batteries with a good overall energy capacity.  According to the manual:
Turbo is 1600 lumens and runs for 2 hours.
High is 800 lumens and runs for 3 hours.
Medium is 200 lumens and runs for 12 hours.
Low is 30 lumens and runs for 1000 hours.
Low is perfectly sufficient for inside my house.  Maybe I get up in the night and want to make sure that I've locked all my doors, and I need a bit of light that won't wake up the entire family.  Medium is good for normal outside activities; perhaps I need to get something out of my shed after dark.  High and turbo are reserved for unknown situations where I really need a lot of extra light, and I'm not worried about how long my battery will last.  I had a situation like this recently.  While we were out of town for the day, our neighbors called and said they had seen a large black snake near our front porch.  When we got home, which was after sundown, I got out my K3, set it to turbo, and searched all around my porch and yard as well as under the deck and shed to see if I could find any sign of him; thankfully, I did not.
I ran a test to see how long the battery lasts on the K3.  When on turbo, I found that ran at full strength for over two hours; after that it began to attenuate, but it still ran for more than three more hours.  Cyansky's specs are conservative, which is way better than being too optimistic.
The Cyansky K3 Flashlight has an IP68 rating.  The #6 is the highest level of protection against solids; no dust, dirt, sand, pollen, or anything should get inside the K3 when it's closed tight.  The #8 is the highest level of protection against liquids.  The K3 is completely waterproof and should function as normal when submerged underwater.  This flashlight is also impact resistant for up to six feet.  These claims, of course, must be tested, and that's exactly what I did in this 1080p video:
After I finished the tests in the video, I took the K3 inside, washed it up in the sink, and then let it air dry.  I later opened it up and found no sign of water or dirt inside.  I am optimistic at this point that Cyansky's flashlight will last longer than IMALENT's.
Extra Features
The K3 is a tactical flashlight, which means not only is it strong and durable, the bezel has a set of crenellations, each of which has a small, embedded, round piece of zirconium.  This is intended to be used in close combat situations, perhaps if I needed to strike an intruder, or in an emergency where I need to break the window on a car.  (Hopefully I never need to do either of these.)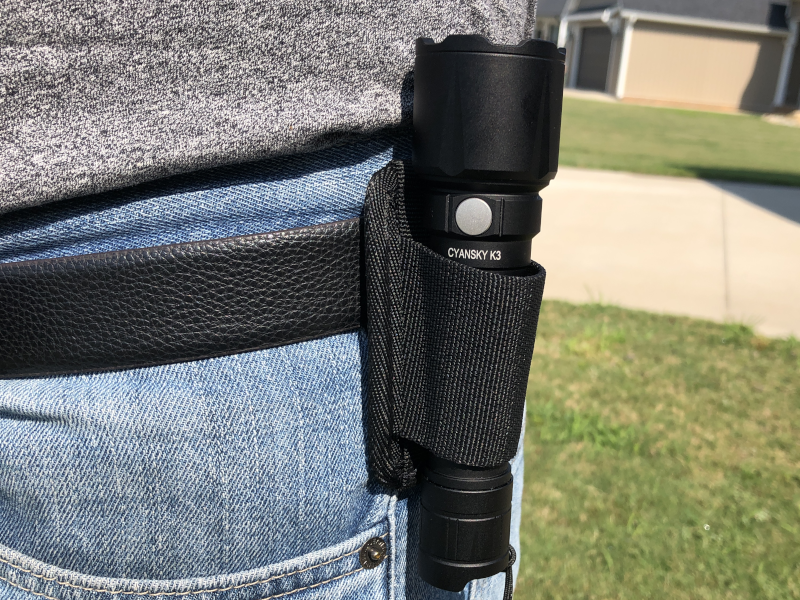 The Cyansky K3 Flashlight comes with a simple belt holster made of nylon.  If I were hiking or biking and wanted to keep the flashlight easily accessible, then this could be handy.
One final extra feature is that the K3 has a set of notches cut into the side of the head.  I keep this flashlight on the nightstand next to my bed, and these prevent it from rolling off the edge.  I appreciate the little details.
What I like
Compact, easy to use with one hand design
Simple set of controls
Rugged, durable body
Bright enough to light up any part of my yard
What I'd change
Finish writing the manual, especially setup and maintenance instructions.
Final thoughts
The K3 tactical flashlight from Cyansky is a solid, well-built flashlight that works equally well inside my house or outdoors in uncertain situations.  It's easy-to-use and easy-to-hold, yet it's amazingly bright.  It's waterproof, dustproof, and impact-resistant.  This is exactly the EDC flashlight that I've been looking for!  If you need a small yet bright tactical flashlight, I commend the K3 to you.
Price:  $84.95
Where to buy:  Cyansky
Source: The sample for this review was provided by Cyansky.