We use affiliate links. If you buy something through the links on this page, we may earn a commission at no cost to you. Learn more.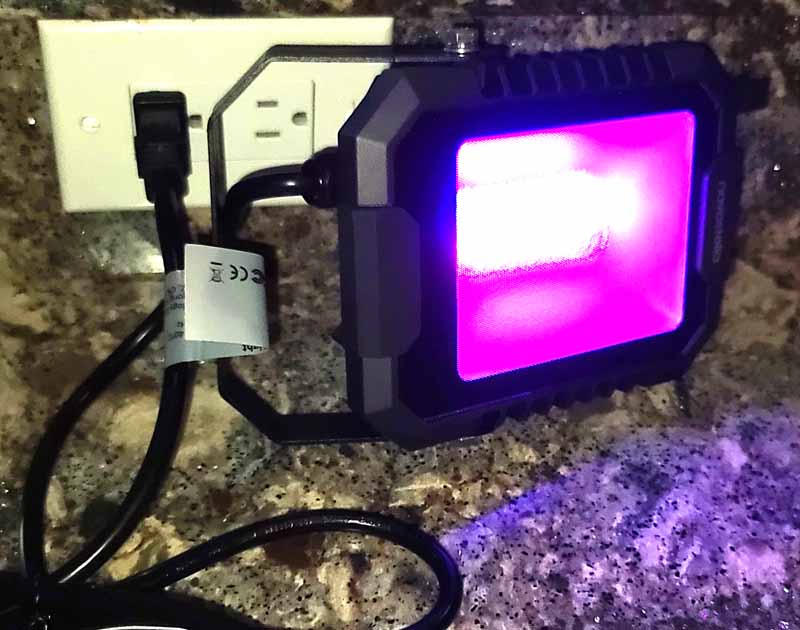 REVIEW – Lighting can really set off a house.  Nice exterior lighting washing up or down a wall or highlighting a landscaping feature adds that wow factor.  One of the problems is that if you want to control multiple lights as a group, they typically have to be connected together.  This can create a wiring nightmare, especially when you want to space out the lights.  Novostella BLink smart floodlight solves at least part of the wiring issues.  How did they do that?  Read on.
What is it?
The Novostella BLink smart floodlight is a 25-Watt floodlight that uses Bluetooth to create a mesh network between all the lights.  By doing this, the lights do not have to be connected to each other, reducing the wiring requirements to just a power cord and outlet. And, let me address this – "BLink" is not a typo.  These lights link together via Bluetooth – Bluetooth Linking – BLink.
What's in the box?
The lights are available in kits of two or four Novostella BLink smart floodlights.  I was sent the four-light set.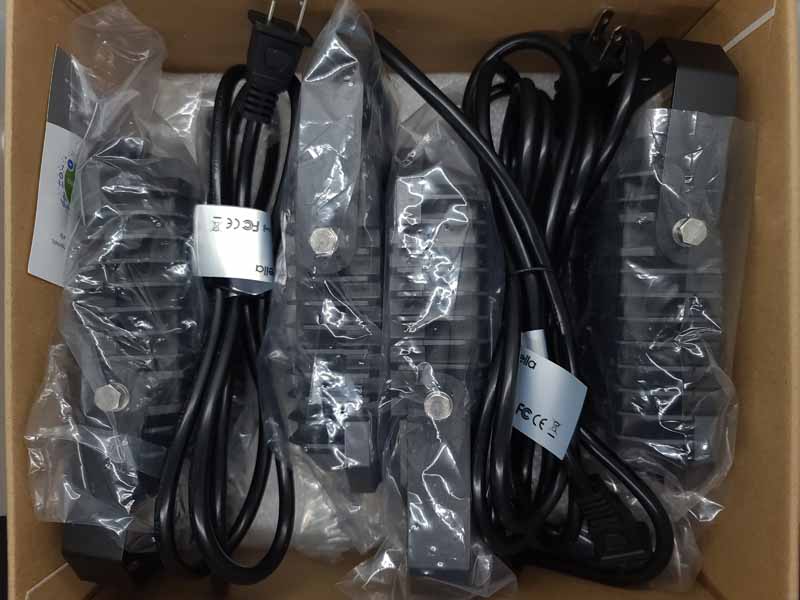 The box contained the four lights – that's it.  Well, almost.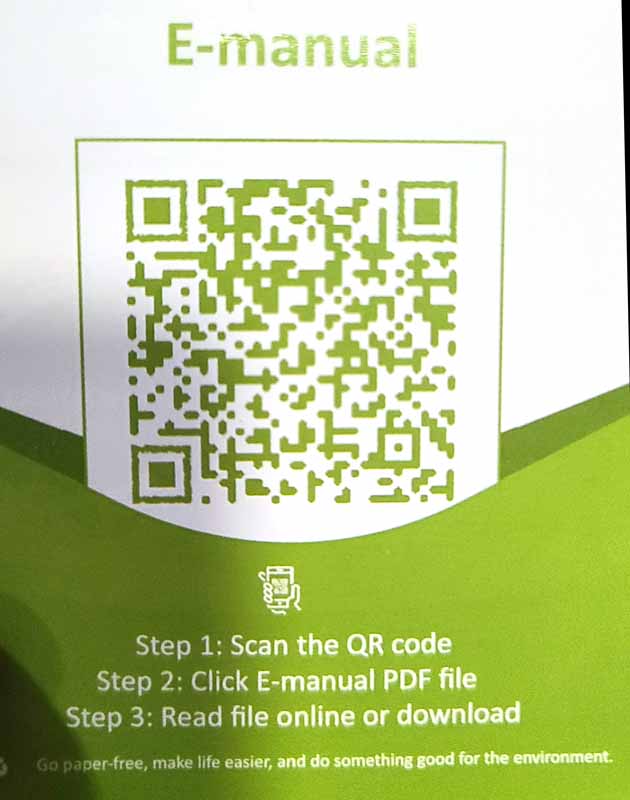 They also include a card with a QR-code that provides a link to the PDF user manual.  This is actually a nice touch as they don't need to waste paper printing manuals that many of us never use.  I typically download manuals so I always know where they are.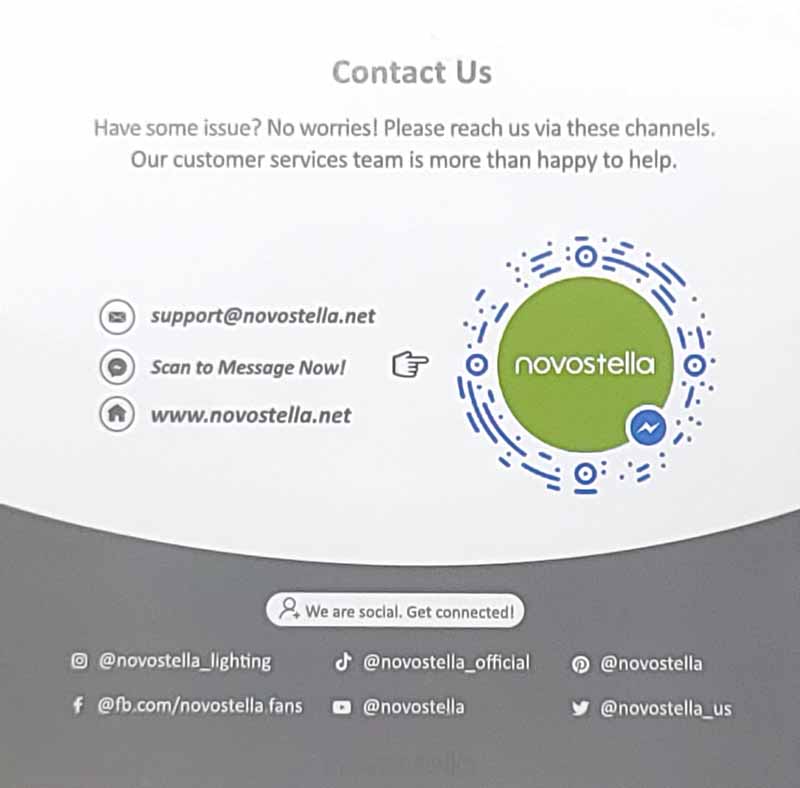 The back of the card had all the requisite social media links and support info.
They also sent me their new smart hub.  This allows you to connect your lights to your home network via the hub.  It also gives you control of your lights through Alexa.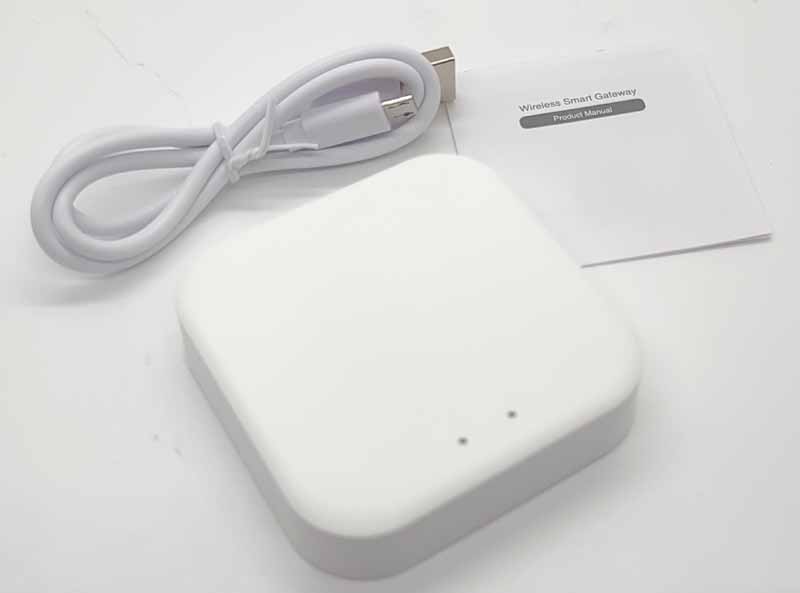 That actually did come with a manual and a USB-A to micro-USB charging cable.  You have to supply your own…supply.
Hardware specs
Lights

Dimensions: 5.9″w x 9.8″h x 1.8″d
Weight: 1.1lb
Power: 25W
Color: Dimmable 16 million RGB colors (US version plus 2700K~6500K White light)
Group control: Yes
Timing function: Yes
Memory function: Yes
Color change sync to music: Yes
Networking: Bluetooth mesh, up to an 85-foot range
Waterproof rating: IP66 (protected against heavy seas or powerful jets of water)
Cable length: 5ft / 1.5m
Working voltage: US – AC100-120V / UK & EU – AC220-240V
Working temperature: -25~40℃ / -13-104F

Hub

Dimensions: About 2″ square and 1.3″ high
Power: Micro-USB (power supply not included)
Assistant compatibility: Alexa, Google
Device control: up to 128 devices
Connectivity: 2.4GHz wifi only
Design and features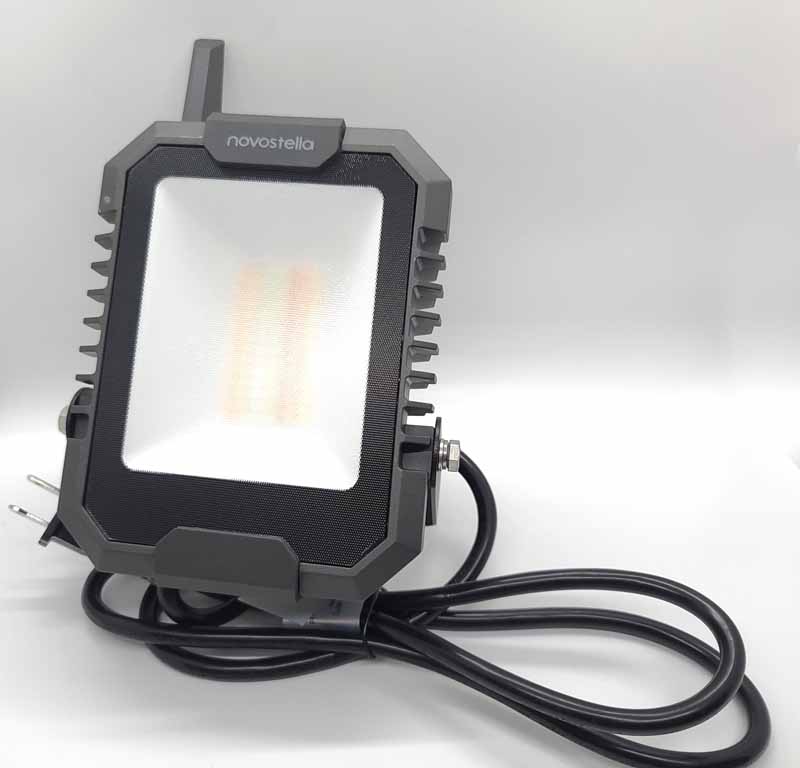 The Novostella BLink smart floodlights feel quite solid.  You can see the reinforced metal and plastic exterior with integrated heat-dissipating fins along the sides.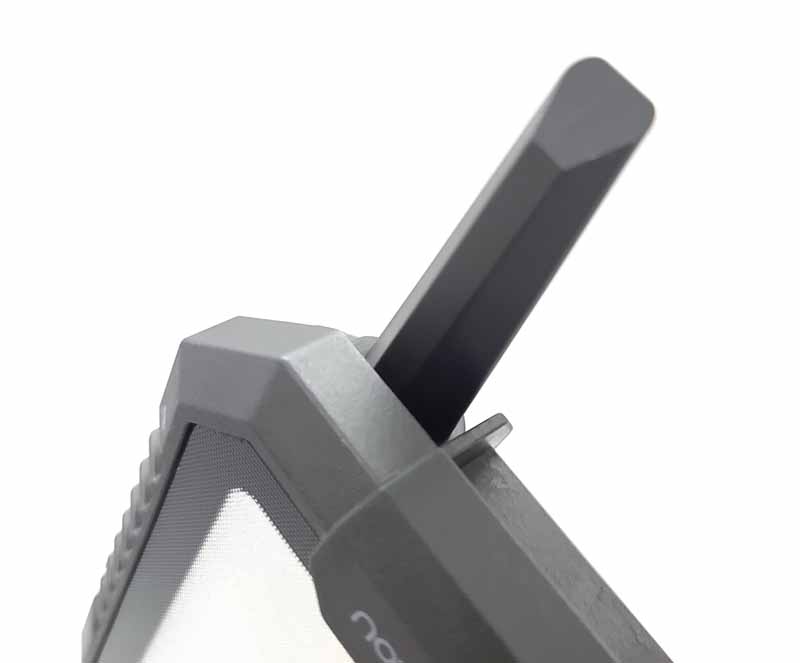 The Bluetooth antenna is fixed on top of the light. The Bluetooth mesh networking is designed to work at distances up to 85 feet between lights.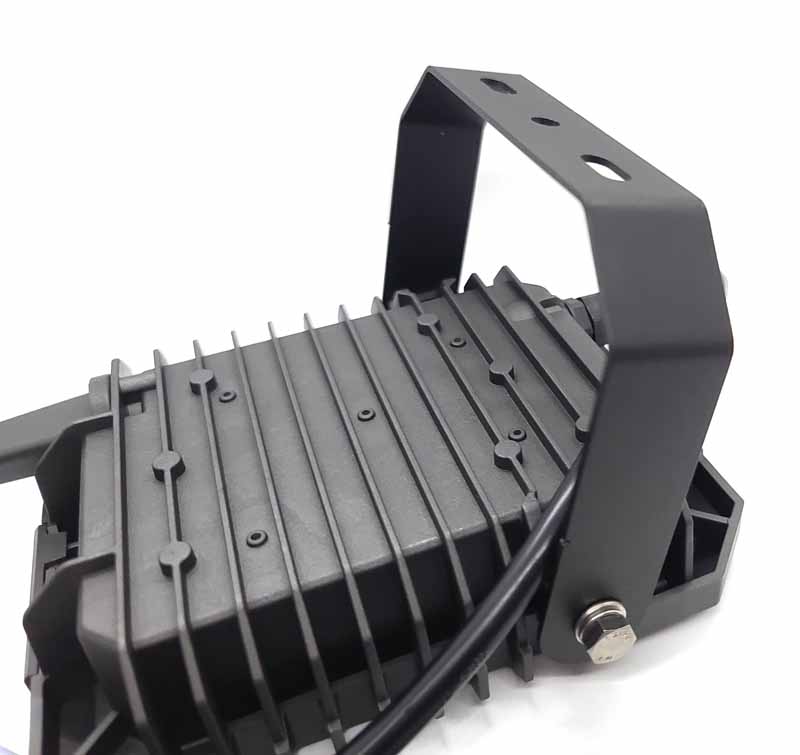 A mounting bracket is attached with a bolt on each side. You can loosen the bolts, rotate the bracket, and then tighten the bolts to lock the bracket in position.  The bracket includes two slotted mounting holes and one fixed mounting hole.  You supply the screws.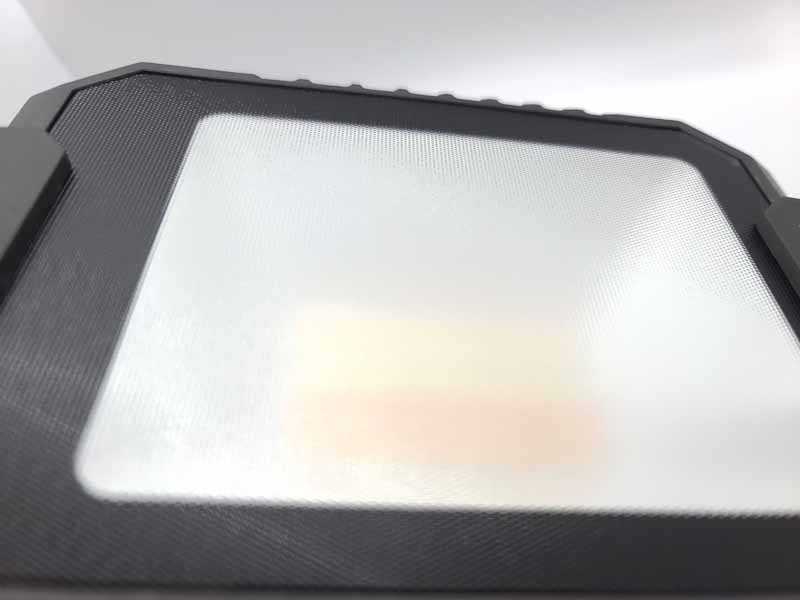 The front features a matte-finish lens designed to work with the angled reflector to evenly disburse the light.

The hub is quite simple. There are two indicator lights on the top that show that it is online.  On the back, we see the micro-USB power port and the reset button.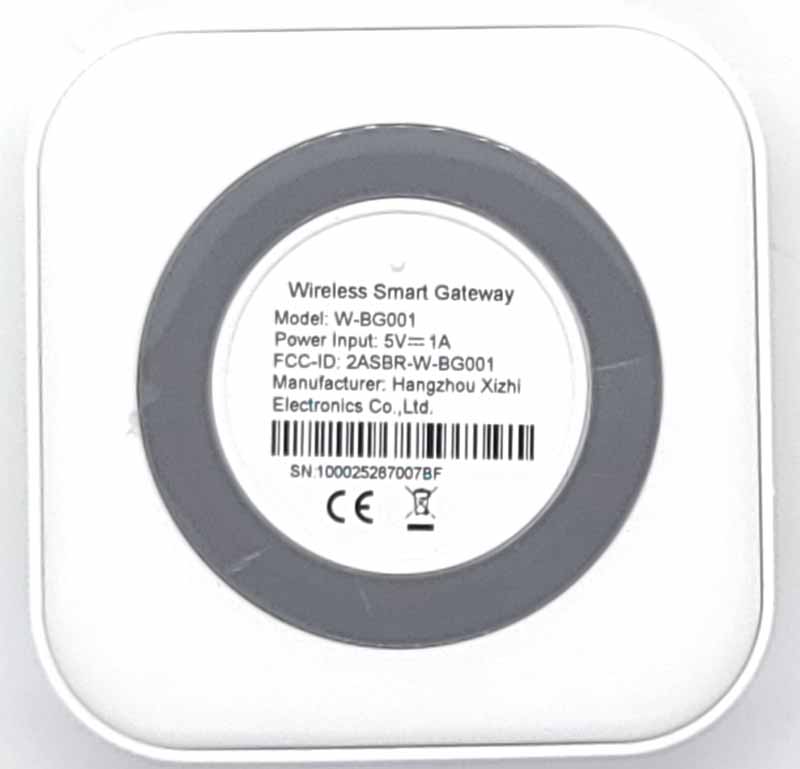 The bottom features a rubber ring that helps keep it in place and all the regular product documentation.
Setup
The Novostella BLink smart floodlight setup is simple – plug them in.
The hub isn't much more difficult, except that you have to find a power supply.
To use everything, you need to install the Smart Life app on your Android or iOS phone.  Lucky for me, I already had that installed from my review of the iClever Wi-Fi smart outdoor outlet. I plugged in the lamps and then told the app to find new devices.  One by one, the app found each, asked me for a name for it, and boom – all lamps appeared.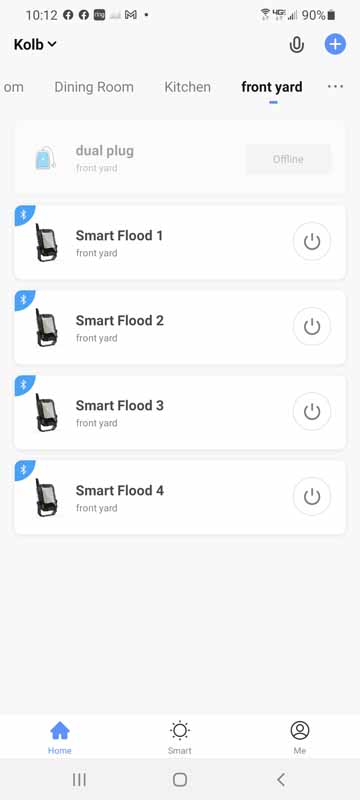 The same happened when I added the hub.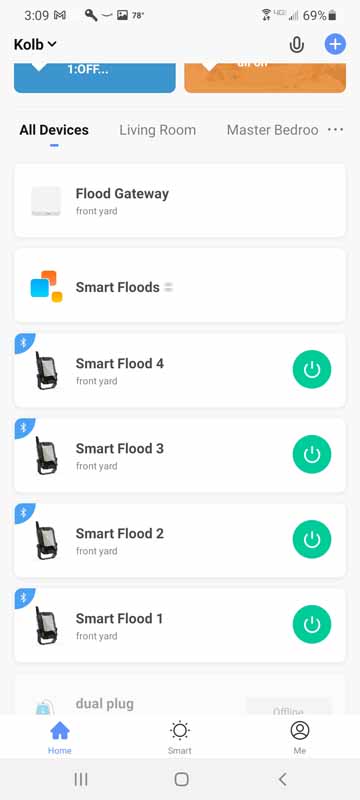 I created a group for them and I was good to go.  Since I already had the Smart Life skill added to Alexa, a quick discovery added the lamps and the group I created for them to Alexa.
Performance
All control over the lights is performed in the app or by a voice assistant.  There are no controls on the lights themselves or on the hub.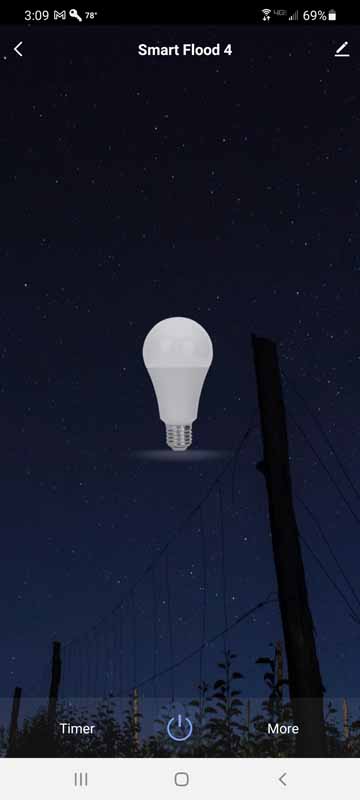 After turning on a light, you are presented with a color wheel or a white warm/cool slider, depending on your color choice.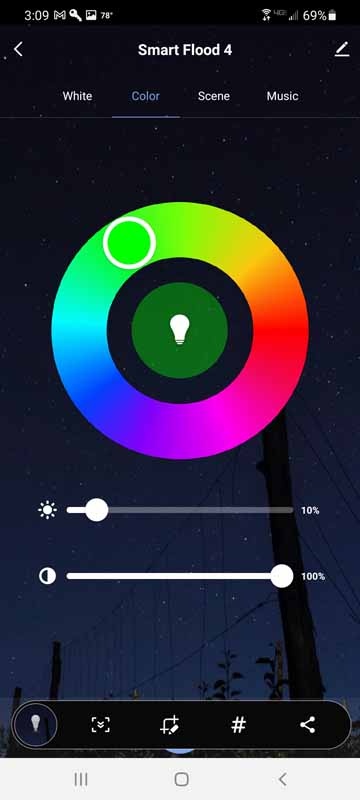 The same holds true when you choose a lighting group – I created one called "Smart Floods" that controlled all four lights.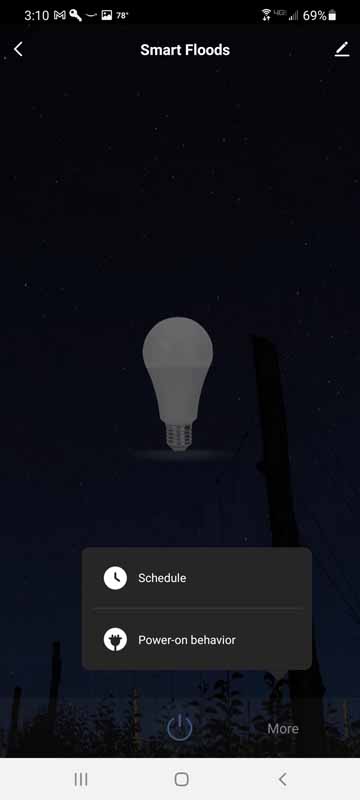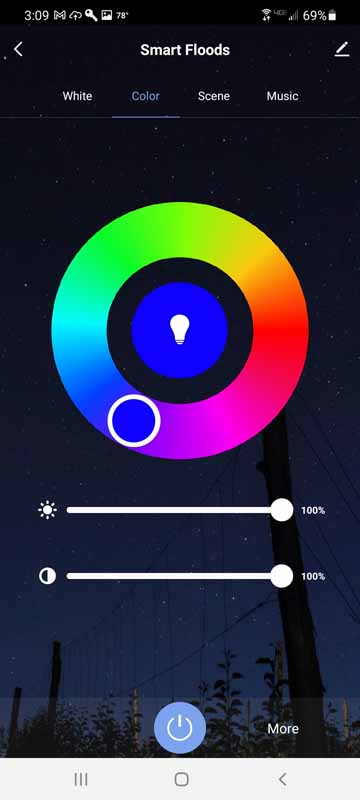 Any changes made affect all lights in the group.
Here's a video of the Novostella BLink smart floodlights in action via Alexa voice control.  You will also hear why my naming choice of "Smart Flood 1/2/3/4" for the lamps and "Smart Floods" for the group of all four wasn't the smartest move. 🙂 Plus, it demonstrates some issues with my Echo Show understanding me – that's not the fault of the bulbs.
To test the Bluetooth mesh networking, I placed the four lamps around my house as follows.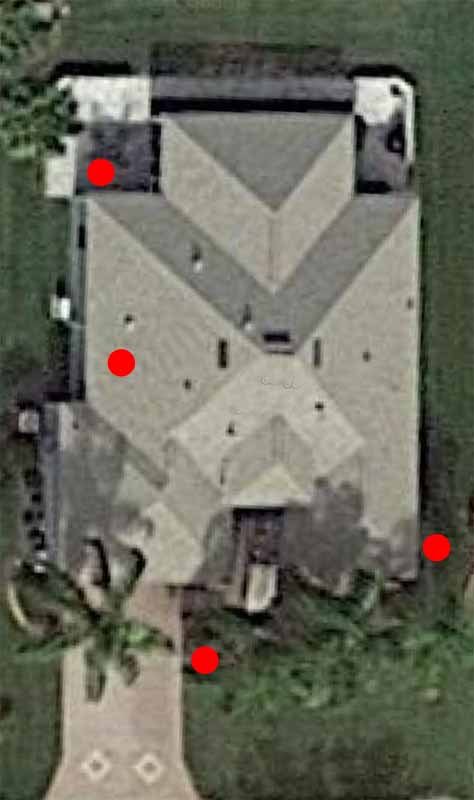 One lamp was out back on the patio, another was on the counter in the kitchen, a third next to the driveway by our lamppost, and the fourth on the right side of the house. At first, all lamps didn't respond. After unplugging and plugging in again, they all came alive.  I was able to turn them on and off via the app as well as via voice control. So they worked equally as well whether the hub was talking to the lights, or, the lights were talking to each other via Bluetooth.  Pretty cool.
If you are controlling via the app, you can set the lights to sync to music, creating pulsing party lighting.  The app also includes predefined scenes for calm, reading, and a few other lighting scenarios.  You can define schedules, set timers to turn off lights, and define what the lights will do when powered on.  One shortcoming is that while Smart Life plays with IFTTT, for some reason, the Novostella lights in the Smart Life app do not.
Here's a look at one of the lights absolutely blasting one of our palms with a variety of colors.

The Novostella BLink smart floodlights are seriously bright.  As you can tell from the sky, it wasn't completely dark yet.  Color me impressed.
What I like
Well built
Decent color rendering
Bright!
Bluetooth networking worked well
What I'd change
Design it with a stand so it can sit on the ground
Add IFTTT integration
Final thoughts
I like the Novostella BLink smart floodlights.  I have not yet decided where to place them around my home as I already have some Phillips Hue lights in place on my palm trees.  Those all have to be connected together, and that prevents me from lighting one of my palms across the driveway from the others.  But, I only need one power outlet to power three of those lights.  It's all a little give and take. The BLink lamps would allow me to light all four palms but will require four power outlets. And, I have to come up with a ground stake or other mounting hardware as the lights come with neither.  Plus, I use IFTTT integration to control my current lights on holidays to change colors.  Obviously, that's not an option with the BLink lights.  I will be exploring automation options for these lights as I want them to be my new landscape lighting.
Price: $109.99 (4-pack); Hub $19.99
Where to buy: Lights: Amazon; Novostella; Hub: Amazon;
Source: The sample of this product was provided by Novostella.