We use affiliate links. If you buy something through the links on this page, we may earn a commission at no cost to you. Learn more.

REVIEW – I live in a neighborhood that's out in a more rural part of the county.  There are not many streetlights here, and it's rather dark at night.  I've added a pair of motion-sensing lights for the driveway and a solar-powered, motion-sensing floodlight for the back porch, but there's still a lot of my yard that isn't covered by these lights.  If some sort of unknown event were to happen—maybe I hear someone crying out in pain or the sounds of a wild animal—I need a powerful flashlight that can light up any part of my yard.  I'm hoping that the UT90 Predator from IMALENT will be that flashlight.
What is it?
The Predator is an LED flashlight with 4800 lumens and a 1300-meter range.  It has an integrated battery, USB charging, and three different switches to control it.  The Predator is made by IMALENT, a Chinese company whose goal is to have their products be "the preferred choice for professionals engaged in unforgiving activities."
What's in the box?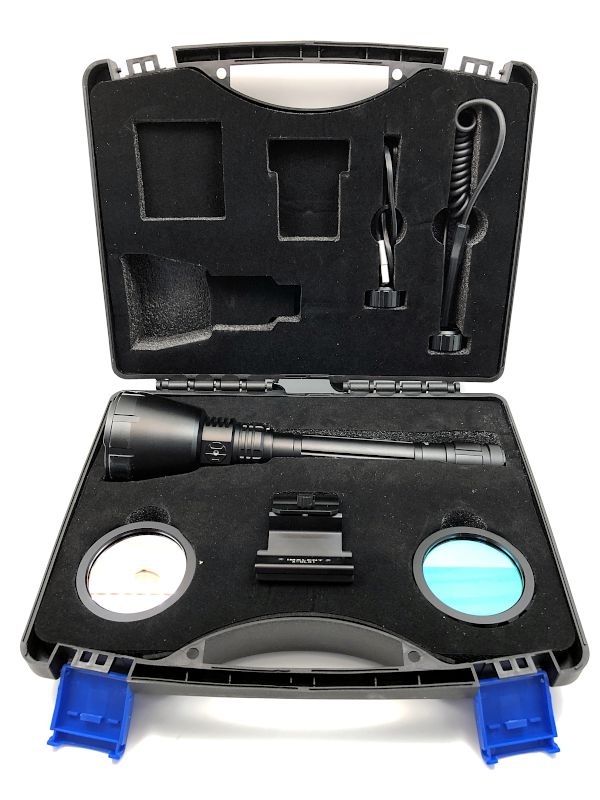 The Predator comes in a hard-plastic case with foam inserts that carefully protect the flashlight and its accessories.  In the case I found:
1 x flashlight
1 x red and 1 x green filter
1 x magnetic gun mount
1 x magnetic tail charger
1 x magnetic tail remote switch
2 x rubber O-rings
1 x user manual (with 2 pages of English instructions)
Hardware specs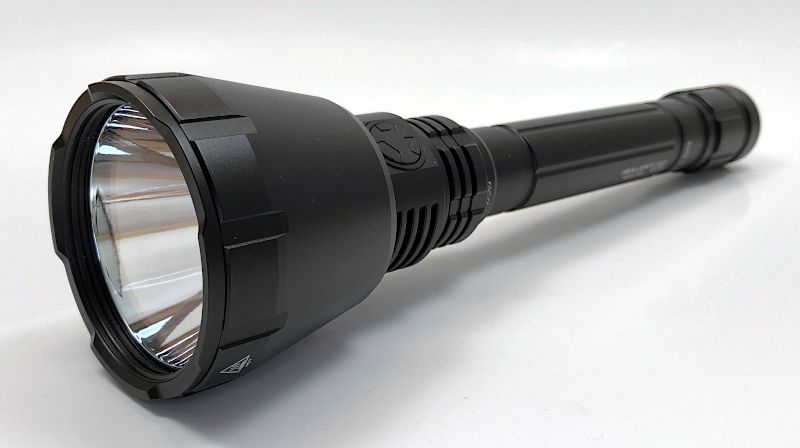 Light Source:  SBT-90 LED
Brightness: 4800 lumens
Range:  1300 meters
Batteries:  A pair of 4000 21700 mAh Li-ion
Switches:  Side, tail, and remote
Charger:  via USB
Dimension:  9.8 inches long, 2 inches wide at the head and 1.2 at the tail
Weight: 8.9 ounces
Material:  aluminum alloy body
Waterproof rating:  IP-X8
Impact:  1-meter impact resistant
Runtime:  from 105 minutes on the highest setting to 100 hours on the lowest
Design and features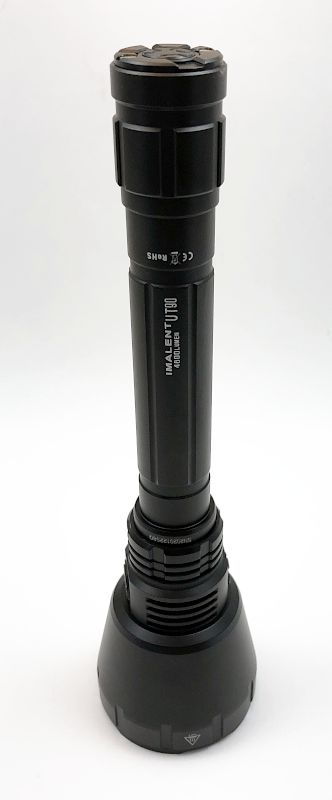 My first impression out of the case is that the UT90 Predator is a solid, well-built flashlight.  It manages to feel both rugged and light at the same time, no doubt to its aluminum alloy body.  The body has a matte black finish from head to toe.  The handle is just over one inch in diameter, making it comfortable for holding, even for long periods of time.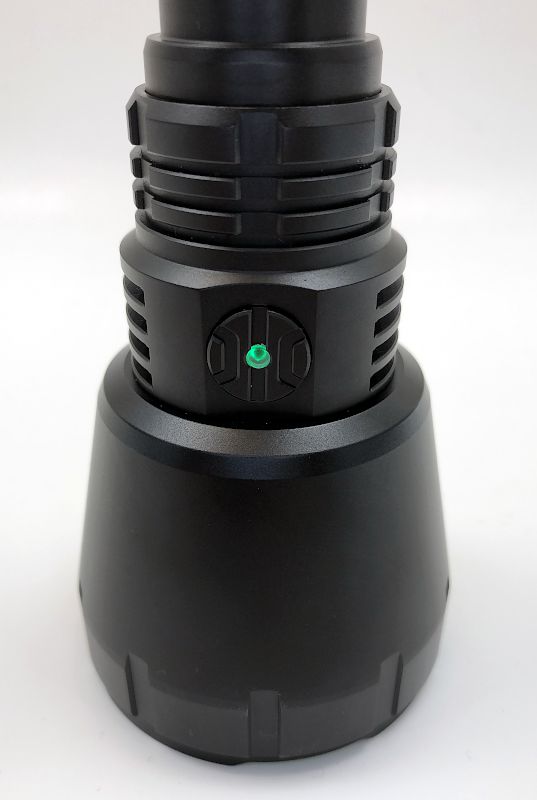 Never miss one of our posts again. Sent MON, WED, and FRI with the latest gadget reviews and news!
The head is a full two inches wide, giving plenty of room for the light to shine out.  The body has lots of ridges and hard angles, resulting in a design that looks like it's made for working outdoors.  There's a small round switch on one side near the top, and on the opposite side is a small LED indicator.  There's another round switch on the tail along with a pair of metal contacts for the charger and the remote switch.  The Predator looks great and feels great.
Installation and Performance
In the video below I explain how to charge the Predator, show how the buttons work, put on the gun mount, demonstrate it at night, and try to break it.
The manual says that the Predator will last for 115 minutes on high; in my testing, I found that it lasted 80 minutes until the low power indicator came on and 110 minutes until it shut off.  These numbers reveal a stark truth for this flashlight:  The batteries are its Achilles heel.  Because I can't pop in a fresh pair of batteries, this gadget is only useful for events that last 110 minutes or less.  IMALENT says that their flashlights are good for things like search and rescue (SAR), mountaineering, and avalanche rescue.  While they are certainly bright enough to handle these emergencies, these sorts of things are unlikely to be concluded in 110 minutes, and thus the Predator isn't as suited for them as it could be.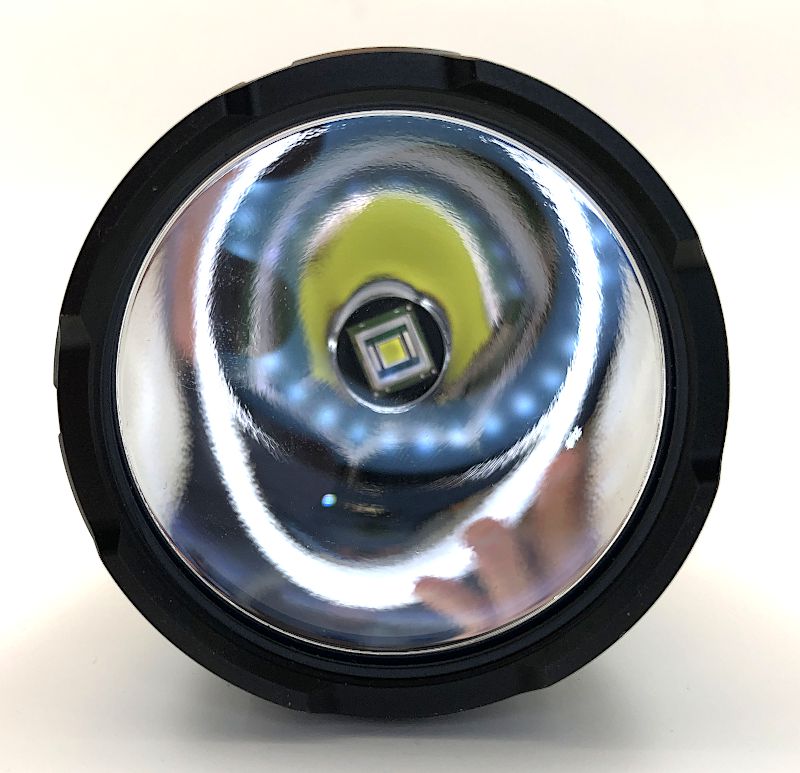 I think it's a much better product if you buy it for around the house emergencies that happen at night.  Your dog chased a deer into the small patch of woods by your house and is lost.  There's a car crash out on the road near your house.  A bear decides he's looking for food in your trash can.  All of these events have happened to me, and the Predator is the perfect companion for events like this.  How might IMALENT improve the battery life?  They could make the medium setting more medium; in other words, medium is almost as bright as high, and the battery life isn't much better.  If they would make medium dimmer, so it's more in the middle of low and high, then I think the battery would last a lot longer.  They could also make the batteries swappable and sell spares.
Extra Features
The Predator comes with a pair of spare O-rings, but the manual doesn't explain why.  I sent an email to IMALENT's support team, and they answered fairly quickly, even though it was in the midst of the Chinese New Year holiday.  Their replies were friendly and helpful and explained that they were used between the base and light, the part that I unscrewed at the start of the video above.  I'm pretty sure they are designed to protect the battery and thus help to achieve the IP-X8 rating.
Two very minor features that I would like to see added to the Predator.  One, some way to prevent it from rolling when it's laid down; the UT90 is too symmetrical.  Two, somewhere to add a wrist strap, which could be handy.
What I like
Hefty, rugged design
Super-powerful light
Cool charging cap
What I'd change
Confusing button design
Limited, non-swappable batteries
Final thoughts
The IMALENT UT90 Predator is an outdoor flashlight that's crazy bright, able to light up the night about as far as the eye can see.  It has a durable body made of an aluminum alloy, and it works fine even when submerged in water.  It, unfortunately, suffers from a needlessly complex and confusing button design, and the non-swappable battery doesn't last long enough for long-running emergencies.  Even so, it's all the flashlight that I need for my rural house, and I'll sleep a bit better at night knowing that it's handy.  If you're needing a really bright flashlight to handle emergencies around the house at night, take a look at the Predator.  It's up to the task.
UPDATE (17 March 2021) – About two weeks after I had last charged the Predator while testing, I went to use it and found that it didn't work.  The battery was dead, despite the fact that I had hardly used it.  I didn't think much of this, so I merely recharged it.  About two weeks later, I tried to use it again and once more found that the battery was dead.  Today I tried to recharge it, but the LED is no longer coming on, and it won't hold a charge at all.  When I unscrewed the base from the light, I smelled a very distinct burnt smell.  I am assuming that either the battery or the battery assembly has died.  Whether this is due to a bad product or due to my water testing and/or drop testing (see the video above), I don't know.  Either way, this is a failure for a flashlight that is only two months old.  I have no way of knowing whether this is a problem for just my Predator or for all of them, but based upon the flashlight that I have, I have to recommend that you look elsewhere for your flashlight needs.
Price: $209.90
Where to buy:  IMALENT's online store and look for it on their Amazon store
Source: The sample for this review was provided by IMALENT.