We use affiliate links. If you buy something through the links on this page, we may earn a commission at no cost to you. Learn more.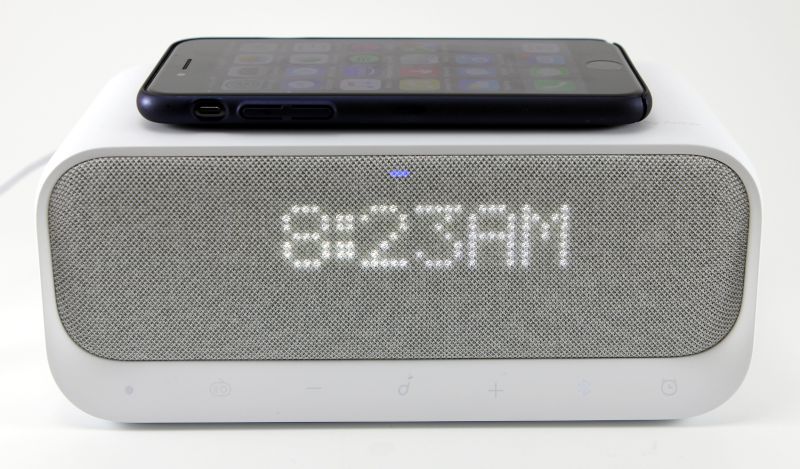 REVIEW – Want to know how long I've had my alarm clock beside the bed?  Over 25 years.  Not kidding. It's got to be the most durable gadget I own, but it's also rather short on features and way behind these technological times.  My plan for coming into the present is to replace my old clock with a brand new Wakey alarm clock from Soundcore.
What is it?
The Soundcore Wakey is a digital clock with alarm, FM radio, Qi wireless charger, Bluetooth speaker, and white noise generator.  It's partially controlled by its touch interface and partially by a mobile app. Soundcore is a brand under Anker Innovations.
What's in the box?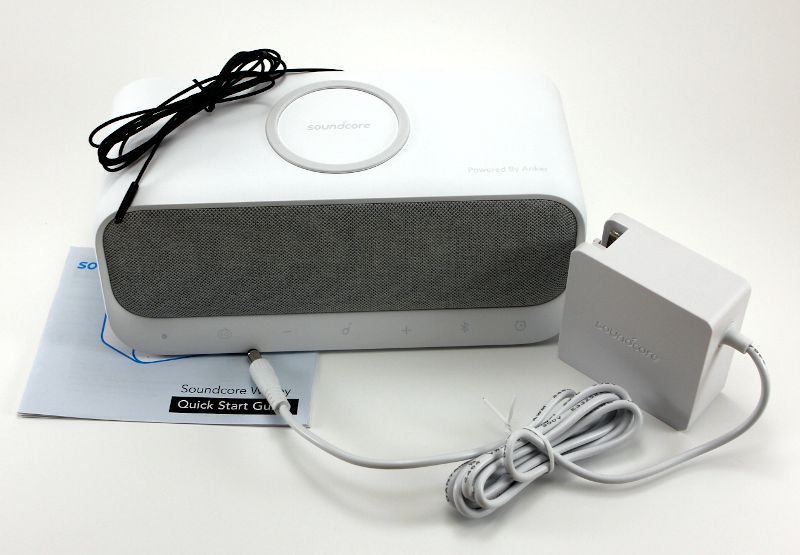 The alarm clock
A power brick
An FM antenna
A quick start guide with 8 pictures (but no instructions)
Hardware specs
On the clock itself:
Qi wireless charger (7.5 watt charge for iPhones, 10 watt charge for Samsung phones)
Bluetooth 5 (range is up to 66 feet indoors)
Dual 5 watt, 1.75 inches drivers
2 USB ports that can charge at 5 volts / 2 amps
Integrated microphone
7.87 × 3.62 × 3.23 inches
1.19 pounds
On the Soundcore mobile app:
15 alarms
10 alarm tones
10 ambient noises for the white noise generator
10 FM station favorites
Design and features
The Wakey is a sleek, white gadget whose front is dominated by the clock that sits behind a grey grill, which gives the clock a retro, pixelated look.  Below the clock is a very light grey-colored row of icons that are the touch interface to the device.  The icons are small, a bit hard to see, and are not very tactile, as they are not physical buttons, but they are very elegant-looking, a bit of a "form over function" design.  The top does not have a snooze button, as one might expect; instead, it has a wireless charger.  This clock is intended for someone who brings their phone to their bedroom at night, as many of its features, such as setting an alarm, require the mobile app.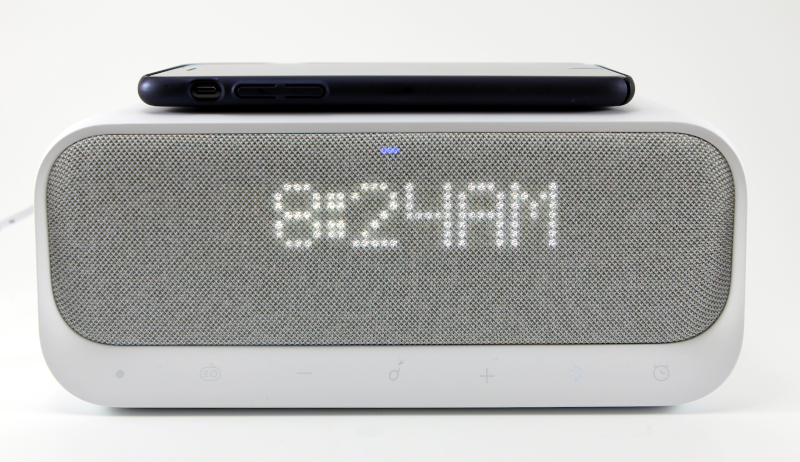 Installation and setup
Setup for the Wakey is very simple.  First, plug it in.  Second, download the Soundcore app, which is available in both Apple's App Store and Google's Play.  There's no QR code, so you'll have to find by searching for "soundcore" in the app store. Third, enable Bluetooth on your phone, press the Bluetooth icon on the Wakey, and sync it to your phone.  When it syncs, it automatically sets the time on the clock.  That's convenient!  The mobile app is designed to work with a variety of Soundcore products, so scroll through the list until you find the Wakey.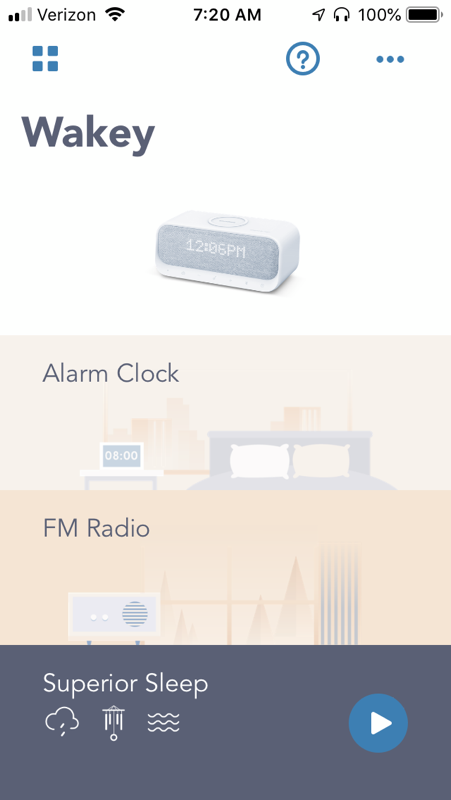 Features
The clock comes in one color, white.  The numbers are about 1 inch high, so they are plenty easy to see.  In the app, select the "…" in the upper right corner to adjust the brightness.  Auto Backlight will lower the brightness at night and raise it during the day, or you can manually set it to any desired brightness.  The clock has a fair amount of "light pollution."  At its lowest setting, it's still pretty bright, like having a night light on in your room.  The flashing colons between the hour and minutes and the blue light that signifies that a phone is charging add to the problem.  I'm a light sleeper, so I wish there was an even dimmer setting.  The backlight can be set to turn off after a set number of minutes, but that rather defeats the purpose of having a clock, as you can't see the time until you reach over and press one of the icons.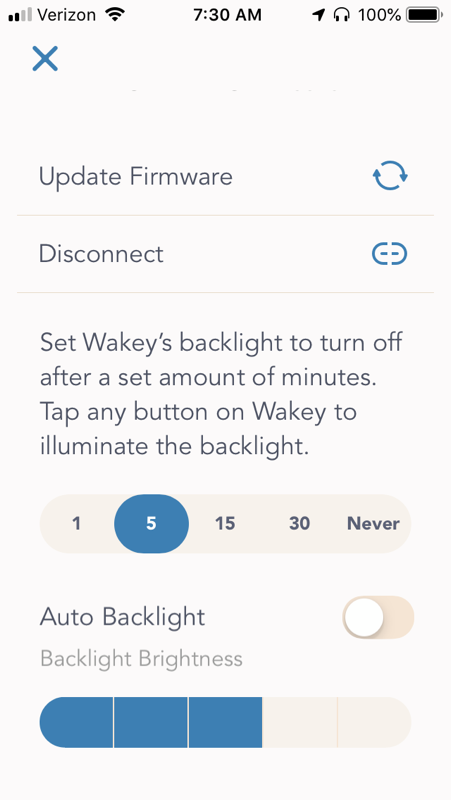 Setting an alarm can only be done through the app, but this gives you access to an array of features that are not possible on older alarm clocks.  You can set up to 15 different alarms.  Each has their own time and their own alarm tone (or they can use a radio station).  They can be repeated over several days, so for example you could have one alarm to wake you every weekday for work.  You can set an option for snooze, how many times to snooze, and how many minutes between snoozes.  You can even name your alarms.  It's really very flexible and probably the best feature of this gadget.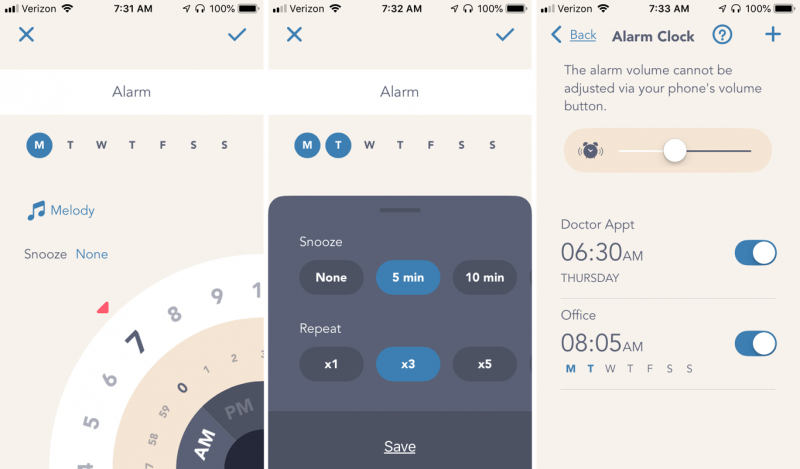 There's not a snooze button on the top of this clock, so to hit snooze you simply touch any of the icons. For those who are groggy in the morning upon first awakening, this might be a bit of a challenge, as the icons are pretty small.  To turn off the alarm, press and hold the alarm icon.  If you want to know when the next alarm is scheduled to sound, you can press the alarm icon.
The Wakey comes with a wire that functions as the FM radio antenna, which you plug into the back.  You can cycle through all the available FM radio stations by pressing the radio icon and then either the "+" or "-" icons. Probably, however, you'll find it easier to use the app, where you can find a station either by cycling or by rotating the wheel to find the station.  You can save up to 10 stations and delete and reorder them as desired. There's no feature for AM radio stations.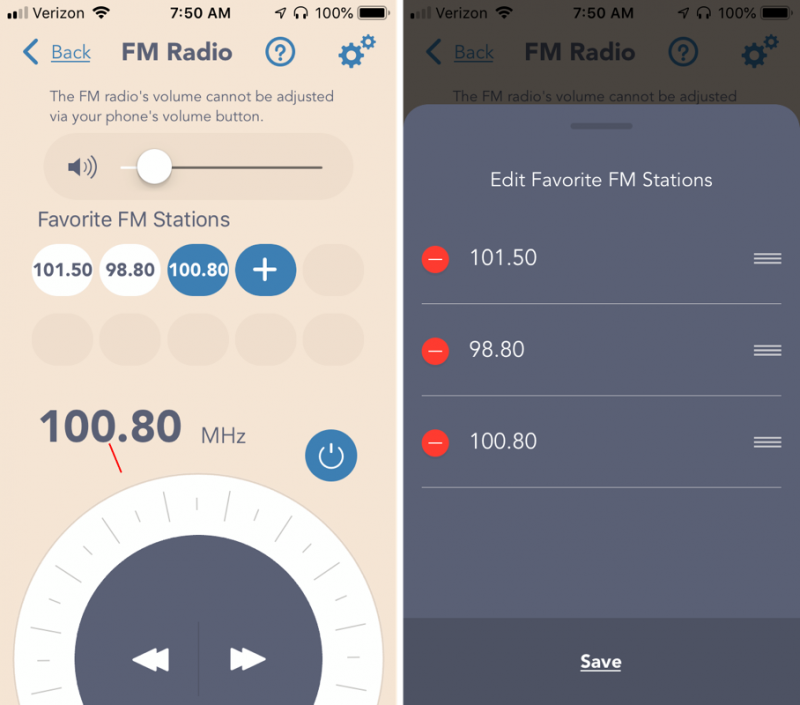 The Wakey has a very cool feature in the app called Superior Sleep.  It's kind of like a white noise generator, except that you get to design your own noise.  There are 10 different sounds, such as rain, birds, and wind, and you can add as many of them together as you want, each with their unique amount of volume.  My favorite was a lot of rain and waves with a touch of camping noises.  You can also set a countdown so that it turns off after so many minutes.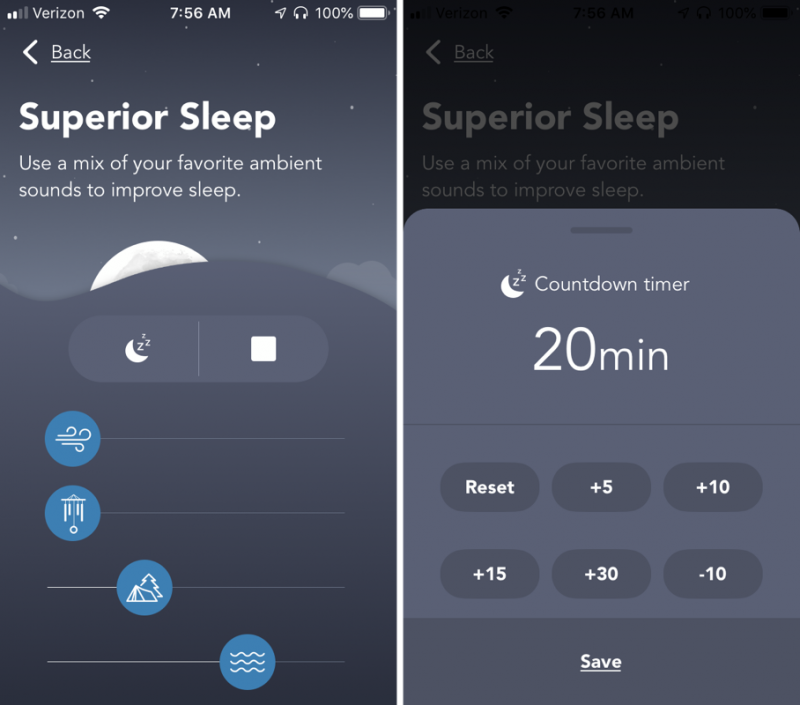 Having all these features in the mobile app means that you're going to want to bring your phone to your bedroom each night.  Conveniently, you can simply place your Qi-enabled phone on top of the clock, and it will wirelessly charge it while you sleep.  There's a rubbery circle on top that will grip your phone and keep it from falling off.  If you don't have a Qi-enabled phone, there are two USB ports on the back, and you can use one of them to charge your phone, though you'll need to supply your own cable.
The Wakey is also a Bluetooth speaker, so you can play music through any of your music apps.  You can press the Soundcore icon to pause and the "+" or "-" icons to control the volume, or you can use the controls on your phone.  The speaker has a surprisingly good punch and will be plenty loud for your bedroom.
Extras
The quick start guide provides a bare minimum of instruction, so it's nice to know that each screen on the app has a help icon (a small question mark) that provides extra information for operating each feature of the Wakey.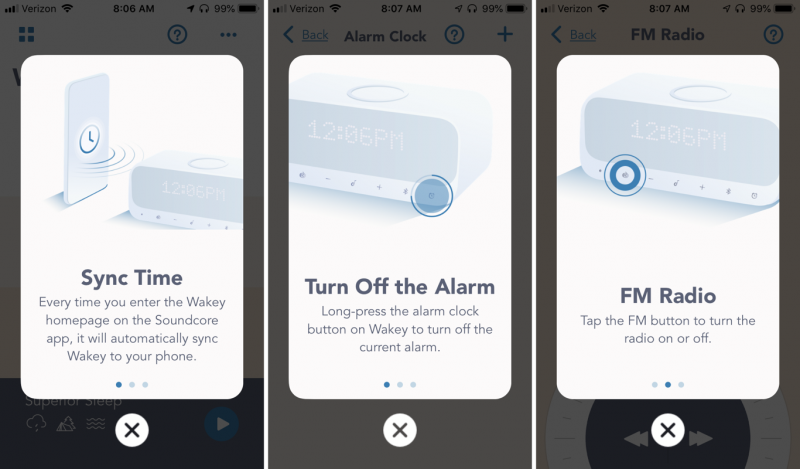 If you want a more complete manual, you can download a PDF file from Soundcore's website.  There's some handy information there that I didn't find anywhere else.  For example, if you get a phone call while synced to the Wakey, you can answer it by pressing the Soundcore button.  The Wakey then acts like a speakerphone, and this explains why this alarm clock has an integrated microphone.
The back of the Wakey has five ports.  One is the plug for the FM antenna, and two are USB ports.  There's an auxiliary audio input and a plug for the power cord.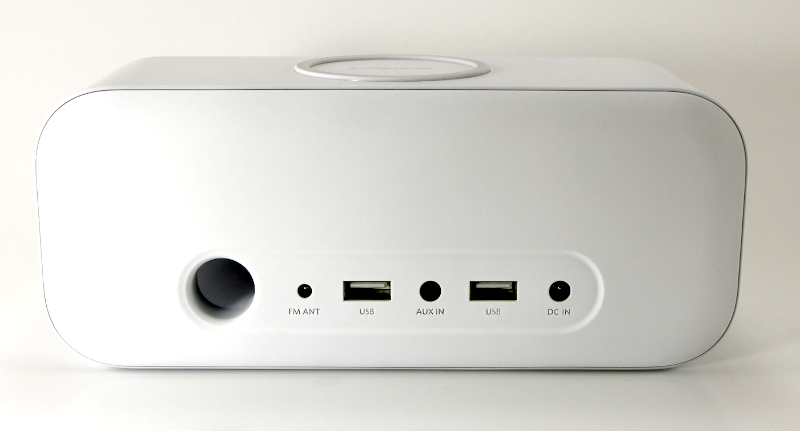 What I like
Sleek, modern design
Great sound
Feature-filled mobile app
Very flexible alarm capability
What I'd change
Add a lower brightness setting
Final thoughts
I really like the Wakey. It's a very attractive gadget, and its use of a mobile app brings along a wealth of cool features.  I think the small, non-tactile icons might be a bit of trouble for some folks, but they are part of what makes this alarm clock so visually appealing.  For anyone who is looking for a stylish alarm clock or who needs to set a variety of different alarms, I recommend that you take a long look at the Soundcore Wakey. I think you'll like it a lot.
Price: $79.99
Where to buy:  Soundcore or Amazon
Source: The sample for this review was provided by Soundcore.