The Gadgeteer is supported by readers like you! If you buy something through links on our site, we may earn an affiliate commission at no cost to you. Thank you! Learn more.

ARTICLE – F-Droid is an app store and repository for verified Free and Open Source Software (FOSS) applications for Android (F-Droid Docs page). I first heard about F-Droid from a CNET article in early August. According to CNET, "… 200 Android apps were found infected with malware [on Google Play] in March, followed by July's discovery of 1,000-plus Android apps harvesting data even after you deny permissions …". So, in the interest of security and privacy, perhaps places like F-Droid are a nice alternative to Google Play.
F-Droid is a non-profit volunteer open-source project (it is developed and run by the community) and was started by Ciaran Gultnieks in 2010 (F-Droid About page). Since the apps on F-Droid are open-source, it allows anyone to comb through an app's code to see if there is any questionable activity going on. There are only about 2600 apps available through F-Droid according to CNET, so this may not have much of what you're looking for. However, if you are curious about F-Droid and want to check out its security, you can peruse their Security Model and view their latest Security Audit Results.
If you want to try F-Droid, you'll have to download the app from f-droid.org as it is not available through Google Play.
I downloaded the app from my phone's Chrome browser. When I tapped on the "Download F-Droid" button on the f-droid.org website, I was prompted by my phone that "This type of file can harm your device. Do you want to keep FDroid.apk anyway? Cancel or Ok". I tapped on "Ok". Once the APK file was downloaded, I tapped on "Open" next to the downloaded file.
My phone then warned me that "For your security, your phone is not allowed to install unknown apps from this source [Chrome]. Cancel or Settings". I tapped on "Settings". I was taken to the "Install unknown apps" screen for Chrome where I toggled on the "Allow from this source" setting, then tapped on the back arrow at the top left of the screen. I was then asked "Do you want to install this application? It does not require any special access. Cancel or Install." I tapped on "Install". Once installed, it took a few seconds to update its repositories, then I was able to browse F-Droid for open source apps.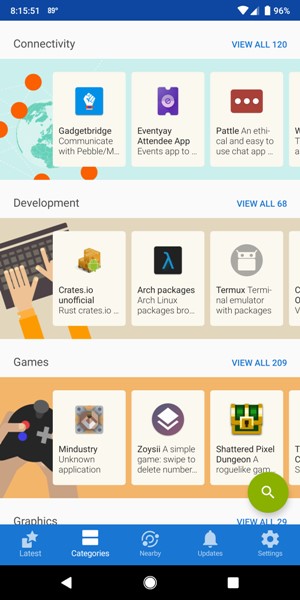 Here is what F-Droid looks like when looking at the Catagories tab.
When I installed my first app, I was prompted by my phone about installing unknown apps from F-Droid. I then had to go to the "Install unknown apps" settings and toggle on "Allow from this source" (in Android 9.0: phone settings > Apps & notifications > Advanced > Special app access > Install unknown apps > F-Droid).
Because the people working on F-Droid are security and privacy-conscious, it piqued my interest, so I thought perhaps it may pique yours if you didn't already know about it. If you are interested, go to f-droid.org to download it and give it a try!