We use affiliate links. If you buy something through the links on this page, we may earn a commission at no cost to you. Learn more.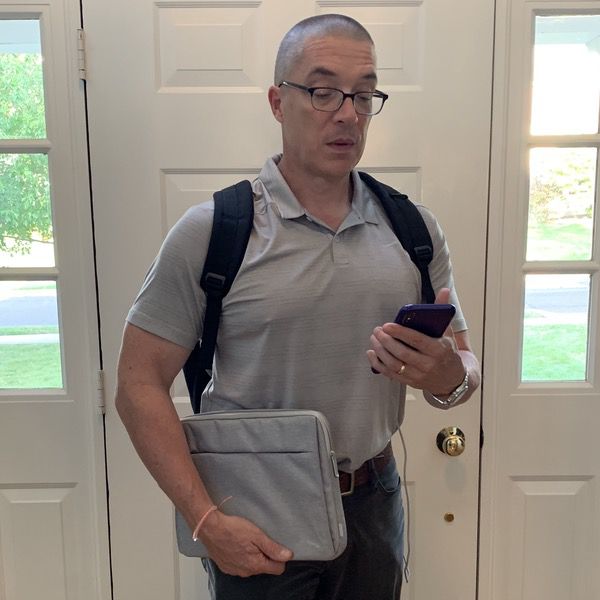 REVIEW – I'm all about finding sneaky bargains. And let's be real: you don't always need a high-end bag to get the job done. Today I'm checking a pair of wallet-friendly offerings from Inateck in their backpack and laptop sleeve. You can get both for under 50 bucks. Is the bargain price worth the investment? To the review!
What is it?
It's a basic laptop backpack with a built-in USB port, and a Laptop Sleeve for your 13″ laptop. Note that these are separate purchases, not sold in a bundle.
Hardware specs
The Backpack:
16″ by 11″ by 6.3″
1.94 pounds
Laptop pocket fits up to a 15″ MacBook Pro or 14″ laptop
Tablet pocket fits 11″ iPad Pro
600D Polyester build
The Laptop Sleeve:
12″ by 8.46″ by 0.78″
Fits a 13″ MacBook Pro (after 2015) or similarly sized devices
Polyester & cotton build
Design and features
Inateck is a brand that makes carry products and electronic accessories for those shopping on a budget. It's inevitable that you'll see some compromises at this price point, but the gear I'm checking out does a pretty good job of making it work. We'll check out the backpack first, then the laptop sleeve.
The Backpack
Simple, straightforward functionality is the name of the game with the Inateck backpack. The primary material is 600D polyester with soft cotton padding to protect your goods. There's nothing fancy in the styling… basic black is the color scheme, which works just fine for a trip to the office. Here's a shot of the basic profile: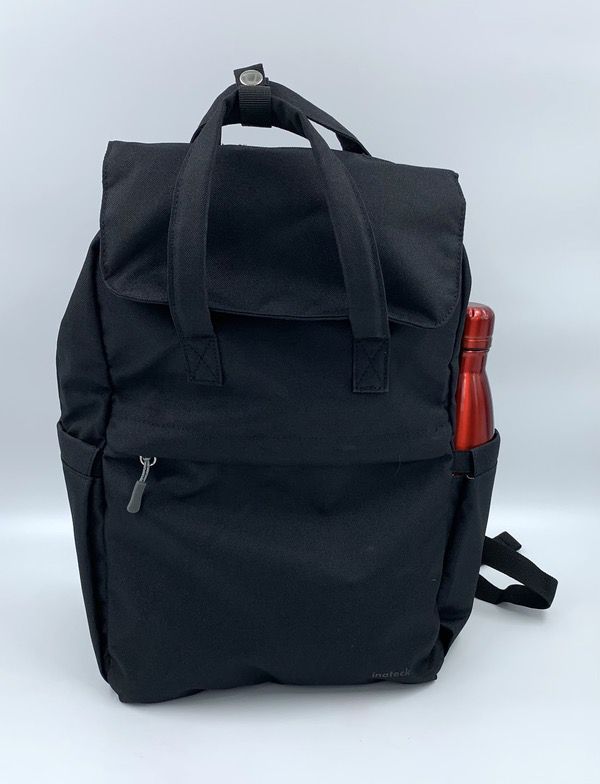 You'll get an elastic pocket on each side for water bottles and such. It won't expand for bigger hydration bottles, but my narrow beastie fits in there just fine.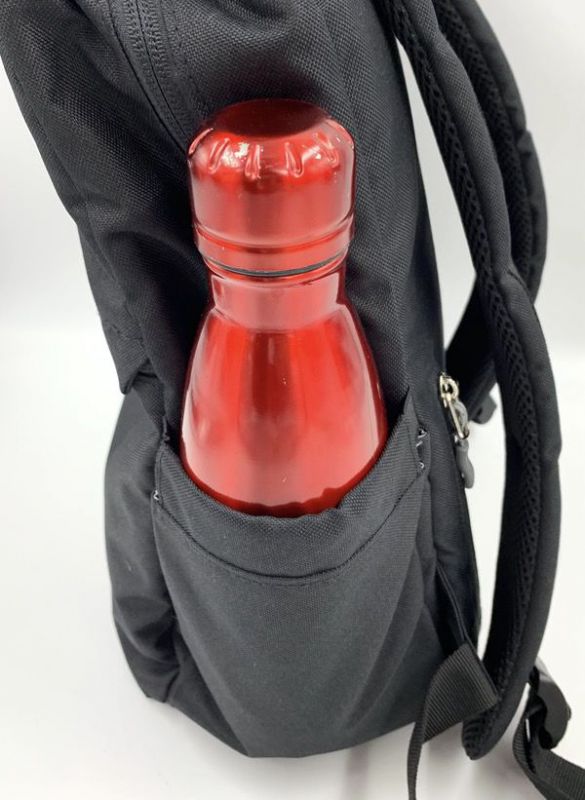 There's a nice, big "secret" stash pocket that runs the width of the back panel. It measures 6″ deep by about 7.5″ long, and has a light grey vinyl lining so you can see your stuff. A nice bonus feature, but keep in mind that lumpy items will sit right on your lower lumbar area.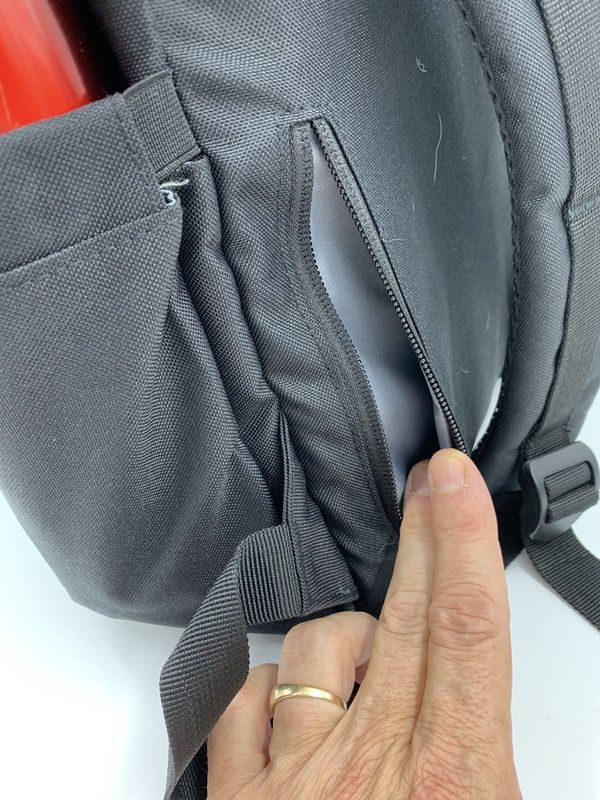 A generous 10″ by 9″ front pocket, also lined with that grey vinyl, sits on the front face of the bag. There's an organizer in there for pens and whatnots. Basic, but also very functional.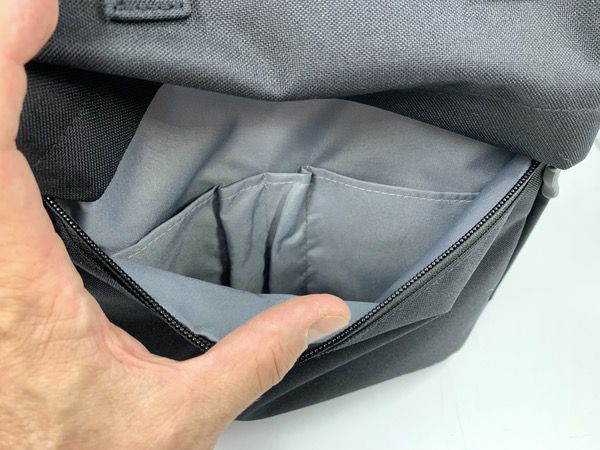 The double grab handles have a wee bit of padding, and snap together with a loop of vinyl and a button clasp. This will secure the top flap, and the 600D polyester offers water resistance to keep your electronics from taking a bath.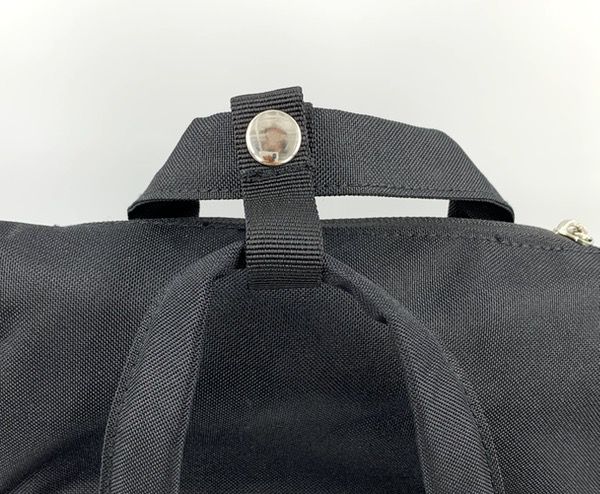 That top flap is secured with a strip of no-frills velcro, and doubles as another storage pocket that also generously sized at 5″ by 9″. The inclusion of textured zipper pulls is a nice feature for a bag in this price range.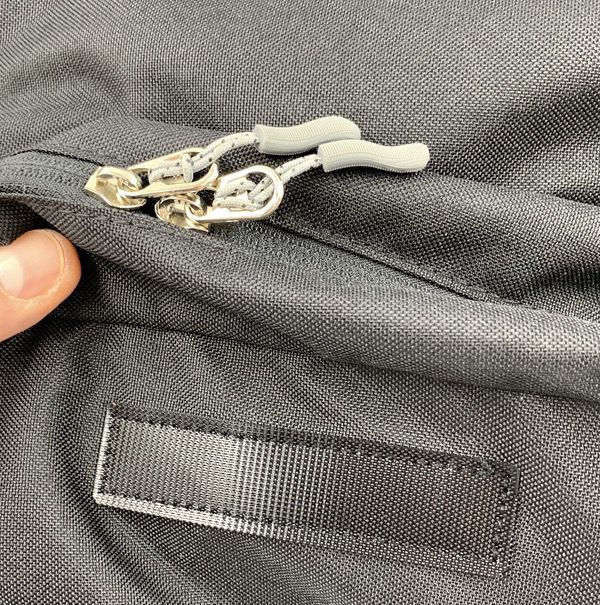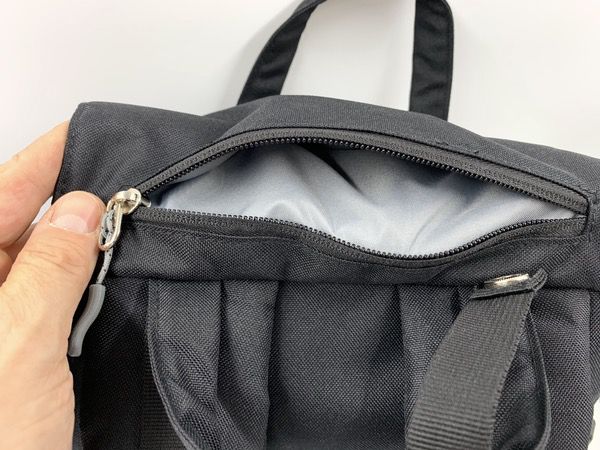 You'll get to the main compartment through a pair of zips on the top of the bag, where things are also kept simple and straightforward. A padded sleeve will take a 15″ MacBook Pro or a 14″ laptop, while a second padded sleeve houses your tablet. A bit of vinyl and velcro secures these pockets. You'll also find a pair of no-nonsense 5″ by 7″ stash pockets on the rear of the front face for cables and whatnot.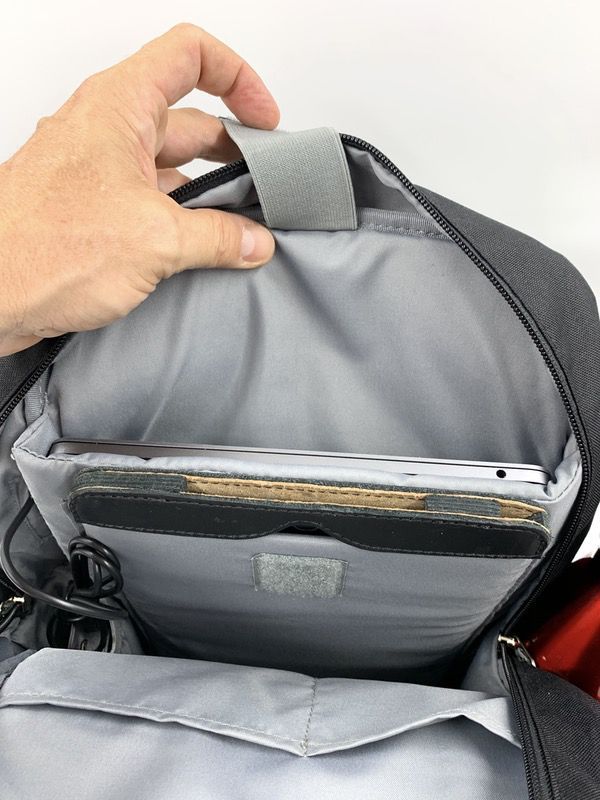 Everything is pretty simple at this point, but there's a neat twist in the design. You'll find an elastic pocket on the side with a built-in USB cable. Stuff your portable charger in that pocket and connect the cable…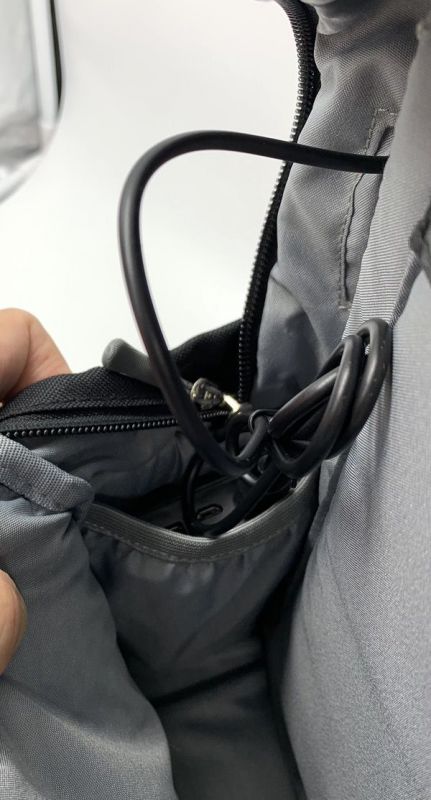 … and you'll power up the USB port on the outside of the bag! That port is also hooded, so you won't fry your cable if you get a bit of the wet stuff.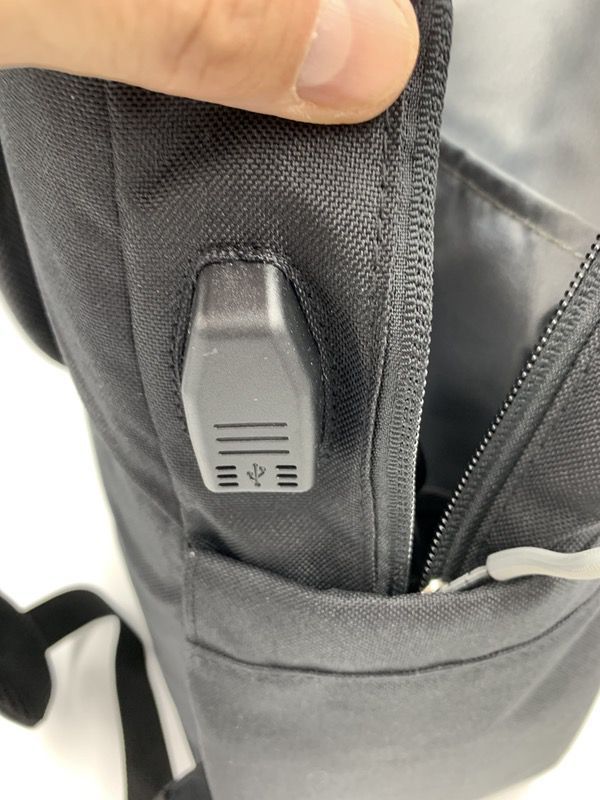 This means that you can charge your phone or other devices on the go. I have a 3 foot USB cable that I use to charge my iPhone, and it's a nice surprise to have this feature built-in when I am on the run.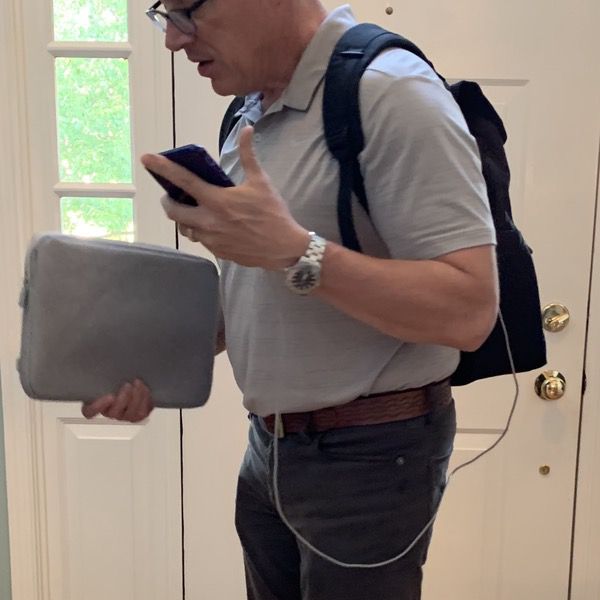 Your carry harness is basic stuff. Cotton padded straps with a bit of breathable material on the backside, a few loops and a D-ring for attachment points, and that's that. It feels just fine to carry if you're going light. Note that the bag doesn't have any frame or structure, so heavy loads or unusually shaped items can become a chore. It works just fine for simple commuting duties.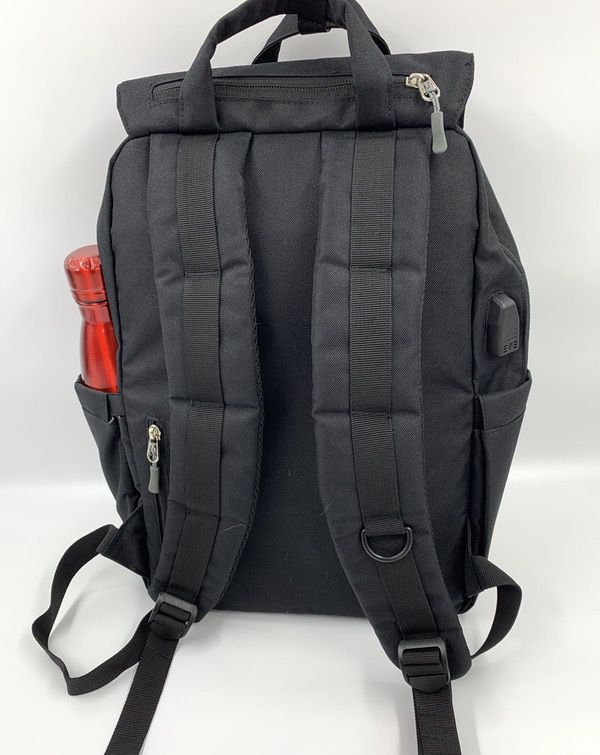 Here's the beastie on your Humble Reviewer's 5'10" frame.

Side view to get a better look at the profile. Slim profile, conservative black look… For a work bag, it does the job nicely.

Overall it's just fine as a daily commuter. The build quality is OK, and I don't know that it will hold up to heavy abuse. The laptop padding is rather thin, and offers no additional impact resistance. But it will get you from point-to-point with a very functional layout that presents no drama.
The Laptop Sleeve
The laptop sleeve is a similar story with respect to materials. The polyester external fabric has a nice grey heathered pattern that dresses it up as you dash between meetings.

Your 13″ laptop or tablet is protected by a soft cotton padded lining against bumps and bruises. Those little bumpers prevent scratching as you pull your machine in and out.

Here's my 13″ MacBook Pro. It fits like a glove!

You'll also get a generous front pocket for stashing a small notebook, cables, or your phone.

The sleeve is straightforward and simple, which I like quite a bit. Sometimes these sleeves get too complicated with business card slots, pen holders, and little pockets for accessories that you may or may not need. For my primary use, which is running between meetings, it does a fine job of collecting the extra stuff and leaving a hand free for my coffee. And that ain't a bad thing.
One other note on the laptop sleeve: this is not made to be integrated with the backpack, and won't fit in the laptop slot. You'll need to store it in the main area of the bag.
What I like
Simple, drama-free layout and organization.
Generous pocket sizes for your gear.
Work-friendly color schemes.
USB port is a surprise bonus feature at this price point.
Bargain pricing gets you simple, basic functionality.
What needs to be improved
Build quality is OK and probably won't hold up to extended heavy abuse.
Bottle pockets on the backpack could be larger.
Protection for your laptop is OK.
Final thoughts
The Inateck Backpack and Laptop sleeve are worth your consideration if you need something cheap and simple. But know that you're compromising a lot with respect to durability, carry comfort, and laptop protection at this price point. If these two items were designed as an integrated unit (with the laptop sleeve being removable), it would solve a lot of problems with respect to protecting your laptop. But the USB port is a nice plus, and it the backpack will be just fine for light commuting. They do the best they can at a bargain price. Just don't expect this to be a 10-year bag.
Price: Backpack price is $29.99 on Amazon Prime. The laptop sleeve is $17.99, also on Amazon Prime.
Where to buy: Get to Amazon for the Backpack or the Laptop Sleeve.
Source: The sample of this product was provided by Inateck.