We use affiliate links. If you buy something through the links on this page, we may earn a commission at no cost to you. Learn more.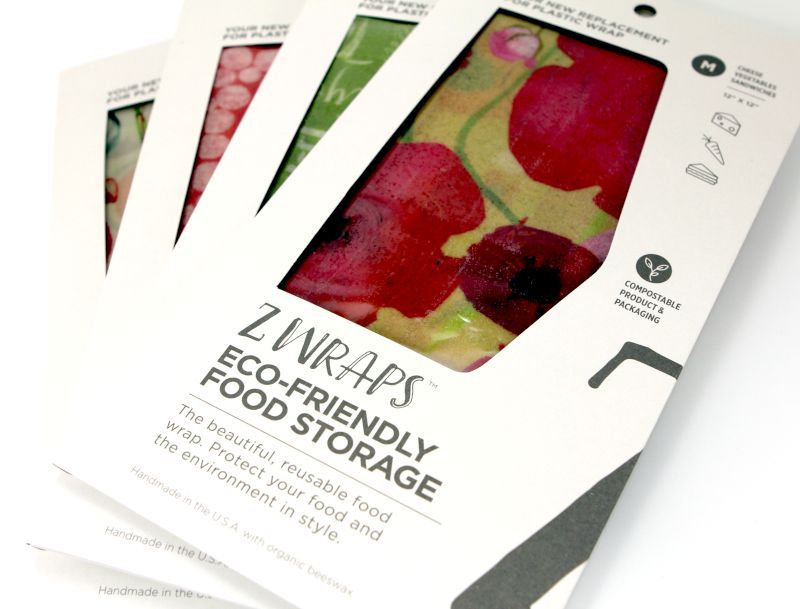 REVIEW – We live on planet Earth. We are stewards of our world, and as it's the only world that we have, we should probably take care of it.  In our culture, there's a growing awareness that as individuals and families we should live a manner that damages the Earth as little as reasonably possible.  One way that we can do this is to reduce our usage of consumable items.  Instead of using plastic straws, we can use a stainless steel one.  Instead of cleaning with paper towels, we can clean with microfiber towels.  Instead of drinking water from disposable plastic bottles, we can drink from one that we wash and use again.
If your kitchen is like ours, you have a drawer that has several boxes in.  One box contains plastic wrap, another Ziploc bags, another sandwich bags, and so on.  Wouldn't it be nice if there was a reusable product with which we could keep our food fresh instead of all this disposable plastic?  That's exactly what the food wraps by ZWraps are for!
What is it?
ZWraps are all-natural, reusable food wraps designed to keep our food fresh.  They are cotton fabrics crafted with beeswax, jojoba oil, and tree resin.  They come in a variety of sizes from small (8×8 inches) to extra-large (16×26 inches) as well as a variety of designs, and all are handmade in the USA.
What's in the box?
Each package contains one, two, or three wraps, depending upon which pack is purchased.  The back  and inside of the package contains instructions for use and cleaning.
Materials
The wraps are crafted with the following:
Beeswax – makes the wraps sticky
Jojoba Oil – keep the wraps soft
Tree Resin – helps it keep its seal
Design and features
First Impressions
Each wrap comes in a thin, cardboard package and is wrapped with compostable "plastic" made out of a plant protein.  When I first touched the wrap, I immediately noticed that it is sticky and leaves a slight, waxy residue upon my fingers.  This is, of course, by design, as they are made out of beeswax, but it is slightly disconcerting at first, as I'm used to plastic bags that are not sticky.  When I lay the wrap out on the counter, the wax gets on the counter as well.
Let me go ahead and point out the elephant in the room:  Whether or not you enjoy using a ZWrap will largely depend upon how you react to this stickiness.  You might go "ewwwww!" and choose to never touch one again.  You might, however, decide that it's not really that big of a deal and get used to it.  Both my wife and I are in the "not a big deal" camp, and we are happy to use them. After sealing food with a wrap, I simply wash my hands and the counter with hot water, something I already should be doing when handling food.  It's a very small price to pay for using this gadget.
The other thing I noticed is how attractive the various designs are.  They mostly come in greens and reds, a mix of patterns and stylistic artwork.  The ZWraps add some nice-looking color to our kitchen.
How to Use
The ZWraps are easy to use. If you're wrapping food, lay the wrap flat on a counter, put the food in the middle, then wrap it up.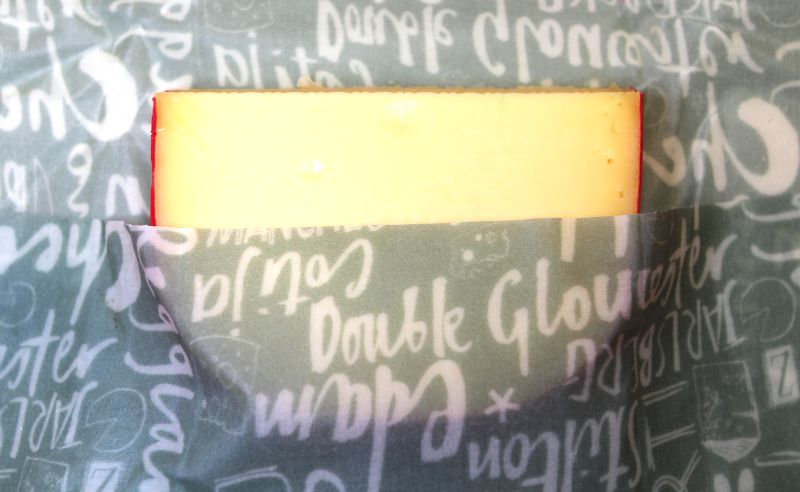 If you're wrapping a container (or a bowl) that contains food, set the container on a counter, lay a wrap on top of the container, then fold down, and pressing the wrap against itself.  It helps to use a wrap that is a couple extra inches longer on all sides than the container. If the wrap isn't sticking to itself very well, hold it for a few seconds and let the natural warmth of your hands seal it.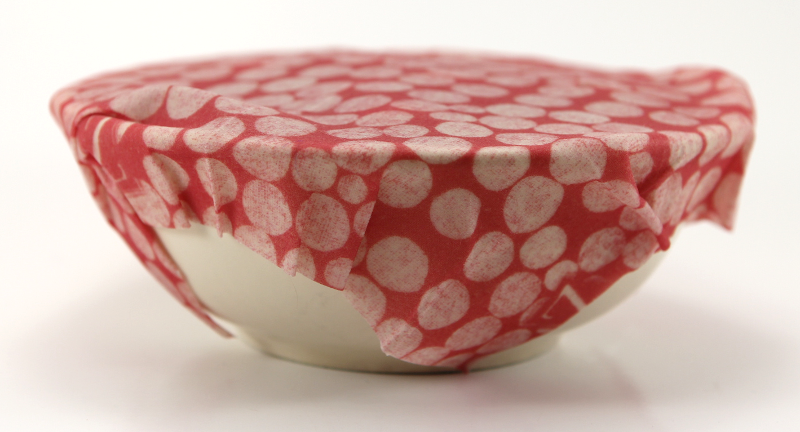 One note of caution: Do not use these wraps for raw meat or eggs.  They can contaminate the ZWraps, and there's no good way to remove the contamination.
My wife and I have been testing the wraps with a variety of fresh food items, including breads, cheeses, fruit, and veggies.  Without exception, the ZWraps easily wrap around the food and seal it tight.  Here's a canary melon from our garden that is sealed tight.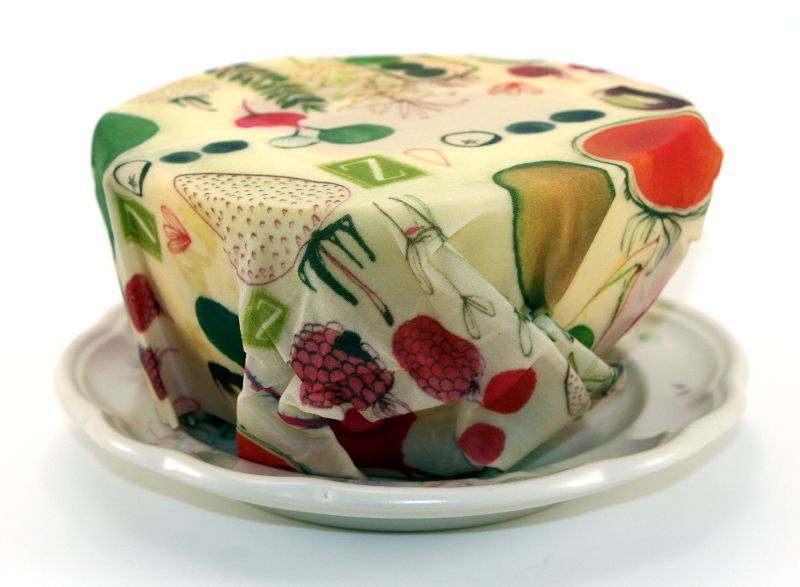 Four of our tests were especially rewarding.  One, we used the extra-large wrap on a fresh baguette that we bought at Lidl.  Typically we have to eat bread like this within one day, as it doesn't stay fresh long.  After 2 days, however, the baguette was still perfectly fresh with no sign of getting hard.  This was a huge improvement!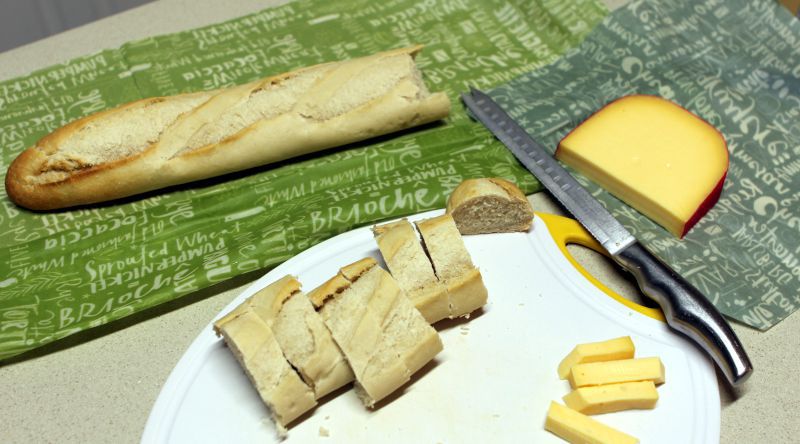 Two, we used the medium wrap on an avocado.  Normally we have to eat an avocado as soon as we cut it open, as it will very quickly turn brown, become soft and squishy, and look most unappealing.  After 24 hours wrapped with a ZWrap, it was only mildly brown, still (relatively) firm, and was good enough to eat.  We were surprised and very pleased!
Three, I picked some fresh basil from our garden, rinsed it, then ZWrap'd it and put it into the fridge. I opened it back up three days later, and the leaves were fresh as could be.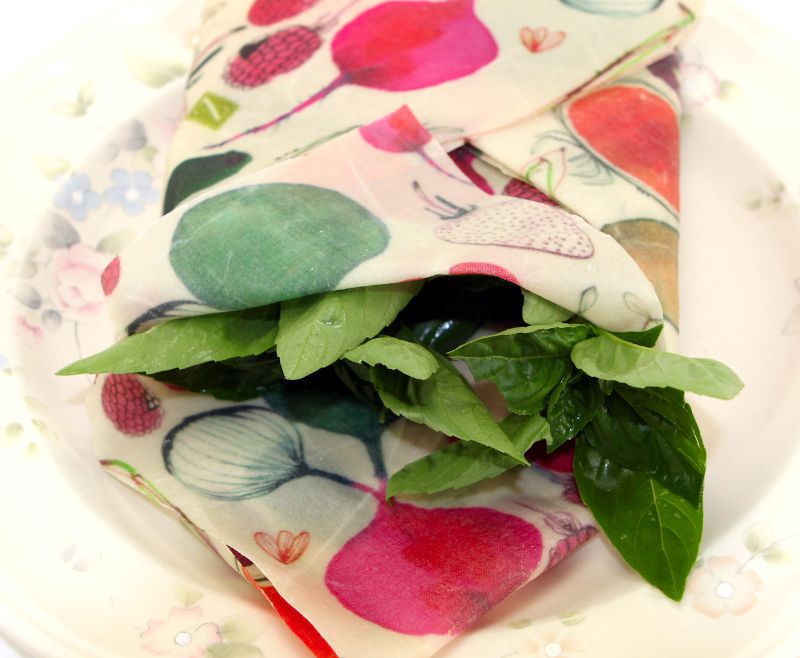 Four, we peeled a carrot, wrapped it, then put it in the fridge.  Four days later, I could find only the slightest signs of browning.  It's ready to eat.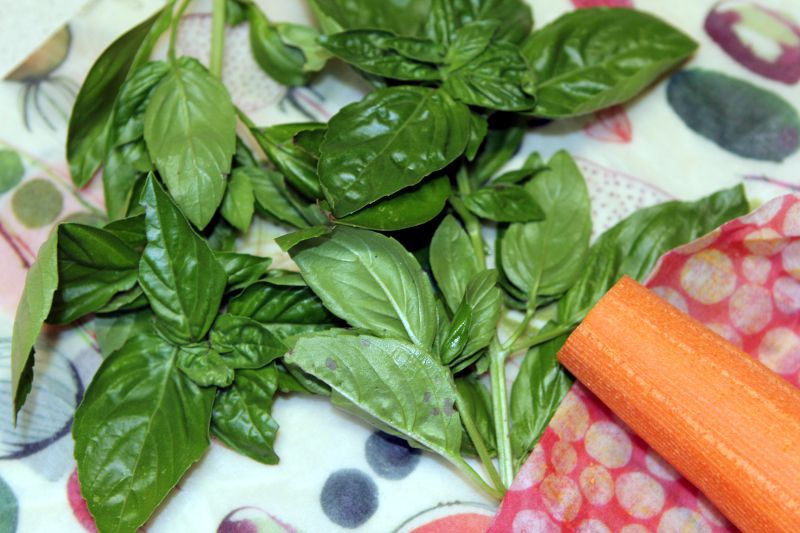 It's clear to us that not only are ZWraps great for our environment, they are also great at keeping food fresh.
How to Clean
ZWraps are unique items, so they need to be taken care of in a special manner.  They can't be washed with hot water, nor can they be used in an oven or a microwave; naturally the heat would melt the wax and ruin the wrap. The best way to clean them is to lay them flat and wash with cool, soapy water; to dry, spread them out over a flat surface, perhaps a cutting board, but do not wring them out.  To store them, roll them up and put in a basket or a canning jar, anywhere that is cool and dry.  ZWraps estimates that a wrap should last 100 washes, which is usually 6 to 12 month.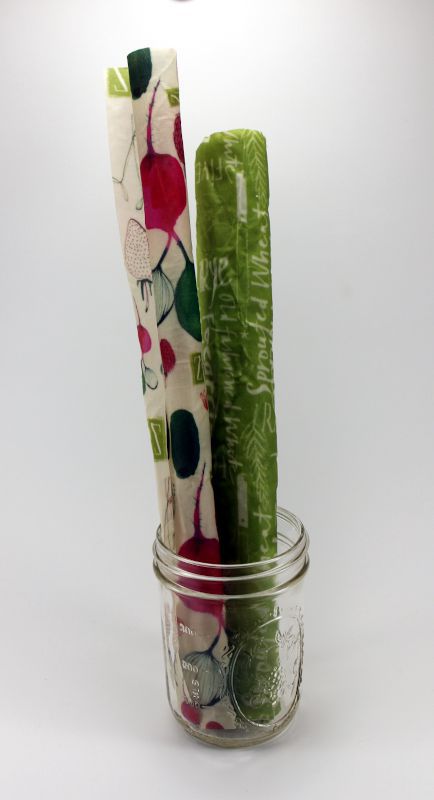 If you're looking for more information about how to use or take care of a ZWrap, their website has an informative set of videos.
What I like
Reusable wrap instead of disposable plastic
Bright and cheery designs
Keeps bread and veggies super fresh
What I'd change
Final thoughts
I'm a big fan of being good stewards of our planet, so I like what ZWraps is doing.  My wife and I really like their wraps, and we really, really like the way they keep fresh those foods that normally spoil quickly.  If you are at all interested in reducing the amount of disposable plastic that you use, I recommend purchasing one medium or large ZWraps to start out.  This will give you a chance to test it out and see for yourself.  If you like it, then you can buy as many others as you need.
Price:  From $7.50 (small) to $22.50 (for a multi-pack)
Where to buy:  ZWraps online store or Amazon.  The ZWraps website also has a store locator, if you want to purchase locally.
Source: The sample for this review was provided by ZWraps.