The Gadgeteer is supported by readers like you! If you buy something through links on our site, we may earn an affiliate commission at no cost to you. Thank you! Learn more.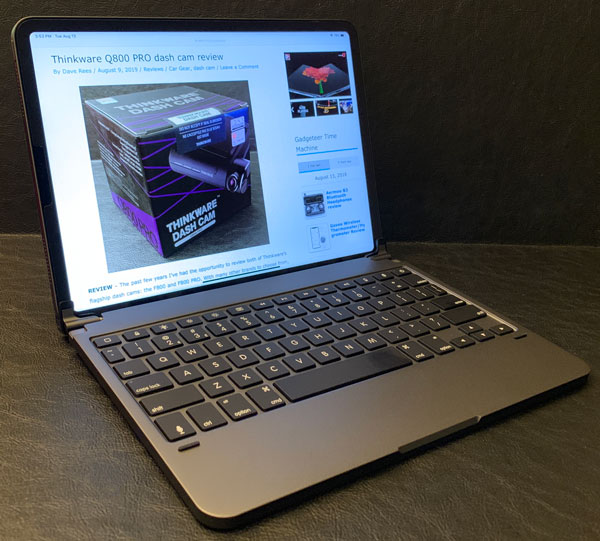 REVIEW – OK, I'm going to lead with…I LOVE this thing. I know the BRYDGE PRO is not for all iPad users for reasons I'll get to. But for me it fits into, at least in part, how I want to use my tablet. Last year Bill Henderson reviewed the Brydge 12.9 Series II Bluetooth keyboard for the previous generation of iPad Pros. But with new iPad designs come new accessories. Well the engineers at Brydge went back to the drawing board and have created an even better wireless keyboard that truly does transform your iPad Pro into a small MacBook.
A bit of the backstory: for years Julie and I have discussed the possibility of using a tablet as our primary computing device. And over that time, the tech world has ever so slowly moved in that direction. Many could argue, Android tablets are closer to the finish line than iPads, but with iPadOS coming soon, Apple is finally in the game. With folks like BRYDGE creating feature enhancing accessories, Adobe releasing full-blown Photoshop for the iPad, and the iPadOS becoming its own mobile operating system…we're finally at a point, where this tech-dream is becoming reality.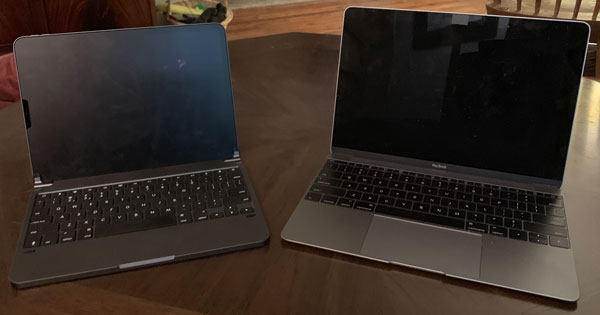 What is it?
The BRYDGE PRO is a Bluetooth keyboard engineered specifically for the latest generation of iPad Pros and designed to give a (surprisingly) MacBook-like experience. The aluminum chassis is perfectly fitted and color-matched for the current iPad Pros, transforming your tablet into a mini, touchscreen MacBook Pro.
What's in the box?
Brydge Pro 11.0 Bluetooth Keyboard
Snap-on Magnetic Protective Cover
USB-C Charging Cable
Quick Start Guide

Design and features
The BRYDGE PRO keyboard is made from a solid high-grade aircraft aluminum, giving the casing a very Apple feel to it. The PRO has a great heft and sturdy build quality. And like the MacBook and MacBook Pros, the BRYDGE PRO has four rubber feet so that your iPad Pro & keyboard combo doesn't slide around your desk or table while in use.

The BRYDGE PRO can be configured into three modes: Laptop for typing, Tablet for drawing/note-taking, and Movie for hands-free video watching. In general, I kept my setup in Laptop mode 99% of the time, where I typed and watch movies/videos. When I wanted to use my iPad as a pure tablet, I simply pulled my iPad out of the BRYDGE PRO's hinges/clamps.

The iPad Pro is held securely in place by two very sturdy clamps that use just the right amount of friction/pressure to keep the iPad Pro from slipping out. These U-clamps are rubber lined so they do not damage your tablet. The hinges themselves are very strong, and well-engineered to withstand the force needed to press (aka shove) the long edge of the iPad into place.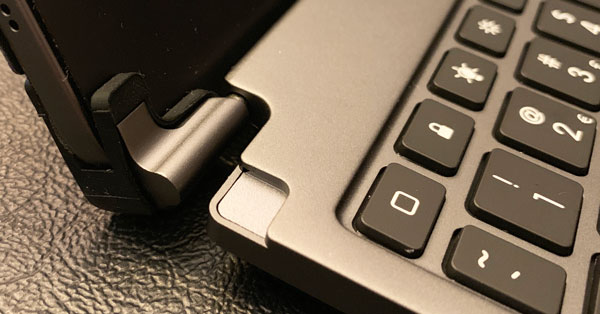 I have an ultra-thin tempered glass screen protector and Slickwrap skin on the back of my iPad Pro. These combine to ever so slightly increase (< 0.5mm) the thickness of my tablet but due to the extremely exact tolerances, it does cause the iPad to not sit in the hinge perfectly. But only by a millimeter or so…the BRYDGE PRO still works as designed.

When opened, the BRYDGE PRO engineering raises the rear of the keyboard for a better angle of typing.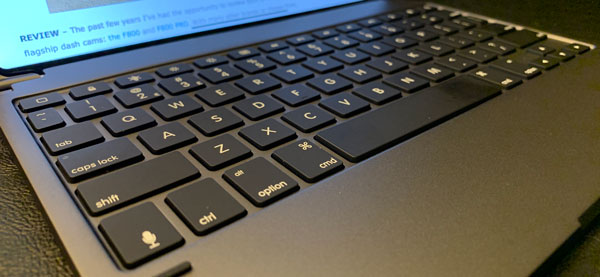 The keyboard is well thought out with a great build quality and key travel. I find using the BRYDGE PRO a better typing experience as compared to the Apple iPad Pro smart keyboard folio and about equal to the MacBook butterfly mechanism. In addition to having good travel distance, the keys are (mostly) responsive and have a great feel/click to them. I say "mostly" because I found the need to type with a hint more force and accuracy, occasionally needing to retap a key if I wasn't spot on. That said, I got better with practice…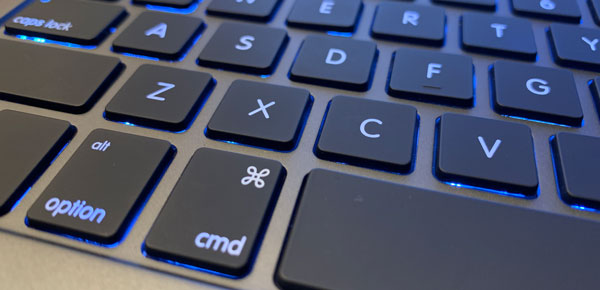 The BRYDGE PRO keyboard is backlit with three levels of brightness.

The 11″ BRYDGE PRO layout is smaller and more compact than a standard full-sized keyboard but no worse than the Apple iPad Pro smart keyboard folio. I am not the greatest typist but found the PRO's smaller layout and firm base more than useable and extremely lap-friendly. Truth be told, it felt just like using a MacBook when typing on my lap.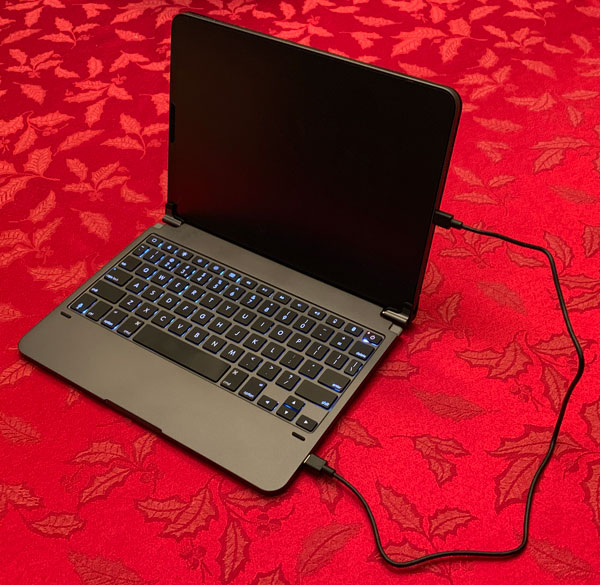 The BRYDGE PRO charges via USB-C, enabling you to use the same cord that came with your iPad Pro to power up. You can also connect the iPad Pro and the BRYDGE PRO keyboard using the included USB-C to USB-C cable for a direct, no lag connection.
According to BRYDGE, the PRO's battery life is impressive, lasting as long as 12 months of use. But that is with limited use and no backlighting on the keys. But with the backlight on, the battery should last nearly a full day of typing (aka 20hrs). What I can say is that I have been using the BRYDGE PRO keyboard for several wks, on & off for a total of about 12+hrs, and battery life is still going strong.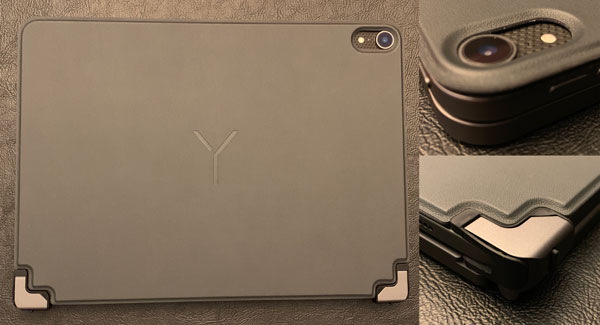 BRYDGE includes a magnetic back cover that works really well with the PRO's hinge design. The rigid rubbery back cover is relatively thin with a cutout for the iPad Pro's camera assembly. Overall, the back cover works well enough though it does pop off pretty easily and could use stronger magnets.
Hardware specs
Material: Aluminum
Weight: 1.14 lb.
Backlit Keys: Yes (3 levels)
Battery Life: 12 months (rechargeable) via USB-C
Connectivity: USB-C + Bluetooth 4.1
Warranty: Limited Lifetime Warranty
Colors: Silver & Space Gray
Brydge Pro 11.0

Length: 9.74 in (247.6mm)
Width: 7.02 in (178.5mm)
Height: 0.26 in (6.7mm)
Weight: 1.14 lb (550g)

Brydge Pro 12.9

Length: 11.04 in (280.6mm)
Width: 8.46 in (214.9mm)
Height: 0.27 in (6.8mm)
Weight: 1.51 lb (690g)

The BRYDGE PRO does add some girth and heft to the sleek and slim iPad Pro. Here you can see it compared to my 12″ MacBook. The combined thickness of the iPad Pro and BRYDGE PRO keyboard are nearly double that of my 12″ MacBook.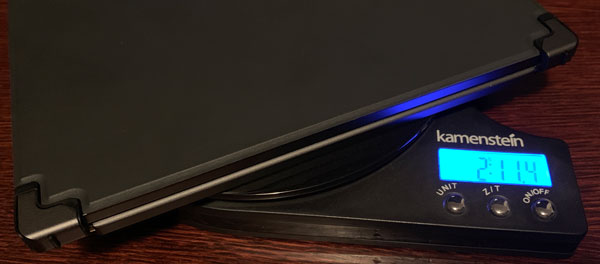 OK, here is the elephant in the room…the BRYDGE PRO more than doubles the weight of the 11″ iPad Pro, weighing in at nearly the same weight as a 13″ MacBook Pro. Truth be told, I doubt I will travel that often with the BRYDGE PRO but I love this setup for around the house or (nearby) coffeeshop use.
What I like
Very well built with sturdy engineering
Made from high-grade materials
Perfectly designed for the iPad Pro
Excellent keyboard design
Backlit keys
What I'd change
Heavy/adds a significant amount of weight and volume
Keyboard a bit cramped on 11″ version
Doesn't utilize iPad Pro's Smart Connector
Back cover could have used stronger magnets
The new Brydge Pros are by far our best iPad keyboards yet. Designed to create an experience that amplifies the iPad as a tablet, and delivers the perfect MacBook-like experience.
Final thoughts
The BRYDGE design and material engineers have done an incredible job creating a Bluetooth keyboard that transforms your iPad Pro into a mini touchscreen MacBook Pro. The BRYDGE PRO integrates perfectly with the iPad Pro…the quality feel, high-grade materials, and user experience all feel like they came from Cupertino. The BRYDGE PRO adds excellent usability and functionality to your tablet. I'm just hoping the next generation includes a built-in touchpad 😉 . But for now, if you can live with the additional weight and bulk, the BRYDGE PRO is definitely worth considering if you're looking for a keyboard for your iPad Pro.
Price: $149.99 ($169.99 for the 12.9″ iPPro)
Where to buy: The BRYDGE PRO is available from bridge.com or Amazon.
Source: The sample of this product was provided by Bridge.