We use affiliate links. If you buy something through the links on this page, we may earn a commission at no cost to you. Learn more.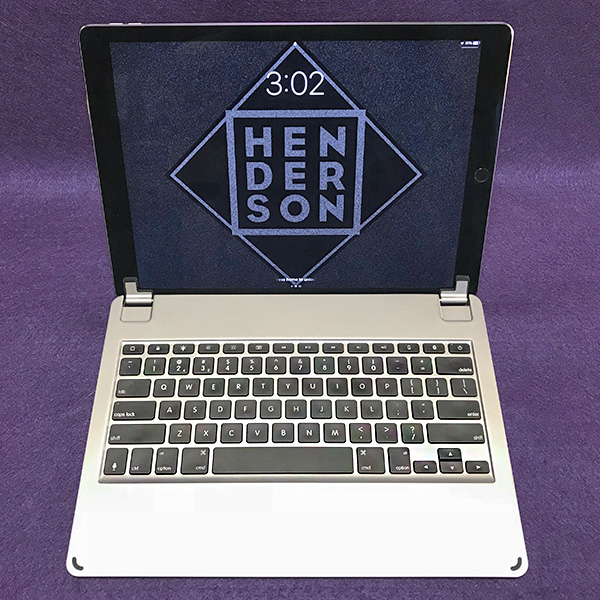 REVIEW – When I got a 12.9 in. IPad pro, I had already purchased a case for it. I'm that paranoid of dropping and ruining any iDevice I buy. The case I bought was the Speck Stylefolio Pencil Case—a great case that does not include a keyboard. I've never been thrilled with the choice of keyboard cases (including Apple's), so I resorted to using a discarded Apple Bluetooth keyboard to do my typing. What I really wanted was something that was as easy to type with as my wife's MacBook Pro laptop. I now have that keyboard—the Brydge 12.9 Series II Bluetooth keyboard.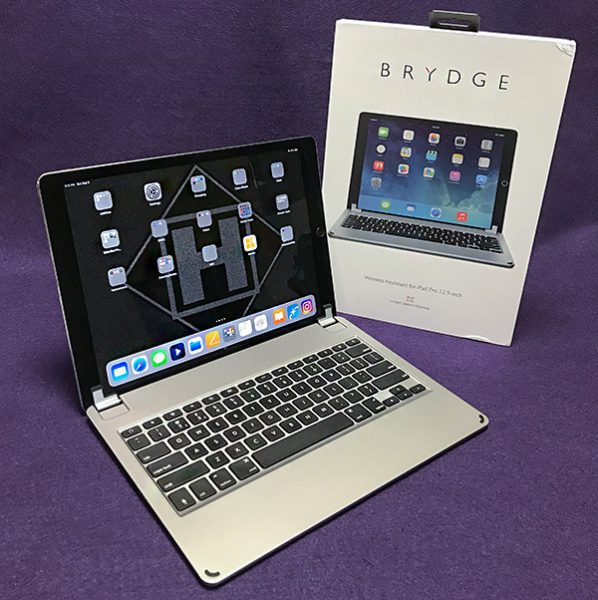 What is it?
The Brydge 12.9 Series II Bluetooth keyboard is just that—a full-size keyboard for the larger iPad Pro. But it's a bit more than that. The Brydge keyboard is so perfectly matched to my iPad Pro, that when closed, it looks just like a Mac laptop. You can feel the engineering quality as you open/close the lid or type on the keyboard. This is what Brydge calls the Series II Bluetooth keyboard.

Specs
Compatibility: iPad Pro 12.9 in.
Dimensions: 12 in. x 8.75 in. x 0.25 in.
Material: Aluminum
Weight: 1.55 lb.
Backlit Keys: Yes (3 levels)
Battery Life: 12 months (rechargeable)"
Connectivity: Bluetooth 4.1
Warranty: Limited Lifetime Warranty
Colors: Silver / Space Gray / Gold
What's In The Box: Keyboard / USB Charging Cable / Quick Start Guide
Series II improvements over Series I
Faster connectivity
Longer battery life
Lower profile "butterfly" keys
Improved backlighting

Design and features
If you're familiar with how the keyboard on an Apple MacBook laptop looks and feels, you will feel right at home with the Brydge 12.9 Series II Bluetooth keyboard. When paired with the 12.9 in. iPad Pro, the combination keyboard/iPad will fool anyone except an astute person that you're typing on a Mac laptop. The giveaway is when you start touching the screen to perform certain functions. No Mac has a touchscreen option.
Since the Brydge Bluetooth keyboard has Bluetooth 4.1, there is no noticeable lag time—typing is instantaneous. Plus, the Brydge keyboard comes with many features that make typing much faster than using the on-screen keyboard. For instance, Command-C will copy any selected text and Command-V will paste—just like a Mac. The top row of keys features keys that control screen brightness, speaker volume, play/pause, on/off and battery life. There's also a home button that will take you back to the home page regardless of what app you're in. Speaking of battery life, the Brydge keyboard will last 12 months between charges. Impressive.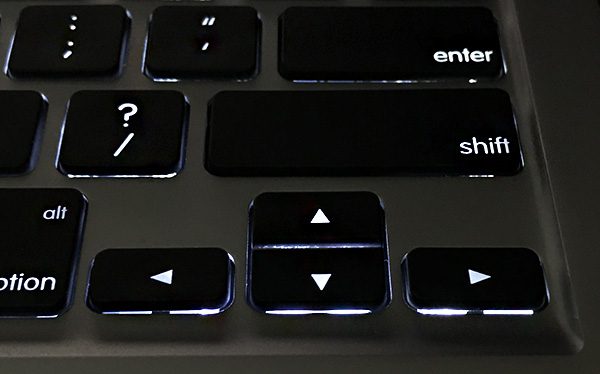 One of my favorite features are the backlit keys that can be set in three brightness levels at the touch of a key. Apple's own overpriced keyboard case doesn't even have backlighting. I also appreciate the directional text arrow keys. I don't have to touch the screen to place the cursor. The arrow keys move it much more efficiently—just like a Mac. (Notice a trend here?)
One thing the Brydge 12.9 Series II Bluetooth keyboard does not have is a way to connect to the iPad's built-in Apple Smart Connector. This connector bypasses Bluetooth completely and allows an attached keyboard to have more custom functions than is possible with Bluetooth alone. Maybe Brydge can incorporate the Smart Connector in a future version of their keyboard. Time will tell.
When the Brydge 12.9 Series II Bluetooth keyboard is open for typing, there's a large area below the keys for resting the palms while typing. Ordinarily, this is where a trackpad would go, but Apple's iOS does not support trackpad gestures.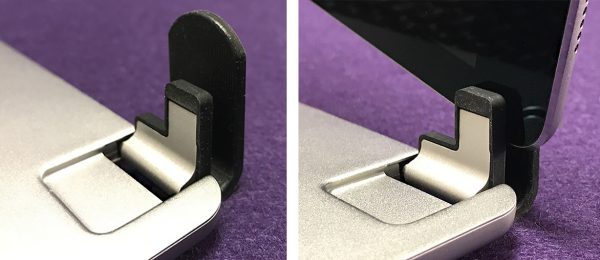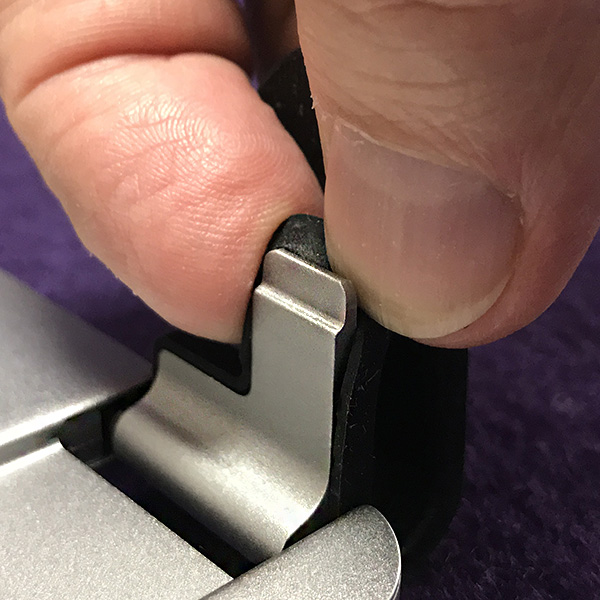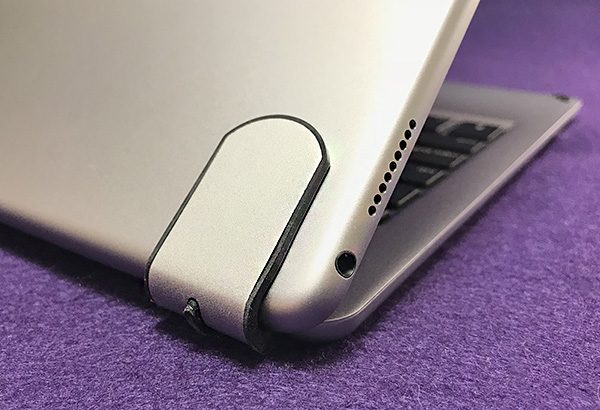 The iPad is protected from scratches by rubber shims that go over the clips. Note that the top part of the shims can pull off. This happened once when I was separating the iPad from the keyboard. When I went to reconnect the two, the fit was all wrong and I couldn't figure out why until I looked closer. Once I pulled the top of the shim back into place, the iPad once again fit perfectly. This issue has not repeated itself, but worth checking if the fit doesn't feel right.
Since the Brydge is a "clip-on" keyboard only, it does not add any protection for the iPad, except maybe the screen surface when it's closed. It was never Brydge's intention to design a full case that also has a built-in keyboard. Let others do that. Brydge set out to make an aluminum keyboard that perfectly matches the iPad and that's exactly what they accomplished. However, for those who demand extra protection from everyday scratches, Brydge offers what they call a Slimline Protective case ($50) that protects the back of the iPad.

What I like
The Brydge 12.9 Series II Bluetooth keyboard ranks up there with Apple's own laptop keyboards.

 

3-level backlighting for typing in less than favorable conditions

 

Superb 12-month battery life
Quality construction
What needs to be improved
Offers no protection
Doesn't connect to iPad's Smart Connector

Final Thoughts
The last 3 reviews I've written have been typed mostly using the Brydge 12.9 Series II Bluetooth keyboard. I tend to switch between my iMac and iPad when writing reviews and the Brydge makes it much easier to jump from one to the other using Apple Pages with iCloud. It's becoming my new—and improved—way of working. The Brydge has made my portable life more efficient, productive and fun. I may not be a quick typist, but my typing speed has noticeably improved since using the Brydge keyboard. It's a keeper.
Update 11/16/18
After I finished this review, Brydge notified me that they do make a Slimline Protective Case. This optional polycarbonate case protects the back of the iPad from scratches and has built-in slots that allow the case to be attached along with the Brydge keyboard. Brydge sent me a bright red one and I use it constantly. The case has a tight fit but I don't trust it to offar any meaningful drop protection. The case has good gripping force and is easy to carry without fear of dropping. The Slimline Protective Case is sold separately for $49.99 and is available from Brydge.



Price: $149.99
Where to buy: Amazon
Source: The samples for this product were provided by Brydge.