We use affiliate links. If you buy something through the links on this page, we may earn a commission at no cost to you. Learn more.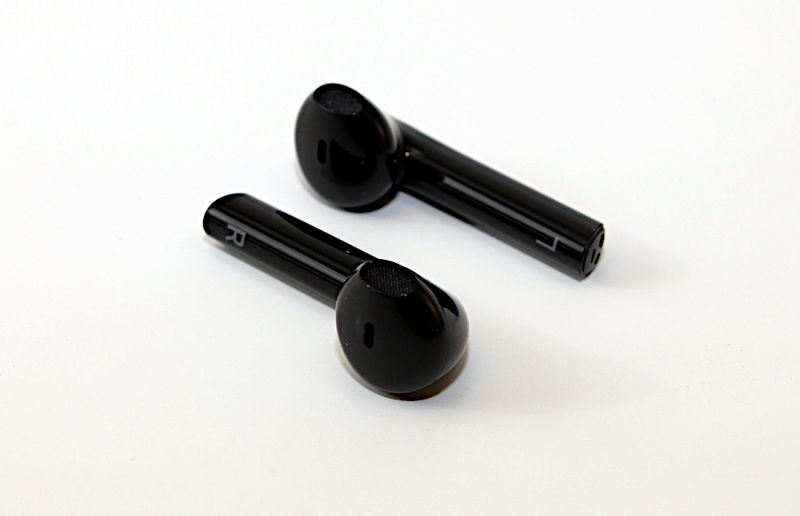 REVIEW – In the evenings I like to kick back and relax by watching videos on my iPad.  Usually I'm watching a movie on Netflix or Amazon Prime, videos on YouTube, or a Dota 2 tournament on Twitch.  For my audio, I typically use a pair of Apple headphones, the older wired variety.  Lately I've been testing a pair of wireless earbuds from TaoTronics, wondering if it's possible to lose the wires and have good sound quality.  How did they perform?  Read on to find out!
What is it?
The TaoTronics SoundLiberty 95 (model TT-BH095) are a pair of entry-level, wireless earbuds.  They come with a charging case, are true wireless, and utilize technologies like aptX, Bluetooth 5, and cVc 8.  TaoTronics focuses on smart products that benefits the lives of consumers; they are a brand of Sunvalley Group, a Chinese electronics company.
What's in the box?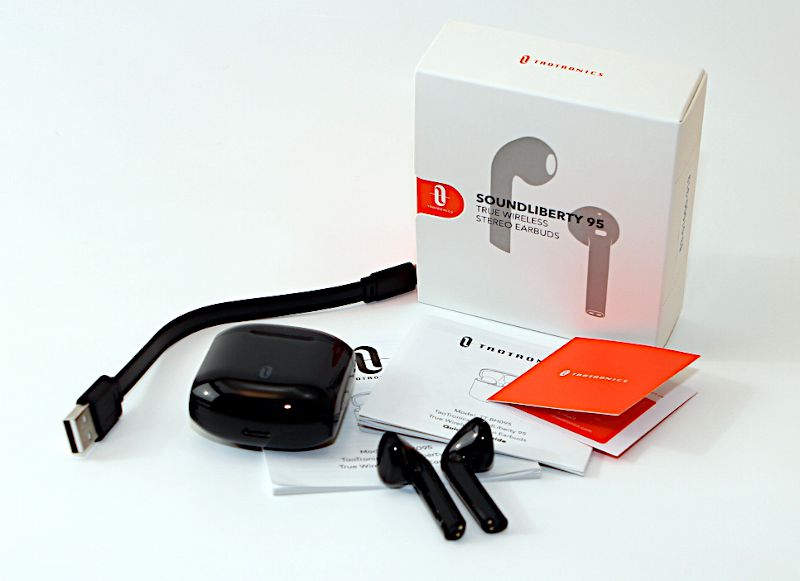 1 pair of wireless earbuds
1 charging case
1 USB-C to USB-A cable (7 inches)
1 quick start (with 8 small pages of pictures whose meanings are not always clear)
1 user guide (with 18 pages of English instructions)
1 support card (that actually includes an 800 number!)
Hardware specs
Noise Cancellation:  cVc 8
Connectivity: Bluetooth 5
Transmission Distance: 50 ft
Play Time: 7 hours per charge
Case Charge Time:  21 hours
Battery Capacity: 300mAh
Charging Port on the Case:  USB-C
Drivers: 13mm
Weight: Less than 4 oz
Design and features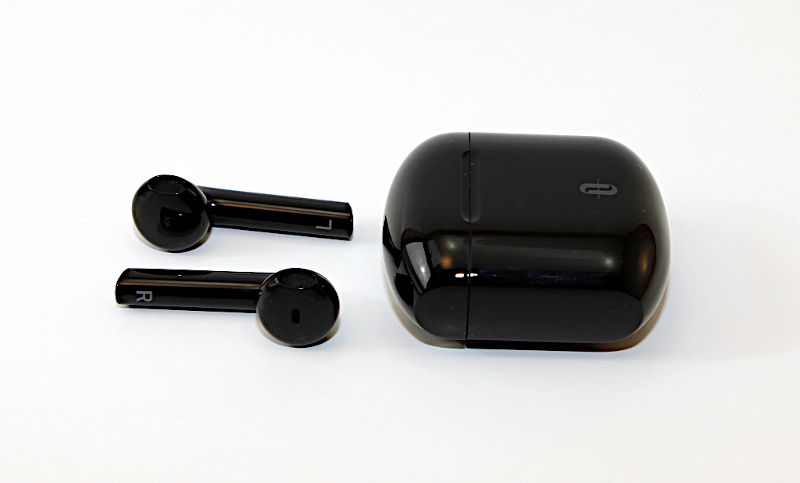 The SoundLiberty 95 earbuds look nearly identical to Apple's second-gen AirPods from 2019, a style that Apple calls Universal Fit.  They are a thin, slender design that sits in the ear rather than filling the ear.  These earbuds are made of plastic, have small holes for the speakers, the microphone, and the touch control, and only come in a glossy black color.  The rounded charging case has the same color, a lid that uses magnets to stay closed, and an USB port for charging.  Overall, it's a simple yet elegant design.
Installation and setup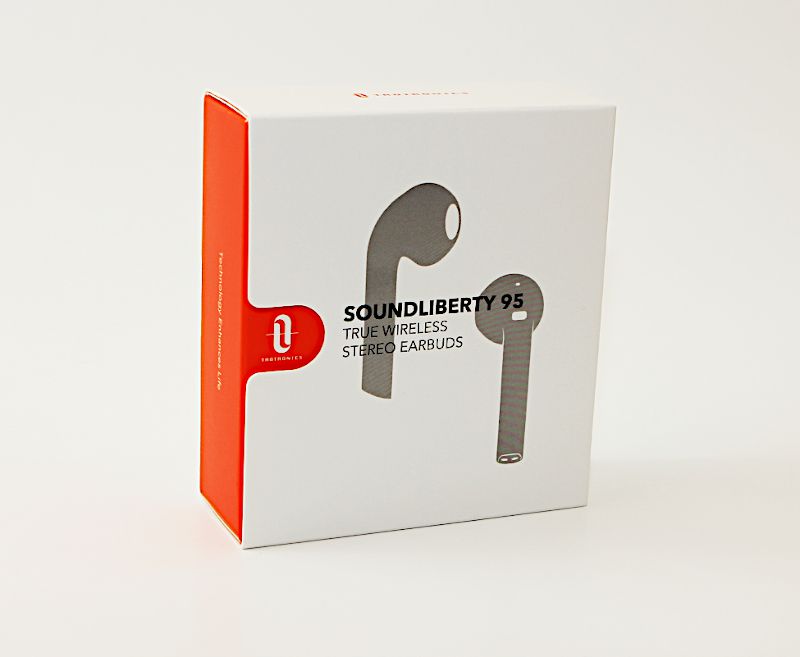 The TaoTronics earbuds arrived in a small white box.  I pulled out the inner, bright-orange box, and from it I pulled out another white box.  Finally, I was allowed to extract the various parts from their packaging.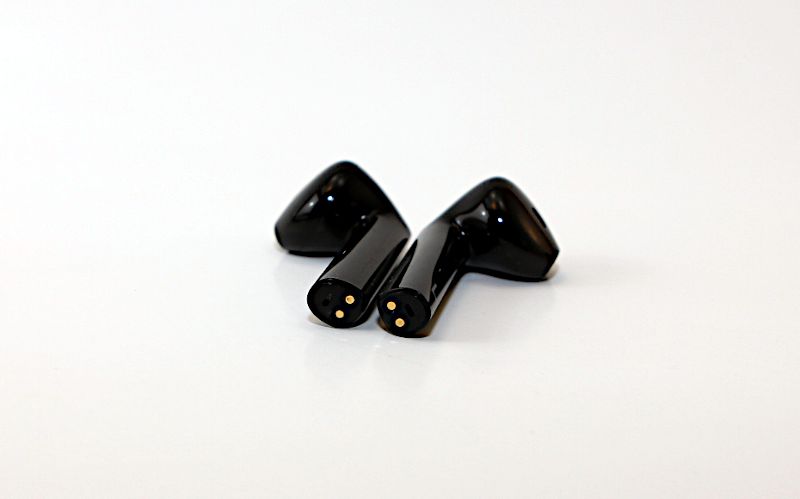 Like most wireless earbuds, the case doubles as the charging mechanism, so the first step was to use it to charge earbuds.  On the bottom of the earbuds are a pair of metal contacts; when placed into the case, they begin charging.  The earbuds have small magnets that pull them into the case and hold them in place; similarly, the lid of the case has a small magnet that closes the lid whenever its open.  Together, these should keep the earbuds from falling out and getting lost.  Popping them back in the case, I connected the USB-C end of the cable to the case and the USB-A end to my Aukey Powerhub.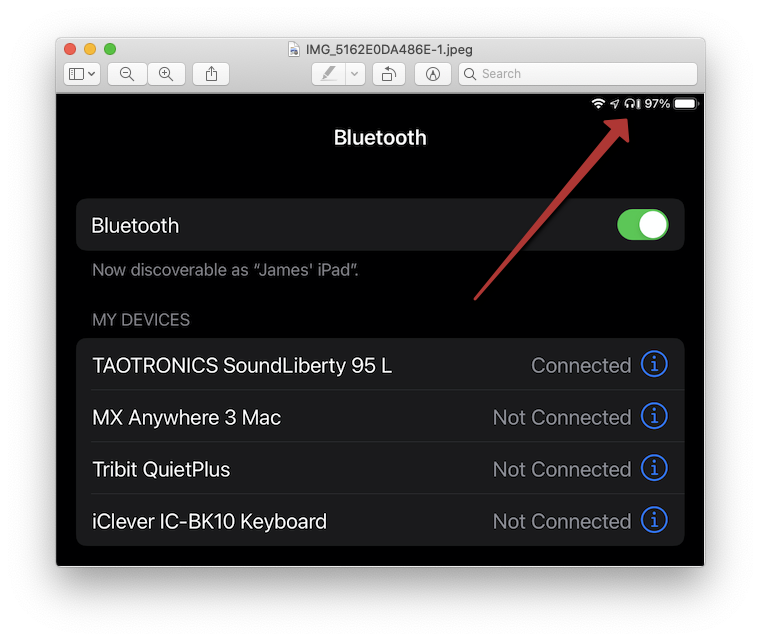 A very small white LED next to the USB port lit up while the earbuds were charging and turned off when they were fully charged.  There's no way to know from the charger or the earbuds how much charge remains, but when connected to an iPhone or an iPad, there is a small battery icon in the upper right corner that gives an indication.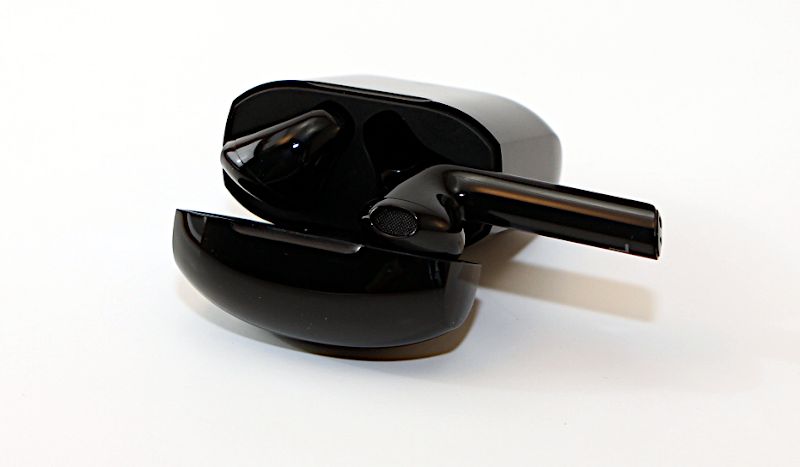 The second step is to pair the earbuds with my iPad.  When I opened the lid of the case, a very small LED inside the case began flashing blue to let me know that the earbuds were ready to pair.  Simultaneously, the earbuds automatically turned on, connected to each other, and began looking for a device with which to pair.  A voice in the earbuds said "pairing" while they were looking, and a different voice said "connected" when paired.  Although I had no problems connecting these guys with my iPad, iPhone, Mac mini or MacBookPro, I did notice that the volume level was very different.  For my iOS devices, the volume was right in middle, right where I expected it to be.  For my macOS devices, the volume was very low, and I had to raise it considerably to be able to hear well.
The SoundLiberty 95 remembers the last device to which it paired and automatically attempts to reconnect when removed from the case.  If it cannot find that device within 20 seconds, it starts the pairing process again.  There are two ways to force the earbuds to unpair.  One, use the Bluetooth settings of the device to disconnect.  Two, put the earbuds into the case, keep the lid open, and press the reset button on the back of the case for 3 seconds.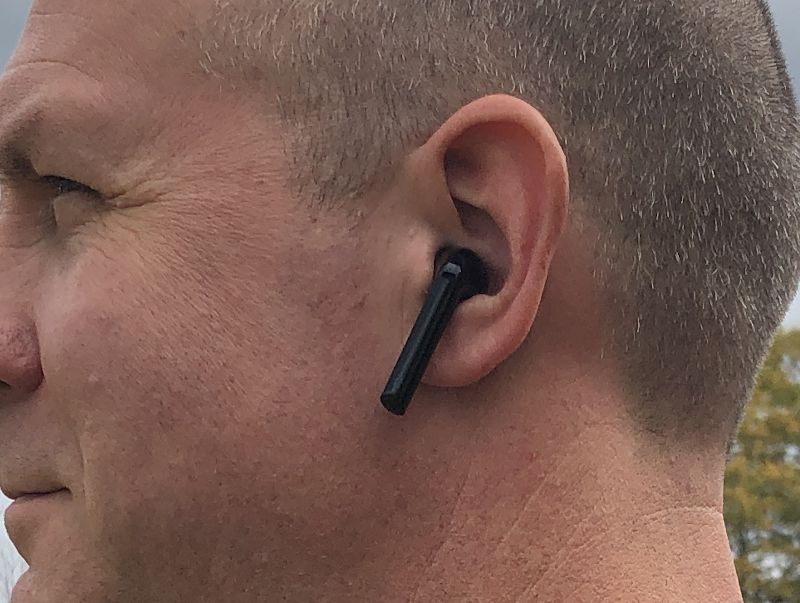 The final step is to put the earbuds in my ears and begin listening.  As the SoundLiberty95 is intended to simply rest in the ear, it's not designed for sports or any sort of rigorous activity where it will easily fall out.  I actually prefer this design, as I find any style that fills the ear, like these from EarFun, to be uncomfortable.
Although the quick start guide was less than clear at times, the manual is fairly detailed and well written, though the font is brutally small.  I sent an email to [email protected] and requested a digital copy; they replied the next day with a PDF copy.  This is nice, as it allows me to zoom in.
Performance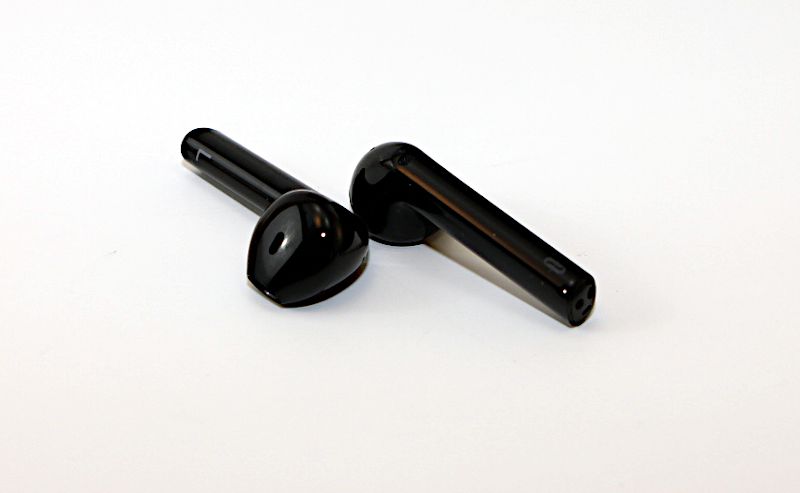 I spent some time listening to music on my iPad and my iPhone, comparing the SoundLiberty 95 with the older, wired headphones from Apple.  Apple's headphones are noticeably brighter and clearer than the TaoTronics earbuds, which sounded dull and muted by comparison.  For most of the audial spectrum, I definitely prefer the Apple product.  For the bass, however, TaoTronics' product is much better, having a deeper, richer sound.  A perfect sound, I suppose would be one that combined Apple's mids with TaoTronics' bass.
I spent most of my time testing the SoundLiberty 95 by watching movies and YouTube videos, and I really can't tell much difference between them and Apple's headphones.  They are clear, voices are easy to understand, and the bass is nice.  I really enjoy using them, and they have become my "go-to" source of audio.
The SoundLiberty 95 has a control on the outside of the earbuds that respond to touch.  I can double tap the touch control on either ear to answer a call, and double tap again to hang up.  I can tap the right ear twice to pause my music and twice more restart.  To activate Siri, I can double tap the left ear, but this only works if my phone is already unlocked.  This touch control can be annoying as well, as I often activate Siri by accident when inserting the earbuds into my ears.
TaoTronics' Amazon page says that the SoundLiberty 95 has "dual cVc 8.0 noise cancelling microphone technology."  No matter what I do, I can't hear any type of noise cancelling at all.  Even the smallest external sounds—rustling paper, cutting with a pair of scissors, moving a mouse on my desk—are clearly audible in my ears, and when talking on the phone, these same sounds are equally audible to the person on the other end.  When testing Tribit's QuietPlus, there was a very noticeable difference when the noise cancelling tech was activated; there's nothing similar with these earbuds.  If you need noise cancelling for your earbuds, I suggest looking elsewhere.
TaoTronics claims that the earbuds can run for seven hours before they need to be charged.  In my testing, they only lasted 4.5 hours before warning of low power and then shutting down; that's far short of my expectations.
Typically, the earbuds will be charged while the case is plugged in, but it doesn't have to be.  The case itself has a small battery that can be used to charge the earbuds without power.  TaoTronics estimates that the case can charge the earbuds three times before it needs to be charged.
TaoTronics states that their earbuds can work up to 50 feet away from the source.  When testing inside, I had great reception anywhere in my house, even when separated by walls and doors.  The moment I step outside, however, I immediately lose reception.  When testing outside, I found that my reception worked up to 100 feet!  The reception for these earbuds is quite good.
Within a few days of testing, the case has already begun to show scuff marks; the plastic does not appear to be very durable.
Extra Features
The cable that's included is less than ideal.  It's USB-C to USB-A, but most chargers these days use USB-C.  It's also annoyingly short.  You may want to purchase a better USB-C to USB-C cable.
TaoTronics' Amazon page says that the SoundLiberty 95 is splash proof, but I don't could find any IPX rating in their documentation.  That means you should play it safe and keep these earbuds away from the pool, the beach, and sweaty workouts.
What I like
Great price
Good sound
Easy pairing
Comfortable fit
What I'd change
Replace the cable with a longer USB-C cable
Improve battery life to match claims
Final thoughts
The TaoTronics SoundLiberty 95 wireless earbuds are a good choice for those who want to move from wired headphones to wireless earbuds, prefer the Universal Fit style, and don't want to pay Apple's premium price.  The sound quality is good for an entry-level product, the range is fantastic, but the battery life is mediocre.  I use these earbuds most days, and I think they are worth a look, particularly if you don't have a need to run them all day long.
Price: $49.99
Where to buy:  Amazon
Source: The sample for this review was provided by TaoTronics.