We use affiliate links. If you buy something through the links on this page, we may earn a commission at no cost to you. Learn more.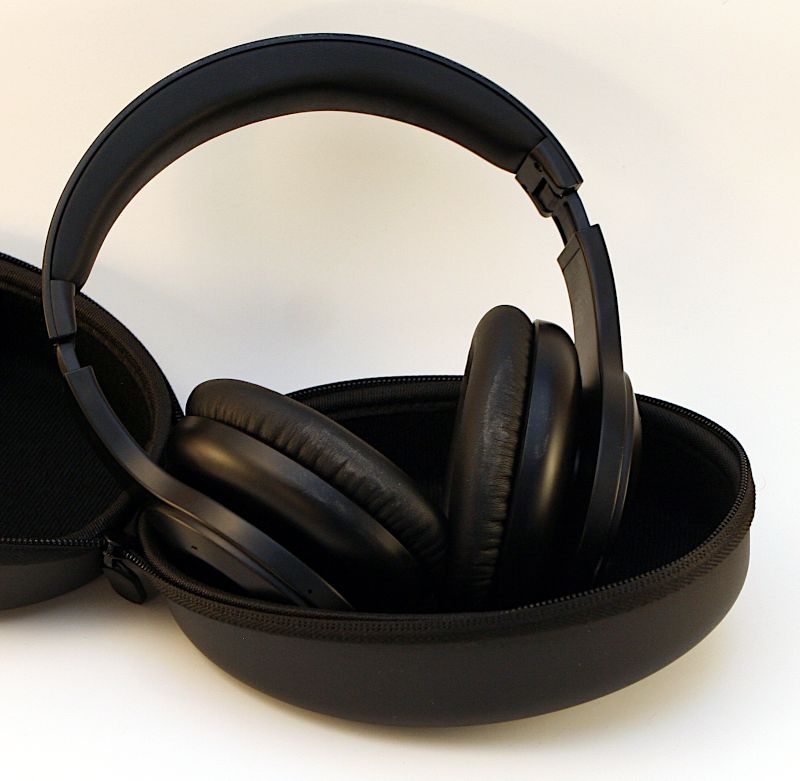 REVIEW – We live in a one-story house with an open floor plan.  We love the way our house centers around the combined living area of our kitchen, dining room, and living area.  There is, however, one unexpected consequence of this floor design:  Whenever someone is watching a movie or TV show and playing the audio through our receiver and speakers, everyone else in the house has to listen.  This means that neither my wife nor I can watch a movie while the other is trying to work or sleep or whatever.  I'm hoping that a good solution to this problem is to use a pair of Bluetooth headphones.  I realize that no headphones are truly comparable to a quality stereo system, but it should be possible to find a good pair that makes it enjoyable to watch a movie without disturbing my wife.  To test my theory, I'm trying out Tribit's latest Bluetooth headphones, the QuietPlus.
What is it?
Tribit bills the QuietPlus as the "best wireless noise canceling headphones under $100."  It's a pair of foldable, over-the-ear headphones that support the latest Bluetooth standard.
What's in the box?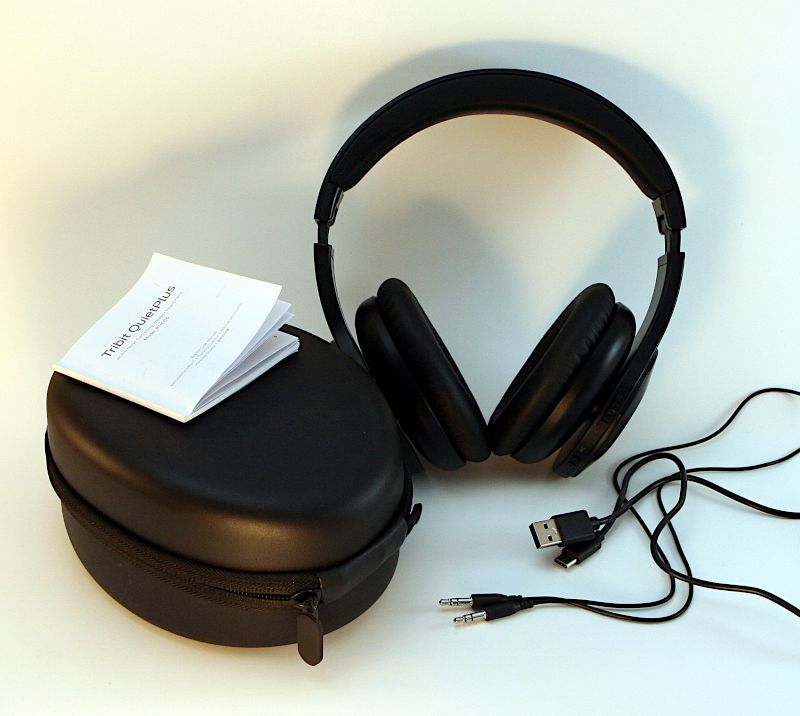 1 pair of headphones
1 carrying case
1 USB-C charging cable
1 3.5mm audio cable
1 user manual with 7 pages of English instructions (in a font so small that a microscope is needed)
Hardware specs
Bluetooth 5.0
Qualcomm aptX HD audio
Qualcomm cVc noise cancellation technology
30-hour battery life
USB-C charging
40 mm drivers
Up to 33-foot range
1.1 pounds
Design and features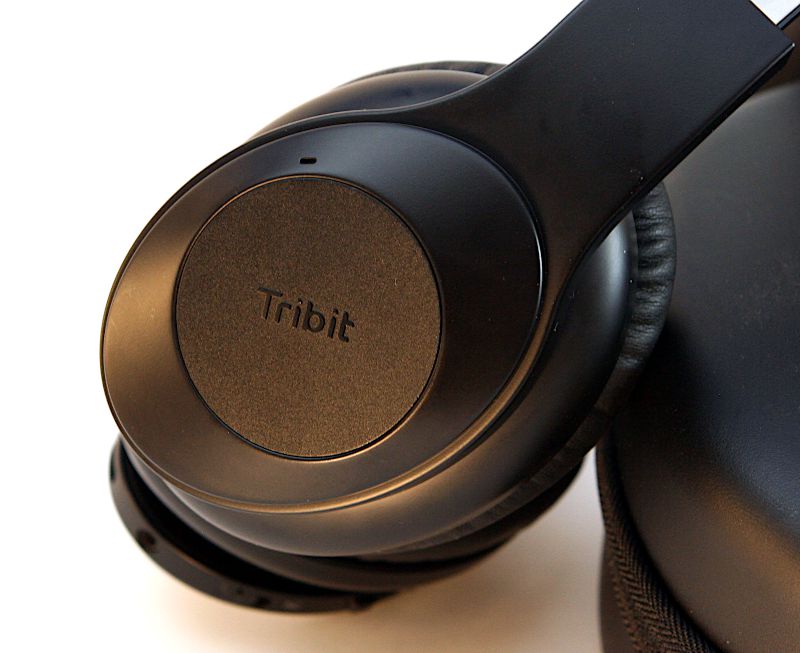 The QuietPlus has a very typical design.  It's a matte black finish with oval-shaped, medium-sized foam cups and an adjustable headband.  There's a joint just above each cup that allows the headphones to fold into a compact shape for storage in the carrying case.
Installation and setup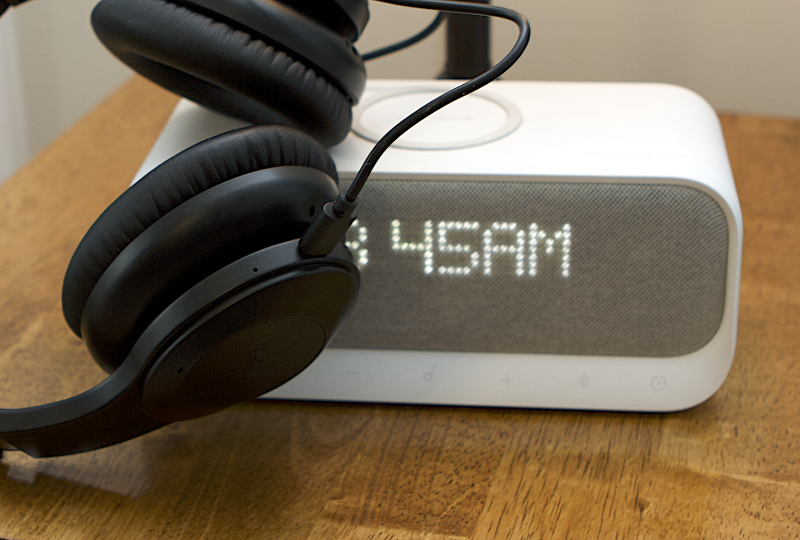 The first thing I did to setup the QuietPlus was to charge it by plugging one end of the included USB-C cable into the back of my Soundcore Wakey and other into the base of the right ear.  The manual says that it will fully charge within three hours, and I found it usually took less than two.  While charging, the status indicator LED by the power button will glow red; once fully charged, it will turn blue.  When it's not charging, the only way to determine how much charge remains is to pair the QuietPlus with a phone or tablet, which will display a small icon.  Here's what it looks like when paired with my iPhone 8: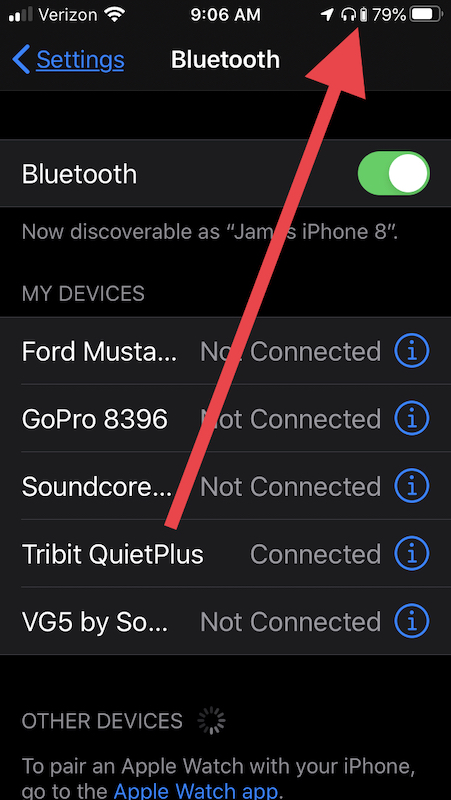 Never miss one of our posts again. Sent MON, WED, and FRI with the latest gadget reviews and news!
The second thing I did was to figure out which cup was for my right ear and which was for my left.  Don't laugh at me; some headphones are not clearly marked.  Thankfully, Tribit put a large R and L inside the corresponding cups, making it easy to put on correctly.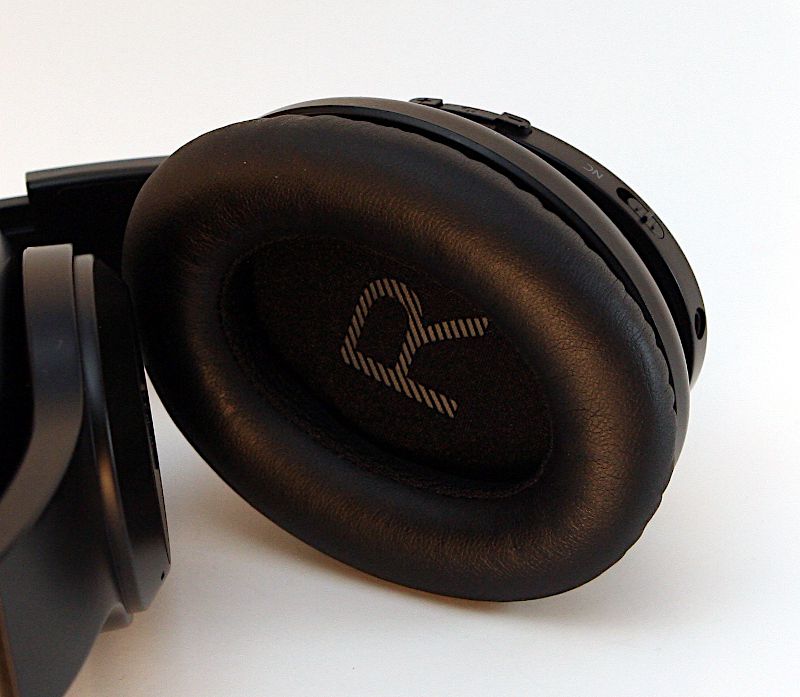 The third thing I did was power on the headphones.  On the back of the right cup is a set of three buttons, a power button surrounded by two volume buttons.  Pressing and holding the power button for a second turns them on and prompts a pleasant voice to speak into my ear and say, "Power on."  It will also say, "Power off" and "Pairing" and "Connected" at the appropriate times.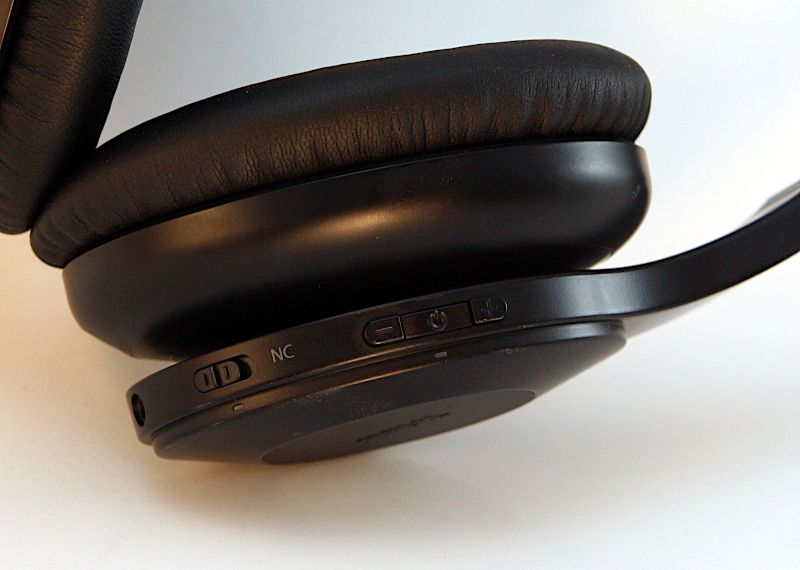 The final thing that I did was to pair the speaker using Bluetooth by pressing and holding the power button for three seconds.  I had no problems pairing it with my iPhone, my iPad, my Mac mini, and my LG C9 TV.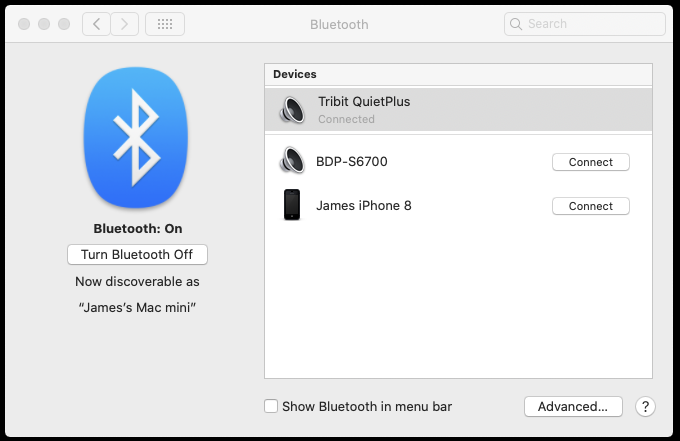 Performance
Although my primary use for these headphones is to watch movies, I began my testing by listening to a variety of music styles, everything from the rap of TobyMac to the hard rock of Skillet to the pop of Beckah Shae.  Overall, my impression of these headphones is that they are good but not great.  There's not a lot of bass, and the mid tones could be clearer.  As a point of comparison, I listened to the same music using my daughter's Beats Studio3 headphones.  The Beats have a lot more bass, and the overall sound is richer and fuller.  Of course, this isn't really a fair test, because the Beats are more than four times the cost of the QuietPlus.  For the money, Tribit's headphones are quite good.
I then watched various action videos, like the Jack Ryan TV series, Star Trek Beyond, and Fantastic Beasts.  I felt like the QuietPlus did a lot better job with the audio here.  I often disappeared into the show and forgot that I was wearing a pair of headphones.  Everything from people talking to explosions to high-tech and magical effects sounded just fine.  For grins, I also paired it with my Mac mini in order to watch a Dota 2 tournament on Twitch.  The voices of the analysts and commentators were very clear, and the in-game sounds perfect.  Overall, I'm very happy with how it sounds.
Just below the power button is a small switch that is labeled "NC" for noise cancelling.  When selected, it takes about a second for them to kick in.  It doesn't perfectly block out all external sound, of course, but it does a very nice job of taking the edge off.  There's definitely a noticeable difference, and I preferred to watch the videos with the noise cancelling turned on.
I find the Tribit to be reasonably comfortable to wear.  Each side has 9 adjustment points in small increments, so it's easy to select the right size for my head.  There's a fair amount of foam padding on the headband and each cup.
Perhaps the most amazing feature of these headphones is the battery life.  Tribit says that it will last 30 hours, and in my testing, I was able to get it to last 27.5 hours while listening to music at an average volume.  That's remarkable!  For normal use, I'll only have to charge them every other weekend.
Extra Features
The QuietPlus comes with a storage case for those times that you need to take it with you on the road.  When I gently bend the cups inward, they fold at the joints, making them easy to fit into the plain black case.  There's a place to slip in the cables, if I need to take them along.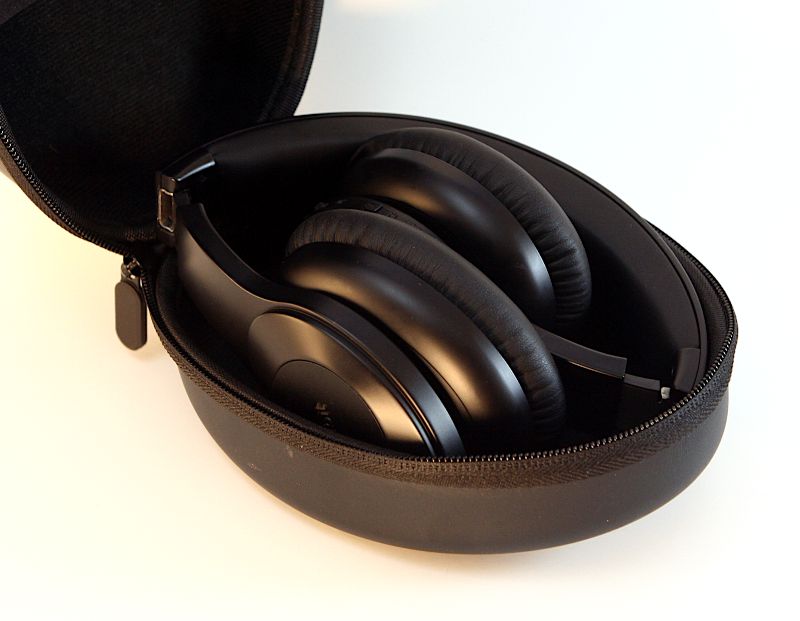 It also comes with a 3.5mm audio cable that can be plugged into the base of the right headphone and then into the headphone jack of a computer.  This is useful for computers that don't have a Bluetooth capability, such as my homebuilt gaming PC.  The cable is only 4 feet long, so if you're going to use the QuietPlus like this, you'll probably want to buy a longer cable.
When paired with my iPhone, the Tribit works perfectly with incoming calls.  There's a small, built-in microphone that can be used for speaking.  Additionally, the power button can be used to accept or reject an incoming call, if my phone is not within reach.  It can also be used to ask a question of Siri.  This functionality is pretty cool, though you have to remember how long to press the button for each (quick tap to accept a call, hold for 3 second to reject a call, hold for 1 second for Siri).
Tribit claims that their headphones have a 30-foot range, and I can confirm this to be true.  I paired the QuietPlus with my Mac mini, which is in a bedroom.  I walked through the living room and into the master bedroom on the other side of the house, a distance of more than 30 feet.  Despite the intervening walls, there was no loss of sound or quality.
What I like
Good quality audio
Amazing battery
Easy Bluetooth pairing
Decent noise-canceling capability
What I'd change
Final thoughts
The QuietPlus headphones from Tribit are a great gadget for my needs.  They pair easily with my LG TV and all my Apple devices.  The sound is good and the battery life is amazing.  I'm very pleased with them, and I expect that I will be watching a lot of movies with them.  If you're looking for wireless headphones with a noise-canceling capability, and you don't want to break the bank, then you should take a look at the QuietPlus.
Price: $79.99
Where to buy:  Tribit's online store or Amazon
Source: The sample for this review was provided by Tribit.